NR 599 Assignment Medical Application Critical Appraisal Guidelines 
NR 599 Assignment Medical Application Critical Appraisal Guidelines 
NR 599 Assignment Medical Application Critical Appraisal Guidelines 
PART 2
Medical App Critical Appraisal Questions
Name: The name of the app we chose for the critical appraisal is MDCalc.
AUTHOR: MDCalc was created and developed by a couple of physicians and researchers who are Graham Walker and Dr. Joe Habboushe. The app was launched in 2016 for IOS and 2017 on android systems. The app is maintained by MDCalc Inc., a privately held company that was founded in 2005. The company's mission is to improve patient care by providing healthcare providers with evidence-based decision support tools.
ENDORSEMENT: MDCalc is not licensed by the Food and Drug Administration (FDA), but it is endorsed by several medical professional organizations, including the American College of Cardiology and others and it is CME accredited.
OPERATION: The app is available on both mobile and web-based platforms. The mobile app is available for download on both iOS and Android devices, while the web-based version can be accessed through any web browser. The mobile app is suitable for healthcare providers who need to access the calculators and decision support tools on-the-go, while the web-based version is useful for providers who prefer to access the app on a larger screen, such as a desktop computer or tablet.
AESTHETICS: MDCalc has a clean and user-friendly interface that makes it easy to navigate. The app's calculators and decision support tools are organized by specialty and topic, making it easy for healthcare providers to find the information they need quickly. Each calculator or tool includes a brief description and step-by-step instructions for how to use it, which makes it easy for providers to understand how to apply the information to their patient care(Elovic & Pourmand, 2019). The instructions provided with each calculator or tool are clear and concise, making it easy for providers to use the app without additional instructions.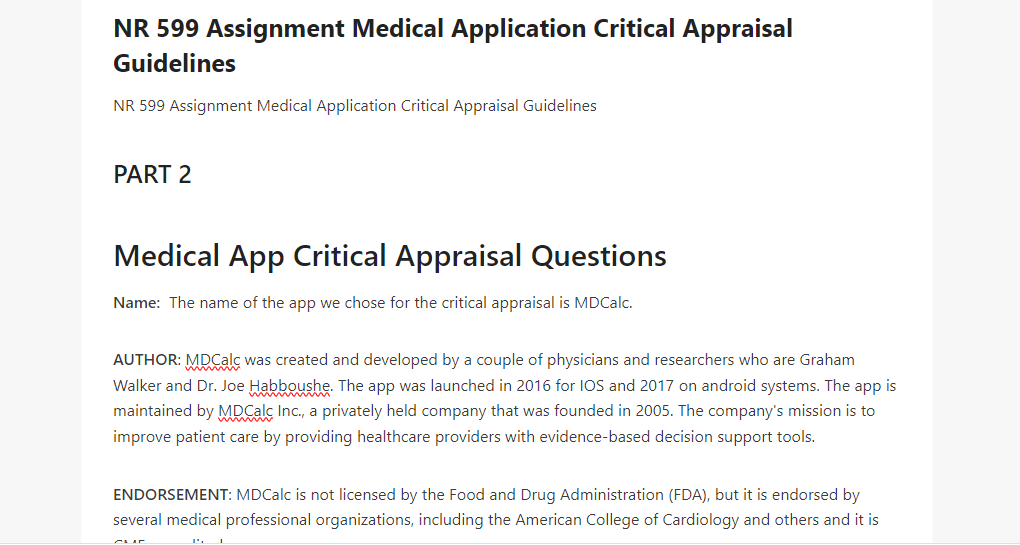 PURPOSE: The intended purpose of MDCalc is to provide healthcare providers with evidence-based decision support tools and calculators that can help them make clinical decisions at the point of care. The app includes a wide range of calculators and decision support tools that cover different medical specialties, including cardiology, emergency medicine, gastroenterology, and oncology, among others. Some examples of the calculators and decision support tools included in MDCalc are risk scores for various medical conditions, such as the CHA₂DS₂-VASc score for stroke risk in atrial fibrillation, the Wells criteria for pulmonary embolism, and the Revised Cardiac Risk Index (RCRI) for predicting perioperative cardiac risk.
CLINICAL DECISION MAKING: The calculators use evidence-based algorithms to provide predictions or assessments, and the decision support tools offer guidance and recommendations for different medical scenarios. The app's calculators can help providers identify patients at risk for certain medical conditions, determine appropriate dosing for medications, and assess the potential outcomes of different treatments. The decision support tools can provide guidance on patient management, such as recommendations for screening or treatment based on guidelines or expert opinion. By providing healthcare providers with quick access to evidence-based information and recommendations, MDCalc can help improve the accuracy and efficiency of clinical decision making. Providers can use the app's tools and calculators to make more informed decisions at the point of care, leading to improved patient outcomes.
SAFETY: There is no direct potential for patient harm from using MDCalc as it is a decision support app designed to provide evidence-based information to healthcare providers. However, it is important to note that the app should not replace a healthcare provider's clinical judgment or be used as the sole basis for diagnosis or treatment. There is always the potential for errors or inaccuracies, and healthcare providers should use their own clinical judgment and consider other factors when making clinical decisions (Kummer et al., 2021). Moreover, healthcare providers should ensure that they are using the most up-to-date version of the app and that they are using it in accordance with the app's instructions and guidelines.
PRIVACY/SECURITY: The app uses encryption to protect user data, and the privacy policy states that all data is stored securely and is accessible only to authorized personnel. The app does not share user information on social networks or other third-party platforms. MDCalc is relatively safe to use but a user is responsible for what happens in their account and they can notify MDCalc the moment they notice an unauthorized access in their account.
USER: MDCalc is primarily intended for healthcare providers, including physicians, nurses, and other healthcare professionals. The app provides clinical decision support tools that can help healthcare providers make informed decisions about patient care. However, the app can also be useful for medical students, researchers, and other healthcare professionals who need quick access to medical calculators and algorithms. Patients may also find the app helpful for understanding medical terminology or calculating their own medical risks, but it is important to note that the app is not a substitute for medical advice from a qualified healthcare provider.
DISTRIBUTION: MDCalc is designed for wider distribution and is available for download worldwide on both the App Store and Google Play Store. The app can be accessed from anywhere with an internet connection, making it useful for healthcare providers working in different locations or in different countries. The app is also available on the web, so it can be accessed from any computer with an internet connection.
CREDIBILITY: MDCalc sources its information from reputable medical literature and guidelines such as the American Heart Association, the Society of Critical Care Medicine, etc. The app is CME accredited. In addition, the app's editorial team is composed of physicians and healthcare professionals who review and update the app's content regularly. The app's reputation for reliability and credibility is also demonstrated by its widespread use among healthcare professionals and its inclusion in medical education programs. In general, the app's sources of information are credible and trustworthy, and its reputation for reliability is well-established in the medical community.
RELEVANCE: MDCalc prides itself on providing up-to-date information and guidelines for healthcare providers. The app's content is updated regularly, with new studies and guidelines incorporated into the app's algorithms as they become available. The app's editorial team is composed of physicians and healthcare professionals who ensure that the app's content remains current and relevant to clinical practice. The last update date was three months ago. Overall, the app's content is consistent with evidence-based literature and best practices/standards of care, and is regularly updated to ensure that it remains relevant to clinical practice.
PART 3
PATIENT SCENARIO
Patient Age-population: Adult
Clinical Setting: Hospital
History of Present Illness and Diagnosis or Condition: A 50-year-old patient was admitted to the hospital with acute chest pain and a diagnosis of suspected acute coronary syndrome.
The MDCalc app can be implemented at the point-of-care in this scenario. The app can be used by the physician or the clinical team to calculate the risk of adverse cardiac events based on the patient's clinical characteristics and biomarker results. The app can also provide guidance on the appropriate treatment and management strategies based on the calculated risk.
The potential impact of using the MDCalc app in this scenario is that it can help the clinical team to make informed decisions regarding the management of the patient with acute coronary syndrome. By using evidence-based risk calculators and treatment algorithms, the app can assist in improving patient outcomes and reducing the risk of adverse events.
According to the critical appraisal information above, the MDCalc app has been developed by a team of medical professionals and is endorsed by various academic institutions and medical professional organizations. The app is also regularly updated with the latest evidence-based literature and best practices. An evidence-based scholarly article that supports the use of the MDCalc app in clinical decision-making is "2019 ACC/AHA Guideline on the Primary Prevention of Cardiovascular Disease" by Arnett et al. This article recommends the use of risk calculators, such as the ones available on MDCalc, to assess the risk of cardiovascular disease in patients and guide the appropriate management strategies.
References
Arnett, D. K., Blumenthal, R. S., Albert, M. A., Buroker, A. B., Goldberger, Z. D., Hahn, E. J., … & Smith, S. C. (2019). 2019 ACC/AHA guideline on the primary prevention of cardiovascular disease: executive summary: a report of the American College of Cardiology/American Heart Association Task Force on Clinical Practice Guidelines. Journal of the American College of Cardiology, 74(10), 1376-1414.
Elovic, A., & Pourmand, A. (2019). MDCalc Medical Calculator App Review. Journal of Digital Imaging, 32(5), 682-684. https://doi.org/10.1007/s10278-019-00218-y
Kummer, B., Shakir, L., Kwon, R., Habboushe, J., & Jetté, N. (2021). Usage Patterns of Web- Based Stroke Calculators in Clinical Decision Support: Retrospective Analysis. JMIR Medical Informatics, 9(8), e28266. https://doi.org/10.2196/28266