NR 512 Discussion Knowledge Generation Through Nursing Informatics
NR 512 Discussion Knowledge Generation Through Nursing Informatics
NR 512 Discussion Knowledge Generation Through Nursing Informatics
This week discussion is on APN roles and the application of project management concepts as it relates to NI and whether it applies to my practice or does not. As nursing informatics is constantly evolving and the list of skills that it has accomplished has grown over the years, project management is one of the new concepts to nursing. According to Sipes, project management is one of the most important essential identified, and it impacts all areas of NI skills and provides an organizing framework for processes and projects (2016). Project management includes skills such as design, planning, implementation, follow-up and evaluation (Sipes, 2016). Numerous roles is nursing require project management skills as part of NI like, management, administration, leadership, faculty, graduate level master's and doctorate practicum courses (Sipes, 2016). Nursing informatics defined by the American Nurses Association's (ANA) in Sipes as "the specialty that integrates nursing science with information and analytical sciences to identify, define, manage and communicate data, information, knowledge and wisdom in nursing practice" (2016). Nursing informatics is supportive to nurses, patients, the interdisciplinary health care team and all stakeholders involved in making decisions to achieve desired outcomes (Sipes, 2016.)
Sipes references that project management was formally recognized as a distinct contribution arising from the management discipline and further discusses how engineering, at the forefront of project management, has become a "key management strategy in in healthcare, where there is a need to put formalized structure and management to organizational tasks" (Sipes, 2016). This process is used in nursing when nurses care for their patients using nursing process. Project management is one of the largest essentials of NI but the least understood. Project management consist of 5 steps.
1.Design/Initiation- (Sipes, 2016)
Plan-(Sipes, 2016)

Implementation, Monitor-(Sipes, 2016)

Control and Evaluation-(Sipes, 2016)
5.Lessons Learned-(Sipes, 2016)
The project management skills of NI can be applied universally in many settings and job roles, like for NP which is my field of study to set up and manage clinics. Examples of project management skills include task of: development/implementation of work plans, design/development of systems, function as lead/project manager in all phases of the systems life cycle, and development and implementation of all organizational documents required as a project manager to successfully manage a project (Sipes, 2016). In a previous employment I worked on a renal/pancreas transplant unit and I was involved in creating a plan of care to educate the other staff members on. It involved anatomy and physiology, pharmacology and assessment skills and flow charts to organize care of the patient. It was not imbedded into our traditional documentation system that was on the computer and was in a paper form, however it entailed project management skills to create it. Looking back now this was a clear example of what project management entails. Part of the main reason for me seeking a advanced degree in nursing was to become more involved in direct patient care and the effects that my decision would make on their outcomes. As a registered nurse it can be frustrating and difficult to have to wait on physicians to make changes in your patients plan of care, or to even reach out and contact them, the delay in response can be negative. Becoming a advanced practice nurse with a specialty in NP will allow me to have direct affect on my clinic and patient load and their care.
Reference
Sipes, C. (2016). Project Management: Essential Skill of Nurse Informaticists. Studies In Health Technology And Informatics, 225252-256.
This does sounds like a great project that demonstrates the many leadership roles nurses have in there professional career. Being able to plan, budget, and resolve concerns are many of the great aspects of a project manager. As per our reading, a project manager include skills of good communication, implementation & close monitoring of time and resources, risk management, monitoring resources, and controlling quality. I am not that great with budgeting and finances so this topic is very interesting to me because I like to face my areas I struggle with. As a future nurse practitioner my main focus and interest is primary care and educating my patients on wellness and preventable help practices: diet, exercise, health screening, and learning about family health history in order to become educated advocates of their own health. We as nurses are individuals who constantly put our own help concerns on the back burner in order to care for others either at work or at home. I want to campaign and advocate for health professionals to stop this and realize we are individual too who need to practice what we preach. I have recently been diagnosis with breast cancer and I can truly say I have put off screenings because of my busy lifestyle: working 60 plus hours a week, stress of not being able to take time off, being a single parent of 6, school, so on and so on. This practice I have seen in so many of my colleagues who have suffered greatly and even passed way because of late diagnosis and poor management of illness. So, that is what my future mission as a nurse practitioner: wellness and screening; God welling.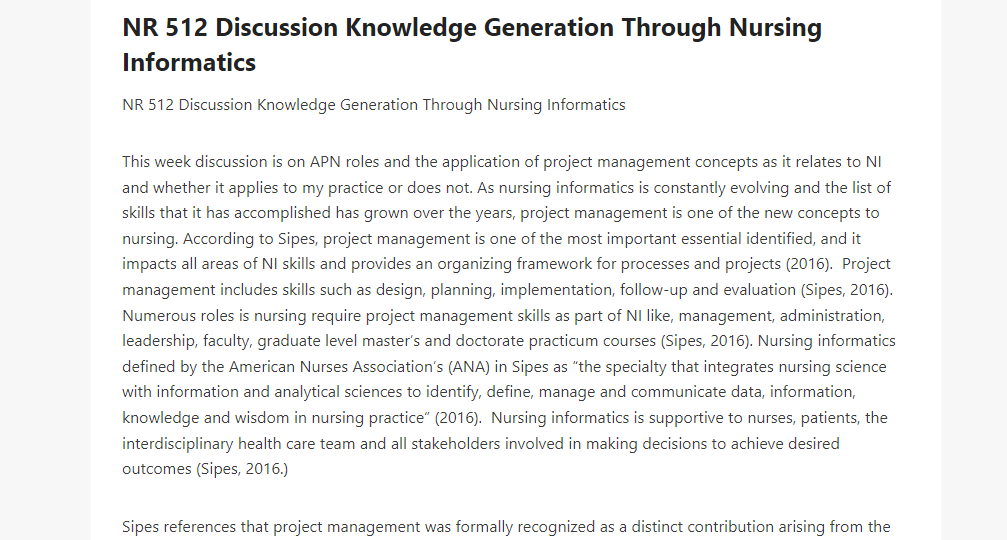 As a night shift nurse, I think it is particularly hard to find opportunities to participate in and garner more knowledge about project management. Night shifters often do not get as involved with these operations, and daytime opportunities for us to participate often conflict with work. However, at my hospital they have recently implemented a role called nurse clinical supervisor. These nurses are RN's/BSN trained nurses who are assigned to particular units to help during times that are extremely busy but primarily act as an extension of unit managers. Their purpose is also to help implement new programs that bring policy changes for us bedside nurses. They often work at times when they can see both day and night shifts, usually from 4 p.m.-12 a.m. throughout the weekdays. I feel that following them around or observing them in their role would be a great way for me to build project management skills. They play a role in quality improvement, which is a key part of project management but also an element of competency in nursing informatics (Sipes, 2016). They are also in charge of implementing change and collecting data about the unit that is processed and sent to senior management to observe compliance and effectiveness of policies and procedures. With my limitations in being night shift I think it would be wise to utilize some of my time to communicate with these clinical managers and get an idea for how they collect, process and organize data, and also how they handle implementing changes with a varied staff. Both the skills of data organization and change implementation are parts of project management that I feel are beneficial to be familiar with.
References
Sipes, C. (2016). Project management: Essential skill of nurse informaticists. Studies in Health Technology & Informatics, 22(5), 252-256. doi:10.3233/978-1-61499-658-3-252
Night shift nurses often times are omitted or feel omitted from the political environment of the unit. Night shift nurses because of there schedule many times miss staff meetings, unit updates, and important verbal feedback generally communicated during the day. Often times night shift nurses feel out of the loop with no true support or no true voice for the night shift staff. I think the idea of having a night shift supervisor who actually comes out of his or her office and help and support the staff is awesome. As a night shift supervisor the ability to be a project manager with the knowledge of informatics is an important tool in bridging the communication gap between the day shift nurses and the night shift nurses. As a nurse supervisor, one would need to incorporate project management skills such as design, plan, apply, supervise, and conclude (Sipes, 2016). It seems like the nurse supervisor in your facility work hard to support the staff and ensure that the concerns and the needs of the nurses are meant. The concept of a having a night shift supervisor who have great skills set such as project management, informatics, nursing assessment and clinical judgement open up avenues to a conducive, productive, and a positive environment to delivering the best care to patients.
Reference: Sipes, C. (2016). Project management: Essential Skill of nurse informaticists. Studies in Health Technology & Informatics, 22(5), 252-256. doi:10.3233/978-1-61499-658-3-252
There are many strategies that may be utilized to increase involvement in project management endeavors. My personal strategic plan would involve preparation prior to solicitation for participation in a live project. As a nurse, my first thought is to assess my qualities and skills and compare them to those of successful project managers. In an article by Shelley (2008), a comprehensive list of common qualities that successful project managers have in common is described. The list includes qualities like leadership, emotional intelligence, conflict management, flexibility, enthusiasm, and decision making to name a few. My first inclination is to focus on the qualities that I lack and seek out opportunities to improve them. Many employers offer web based learning, classes, and workshops on many of the skills mentioned. Taking advantage of those learning opportunities will be included in my preparation.
In addition to identifying areas of improvement and attending workshops, participation and exposure to the project management process via mentorship is vital. Once there is some level of understanding volunteering for participation in projects at various levels will offer opportunities to network as well as strengthen various roles associated with project managers. While project managers cannot do every task and appropriate delegation is essential, I think it is necessary to understand the functionality of the various roles and tasks project managers delegate.
In summation my strategy would be to assess and improve my skillset, prepare through education and workshops, make my presence known, and take advantage of even the smallest opportunities that present for participation in project management endeavors.
Reference  Shelley, J. (2008). Success in project management: an informative and practical workshop for those wanting to improve their project management skills. Libraries For Nursing Bulletin, 28(1), 29-36.
Thank you very much for your thorough and concise discussion regarding strategies to increase involvement with project management. When I initially read the question addressed to the class, my first thought was participation. But, after reading your discussion post, I was enlightened to more aspects of personal qualities that are involved with participating in project management endeavors. I particularly like the mention of emotional intelligence, conflict management, and flexibility. Working on any project with any number of people does require each of these qualities. In my experience, it is rare that a project goes smoothly, with everyone in agreement, and everyone being flexible with time, resources, and commitment. While I agree that each of the qualities are essential, I do feel as though strong emotional intelligence skills is a must when actively leading or participating in a project. Leads or participants need to have a deep understanding of their own emotions, be able to manage these emotions in order to reach goals, be able to understand other's emotions, and be able to establish good working relationships (Zohre Parsa and Abdoirahimi, 2016). Having a mentor who can help guide and role-model these behaviors would be an excellent opportunity in learning the personal qualities involved with project management!
Thank you for bringing attention to these qualities,
Reference
Zohre Parsa, Y., & Abdoirahimi, M. (2016). Concept analysis of emotional intelligence in nursing. Nursing Practice Today, 3(4), 158-163.
To increase project management skills and endeavors as a nurse, an individual could shadow a unit nurse manager or learn from them as a mentor. Typically, unit managers have many responsibilities such as budgeting, planning, scheduling, hiring, educating, collaborating, and problem solving. When I transferred from the ED to cardiac I had to interview with the unit manager who hired me and scheduled my orientation and educational classes. Managers must assess the needs of an employee to properly train them. Even though, I had experience in the ED I had to learn more about heart failure. I had to attend the same heart failure 101 as the patients as well as meet with nurse educator on the unit. Unit managers also must make the nursing schedule while keeping in mind of patient acuity and the budget. If there are 16 patients and no more available beds but 8 of those patients are high precautions and total care, then an extra nurse maybe necessary on the floor. The manager must have proficient problem-solving skills too. For example, if two nurses are having difficulty getting along the unit manager may have to intervene to resolve the issue. It's vital to resolve conflict among co-workers because our attention should be towards patients and their needs. Essentially, nurse managers must have project manager skills to properly manage the unit.
In the attempt of accomplishing a successful project that is geared toward effective and efficient changes in the workplace, project managers can utilize various strategies. One such strategy is to set aims that can be achieved. According to Rubin (2018), various key elements such as mission, vision, goals, values, desired outcomes, action plans, and initiatives can be used by project management leaders to assist them in steering their organization in the direction that they would like to go. Rubin (2018), further mentioned that project managers need to be adept at using each of these tools as opportunities to achieve their desired goal. Choosing and including the appropriate people on a process improvement team is relevant to the successful implementation of the project. It is crucial to include them in identifying, planning, and implementing a project. Setting aims that are specific, measurable, and having a defined time period is crucial. According to Rubin (2018), the aims of every project management should include a definition of who will be affected such as the patient population, staff members, and stakeholders. Project managers who make it their business to focus on clearly defining and communicating an organization's aim, will be well positioned in their development and execution of their proper policies and initiatives in achieving their goals (Rubin, 2018). Possessing a measurable aim will assist in keeping team members in harmony toward common objectives and desired outcome of both the healthcare organization and patient population. Rubin (2018) stressed the importance of possessing common aims during all project management assignments in order to build organizational trust both internally and externally, which will serve as a benchmark for continuous improvement efforts.
References
Rubin, J. (2018). Setting your organizational aim. Policy & Practice 69(1), 26.
To fully answer this question, we must understand exactly what project management concepts are. Project management is the art of managing all aspects of a project from beginning to end using a very structured method to meet its objectives (Kerzner, 2017). This definition, to me, is used all throughout our nursing profession. We use project management strategies as Advanced Practice Nurse's to improve patient care. The main purpose of these concepts is to improve patient outcomes in healthcare delivery. These projects require an entire team, not one individual (Kerzner, 2017).
An Advanced Practice Nurse can be viewed as a manager of patient care. Project management is very similar to the nursing process because it is designed, planned, applied, regulated, and then finally, concluded. This process is coordinated by team members to meet goals and objectives outlined for a specific project. It is accomplished by utilizing skills developed in graduate school. With project management, Advanced Practice Nurse's should ask the following questions:
-Why are we doing this project (Kerzner, 2017)?
-Why do we need it? Who will benefit (Kerzner, 2017)?
-Does it fit the organization's strategic mission and plan (Kerzner, 2017)?
With project management concepts, it is critical that Advanced Practice Nurse's track, control, and monitor all processes and understand the key responsibilities of project management. This includes regulating and controlling the project on time, on budget, and within the scope of the project (Kerzner, 2017).
All of nursing involves a form of project management. As nurses, we work as a team all the time. We have doctors, residents, other nursing staff, CNAs, and much more taking care of our patients as well. We are not alone with our patient's care. I think that we use systematic approaches and methods to monitor our patient's care and work together to improve their care. With this being said, I do believe that I use this in my practice. My goal is to improve patient care and improve their outcomes in healthcare delivery.
Reference:
Kerzner, H. R. (2017). Project management a systems approach to planning, scheduling, and controlling (12th ed.). New Jersey: John Wiley & Sons