NR 512 Discussion Integration of Nursing Informatics Skills and Competencies
NR 512 Discussion Integration of Nursing Informatics Skills and Competencies
NR 512 Discussion Integration of Nursing Informatics Skills and Competencies
Informatics is used in my personal practice through several ways. The first, is obviously through a computer. I work in the operating room, and our charting must be thorough and in-depth so that we are able to describe every event that happened during the patient's surgery. The charting in the operating room is different than any other charting I have done. We do not do a full head to toe assessment, in fact we do not usually have time! We must be able to realize what happened in that surgery through our charting if it were too appear in court one day.
In the cognitive aspect of informatics, it is a little different in the operating room for nurses. I only get a few minutes to allow my patient to trust me with their care. They are asleep during their entire surgery and I am their advocate. I must use my cognitive intuition to call the shots regarding what this patient may or may not want. I must use my cognitive informatics to collect enough data or information about this patient to learn their needs and wants. Usually I only have about 3-5 minutes to do this. This then puts into effect my work that I do as a nurse and my decision-making skills. I believe that the primary area I use informatics would be my initial interview with my patient.
Before the patient comes to the operating room, I am to interview them, check their health record, check their history, make sure both an anesthesiologist and the surgeon have seen the patient, and find out as much information as I can to learn everything about this patient. In the interview, I ask them questions that pertain to them, what I have learned about them through their record, and any questions I may have, or they may have regarding their surgery.
I believe that both the computer side to informatics and the cognitive side to informatics allow us to ensure patient safety. By viewing my patient's electronic health record, I am ensuring that everything matches what the patient says. Yes, they had hip surgery back in 2004 and need extra padding, or no they did not have hip surgery back in 2004 and can go in stirrups. As a nurse, I am using informatics to ensure that all benefits to the patient are realized (Strudwick et al., 2016).
Reference:
Strudwick, G., Booth, R., & Mistry, K. (2016). Can Social Cognitive Theories Help Us Understand Nurses' Use of Electronic Health Records?CIN: Computers, Informatics, Nursing,34(4), 169-174. doi:10.1097/cin.0000000000000226
I enjoyed reading your post about how informatics allows and ensures for patient safety and I could not agree more. My top three during admission database is going over the patients medication list, if the patient has fallen within the past six months, and if the patient has been readmitted within the past thirty days or ninety days. It is extremely important to ask patients what medications they are currently taken, what medications have been discontinued, and what medications are new. I make sure that their medication list is updated so that physicians are able to see what medications patients are currently taking, what may need to be re-ordered, or if any medications or dosages may need to be readjusted while they are in the hospital. My second question is about falls because too many times I have patients whom are extremely independent and stubborn (my cute elderly patients in the 80s and 90s) about getting up alone and may think that they do not need any help. It is our duty to ask when the last time patients have fallen and even if patients have never fallen, we still have to use our best judgments to consider if they are high risk for falls. If patients are considered to be high risk for falls, they get a high risk falls band, bed alarm on, and a sign outside their room letting everyone know. Sometimes older patients may be forgetful and confused when they wake up and I like to be safe and prevent a fall when possible. In every room, when patients are lying flat in their beds, there is a huge sign attached to the ceiling that says "CALL, DON'T FALL." We take falls very serious on our unit and charting and collecting these data is very useful. Asking patients if they have been readmitted within the past 30 days or 90 days is also very important. Informatics help in this department seeing that we are able to look back at the chart to see if it's the same diagnosis, what kind of treatments were done, and when patients were discharged. This type of informatics also prevents any kind of treatments that may be needed to be repeated and it prevents errors as well. To prevent errors from occurring, there is a need for a set of performance indicators and metrics related to patient safety for classifying and measuring mistakes (Karami and Hafizi, 2017).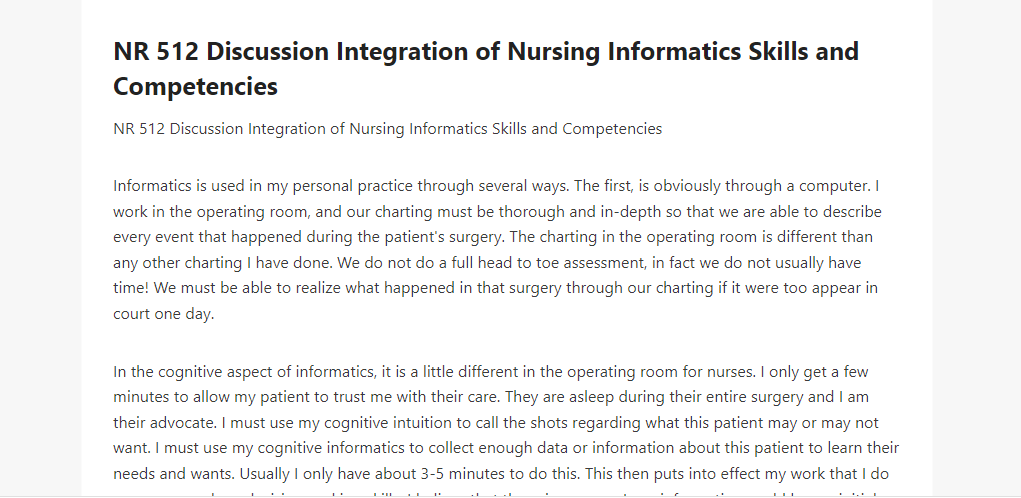 Reference: Karami, M., & Hafizi, N. (2017). Enhancing Patient Safety Using Medical Imaging Informatics. Radiology Management, 39(2), 27-35
Nursing informatics and critical thinking is an important component in the delivery of safe patient care and must be used simultaneously to ensure patient outcomes are positive. Nursing informatics is important to all nursing specialty areas; therefore, it is important for nurses to understand the relevance of incorporating nursing and informatics to the clinical practice, patient tracking, data trending, assessing workload, & appropriate and timely documentation (McGonigle, Hunter, Sipes, and Hebda, 2014). Nursing informatics is such an important concept to safe patient delivery that in 2004, an execute order from President Bush outlined a plan focused to ensuring that every American would have an electronic health record (EHR) by 2014; this executive order brought together a national conference in July 2004, called the Cornerstones for Electronic Health Record that included leaders across healthcare to discuss the technological infrastructure of technology into the healthcare arena (Shaw, Sensmeier, and Anderson, 2017). The Tiger initiative was established because of this conference in 2006, to engage and prepare nurses for the proper use and development of informatics in nursing practice. Therefore, the need for nurses and nurse leaders to understand the significant of informatics in nursing is very important to practice that lead to positive patient outcomes when documentation is detailed, timely, accurate, and within the unit and facility guidelines.
References:
McGonigle, D., Hunter, K., Sipes, C., & Hebda, T. (2014). Why Nurses Need to Understand Nursing Informatics. AORN Journal, 100(3), 324.
Shaw, T., Sensmeier, J., and Anderson, C. (2017). The Evolution of the TIGER Initiative. Computers, Informatics, Nursing, 35(6), 278-280.
What you said about the relevance of incorporating nursing and informatics has never been more true. I am also familiar with the TIGER initiative. I would like to focus on your comments about TIGER because it is such a valuable resource for nurses because of the technology tools the program offers. TIGER is a virtual learning environment (VLE) that has webinars and interactive health IT resources (Schlak, Anderson, & Sensmeier, 2013). TIGER also recommends core global informatics competencies (Schlak, Anderson, & Sensmeier, 2013). If a nurse is looking to boost his or her knowledge of applications of health IT in care delivery, TIGER is the way to go (Schlak, Anderson, & Sensmeier, 2013). The cost to register for TIGER is around $40, but nurses who register get unlimited access for one year. It is self-paced and has three levels. In my other class, Health Care Policy, we learned about the four spheres of political action in nursing. One of the spheres is the workplace. TIGER is a great resource to learn about new technology advances in healthcare, which helps me in the workplace. I can share the information I have learned about data management with colleagues and become a leading team member in helping my facility complete federally mandated goals to implement the "meaningful use" of EHRs.
Reference
Schlak, S. E., Anderson, C., & Sensmeier, J. (2013). THE TIGER HAS JUMPED INTO THE VIRTUAL LEARNING ENVIRONMENT! Computer Informatics Nursing (CIN), 31(2), 57-58. doi: 10.1097/NXN.0b013e318289c7a6
Informatics has really made an impact on the way patients' clinical records are created and managed. The use of the term cognitive informatics is just really catching on, but its influence is significant (Patel & Kannampallil, 2015). The impact of CI in nursing is broad and makes a difference when administering treatments that support clinician activities (Patel & Kannampallil, 2015). As a long term acute care (LTC) nurse, I provide a continuum of medical services to support the needs of patients living with chronic health problems. LTC is different from the other forms of medical care because it includes a wide range of services, such as traditional acute-care medical services, social services, rehabilitation or physical therapy, assisted living or other housing-based services. EHRs and EMRs improve access to patients' medical data, which helps LTC nurses provide better patient care. I totally rely on EHRs in my practice to support clinical decisions and to interact with hospitals, medical labs, and pharmacies. Using cognitive informatics is a major part of my daily practice. Overall cognitive informatics deals with mental processes, how a nurse thinks, processes information, problem solves. Much of my judgement and reasoning depends on what a patient's EHR contains.
References
Patel, V. L., & Kannampallil, T.G. (2015). Cognitive informatics in biomedicine and healthcare. Journal of Biomedical Informatics, 53, 3-14. Retrieved from https://doi.org/10.1016/j.jbi.2014.12.007
I work in a LTAC environment also on the weekend and like you stated the services provided encompass; acute care services, respiratory management, wound care, occupation services, speech & physical therapy, emotional support to patients and family, and so much more. Long term acute care represents a vast amount of services needed to ensure continuous health care services are meant after a traditional hospital stay is complete. Technology and nursing services help meet the needs of patients needing specialized wound healing, ventilation support, unstable dialysis, and high levels of on-going care. These technological services support high level patient monitoring and electronic health care records for tracking data and patient progress, for establishing and updating a patient's plan of care, daily documentation of a patient's assessment, order entry, lab work, transfer, and discharge. IT in a LTAC environment is essential and refers to comprehensive systems that convert medical records, charts, assessments, progress notes, and other documentation about patient care into electronic records which have the capability to assist in clinical decision making, remote provider order entry, scheduling, interventions, and treatments (Alexander, Alwan, Batshon, Bloom, Brennan, Derr, & Serio, 2018). Health care delivery in the United States has reached an all-time critical point. The passage of the American Recovery and Reinvestment Act of 2009, has invested $2-2.6 billion dollars for health information technology; and recognizes that the adoption of IT in long-term care to be high, nurses and other staff working in long-term post-acute care setting s should be following the developments of national health information technology plans and providing inputs as needed (Alexander, Alwan, Batshon, Bloom, Brennan, Derr, & Serio, 2018).
Reference: Alexander, G. L., Alwan, M., Batshon, L., Bloom, S.M., Brennan, R.J., Derr, J. F., & … Serio, I. J. (n.d.). Building on a National Health Information Technology Strategic Plan for Long-Term and Post-Acute Care Comments by the Long Term Post-Acute Care Health Information Technology Collaborative. Journal of Gerontology Nursing,  37(7), 23-25.
Almost every member who works within the facility uses informatics in almost every aspect of patient care whether directly or indirectly. At my facility we use the Epic system. This system is only as good as the information that is placed into it. This system can track where the patient is at any given time, whether or not a room is clean or dirty and how long it has been that way. This system allows for information from all departments to be entered so anyone can access the information.
As a nurse I use informatics to input patient information from the minute they enter my unit. I can access notes, results from labs and diagnostic tests that have already been preformed as well as see items that are pending completion. I can see patient demographic information and update and/or alter it as needed. I can search for past information from other admissions from our facility. This system promotes safety by reducing medication errors. First the provider preforms medication reconciliation then it is double verified by a pharmacist then finally available for me to administer using scanner technology. It has the ability to scan patients, which requires you to be in the correct MAR. Then scan the medication, which ensures the correct medication and amount of medication. All drug interactions; side effects and contraindications are all assessable from the MAR.
As I complete assessments and input the information alerts are created from many different areas from fall risks, skin risks, vaccinations, and precautions, to contact concerns and the need for swallow evaluations, dietary and/or wound care consults. I am able to view I&O's and vital signs input by techs, notes from doctors, as well as lab and diagnostic results from all departments.
Pretty much I use informatics in direct patient care and in every aspect of patient care. It has been proven that to improve patient care informatics competence is absolutely necessary (Darvish, Bahramnezhad, Keyhanian, & Navidhamidi, 2014). I can watch trends in vital signs and labs as well relay information to the patient from providers and diagnostic tests that have been preformed. I can also encourage patients to be more active in their own care by taking advantage of their patient portals, which allow them to have immediate access to their own results, education, and a means of communicating with their providers and scheduling appointments. All of this technology and the intelligence that comes from it does not replace the need for commonsense and physically assessing our patients but instead can be seen to enhance patient safety, communication and care.
Darvish, A., Bahramnezhad, F., Keyhanian, S., & Navidhamidi, M. (2014, November). The Role of Nursing Informatics on Promoting Quality of Health Care and the Need for Appropriate Education. Retrieved February 25, 2018, from https://www.ncbi.nlm.nih.gov/pmc/articles/PMC4825491/
Within the operating room, safety is a must to prevent what we call "wrong site, wrong surgery." Before the patient enters the operating room, they are in a holding area which my facility calls "Day Surgery." Before we go meet the patient in day surgery, we have several "extra layers" that we use to ensure safety. The first thing I do is log into our electronic health record (which is also Epic) and I ensure that the consent matches the order. For instance, I would ensure Right Leg Amputation is the same on both the consent and the physician's order, with emphasis on triple checking the right laterality. After this, I look at lab values. I make sure electrolytes are within normal limits, the hemoglobin and hematocrit aren't deathly low, and if it is a female under the age of 55, I ensure she is not pregnant.
My next step is to check to see if the physician or their resident have put in an updated history and physical note within 24 hours. This ensures us that the patient has been seen by them and are still eligible for surgery. I next check the allergies and write them down to confirm with the patient when I go to interview them. After I have checked these, I walk over to day surgery and open the patients chart. Here, I make sure that the patient has signed the consent and verify if they have or have not consented for blood if needed during their operation. I get my report from the nurse and meet the patient. Upon meeting the patient, I ask them to point to me what leg they are having amputated and ensure there is a mark. This mark is used as an extra layer of safety to ensure that the surgeon does not amputate the wrong leg! Once everything matches and everything is good to go, and the patient verifies their allergies and the procedure with me, we take the patient to the operating room.
Now, there are two more vital safety layers we are required to utilize inside the actual operating room. These are known as a "time-out" and a "sign-out." A time out, also known as the universal protocol, is done while the patient is asleep but before an incision is made. This confirms the patient, their date of birth, their allergies, the procedure, the laterality, and confirms all relevant members involved in this procedure (Lipshy, 2016).
After the procedure is completed, we then end the procedure with a "sign-out" before the surgeon leaves. In this safety layer, we confirm that the procedure on the consent is the procedure that was completed, we also confirm if there are any specimens and what the surgeon wants to do with them (leave them fresh, put them in formalin, etc).
All of these are considered safety layers that starts with informatics, and as Ashley mentioned, competency. We are not going to send a patient back to the operating room with a Hemoglobin of 5. We would utilize our competency to call the physician about ordering a blood transfusion and rescheduling the procedure.
Thank you, Ashley for your post. I enjoyed it and look forward to reading more in the future!
Reference:
Lipshy, K. A. (2016). Invited response to Paull et al, errors upstream and downstream to the universal protocol associated with wrong surgery events. The American Journal of Surgery,211(4), 827-829. doi:10.1016/j.amjsurg.2015.07.035
I worked as a circulator for years before getting into management and I must say things have definitely changed over the years. For instance, when I first became an OR nurse all we had was a time-out poster on the wall and there was no end of case sign-out. Now due to technology, time-out questions are built into our Stryker video system (Stryker Digital Capture, SDC) and displayed on all 4 monitors. This is visvible for the whole OR team to participate. The same system is used for our sign-out as well.
Since implementing this process, I have notice the OR team, including anesthesia and surgeons have become more engaged during the time-out and the sign-out. In a way, it forces them to stand still and listen. According to Kaur and Rawat (2015) "Nursing informatics can help vendors design better technology solutions and healthcare organizations select and implement solutions that will not only help nurses but also help improve patient care. Applying nursing informatics into our nursing practice has helped improve over all healthcare quality, safety, and efficiency.
Reference  Kaur, S. and Rawat, H.C.L. (2015). Importance of nursing informatics in nursing curriculum for utilization of information technology in nursing profession. BabaFarid University of Nursing Journal 9(2), 1-5. 
Technology in healthcare has improve nursing practice and has brought about many advancements to improving the lives of patients. Technological advancements assist in improving practice through robotic surgery, telemedicine where physicians can remotely assess and treat patients, scanning patients and medications to decrease medication administration errors, EMR that gives physicians and patients access to health records, and computerized charting that allow for real time and accurate documentation of a patient's assessment and health records. All these improvements in technology bring health care practices to a new dimension where practice measures must meet better standards to improve outcomes. The Tiger Initiatives have identified measures to advance technology in the nursing workforce to help improve patient care outcomes by addressing implementation issues such as IT project governance, electronic health records, bar-coded medication administration, online medication reconciliation, decision support, standardized vocabularies, and evidence-based practice in automated care planning and documentation (Murphy, 2010). We as future nurse leaders must also be aware of and become more involved in nursing informatics do to the many favorable outcomes it produces when implemented into nursing practice. As leaders in nursing practice we must seek to be advocates of the development of change in practice that improve patient outcomes and seek to provide evidence-based care.
Reference:
Murphy, J. (2010). Nursing Informatics: The Intersection of Nursing, Computer, And Information Sciences. Nursing Informatics, (28)3.
Thanks so much for replying to my post. I came from a tiny hospital that was still doing paper charting when I left up on the unit. So starting at this huge hospital with the Epic program was a bit intimidating for me but I'm still hanging in there and learning something new everyday. It sounds like you'll have a lot of safety items to check before, during and after your procedures, which I'm sure is very time consuming but still very necessary in order to prevent major mishaps. If I make a mistake on the floor even with a dual verification from another nurse there is still a good chance we have something to correct the mishap such as an antidote or reversal agent. It may be dangerous and inconvenient and I may even get in trouble whether something happens to the patient or not. Being in the operating room is a place where these mishaps more than likely can't be reversed such as with removing the wrong limb or something to that extent. I see the need for double and even triple checking to make sure everyone is on the same page. We have to go through a similar procedure on the unit when surgeons do procedures at the bedside but on a much smaller level then you'll do. I remember when I did my surgical rotations in Key West at our tiny hospital. I did love being in the operating room actually watching problems physically get fixed (I always begged to stay longer). I remember them needing to scan every surgical towel at the end of the procedure. I remember the circulating nurse stressing because she couldn't account for one towel. When I inquired what the big deal was it actually was a big deal. They scanned every towel and had to account for every piece of equipment they started with in order to assure they didn't leave any items inside the patient. This makes perfect sense because I have heard horror stories of items being left inside patients for years until they were later discovered by another surgeon. BTW the missing surgical was found in the trashcan, someone actually had to dig in the trash to find it. Hailey do you'll use this extra level of safety in your operating room? This was years ago and it was at a tiny hospital so I'm sure you'll have better ways of doing things.
I found an interesting journal article about dual verification that I read before and your post reminded me of it. I figured I would share with you a little about the journal article. It actually mentions weakness in double checking, just as you mentioned includes tracking down a busy nurse.
The weaknesses are as follows:
1) Inconsistent conceptualization – for instance, some nurses check their own work, or others sign off when they are in a hurry without double checking the orders (Hewitt et al., 2016).
2) Costly, time-consuming process – some nurses believe that dual sign off substantially impacts their daily work, and interferes with the ability to perform an independent double check could be very difficult in a busy environment (Hewitt et al., 2016).
3) Requires a trained and dedicated environment (Hewitt et al., 2016).
This article thinks that double checking deserves more questioning, and believes there are limitations to the process. This article I felt equally discussed the pros and the cons about dual sign off and double checking. It talks also about how dual sign off is a safety measure that prevents near misses, sentinel events, and even death (Hewitt et al., 2016).
Hewitt, in her article, also discusses that alternate views to a dual sign off could include an automatic dual sign off such as eliminating the need for human intervention when a computer could do the job more efficiently and reliably. Another view includes expanding double checking beyond error detection. This means catching problems and preventing harm to patients. However, dual sign offs need not be used exclusively to find problems. They should be used to share opinions and best practice (Hewitt et al., 2016).
Thank you for your post and allowing me to share this article with you!
Reference:
Hewitt, T., Chreim, S., & Forster, A. (2015). Double checking: a second look. Journal of Evaluation in Clinical Practice, 22(2), 267-274. doi:10.1111/jep.12468