NR 512 Discussion Informatics Skills
NR 512 Discussion Informatics Skills
NR 512 Discussion Informatics Skills
We utilize informatic skills every day in nursing. The skills that we are developing/expanding upon not only validate ourselves to be current in informatic skills, but also validate our decision-making skills. As a nurse, we communicate with our patients and utilize technology to communicate patient care with one another.
Before I was enrolled in this course, I did not even know what "nursing informatics" was. I remember a friend of mine was talking about it and I had absolutely no idea what they were talking about. However, in the four weeks I have been in this class, I have realized how significant informatics is to our profession. Upon being enrolled in this course, I am learning things throughout my work shifts that involve informatics. I feel that being enrolled in this course I am able to care for my patients in a more safe, diligent way than I was before. With technology and informatics constantly improving, we are provided opportunities that can allow us to reform our current practice to better future practice. Informatics and technology allow us to experience an endless amount of education, resources, and connect us to a world within reach (Moen & Knudsen, 2013).
Until I attended this course, I would have said that nursing informatics is understudied and underestimated and that most people would not understand it's importance (including myself). But, daily, I see how important informatics truly is! Nursing informatics has proven to improve quality of care through effective communication, information sharing, and even through access of evidenced-based practices. Changes and innovations in our nursing profession contribute to health care, patient care, and even their treatments. Nursing informatics stimulates ways to improve outcomes, handle dilemmas, and prevent harm during transitional periods (Moen & Knudsen, 2013). 
When I filled out the TANIC self-assessment, my impression was absolutely changed. I always believed I was pretty "tech-savvy." I believed I could figure most things out on a computer. After completing the self-assessment, I realized there was a lot I had no idea what it meant. I began to underestimate my own abilities and my own informatic skills. I am looking forward to seeing the change in my pre TANIC self-assessment and my post TANIC self-assessment.
Reference:
Moen, A., & Knudsen, L. M. (2013). Nursing Informatics: Decades of Contribution to Health Informatics. Healthcare Informatics Research, 19(2), 86. doi:10.4258/hir.2013.19.2.86
An example of how technology improves communication within multidisciplinary teams includes emails, video conferences, online newsletters, instant messages, and the Intranet. The Intranet is a website designated for that company and is a crucial factor for employees. The Intranet can be used as a means of obtaining feedback from managers, other employees, and other colleagues from other units (Crowley & Heyer, 2018).
Another way that communication helps multidisciplinary team members is through a work e-mail. Every Thursday my work sends an e-mail with updates, new policies, changes, etc. We utilize e-mail unit to communicate anything and everything.
Technology often is utilized as a form of communication by acting as a "meeting place" for the employees. Technology makes global communication easily accessible (Crowley & Heyer, 2018).
For me, I think that technology is a phenomenal form of communication. It is convenient, especially for those with disabilities or impairments such as hearing impairment or vocal impairments. Technology acts as a substitute form of communication that is important in all aspects of our industry.
Reference:
Crowley, D., & Heyer, P. (2018). COMMUNICATION IN HISTORY: Technology, culture, society(6th ed.). S.l.: ROUTLEDGE.
I enjoyed reading your informative discussion posts. A few years ago I was employed as an employee with an organization that provided nursing services to people diagnosed with terminal diseases. I had to travel from one patient's home to the next. I can remember times when patients needed personal supplies such as medication, adult briefs, and or a visit from the nurse. All employees were equipped with a pager/beeper that was able to display one hundred character pages. The team secretary and nurse manager were able to send individual and or group messages to employees after typing such messages on their desktop computers then send each message to the beepers. We were able to receive confidential email messages via the beeper to inform us of certain duties that were expected of us on particular days of the week.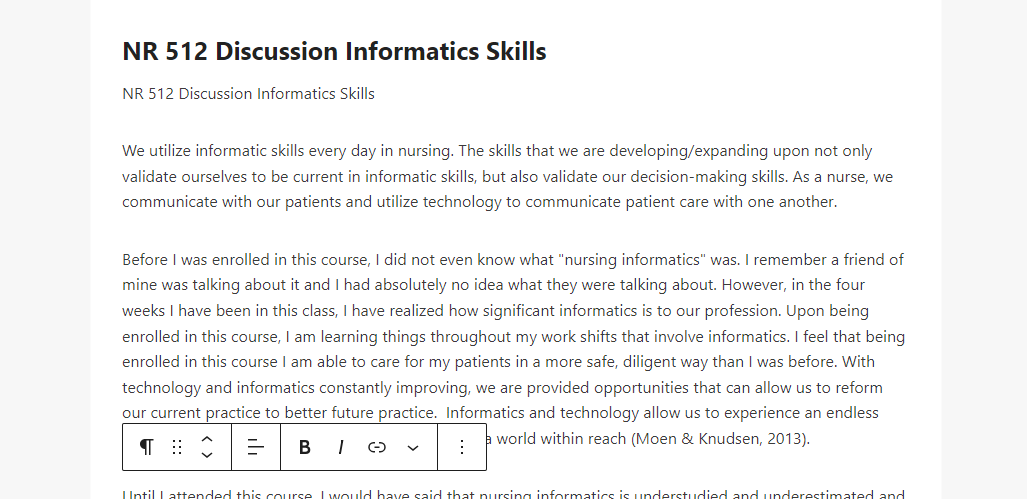 At my current place of employment many patients on dialysis services have been diagnosed with hypertension and require daily medications to assist in maintaining a healthy blood pressure.  Some of these individuals request medication refills to be sent to their personal pharmacies.  Then nephrologist and or his nurse practitioner often send an electronic prescription via a confidential e-mail to the pharmacy of the patient's choice.  I utilize eMAR to document things such as patient plan of care, interventions, assessments, physiological parameters, and nursing progress notes at the clinic via the computer.  All this data is relevant to care integration and safety of all patients.  Nursing informatics is used every day in the nursing profession and environment.  An EKG machine is a form of technology that when used properly offers significant findings regarding test results and remain as critical components of steps that practitioners participating in patient care are able to take to promote highest standard of care on behalf of patients.
Thank you for sharing your response about ways of communicating with the multidisciplinary team. I am right there with you about using the paging system and communicating through the telephone. Many of my patients come directly from our emergency room which means that the best way to communicate with a physician about a patient is to use the paging system. It is amazing how fast a physician will call me back. The best part about communication using technology is that I can speak with the physician on the phone while I am pulling up the patient's chart. Physicians can also pull up the patients chart and put in orders immediately for nurses. Let's say that my patient complained of having constant chest pain. I will proceed to do an EKG. The EKG reads STEMI. I will then page the physician through the paging system. The physician calls me back and he can literally pull up the EKG that I had just done on the patient to determine the next step of caring for the patient. As nurses, we are constantly collecting data and information about our patients prognosis that it is extremely important to learn, adapt, and to have technology competency. Information and communication technology has become vital to patient care, allowing nurses to gather and share large amounts of information rapidly and efficiently. Nurses are known to be caring and, therefore, must use technology toward improving quality and safety of patient care (Sullivan, 2015). As part of providing safe care to our patients, we must be able to share crucial information with the multidisciplinary team efficiently and in a timely manner. The best way in doing so is to utilize our nursing informatics skills and continuing to stay updated with technology.
Reference:
Sullivan, D. H. (2015). Technological Advances in Nursing Care Delivery. Nursing Clinics Of North America, 50(Pathophysiology and Care Protocols for Nursing Management), 663-677. doi:10.1016/j.cnur.2015.07.005
When I think of communicating with the multidisciplinary team, the first thing that comes to mind is paging or calling. Paging is the most common form of communication, where people receive and display numeric or text messages (Mehrzad & Barza, 2015). If I need orders or a doctor, I can page or text page a resident or call the Attending Physician. Respiratory therapy, Case Management, or NICU is also a phone call away on their zone phone. If they need to see anything, they also have access to patient charts, which show data trends and lab results they need to make decisions about care. As for my communication with my patients, they have the call bell which calls the front desk. I also write my zone phone number on their board every morning. If they need me, they can pick up their phone in the room and call me directly.
I have never been hospitalized, but my PCP is a part of the hospital, and all patients have access to My Chart upon discharge. My Chart is a patient portal where I can set up appointments, request refills on prescriptions, and see all of my laboratory results. I like this feature and can easily communicate with my doctor if I need anything. Mehrzad, R., & Barza, M. (2015). Are physician pagers an outmoded technology?. Technology and Health Care: Official Journal of The European Society for Engineering and Medicine, 23(3), 233-241. doi:10.3233/THC-140865
Nowhere is interdisciplinary team communication more important than in healthcare settings as the complex nature and demands of the health care work environment requires the expertise and knowledge of differing individuals (Gausvik et. al., 2015). For example, planning surgery for a heart failure patient consist of a large team, which include a cardiologist, surgeon, palliative care specialists, heart failure specialist nurse, research nurse, and imaging consultants. Each team member provides a specific service to the patient.
In order to coordinate their services and get the team working towards a specific goal, interdisciplinary/multidisciplinary team meetings must occur. In recent years there have been significant advances in the development of technologies that support teamwork (Maruping & Magni, 2015). Electronic data support, process facilitation, and team video or web conferencing are three health information systems (HIS) that can enhance team function.
Electronic data (EPR) allow health providers in different settings access to real time data such as, lab tests, medications, and radiology results. Care planning and team teaching can be facilitated through the use of EPR. Video conferencing is a common form of communication used quit often during multidisciplinary team (MDT) meetings at my facility. It allows health professionals from all disciplines to call in and discuss potential patient treatment options with other members of the multidisciplinary team. Effective MDT communication is essential for prevention of medical errors and optimal patient outcomes.
Reference

Gausvik, C., Lautar, A., Miller, L., Pallerla, H., and Schlaudecker, J. (2015). Structured nursing communication on interdisciplinary acute care teams improves perceptions of safety, efficiency, and understanding of care plan and teamwork as well as job satisfaction. Journal of Multidisciplinary Healthcare Vol2015:8, 33-37. https://doi-org.chamberlainuniversity.idm.oclc.org/10.2147/JMDH.S72623
Maruping, L., and Magni, M., (2015). Motivating employees to explore collaboration technology in team contexts. MIS Quarterly 39(1), 1-16.
In my experience working as a Registered Nurse in the Emergency Department I became acutely aware of how instrumental technology can be in enhancing communication among the various members of the care team; and conversely how poor technology and systems can be a detriment to providing safe and efficient care. In the multidisciplinary context of providing care, structure, consistency, and repeatability of communication enables a shared understanding of the patient and plan, leading to improved patient satisfaction and outcomes (Cornell, et al., 2014). There is significant value in the use of SBAR (Situation-Background-Assessment-Recommendation) and IDR (interdisciplinary rounds) in improving situation awareness and maintaining focus on key patient data in the hospital setting (Cornell, et al., 2014). With the use of updated hospital technology this documentation can be continually accessed and updated by the various members of the care team to ensure that all individuals playing a role in a patient's care are on the same page and have access to the latest information regarding the patient's status. A test was conducted in a hospital med/surge unit which measured the effectiveness that SBAR and IDR had on patient satisfaction, Foley catheter removal compliance, and patient re-admission rates. The results showed that both the Foley compliance rate and the readmissions rate improved dramatically; from 78% to 94% and from 14.5% to 2.1% respectively, and while the change in patient satisfaction was not significant it trended positively as well (Cornell, et al., 2014). In the absence of sufficient hospital technology these results would not be possible as the communication of the relevant documentation contained within the SBAR/IDR would suffer.
References
Cornell, P., Townsend-Gervis, M., Vardaman, James M. (2014). Interdisciplinary Rounds and Structured Communication Reduce Re-Admissions and Improve Some Patient Outcomes. Western Journal of Nursing Research, 36(7), 917-928. doi:10.1177/0193945914527521.
One example of how technology enhances our communication within the healthcare team is in systems such as Care Logistics (which is used at my institution) which allow for any members to view the location of patients, available beds, pending discharges and admissions, and patient activities by simply logging on from any computer in the hospital. The system is unique in that it utilizes the use of symbols to communicates aspects of care. Team members from a variety of departments within the hospital can enter data into the system that can help facilitate care and maximize effective time management. For example, a nurse just coming on shift can look by the patient's name in the system and see that patient X is currently in CT, is a fall risk, is on Telemetry, and is being cared for by the Hospitalist team of MD's and is on day 3 of their hospital stay. This is a great example of how technology in informatics can assist with effective communication, which is crucial since there are often numerous professionals on different shifts involved with a patient's care.
Effective communication is also critical to patient safety. The Institute of Medicine in 2001 named informatics as a core competency for healthcare professionals in large part because workers need to understand the impact that it has on patient safety and outcome (Kleib, Simpson, & Rhodes, 2016). One area where miscommunication in technology can have a huge effect on patient care in medication administration. If a Pixis or Omnicel gives out a 12 mg pill instead of a 1.2 mg pill, and/or if the scanning system does not catch discrepancies in dosage, then harm to the patient could occur. In these situations, nurses and pharmacists need to have a quick way of electronic communication so that both systems can be alerted to fix the error and catch it before the error gets to the patient. This example is a reminder of the need to continuously evaluate technology for errors and be aware that technology, while helpful, is a potential source of error if not monitored by knowledgeable and competent professionals.
References
Kleib, M., Simpson, N., & Rhodes, B. (2016). Information and communication technology: Design, delivery, and outcomes from a nursing informatics boot camp. Online Journal Of Issues In Nursing, 21(2), 1. doi:10.3912/OJIN.Vol21No02Man05
Technology plays a major role in enhancing patient safety and communication within a multidisciplinary team. Effective communication is communication that is clearly understood between the sender and receiver. Technology in healthcare through the use of computers enhances communication through the implementation of computerized charting, scanning of medications, escripts, and the Pyxis. The use of computerized charting, scanning, escripts, and the Pyxis allow for communication to be clearly document and viewed by members within the multidisciplinary team. Technology in healthcare provides documentation that can be retrieved, assessed, reviewed for accuracy, and clinical decision making. In healthcare the role of the nurse involves communication, collaboration, and caring which is enhanced by the use of information technology (Cashen, Bradley, Farrell, Murphy, Schleyer, Sensmeir, & Dykes, 2006). Nurses' primary goal is to provide communication among patients, family, and the multidisciplinary team to provide safe care and positive outcomes. Information is a key to clinical decision making in healthcare; with the use of computer technology receipt of information and the acknowledgement of colleagues receiving information is paramount to safe patient care and clinical decision making (Cashen, Bradley, Farrell, Murphy, Schleyer, Sensmeir, & Dykes, 2006).
Reference:
Cashen, M., Bradley, V., Farrell, A., Murphy, J., Schleyer, R., Sensmeir, J., & Dykes, P. (2006).
Exploring the Impact of Health Information Technology on Communication and
Collaboration in Acute Care Nursing. Studies In Health Technology and Informatics,
122575-579.