NR 510 Week 4 Organizational Change and Ethical-Legal Influences in Advanced Practice Nursing Case Study Part One Discussion
NR 510 Week 4 Organizational Change and Ethical-Legal Influences in Advanced Practice Nursing Case Study Part One Discussion
NR 510 Week 4 Organizational Change and Ethical-Legal Influences in Advanced Practice Nursing Case Study Part One Discussion
My immediate action is to address the patient's reason for the visit. According to Mitchell and Oliphant (2016), I have a responsibility to conduct a comprehensive patient interview or consultation before prescribing any medications. While there are ethical issues with what Stephanie did, even though her intentions were good, this must be addressed in private later. Mrs. Smith has already taken a prescribed dose of amoxicillin for her cough. If the amoxicillin has not cleared up the cough, I should not provide her with a refill order just yet. This may have been the wrong medicine to prescribe for a cough in the first place. For one, if Mrs. Smith felt comfortable with Stephanie calling in a prescription order without the doctor's consent, this may not be the first time she has been prescribed an antibiotic without being checked-out first. Mrs. Smith may have developed a resistance to the antibiotic. Norris et al. (2013) state antibiotic resistance is a serious, growing threat that causes the bacteria in patients' bodies to become immune to the antibiotics medicinal properties. Many respiratory conditions are viral infections not bacteria-based illnesses, and Mrs. Smith may not have known that antibiotics only work against bacteria. There are many possible factors as to why Mrs. Smith has developed a chronic cough. I should conduct her physical exam and ask her questions about her cough (when it developed, the type of cough like wet or dry, does the patient smoke, any shortness of breath, has she taken any medication other than amoxicillin to treat the cough). I should then draw Mrs. Smith's blood to send to lab for testing to determine if she has become resistant to amoxicillin. Also, during her physical, I can see if movement or exertion prompt her to cough. Once the physical has been performed and cough symptoms evaluated, I will take medications, past health history, and any present conditions I have recognized during the physical into consideration then decide on the best cough treatment plan. Once the patient has been taken care of, I will create thorough notes to document the visit, my findings and actions, and Stephanie's actions then report what has occurred to the primary physician and office manager.
Reference
Mitchell, A., & Oliphant, C. M. (2016). Responsibility for ethical prescribing. The Journal for Nurse Practitioners, 12(3), A20. Retrieved from DOI: https://doi.org/10.1016/j.nurpra.2016.01.008Links to an external site.
Norris, P., Chamberlain, K., Dew, K., Gabe, J., Hodgetts, D., & Madden, H. (2013). Public beliefs about antibiotics, infection and resistance: A qualitative study. Antibiotics, 2(4), 465-476. doi:10.3390/antibiotics2040465
Since this is a detrimental mistake and issue, this would require a meeting with all the MAs and providers. However, I believe initially, there should be a private meeting with Stephanie to go over what exactly happened and a followup meeting to discuss the consequences of her action. Usually, when one makes a mistake on the unit I work for, it is brought up during monthly meetings or huddles because the management does not want staff to repeat the same mistake and cause more harm to the patient or even put their job and/or license at risk. For example, a nurse accidentally mixed two patient's lab draw tubes and put it in one bag and sent it to laboratory. We never saw the actually meeting with the nurse, what the consequence was and management tried to not expose which nurse it was. However, thru gossip, the staff found out who. It was brought up in huddle several times to remind nurses to please remember to label lab draws correctly because this can cause patient harm if mislabeled or sent improperly to lab. I think having two staff meetings is appropriate because there should be one private meeting with Stephanie and another meeting with the staff as a whole to prevent this from happening again. 
I agree that this may not have been the first time Stephanie did this. It would seem unlikely to me that she would tell the patient she was doing it without the knowledge of the NP. I feel like it would of been something she may have mentioned that she was going to have the NP call something in. I also agree that if she is requesting more antibiotic then it was possibly the wrong medication for her cough. Perhaps it was just a virus. I know patients are always requesting an antibiotic for any and everything that is wrong with them. I once had a patient insist on an antibiotic for being dehydrated. Even filed a formal complaint to the president of the hospital because she did not receive the antibiotic. With patients being so quick to threaten legal action or complain, it is likely Stephanie did what she did to attempt to keep the patient from complaining.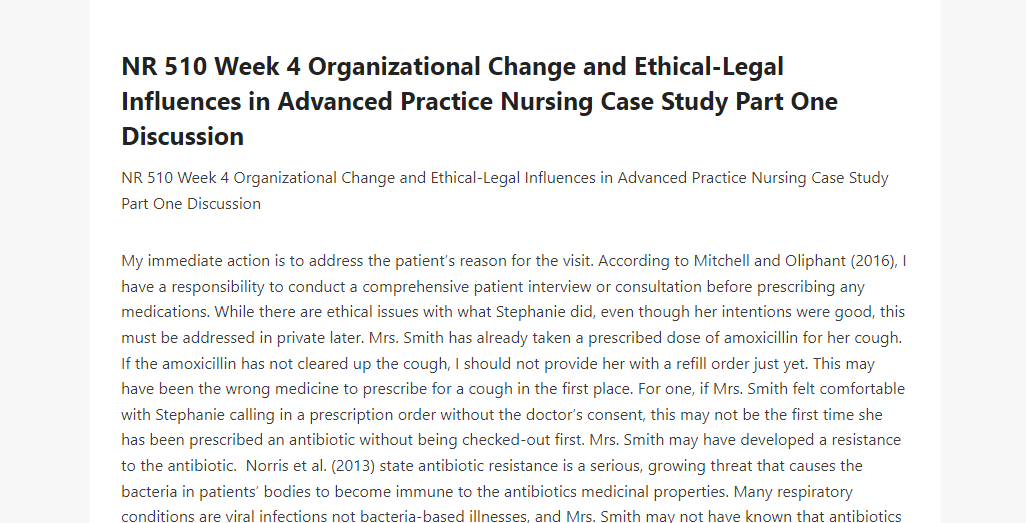 Instructor Storm,
You asked if having a staff meeting and addressing it with all the MAs would be a better approach than a one on one meeting. For some things I think this may be acceptable, however in this situation I believe that both would be appropriate. If it was me I would have a meeting with all the MAs and a separate meeting with Stephanie. This is not something I feel should be left to a simple warning. This is too serious of a matter. Having one group meeting would be like giving Stephanie the thinking that it was not that serious and she may continue to do this. Next time it could be a stronger medication or something that would cause a bad reaction. So I definitely think disciplinary action is in order. Even if it is just a first offence.
I am glad that you brought up looking at Stephanie's reasoning or mindset about the situation. I think you are right that Stephanie was trying to help or avoid a confrontation with the patient, but Stephanie's decision definitely made the situation worse instead of better. I cracked up about your comments regarding the patient who wrote a letter to the president of the hospital for not receiving an antibiotic for dehydration. That patient should be writing the president a thank you note for your great nursing. What this patient did not realize is that a possible side effect to taking antibiotics is diarrhea. If not monitored properly, diarrhea can cause severe dehydration. Today, patients are so quick to file lawsuits against doctors and nurses if they do not get their way or if the outcome of the medical procedure is not what they expected it to be. Is there a solution to minimizing the number of medical lawsuits filed per year? After researching my own question, I came across an article that discusses the profile of patients most likely to file litigious claims. The article states, respecting patients' need for information during clinical consultations and disclosing medical errors when they occur is the more patient-centered approach and the best way to lessen the likelihood of a claim (Tsimtsiou, 2014). The point of this statement is that medical staff need to be more forthcoming to patients instead of trying to please them. If Stephanie had politely informed the patient that she would have to wait until her appointment to discuss her refill request for the antibiotic, noted the patient's file, and forwarded the patient's request to the NP assigned to the patient, Stephanie would have followed protocol and taken a patient-centered approach.
References
Tsimtsiou, Z., Kirana, P., Hatzimouratidis, K., & Hatzichristou, D. (2014). What is the profile of patients thinking of litigation? Results from the hospitalized and outpatients' profile and expectations study. Hippokratia, 18(2), 139–143.
I agree with you regarding many things you mentioned in your discussion. I also stated in my initial discussion post and believe that the first prior is to address the patient and to make sure that the patient is safe. There were many unethical and unlawful things that transpired in this case and many matters that need to be address but ensuring that the patient is safe by calling Mrs. Smith into the office to assess and evaluate them is the number one priority. I like and agree with you how you feel that you should address Stephanie actions with her first and in a private manner. I have to say I am not sure if Mrs. Smith would have even known that the prescription was ordered by Stephanie because once she receive her antibiotic from the pharmacy it would have the NPs name as the prescribing person, which would never allow Mrs. Smith to know that Stephanie actually ordered the Rx. You also brought up a valid point that Stephanie may have been prescribing several other antibiotics which can cause antibiotic resistance which is also an ongoing current problem according to research. Overall, this case study presents several elements that I learned and will consider for my future practice. One, the issue of a healthcare personnel that may have been in the healthcare field for several years that may feel that they know everything and feel no need to consult with the healthcare provider such as the NP or the physician, over stepping their boundaries; and two, considering the approach to address such issues with the healthcare personnel in a professional manner.
Reference
Norris, P., Chamberlain, K., Dew, K., Gabe, J., Hodgetts, D., & Madden, H. (2013). Public beliefs about antibiotics, infection and resistance: A qualitative study. Antibiotics, 2(4), 465-476. doi:10.3390/antibiotics2040465
For this case study, I feel that having a prescription or any medication ordered and placed under my name is a major concern, especially seeing that it was not order with a provider's judgment. My view regarding this case study may seem strong however; this may be related to the fact that I am currently learning and developing a foundation and understanding of the roles, function, and scope of practice of an advance-practicing nurse, family nurse practitioner. According to Gregory (2014), regardless of the years of services of a medical assistant, they are not allowed to prescribe medication to clients. In fact, depending on the state laws and facility policy that the medical assistant is working, they may be allow to telephone prescriptions to the pharmacy, assess and record vital signs, and report acute, abnormal lab such as glucose findings to nurses. However, they are not allowed to prescribe any form of medication as this is not within their scope of practice and is considered unethical and unlawful (Hoke and Hexem, 2017).
Furthermore, because both the medical assistant and the nurse practitioner know that prescribing medication under the name of a provider without appropriate orders is unlawful and unethical, I do believe that the next logical sound course of action would be to discuss disciplinary action with the medical assistant. I do not think is an extreme measure due to the years of experience of the medical assistant has, she should definitely know what is lawful and ethical within his or her job description. I actually see and hear of similar situations to this case study in my place of employment, as far as employees practicing or implementing interventions out of their scope of practice and job description. I have personally experience nurse assistants attempt to carry out and delegate Registered Nurses interventions and orders that were outside of their job description. However, I have not witness to the extent of a medical assistant ordering and prescribing a medication under a nurse practitioner or doctor.
In addition to the disciplinary action that I would hold to the medical assistant, I would also reinforce the practice expectations as to what is within their scope of practice/job description including the policy and procedure.  I feel this is essential because if nothing the assistant is not held accountable or if the issue is not address regarding her unlawful and unethical actions the next situation could be worse.  This is a serious matter because regardless of the rapport and years of experience she has still does not hold the sound judgment and competence of an advance-practicing nurse nor a physician to make such a decision.
Reference
Gregory, M. (2014). Researching the Scope of Practice for Medical Assistants. AAACN Viewpoint, 36(2), 13-14.
Hoke, K., & Hexem, S. (2017). Expanding Access to Care: Scope of Practice Laws. Journal Of Law, Medicine & Ethics, 4533-36. doi:10.1177/1073110517703316
I agree with your post. I feel the concept of 'team integrity' has a far greater impact and significance in how people present, act, demonstrate and present themselves in a daily fashion. Team integrity really makes or breaks a practice. Obviously we are all patients at some point in our lives, whether it be during our yearly PCP examinations, eye doctor appts, well or sick visits for our children. As patients we understand what we like and dislike at various medical practices (Buppert, 2015). I often can feel the 'vibe' of the office culture. Team culture has a huge impact on patients satisfaction as well as employment satisfaction. From personal experience, I have worked at hospitals where it was managed in a very authoritarian demeanor, and other facilities where input and personnel were valued. These qualities are very much relayed and ingrained to how patient care is delivered. When teams are managed kindly with educating staff in mind, employees are apt to being receptive towards corrective criticism and understand the legal scope of how NP's practice for the welfare of the patient, the practice and legal malpractice aspects as well. Taking time to education the staff will create an atmosphere where the staff values and respects an organization. Discussion and education trimuph's overs authoritarian discipline. Time to educate will be felt among patients, staff and employees!
Reference:
Buppert, C. (2015). Nurse practitioner's business practice & legal guide (5th ed.). Retrieved from https://bookshelf.vitalsource.com
Yes, I agree this can definitely be an awkward position to be in but I feel that going to Stephanie first to try to resolve my concerns will help to allow the situation to be less aggressive and I also feel this will cause less tension amongst us.  I also felt that by going to her first, I would be able to get a better understanding of her thought process and she would be able to understand my concerns.  Going to a supervisor or a manager first is not always the best option and can actually make things worse amongst co-workers.  However, if she was to get defensive I would try to change the course of the conversation by first assuring her that I am not out to harm her but to make clear that my number one concern and priority would be to ensure the safety of my patients.  I can definitely see that there is a strong possibility Stephanie would or could become defensive, but the conversation would not turn into an argument because it takes two people to argue and I would remove myself from the conversation for the time being to help de-escalate the situation.  Removing myself for the moment would help allow the situation to calm down and allow her as well as myself to regather our thought to reproach the situation.  Because this is a major concern and will need to be address, if going to Stephanie first does help resolve the issue I would then have no other choice to bring this matter to the supervising MD.  I believe I can also help to try to change the course of the conversation to be more productive rather than argumentative by making sure my tone, body language and those essential non-verbal communication clues are not signaling aggressive or defensive signs. 
are very limiting. This situation is not helpful in nursing practitioners making cases for expanding their scope of practice.
Buppert, C. (2015). Nurse practitioner's business practice & legal guide (5th ed.). Retrieved from https://bookshelf.vitalsource.com
Chamberlain college of nursing, 2018. Lesson 4/Organizational Change and Ethical-Legal Influences on APN and Specialty Nurse Practitioner Practice
First and foremost, I would look into the issue and do my own investigation. I would make sure I did not order or sign off on the amoxicillin. It stated that it was a busy facility so sometimes in healthcare, one moves around so fast that they may forget who and which patient they took care of from a week to week basis or even day to day. However, with technology and the advanced use of computers, one can look into the time, who placed the order and date. I have to really sit and think how and who I would approach. I would probably approach who is in charge or administration first to look into it as it could help ease any tension that may arise of questioning Stephanie.
When it comes to questioning someone about a possible mistake on the job, it is important to approach professionally and as cordial as possible. Yelling, chastising, sarcasm, badgering and other negative approaches may not help the situation but only bring animosity and tension. It is advised to bring this issue in private and get all sides of the story before finding who or whom was at fault. First, ask Stephanie herself what happened when the antibiotic was ordered. If it is found that Stephanie ordered the medication without it being ordered by a physician or a nurse practitioner, than, unfortunately, repercussions and consequences may have to be done so that this does not happen again. Even though nothing may have happened to the patient, there could have been serious consequences for the patient and Stephanie was practicing outside her scope of practice. If a bedside nurse puts in an order that the hospital has not allowed for the nurse to place the order and the MD/NP has not verified it, this can comprise patient safety and can have consequences depending out the outcome of the patient. In this situation, even though termination is an option, I would probably suggest a write-up, education or review on topic and scope of practice. This could be seen as a medication adversity. Even though Stephanie may not have meant any harm, this is still not a practice within her job description. (Lepp, 2017)
Reference:
Lepp, M (2017). Learning About Conflict and Conflict Management Through Drama in Nursing Education. Journal Of Nursing Education, 57(4), 209-216.  
Managing conflict in the workplace is a time-consuming but necessary task for the NP and team leader. Conflicts may exist between providers, between providers and staff, and between the staff or the health care team and the patient or patient's family. Conflicts may range from disagreements to major controversies that may lead to litigation or violence (Cullen & Hammer, 2017). Conflicts have an adverse effect on productivity, morale, and patient care. They may result in high employee turnover and certainly limit staff contributions and impede efficiency. Therefore, as you mentioned it is very important how these events are handled not only for the employees but for the safety and well fair of the patients health.
Once a behavior pattern is recognized, an intervention should be made. This action is necessary not only for patient safety but also because lack of action could be interpreted by the courts as negligent. When a confrontation is necessary, a team approach should be used, and if possible, a member of the team should be a close acquaintance of the individual, setting up a "good cop–bad cop" scenario (Cullen & Hammer, 2017). If only one person is involved, the NP/physician may view the intervention as a personal confrontation instead of a peer-related issue. Specific incidents should be documented, and the focus should be on behavior, not personality. Empathy should be expressed but change must be demanded, with a delineation of the consequences if behavior is not improved. The communication should be direct and clear. he goal is to correct the situation and allow the highly trained physician to perform to an optimal degree. Those participating in the confrontation should look for the good in any situation. In this way, the good can be built on, and a positive outcome becomes more likely. The competent leader will be able to handle difficult people and tense situations with diplomacy and tact. If possible, a win win solution should be looked for (Cullen & Hammer, 2017).
Reference:Cullen J. & Hammer, L. (2017). Journal of Occupational Health Psychology. Jul; 12(3):266-78.