NR 510 Week 3 Discussion Organizational Behavior and Business Influences and Advanced Practice Nursing Case Study- Part One
NR 510 Week 3 Discussion Organizational Behavior and Business Influences and Advanced Practice Nursing Case Study- Part One
NR 510 Week 3 Discussion Organizational Behavior and Business Influences and Advanced Practice Nursing Case Study- Part One
Using the three P's when preparing for a contract negotiation (Danielsen, Potenza, and Onieal, 2016). The three P's stand for prepare, probe, and propose. When the negotiation discussion begins I would start of by stating the number of patients seen for the year and the billable hours that were paid. According to the AANP the US average of NPs see 3 or more patients per hour. A goal to increase revenue would be to start scheduling 3 patients per hour. According to Buppert's payment model this will increase my revenues by more than $75,000 a year. As a contract employee I would be responsible to pay my own taxes, provide my own malpractice insurance, I would not receive medical benefits, and I would pay for my own continuing education, reducing my cost of employment to the practice. I would discuss patient satisfaction and new patient retention rates. An increase in these rates would show my value to the practice. I would also discuss patient outcomes and the increase or decrease in non-scheduled hospital admissions. A goal to increase revenue would be to decrease no-show rates. Initiating a telephone engagement protocol as stated by Clouse, Williams, and Harmon (2015) has to ability to decrease no-show rates and increase revenues. To take strain off the physician, comanagement of patients could be recommended. Comanagement means the NP and the physician work together to manage the health care needs of the same patients. Norful, de Jacq, Carlino, and Poghosyan (2018) state "the stronger comanagement is, the greater the potential for beneficial patient, clinician, and practice outcome" (p. 254). As the NP I could manage patient call backs of those with chronic illnesses that are being managed in extended care facilities.
Resources:
AANP. (2018). NP Fact Sheet. Retrieved from https://www.aanp.org/all-about-nps/np-fact-sheet.
Clouse, K., Williams, K., & Harmon, J. (2015). Improving the no-show rate of new patients in outpatient psychiatric practice: an advance practice nurse-initiated telephone engagement protocol quality improvement practice. Perspectives in Psychiatric Care, 53, 127-134.
Danielsen, , R., Potenza, A. & Onieal, M. Negotiating the professional contract. Clinician Reviews,28-33.
Decapua, M. (2016). How much revenue does a primary care nurse practitioner generate? Retrieved from https://www.bartonassociates.com/blog/how-much-revenue-does-a-primary-care-nurse-practitioner-generate/.
Norful, A., de Jacq, K., Carlino, R., & Poghosyan, L. (2018). Nurse practitioner-physician comanagement: a theoretical model to alleviated primary care strain. Annals of Family Medicine, 16(3), 250-256.
99213 and 99214 are billing codes that are used for patient office visits. 99214 is a higher code for providing more complex medical decision making. Jensen (2005) states that the "level of decision making in a patient encounter is based on three parameters: the problems addressed, the data reviewed, and the level of risk" (p. 53). To increase more 99214 billings there are several components that must be provided and documented during the office visit. These 99214 billing could be accomplished when seeing patients with chronic illnesses. When seeing a return patient with a chronic disease the pracitioner must do a review of systems which makes the exam extended problem-focused (Waller, 2007). During the exam if there is an additional system affected from the chronic disease process, this must be documented. The last component is the medical decision making, in which providers provide a points value to the diagnosis, data, and risk to determine if the patient visit is a 99213 or 99214 billing code. Another way to increase 99214 billings is to code using time-based billing. The practitioner must spend at least 15 minutes with the patient and half of that time must be used for counselling or coordinating care (Waller, 2007). Documentation is critical when determining the billing code for patients. Chief complaints can be similar, but the care can be completely different and that must be documented. Waller (2007) describes a scenario where the chief complaint of two patients is a cold with one patient having a sore throat, headache, no fever, and ENT WNL, while the other has a fever, sore throat, headache, enlarged tonsils with exudative materials needing a strep culture. The second patient needs far more care to diagnose than the first and should be coded as a 99214.
Resource:
Jensen, P. (2005). Coding "routine" office visits 99213 or 99214? Family practice management, 52-55. Retrieved from https://www. Aafp.org/fpm.
Waller, T. (2007). Level-II vs. level-III visits: cracking the codes. Family Practice Management, 21-25. Retrieved from https://www.aafp.org/fpm/2007/0100/p21.pdf\
It important to first sit down and make a list of all the attributes one brings to the practice and the overall income of the practice to be able to gauge ones contract negotiations (Buppert,2015). It sounds like the owner of the practice, like any other, is financially driven which is pertinent for keeping a business up and running. As an independent contractor the provider only goes to the place of business for agreed upon services and bills appropriately for these services. As an employee one is provided with benefits, follows the hours of the business, provided the equipment they need, and get malpractice through the business not on their own (Buppert,2015). Under an ongoing contract negotiation I believe it is important to negotiate hours, wages, number of patients seen per day. Generally, an NP needs to see 20 patients a day to generate enough money to make a practice profitable, therefore I believe this a reasonable number of patients to see (Buppert,2010). It is pertinent to revisit the reimbursement regulations to ensure your knowledge is up to date. One must also confirm date of covered care according to their contract prior to seeing any patients to be ensured payment is appropriate (Hahn &Cook,2018).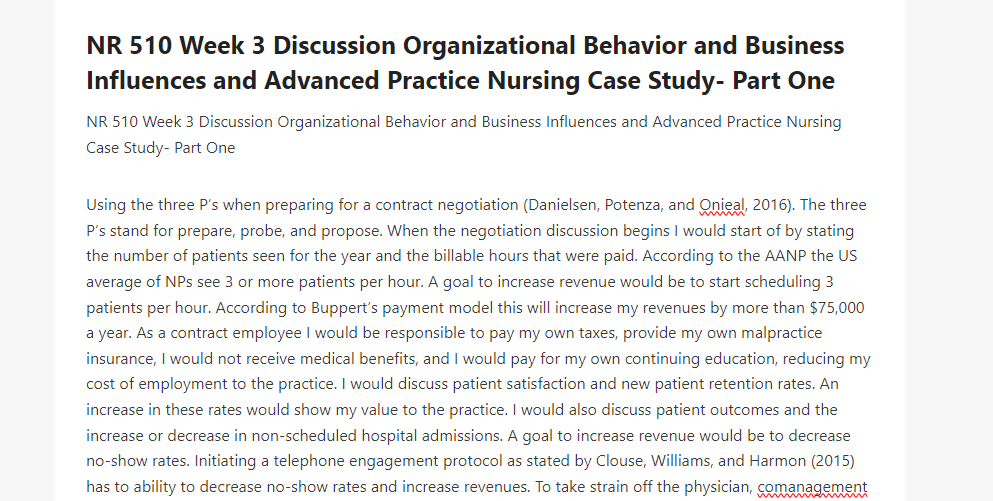 Buppert, C. (2015). Nurse practitioner's business practice & legal guide (5th ed.). Retrieved from https://bookshelf.vitalsource.com
Buppert,C. NP, JD (2010) How Many Patients Can a Nurse Practitioner See in a Day?

Hahn, J. A., & Cook, W. (2018). Lessons learned from nurse practitioner independent practice: A conversation with a nurse practitioner entrepreneur. Nursing Economics, 36(1), 18-22. Retrieved from https://chamberlainuniversity.idm.oclc.org/login?url=https://search-proquest-com.chamberlainuniversity.idm.oclc.org/docview/2007005926?accountid=147674
I enjoyed reading your postings. Highlighting the unique qualities NP's bring to a practice is important. There's an urgent need for primary care services in the U.S. As the fastest growing group of professionals in the primary care workforce, NPs help to close this gap. This fills a void in the community for patients, thereby making it easier to make appointments with NP's. Additionally, NPs focus on the whole person, providing a range of services that concentrate on patients' mental and physical well-being, and they counsel patients about making lifestyle choices that may reduce their disease risk (Chen, 2009). This is most definitely, as you mention, a distinct quality of an NP that attracts patients to the office. A frequent distinction of an NP is their unique emphasis on the health and well being of the whole person. With a focus on health promotion, disease prevention, and health education and counseling, NPs guide patients in making smarter health and lifestyle choices, which in turn can lower patients' out-of-pocket costs.
You also mention the fiscal factors of employment,. Because independent contractors are responsible for paying both the employer and employee portion of Social Security and Medicare (FICA), organizations are not responsible for this costly and administratively time-consuming expense. For a traditional employee, employers must pay half of the 12.4% Social Security tax and half of the 2.9% Medicare tax. In addition to initial tax savings involved, independent contractors are typically ineligible for employee benefits such as health and workers' compensation insurance, further decreasing overall spend. According to the, Department of Labor (Links to an external site.) estimates that benefits are valued, on average, at nearly 32% of salary. These are very important points to illustrate in distinct style and fiscal benefits (Running, Hoffman & Mercer, 2008). .
Reference:
Chen LM, Farwell WR, Jha AK. (2009). Primary care visit duration and quality: does good care take longer? Arch Intern;169(20):1866-1872. http:// dx.doi.org/10.1001/archinternmed.2009.341.
Running A, Hoffman L, Mercer V. Physician perceptions of nurse practitioners: A replication study. J Am Acad Nurse Pract. 2008;20(8):429–433. doi: 10.1111/j.1745-7599.2008.00339.x
This week we learned the importance of contracts and negotiation skills to the Advanced-Practice nurse. There is a significant financial difference to company revenue between 1099 contractors and W-2 employees. 1099 contract workers have more independence and flexibility when it comes to schedule making, and are more autonomous than their counterparts (Fitzgerald, 2016). W-2 employees have benefits of overtime, health insurance, paid leave, retirement benefits, and workers compensation (Fitzgerald, 2016). Being a contract employee saves the physician money as he does not have to provide these benefits. Studies have shown that contract nurses have lower rates of nurse and patient satisfaction (Hockenberry & Becker, 2016). Work environment and the nurse-to-patient ratio, or workload, also seem to affect patient satisfaction (Hockenberry & Becker, 2016).
As we learned in Chapter 10, an efficient Nurse Practitioner can increase productivity and numbers (Buppert, 2015). Every third-weekend call is ideal because there are three Nurse Practitioners. They can rotate through call. Although this would not be beneficial for the W-2 nurses, making everyone a 1099 contract employee would save the company money. Contracts would also ensure the nurses are treating patients extra great. Their jobs would be under contract and unlikely to be renewed if best care was not given. I could also mention paying for my own continuing education or license renewal if the company was paying for it. If the employer saved enough money by making everyone 1099, he could potentially hire another contract nurse to bring in more patients. In my opinion, my suggestions for the company and work ethic should be enough to renew the contract. The individualized care, without rushing, may make the patients more satisfied. I do not want to work myself to death and should negotiate to benefit both myself and the primary care office. I have never had to arrange terms or a job, so this was somewhat difficult for me to come up with. Only ask for what is right and earned. I am interested to see strategies for contract renewal that everyone else suggests.
Fitzgerald, C. (2016). When tech startups outgrow the 1099 model: Moving firms out of the kiddie pool. Vanderbilt Journal of Entertainment & Technology Law, 18(3), 629-652.
Hockenberry, J. M., & Becker, E. R. (2016). How do hospital nurse staffing strategies affect patient satisfaction?. ILR Review, 69(4), 890-910. doi:10.1177/0019793916642760
Buppert, C. (2015). Nurse practitioner's business practice & legal guide (5th ed.). Retrieved from https://bookshelf.vitalsource.com
I can somewhat understand this because both of my last nursing jobs was a contract job. I really would prefer non-contract. I have come to find that I do not like contract jobs as one does feel tied down. There are certain rules and regulations that come with a contract job. For example, the current one I am in, I have to stay two years to fulfill my contract and receive the full bonus. If at any time I leave before the contract is done, I break it and I believe I owe them the money that they gave me so far. Because I am not so fond of the unit and have come to find that jobs that contain contracts and bonuses are usually extremely lacking and can be extremely stressful. I do not think for my next job I would do a contract job because I do not like the idea of being tied down for a long period of time. It can also cause burnout if it is not the most a unit that you like to work on. Any job, especially in nursing is stressful, however, feeling burnout is a different ballgame. One just has to muster it up and just ride out the contract. However, nurses can leave and break a contract if they feel that the unit is just not tolerable and they feel as if patient care may be affected. For me, I would not prefer a contract job.
Thanks for sharing. I do not think that having all contract workers would be beneficial to a practice. To build a patient base you need loyalty to the practice. In this scenario we discuss renewing a contract but this may not always be the case and changing practitioners every year would not increase patient satisfaction. Also many people look for jobs with benefits provided, not offering them could really slim down the number of qualified people willing to take on these positions. I was looking up billing codes for this assignment and the code for a low complexity patient pays the practice approximately $37.00 and $60 for a moderate complexity patient in 2007, NPs when practicing without physician involvement only get 85% of that number. An NP must see at least 20-24 patients daily to justify a salary greater than $100,000. Speksnijder, Dwarswaard, Meurs, and van Staa (2016) in their research of NP patient support to improve health outcomes concluded "while their extension into medical territory seemed quite successful, their core role, building supportive relationships with their patients to facilitate living a good life received far less attention" (p. 3227). I think we all have our perception of what it will be like when we are FNPs, but the reality is that we will work for doctors and organizations that don't want to lose money, we must work hard and provide good care to increase revenues or we will not be valuable to our employers.
Thanks for sharing,
Resource:
Speksnijder, A., Dwarswaard, J., Meurs, P., and van Staa, A. (2016). Rhetoric or reality? What nurse practitioners do to provide self-management support in outpatient clinics: an ethnographic study. Journal of Clinical Nursing, 25, 3219-3228.
It is interesting that nurse practitioners that have contracts have lower patient satisfaction scores.  I would think that those with contracts would have higher patient satisfaction scores.  The W2 employees are paid no matter what their scores are.  And they don't have to be concerned with being sure that they have a contract renewal every few years, or even yearly.  There are definitely benefits to being a W2 employee and an independent contractor.  I suggested bringing in other specialties that you can do as an incentive to getting your contract renewed.  As you suggested, offering to pay for your own continuing education and licensure would definitely be an additive to getting your contract renewed.  This may show the employer that you are willing to negotiate to make the contract better.  There are definitely a number of various things that can be done to make the contract better, or worse.  Depending on which way we all decide to go as family nurse practitioners, we need to be aware of the different things that we can do when making those contracts. 
The first in for most important aspect to realize about this is that one is happy and satisfied with their current job which helps with optimum patient care. There are many negotiation strategies that one can use when speaking to management about elevating contract terms . The first most important negotiation strategy that a family practitioner can use for negotiating would be to have confidence in what he or she stands for and believes in. Effective negotiators must have the skills to analyze a problem to figure out the interest of both parties for a proper negotiation and fair compromise. Before going into a meeting about negotiating the contract one should be prepared and focused. Preparing effectively for this would include determining different goals, alternatives for the stated goal, and the pros and cons also. One must examine the relationship between management and themselves to find common areas for agreement and goal attainment. One should also have good, active, listening skills. Why should be able to pick up on verbal communication and also be able to read body language. One should also be able to communicate clearly, state desired outcome, and effectively so that will decrease the chances of misunderstanding and increase the chances of clear understanding of the negotiation. One should also be able to make sure that he or she is emotions are in line during the negotiation. Negotiations on contracts or any other job upgrade can be frustrating and can open the door for emotions to take control during the meeting which can lead to unfavorable or undesired results. Decisions at the end of the meeting should be ethical and reliable and should not be based off emotions because this can hinder a proper decision. There are several different benefits for being a independent contractor. One can make their own schedule and also have more independence in how they want to complete assignments. One can also except task on a case-by-case basis and can also turn down offers depending on preference and schedule. One can also have more than one client and the family practitioner is in control of her work schedule. This benefits practice as a nurse has more advocacy in Independence rather than working under a strict organization or institution. Since the nurse practitioner is able to make her own schedule and assignments, she will probably be more satisfied and more productive with her patients and provide the best optimum patient care possible. When it comes to negotiating contract terms it is also important to bring up personal contributions that one has given to the job. For example at job rewards, certifications, patients feedback, patient turn around, and other positive contribution that one may have done for the job. (Kaman, 2014)
Referance:
Kaman, V.  (2014). DIFFERENCES IN ANTICIPATED PAY NEGOTIATION STRATEGIES AND OUTCOMES. Journal Of Business & Psychology, 9(2), 142-157.
After having read the lesson from this week and a few articles, it is clear that nurse practitioners can make or break their contracts when negotiating contracts for renewal. Nurse practitioners should be familiar with how to calculate the revenue they bring into a practice (Blazek, 2014). I would want to keep reports on the number of patients that I have seen. This could show how much revenue that I am bringing into the practice. I would want to also know my satisfaction scores. This will be a way that I can be prepared to make other contributions to the practice. It may not be a monetary contribution, but it will make for better patient testimonials (Blazek, 2014).
As a 1099 contractor, I am independent, so my revenue is my revenue. I will be paying the practice for my space. I have more room for play in the amount of revenue that I bring into myself, as long as I have enough to pay myself and the group for my fees. I can propose that I will obtain other credentials, such as those doing DOT physicals, or specialty trainings such as those doing Nexplanon trainings and implants. As a nurse practitioner, in many settings, getting certified to perform DOT physicals is necessary (n.a., 2014). This could bring other revenue in with having those specialty trainings. Along with the special trainings for DOT and Nexplanon, I could become certified in joint injections. This would definitely be a benefit to the practice for bringing in more revenue. I could also advocate to work in an after hours clinic one or two nights a week also. This would help bring in more revenue and satisfaction to the community.
Blazek, N. (2014). How to negotiate a fair NP contract. Clinical Advisor. Retrieved from https://www.clinicaladvisor.com (Links to an external site.)
n.a. (2014). How to get certified to perform DOT physicals. [Web log post]. Retrieved from https://www.midlevelu.com (Links to an external site.)
This is an interesting topic one I haven't considered. There are a few strategies that can be utilized to propose a contract renewal. As a Family nurse practitioner FNP that has been contracted and committed to being a primary care provider and loyal partner to the company, I would definitely point out my hard work and commitment over the past 2 years. While researching this topic and discussion question I found an evidence-based scholarly article regarding negotiating professional contracts specifically for NPs and PAs. This article brought new insight, thoughts and important elements to consider while NPs are in the process of negotiating their professional contracts. I found that it is important for NPs, especially new NPs to possibly have an attorney to review negotiated contracts seeing that most APN educational programs don't offer courses in negotiations, contract law, and business principles (Danielsen, Potenza, and Onieal, 2016). Prior to reading this article, I personally thought and view negotiation as possible confrontation, a negative while considering employment. However, according to Danielsen, Potenza, and Onieal (2016), negotiation is simply a professional of communicating one's personal desire, expectation and a form of a professional conversation.
Other negotiation strategies I would use to propose a contract renewal includes utilizing the three P's Carolyn Buppert, a legal and reimbursement specialist for NPs and PAs, use. According to Buppert (2015), the suggested thee "P's" apart of negotiation include Prepare, Probe and Propose. While preparing to negotiate contracts the NP should prepare by learning how to calculate the projected revenue one would bring to the practice, Probe meaning asking about the practices financial health as well as determining the expectations for profits and propose meaning after the NP's prospective employer proves their value and after the NP has done their due diligence researching the practice, the NP should not hesitate to ask what he or she feels they deserve.
Furthermore, how would my role as a 1099 contractor benefit the practice over the W2 employees? My role as a 1099 contractor benefits the practice versus an W2 employees because as an independent contractor I am not entitled to all the benefits the W2 employees are. For example, as a W2 employee they are often expected to be compensated and given benefits such as medical, dental, life, retirement, 401K, disability insurance, and vacation time, hence, which cost the practice more money to supply these benefits. However, as an independent 1099 contractor I am excluded from such benefits as the W2 employee which is inexpensive for the company/practice.
What evidence can I present to the practice to reinforce my value in the practice both in terms of revenue and patient satisfaction? One as I mentioned I would point out the loyal committed I have fulfilled over the past 2 years of practicing with the practice. As far as patient-satisfaction is concerned, I would also point out the positive feedback and surveys that clients have provided in regard to the care I have provided over the years.
Reference
Buppert, C. (2015). Nurse practitioner's business practice & legal guide (5th ed.). Sudbury, MA: Jones and Bartlett.
Danielsen, R. D., Potenza Ll, A. D., & Onieal, M. (2016). Negotiating The Professional Contract. Clinician Reviews, 26(12), 28-33.
Since the owner of the practice is looking to generate more revenue, the first strategy I would use is to know how much revenue I bring into the practice (Cullen & Donahue, 2016). So far, at an average of 20 patients per day at approximately $70 per patient times 5 days a week times 4 weeks a month, I bring in a substantial amount of almost $28,000 or more per month. Of course, this must be weighed against my salary and any overhead costs (Blazek, 2014). I can use how much I currently bring into the practice as a bargaining tool (Cullen & Donahue, 2016). I help create a consistent revenue stream, which helps the practice remain stable. Another strategy that I should use is to know the type of negotiation style to use (Long, 2013). There are five primary negotiation styles: competing, collaborating, compromising, avoiding, and accommodating (Long, 2013). Each negotiation style has a different way to deal with conflict. My approach should be collaborative not combative. As a 1099, I am more of a benefit to the practice over the W2 employees since the owner does not have to pay health insurance benefits, unemployment insurance, or paid vacations for me like he does for his other two NPs. Furthermore, I must pay for my own malpractice insurance. To validate my financial evidence, I can determine the profit I bring in by tracking my own visits and noting CPT codes and dates (Blazek, 2014). According to the American Association of Nurse Practitioners (AANP), most organizations want a 15 to 20 percent profit rate (Cullen & Donahue, 2016). I can also bring my value and expertise to the table and what it does for the organization's reputation. I should articulate my nonmonetary contributions to the practice, such as increase in patient satisfaction. I can collect patient testimonials or have patients fill out a questionnaire/survey rating my service. I must also know my market and point out the length I have been employed and the effects of leaving. Building a rapport or bond with patients is the key to building trust and maintain a loyal client base.
References:
Blazek, N. (2014). How to negotiate a fair NP contract. Retrieved from https://www.clinicaladvisor.com/aanp-2014/how-to-negotiate-a-fair-np-contract/article/356496/
Cullen, M., & Donahue, M. (2016). Partnership negotiations: Innovation for nurse contract negotiations during turbulent times. Nursing Administration Quarterly, 40(1), 33-38. doi: 10.1097/NAQ.0000000000000140
Long, J. (2013). Effective negotiation strategies and preparation. Retrieved from http://www.acc.com/legalresources/quickcounsel/ensp.cfm
Negotiating salary is rarely comfortable for people. I have learned that most nurses try to ignore that part and hope for the best. In the past, I only applied for jobs that already posted the salary I was looking for. The problem with my approach is many jobs do not give realistic job previews. The recruitment job listing says one thing, but when you take the interview, something extra always creeps ups. NP salaries will never be equal to the amount of work and travel NPs are required to do. Most nurses don't speak up when they are saddled with too many patients or when they experience gender pay gap; they just continue to work. I have become used to negotiating my salary because I know my worth. I am never passive/aggressive, and I never take a job without reading the entire contract. I work in an at-will state, so there are no unions and little job security. An employer can terminate you for basically anything. I remember the first time I negotiated a contract, years ago, I was looking for advice articles on line about strategies. I came across the book Women Don't Ask by Linda Babcock and Sara Laschever. They say 57% of men negotiate their salaries, which results in a 7.6 percent salary increase (Babcock & Laschever, 2007). Women are less likely to negotiate; less than 10% of women negotiate their contracts (Babcock & Laschever, 2007). This needs to change since over 85 percent of nurse practitioners are women. NPs must learn to speak up about their salaries because the future of NP salaries depends on it.
Reference:
Babcock, L., & Laschever, S. (2007). Women don't ask: The high cost of avoiding negotiation– and positive strategies for change. New York, NY: Bantam Books.