NR 506 Discussion Effective Coalition Leadership
NR 506 Discussion Effective Coalition Leadership
NR 506 Discussion Effective Coalition Leadership
There are many necessary elements for effective leadership within a coalition. To be effective, coalitions require multiple things from leadership including effective communication, conflict resolution, perception of fairness and shared decision –making (SAMHSA, 2017). Shared leadership is also an important element. Leaders within the group need to have a defined role and also needs a group of people that are actively participating. Shared leadership is a way for the coalition to tackle the most challenging tasks as a group. It is the job of the leaders to create a positive work environment for each employee as well, which can be a difficult thing to do.
Knowledge development and skill building are other necessary elements for any leader as well. The nursing profession is constantly changing and as younger nurses come in, the leaders need to continue to develop knowledge not only about the nursing practices, but also about the management side of things. Skill building is an element that needs to occur in order for the team to work effectively and efficiently (MacDonald & Shriberg, 2016).
Effective leadership affects many areas of both my personal and professional life. Managers in our facility are required to go to a leadership development seminar 4 times every year. This keeps the leaders up to date on not only the new practices in the nursing profession, but also new leadership strategies. Our department has had some difficulty in the past taking accountability for their actions, which our leader was in tuned to and has worked with our department very closely in order to correct this. For staff members, this is great in multiple ways. We trust our manager as a leader and know she has the ability to coach us to be better. We also see that she might not be working with us every single day, but can recognize when something is not working well in the department. Having effective leadership is so important in every coalition, especially in the nursing profession.
References:
MacDonald, L., Shriberg, M. (2016). Sustainability leadership programs in higher education: alumni outcomes and impacts. Journal of Environmental Studies and Sciences. 6(2), 360-370.
Substance Abuse and Mental Health Service Administration (SAMHAS), (2017). Components of an effective coalition. Retrieved from https://www.samhsa.gov/capt/tools-learning-resources/components-effective-coalition
In my opinion a nurse manger is a leader of a coalition. The unit operates as a coalition as several individuals are working toward goals with a common interest, such as patient care. Effective communication is essential for success in any organization. I have learned that effective communication involves clear and concise information, listening, and observing body language. Communication is required as it significantly impacts how we send and receive information. Leaders need to communicate strategies, instructions, and goals to all members of the team. As a nurse manager in an acute care setting adequate communication helps the unit and organization to be productive and operate effectively. I noticed as healthcare advances nurse managers are utilizing a working knowledge of technology to collaborate and interact with other organizations and individuals. Technologies are becoming common not only in healthcare but in all aspect of life. It is an effective tool used to delivery information to a large group of people. After reviewing this week lesson, I now see the position of a nurse manager and the responsibilities of a coalition leader as one in the same.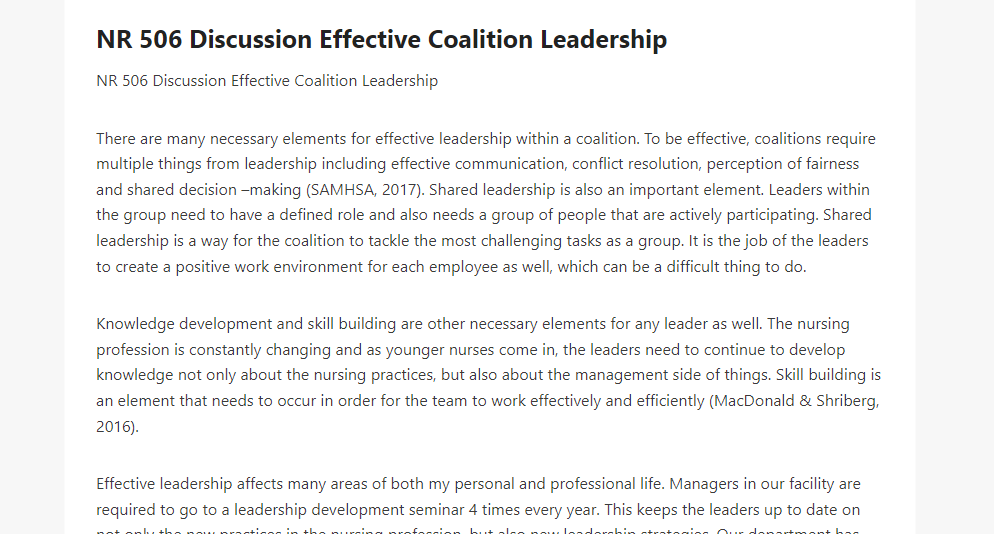 I believe that the leadership skills between a coalition and a nursing manager in an acute care setting have no difference between the two. Both demand a leader that will help mold his or her team into a cohesive unit. This is only done when the leader has those necessary skills to do so. "Effective leaders inspire loyalty and goodwill in others because they themselves act with integrity and trust." (Ulrich, 2018) In, this website article Ulrich goes on to say that there are 5 rules to leadership: the ability to shape the future, make things happen, engage today's talent, build the next generation and lastly investing in oneself.
A good leader can see what everyone's personality and characteristics is like within the unit or coalition to now move the members toward a specific goal together. A leader builds everyone including his or herself up. A leader happily hears the opinions of those around him before taking matters into their hands. A leader delegates tasks that each member of the team or coalition can handle and/or what can push both forward by stretching boundaries. If any individual can cultivate these rules and skills, then leadership isn't too far from their grasp. They would just need to reach for the stars. Once he or she does then the rest is sure to follow.
Reference
 Ulrich, D. (2018). What Is an Effective Leader? Retrieved from http://www.amanet.        org/training/articles/what-is-an-effective-leader.aspx
You have made some excellent points about what takes to become an effective leader. During my undergraduate nursing studies, all of my professors would say that "nurses have made a professional commitment to learning."  They would also say that "nurses in leadership positions should become experts in relationship-building and accountability." Effective leadership in coalitions includes these three aspects, just as effective nurse leaders should hone and build on these skills to lead their teams and organizations to successful outcomes. In my area of nursing (LTC), I see that nursing competency does not always prepare a person to become a leader. I have been employed at medical facilities in which the Director of Nursing is well-skilled in nursing techniques and procedures, but less than apt at supervising nursing staff. I have also been supervised by LTC charge nurses who did awesome jobs of assessing patients and making sure the appropriate care had been given, but who were intimidated by staff nurses. I stated in my post that leadership is a skill or ability that must be taught. You allude to skill building  in your post, as well. A featured blog post on the Nurse.com site by Williamson (2017) says that there is a difference between a nurse manager and a nurse leader. I think the author's explanation makes good sense. Do you believe there is a difference between the two, they complement each other, or they are one in the same?
Reference:
Williamson, E. (2017, May 23). Nurse manager vs. nurse leader: What's the difference?. Retrieved from https://www.nurse.com/blog/2017/05/23/nurse-manager-vs-nurse-leader-whats-the-difference/
Coalitions and Nursing
A coalition is a group of people who share a common goal and work together to influence change (Green, & Edmonson, 2013). Coalitions can formulate decisions only if they are able to look at the overall picture and determine how the decision will affect different people and various organizations (Green, & Edmonson, 2013). Strong leadership is essential for a coalition to be successful (Green, & Edmonson, 2013). This element is necessary so that the group will have direction and be able to accomplish goals that it sets (Green, & Edmonson, 2013). The leader must be able to foresee a clear vision of what the group is trying to achieve (Mennella, & Balderrama, 2017). Leaders must possess the ability to actively listen to every party involved in the decision-making process in order to learn different viewpoints, and then they have to be able to think long term as to how their decision affects both the members of their group as well as outside organizations (Mennella, & Balderrama, 2017). Effective leaders of a coalition will need to mediate between different groups involved in the shared goal; they might be called to evaluate opposing sides of an issue after ensuring all members feel that they have had an equal input in the decisions (Green, & Edmonson, 2013). An accomplished leader can interact with representatives from different agencies spanning from healthcare organizations to government officials (Green, & Edmonson, 2013). Like any leader in any organization, the leader in a coalition needs to be fair and willing to listen to the other members' opinions (Mennella, & Balderrama, 2017).
By being master prepared nurses, we will be the ones implementing change in the healthcare system. Nurses comprise over three million members in the current healthcare population (Green, & Edmonson, 2013). We are in a position to be able to join together and accomplish real change that can affect patients' lives (Green, & Edmonson, 2013). The nursing profession has laid a foundation for being an advocate for patients while also fighting for policies and procedures that need to change (Green, & Edmonson, 2013). Falling into coalition membership seems natural for nurses. We are going to be viewed as leaders and decision makers. With this responsibility, we must be educated in the current issues and be willing to put in the time and effort to improve our current healthcare system. Along with these responsibilities we will be granted positions of power. Ultimately, we must be willing to tackle these issues and assume these roles to benefit our profession and our patients.
References
Green, A., & Edmonson, C. (2013). An Opportunity to Lead: State Coalitions. Nurse Leader, 1128,39-31,39. doi:10.1016/j.mnl.2012.11.00
Mennella, H. A., & Balderrama, D. M. (2017). Leadership: Facilitating Change. CINAHL Nursing Guide,
I agree with your perspective on coalitions and the qualities a leader must contain in order to lead the coalition towards success. Coalition leaders must be able to mediate different viewpoints and have the ability to use those different ideas and mold them into the steps towards their ultimate goal. Just as you mentioned in your post leaders must have strengths in guiding others as well as communicating with outside groups that have similar desired outcomes.
I also agree with you that nurse's fall into these roles effortlessly. Nurses are used to multitasking, prioritizing constantly, and communicating with others to provide patient care with positive outcomes. All of these qualities are necessities in order to be successful in the nursing profession. As advanced practice nurses, we are leaders in our profession and have the desire to begin creating an impact to improve patient care as well as the nursing profession. Through proper leadership and dedicated coalitions we can become part of the advancement in both our profession and healthcare as a whole.
Coalitions have a distinct advantage of strength in numbers as no one person can get as much done on their own as they can with a group of others that share the same beliefs and goals. Together, a coalition adds credibility, fosters networking and media attention while increasing access to policy makers. Since public opinion is what drives government, the broad support that a coalition offers is an effective mechanism for change (National Council on Disability, n.d.). It is essential for a coalition to have a strong leader so that productivity is maximized and conflict is minimized (CCN, 2018).
Ineffective leadership is one of the many downfalls of an effective coalition (CCN, 2018). Some of the characteristics of a great coalition leader are: the ability to speak for others, credibility, intuition and the ability to have a grasp of timing.
Coalition leaders must be able to speak for the crowd in a professional and succinct manner. They must be able to take the complex ideas of the masses and present them in a way that makes the audience understand where they are coming from. Coalition leaders must be able to speak to crowds, both big and small while giving everyone a say in the matter at hand while also keeping to the agenda.
Coalition leaders must exhibit credibility. The people that they represent and the people that they are speaking to must be able to trust them so they have to be honest, reliable and true to their word. A leader must be able to stand before a crowd and give off a sense of accountability and trust.
Intuition is another strong point of an effective coalition leader (or any type of leader, for that matter). As we progress through our careers we acquire skills that allow us to make decisions based on past experiences. A nursing coalition leader should have clinical experience that they can apply to their leadership role. For example, a mechanical engineer would not make an effective nursing coalition leader.
Chamberlain College of Nursing. (2018). Week 3: Effective Coalition Leadership [online lesson]. NR506: Health Care Policy. Retrieved from: https://chamberlain.instructure.com/courses/22798/pages/week-3-lesson?module_item_id=2729972
 National Council on Disability. (n.d.). Applied leadership for effective coalitions. Retrieved from: https://ncd.gov/publications/2001/Feb142001#3Links to an external site.
By definition, a coalition is just a group of two or more people that work together, or collaborate, in order to achieve a common goal. Other terms that mean the same are union, partnership, merger and alliance, to name a few (merriam-webster, n.d.). Coalitions apply to both my professional and my personal life in countless ways. In researching a response to your question, I found a few coalitions that I could use to prove my point.
1.) Locally, Sonoma County has a Healthcare Coalition which is related to disaster preparedness. They work together to formulate plans for disaster response for both the public and the different levels of healthcare facilities in the county. They state that they have a collaborative work group made up of health and medical providers. This benefits both my life and work because a disaster, as we witnessed with our recent wildfire, create a surge of patients and casualties that can overwhelm the healthcare system. A disaster can also displace community members and it is important to know how to respond during a disaster and to be prepared beforehand (SCDHS, 2018).
2.) Another local coalition is the Redwood Community Health Coalition. This consists of a team of healthcare professionals and 17 community health centers in 4 counties. Their goal is to improve access to and quality of care for the under-served members of our communities (RCHC, n.d.).
3.) The nurses union that I am a member of (it is required here at my facility), the California Nurses Association (CNA)/National Nurses Organizing Committee (NNOC)/AFL-CIO consists of over 86,000 members and covers all 50 states. CNA pushed for and achieved the mandated nurse:patient ratios in CA and other states, premium pay for nurses in CA, whistleblower protection for anyone who reports unsafe hospital conditions, and increased nursing education funding. Not only do they fight for nursing causes, but they also advocate for patient safety. For example, in CA (not sure about nationwide) we must provide every patient with contact information for those agencies responsible for responding to health care abuse. For nursing homes, it's the Ombudsman, for hospitals, it's The Joint Commission and the California Department of Public Health (National Nurses United, 2016).
Coalition. (n.d.) Retrieved from: https://www.merriam-webster.com/dictionary/coalitionLinks to an external site.
National Nurses United. (2016). Nurses building power. Retrieved from: https://www.nationalnursesunited.org/about-cnaLinks to an external site.
Redwood Community Health Coalitions (RCHC). (n.d.). Retrieved from: https://www.rchc.net/about-us/Links to an external site.
Sonoma County Department of Health Services (SCDHS). (2018).  Healthcare Coalition.  Retrieved from: http://www.sonoma-county.org/health/services/healthcarecoalition.asp
I have a love hate relationship with the nursing union. California Nurses Association (CNA) has done a tremendous amount of advocacy that has made the nursing profession amazing here in CA. They have a really big voice and have a tremendous amount of power. I truly appreciate their efforts and feel that the changes they have been able to make happen have benefitted nurses as well as patients and the entire healthcare system.
A couple of big changes are:
1.) The nurse/patient ratios. This has been tremendous. I work on a telemetry floor and our ratio is 1:4. ICU's are 1:2, Med-Surg 1:5, Pediatrics 1:5, L & D 1:2, just to give a few examples (National Nurses United, n.d.). These ratios have been in place in CA since 2004. According to their website, they are working toward national ratio laws. If you look at the link I provided below, you can see the current ratios as well as the proposed amendments to the current bills. I know that with the increasing acuities of our hospitalized patients, sometimes four patients seems impossible, so I could not imagine not having laws to protect that because I know that the hospital would just keep piling the patients on.
2.) Premium pay. Of course, this is my favorite benefit. You can see some example pay scales in CA her: https://www.nationalnursesunited.org/101-salariesLinks to an external site.. I don't generally speak about my salary, but for the sake of this discussion post and showing the benefits of a union, here goes. When I became a nurse in 2003, my starting salary was $29/hour. Our facility was under a different union at that time. Around 2005 our nurses broke off from the old union, SEIU and joined CNA. Since then our salaries have continued to climb until they are now comparable to the other hospitals in our city. Now, after almost 16 years, we just got our annual raise of 4% and now make just about $71/hour. We also have amazing benefits and insurance which has been meticulously negotiated by the union.
On the other hand, there are some things that drive me crazy about being in a union even though the good outweighs the bad.
1.) Cost. Between my husband and I (he's a nurse in the same union) we pay a bit over $250/month in union dues.
2.) Strikes. Personally, I am anti-strike. I get where they are coming from when they call for a strike, but I don't agree with doing it. The last 3 strikes that CNA called for at our facility were "solidarity" strikes. So they weren't even for our benefits, but for other facilities in different cities. I do always cross the picket line for a number of reasons. First of all, if you strike, the hospital locks you out for 5 days. They need to get replacement nurses and it's not possible to get them in for just 1 day. The 5day lockout is unpaid and if my husband and I both walked out we would lose both incomes for a week. We can't afford to do that, especially with our CA mortgage! Secondly, my heart breaks for family members who have to drive past a picket line while their loved one is laying up, possibly dying, inside the building. I feel that it is a bit like a toddler throwing a tantrum to stand out there and complain about our pay when we make way more than average.
Anyway, I hope this answered your question and gave you some insight into how it is to work for a union. I highly recommend it even though it's not all roses!
National Nurses United. (n.d.).  RN safe staffing ratios – saving lives.  Retrieved from: https://www.nationalnursesunited.org/101-staffing