NR 506 Discussion APNs as Healthcare Policy Leaders
NR 506 Discussion APNs as Healthcare Policy Leaders
NR 506 Discussion APNs as Healthcare Policy Leaders
Healthcare policy has direct impact on the APRN by describing scope of practice including responsibilities and specific activities they can perform. Healthcare policy also sets regulations and requirements to meet educational and competency standards to practice safely. It is through healthcare policy that APRNs are reimbursed and paid for services. Although there is uniform education preparation around the country, each state has different definitions of scope of practice and healthcare policy with varying practice regulation (Poghosyan, 2018). Policies that allow APRNs to practice independently support professional growth, reduce cost, and promote sustainability. Restrictions placed on APRNs prevent professional growth and decreases their ability to provide quick and effective comprehensive care for individuals (Kleinpell et al., 2023). According to Poghosyan (2018), APNs can significantly improve the healthcare system by alleviating access, quality, and cost challenges (Poghosyan, 2018). During the pandemic, the scope of practice for the APRN was expanded revealing improvement in screening, testing, and treatments for the public (Nickitas, 2021). It is important to advance the APRN profession through leadership, research, and representation in policy making.
It is the essence of the APRN to advocate for patient's quality healthcare and is the role for which it was founded. This enables the APRN to promote for the best interest of the healthcare system, nursing profession and the interest of their patients. PEARL stands for practice, education, advocacy, research, and leadership: the five categories for which APRN's should strive for excellence (Kapu, 2022). When considering advocacy, developing the progressive role of the APRN include changing restrictions and promoting the profession. As research has shown, it is evident that APRNs improve the quality of care via clinical trials, quality improvement projects, and retrospective analysis (Kapu, 2022). Advocating for the profession will in turn improve quality healthcare.
With the focus on the NONPF NP competency Health Policy Leader, transformational leadership has proved to successfully influence policy change and is accepted in the healthcare industry as the preferred leadership style (DeNisco and Barker, 2015).  The four pillars of transformational leadership, as described by James MacGregor Burns, include idealized influence, inspirational motivation, intellectual stimulation, and individualized consideration.  With this approach, these attributes and behaviors empower and motivate team members while building trust (Collins et al., 2020).  While this leadership style focuses on inspiration to create positive change, it motivates team members to achieve their full potential.  Idealized influence refers to displaying high ethical standards including integrity, honesty, and a strong sense of purpose that followers want to emulate.  Inspirational motivation allows followers to see a vision while setting goals and a sense of purpose.  Intellectual stimulation allows for creativity and innovation.  Lastly, individual consideration allows for recognition of individual strengths (Collins et al., 2010).  According to DeNisco and Barker (2015), the pillars based on transformational leadership for NP leadership include professionalism, inspirational motivation, interpersonal relationships, and business skills.  With the reconstruction of the terms for the pillars of transformational leadership, they have the same goal to support the influence of policy change by empowering APRNs to work towards equitable policies, plans and decisions, and rebuilding resources through inspiration and trust (Boamah, 2022).
Boamah S. (2022). The impact of transformational leadership on nurse faculty satisfaction and burnout during the COVID-19 pandemic: A moderated mediated analysis. Journal of advanced nursing, 78(9), 2815–2826. https://doi.org/10.1111/jan.15198
Collins, E., Owen, P., Digan, J., & Dunn, F. (2020). Applying transformational leadership in nursing practice. Nursing standard (Royal College of Nursing (Great Britain): 1987), 35(5), 59–66. https://doi.org/10.7748/ns.2019.e11408Links to an external site.
DeNisco, S., & Barker, A. (2015). Advanced practice nursing: Essential knowledge for the profession. (3rd ed.). Jones & Bartlett Publishers.
Kapu, A. (2022). Nurse practitioner (NP) advocacy and education: It's all about excellence in health care. Journal for Nurse Practitioners, 18(2), 135–135. https://doi.org/10.1016/j.nurpra.2021.12.017Links to an external site.
Kapu, A. (2022). PEARL: Keeping focus on practice, education, advocacy, research, and readership for nurse practitioners in 2023. The Journal of Nursing Administration, 52(12), 687–689. https://doi.org/10.1097/NNA.0000000000001234Links to an external site.
Kleinpell, R., Myers, C., & Schorn, M. (2023). Addressing barriers to APRN practice: Policy and regulatory implications during COVID-19. Journal of Nursing Regulation, 14(1), 13–20. https://doi.org/10.1016/S2155-8256(23)00064-9Links to an external site.
Nickitas. D. (2021). Against the odds: How APNs shape and sustain health of populations. Nursing Economic, 39(5), 210–213.
Poghosyan, L. (2018). Federal, state, and organizational barriers affecting nurse practitioner workforce and practice. (Health Policy and Politics). Nursing Economic, 36(1), 43-45. https://web-p-ebscohost-com.chamberlainuniversity.idm.oclc.org/ehost/pdfviewer/pdfviewer?vid=0&sid=6889ad49-3674-454e-b5a2-d018d92587c1%40redisLinks to an external site.
This video beautifully advertised the role, function, and treatments a nurse practitioner can perform with advanced degrees in primary, acute, and specialty care to improve quality healthcare for America. As the choice for millions, NP are a great partner in healthcare. I would think the purpose of this video is to highlight NP's scope of practice and highlight their skills to allow the population to embrace.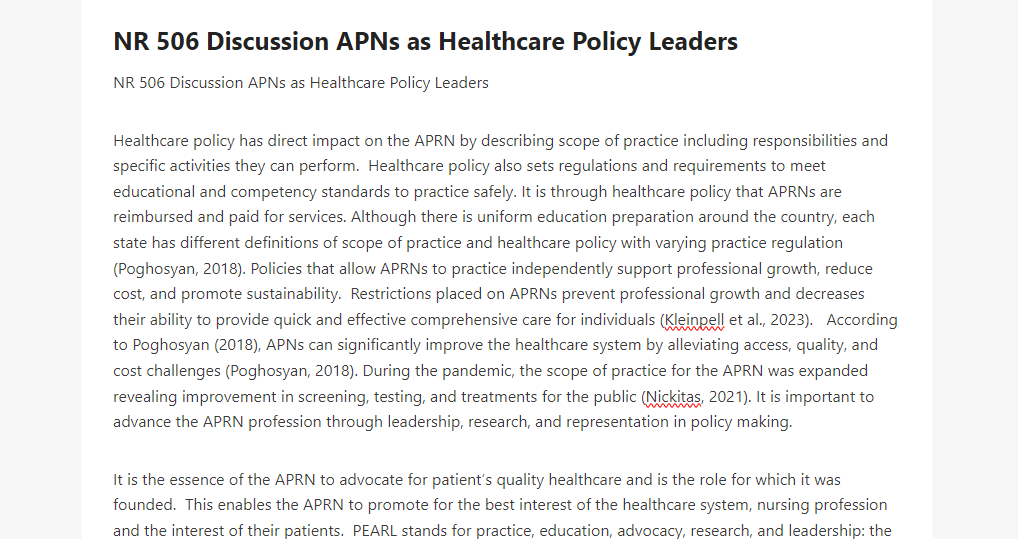 As the population grows and the need for access to primary care services increases, nurse practitioners have risen to the occasion. According to Kapu and Pitts (2023), there are over 355,000 NPs across the United States with 89% educated in primary practice. Having access to primary care would be a tremendous step forward in nationwide availability to primary care. Shedding a positive light on the role of the nurse practitioner may influence more support for the required policy changes ensuring access to healthcare for all.
Kapu, A. & Pitts, C. J. (2023). Nurse practitioners are stepping up to meet access to primary care services across the United States: A time for policy change. The Journal of Nursing Administration, 53(4), 187–188. https://doi.org/10.1097/NNA.0000000000001268Links to an external site.
Transformational leadership is a type of leadership that involves the person to take charge while including other individuals to play their part. The best way I can describe it, is allowing each of your staff to become leaders themselves to guide their path in the organization. It is holding everyone accountable and listening to their input in needed changes. You have to lead by example not through managing people. Transformational leaders are usually found working beside their employees, they are easily found, and easy to talk to. NPs that practice this type of leadership can make serious changes to nursing care, because we are nurses who have continued education to a point where we can become more involved in policy changes that influence nursing as a whole.
According to Bergman-Evans (2021) the Omnibus Reconciliation Act of 1987 (OBRA) made changes to quality-of-care practices in nursing homes, allowing for administrators with their doctors in nursing (DON) to step up. DONs are important in creating quality standards of care, recruitment of new staff, and resource management. There is a positive impact from nurse practitioner influence within long term care and Sub acute nursing facilities because their accessibility to nursing staff helps to elevate overall functioning of the facility (Bergman-Evans, 2021). They are available to nursing staff on a one-to-one basis, with the ability to explain changes in disease patterns, goals of care, and assist with changes to elevate patient outcomes. Facilities like nursing homes place nurse practitioners in a leadership role with the ability to make a difference in patient outcomes and daily living.
Reference:
Bergman-Evans. (2021). Out of the Shadows: Nurse Practitioner Leadership in Skilled and Long-Term Care Facilities. Journal of Gerontological Nursing, 47(8), 3–6. https://doi.org/10.3928/00989134-20210707-01
There seems to be a similar issue in most states in regard to the lack of primary care providers that are available to patients especially those in rural areas. The requirement to have a supervising physician, unfortunately, does nothing other than increase the cost of healthcare and costs to the NP as well as create more disparities. According to a study that was done in 2019 comparing NP, PA, and physicians found that the cost of care for medically complex patients was actually lower for the NP and the PA. The study also concluded that there is no evidence to suggest that these providers increase healthcare costs. The NP and the PA were also found to be able to achieve similar control of these complex patient's health issues compared to the physicians (Morgan et al, 2019).
Morgan, P. A., Smith, V. A., Berkowitz, T. S., Edelman, D., Van Houtven, C. H., Woolson, S. L., Hendrix, C. C., Everett, C. M., White, B. S., &
Jackson, G. L. (2019). Impact of physicians, nurse practitioners, and physician assistants on utilization and costs for complex patients.
          Health Affairs, 38(6), 1028–1036.https://doi.org/10.1377/hlthaff.2019.00014Links to an external site.
It is important for nurse practitioners to understand their influence and responsibility in changing healthcare policy. Leaders are not always chosen, but instead have to find it in themselves to rise to the occasion. As NPs we are responsible for understanding healthcare policy and advocating for our patients who are limited by access to care. It is healthcare policy that directly influences our ability as nurse practitioners to practice within a state with full authority (Brom et. al., 2018). Patients with social and health disparities often rely on the care of nurse practitioners to gain access to preventative care, education, and health assistance. According to Brom et. al. (2018) nurse practitioners offer a pathway to primary care access, have the ability to reduce care delays, and can assist in serving areas that have higher health disparities. In politics there is a concept of "threat" vs "opportunity" meaning that actions for legislative change only take place when there is a threat to political stakeholder interests. A regulatory policy determines who is included or left out based on a rule, for example, who is able to prescribe medications (Brom et. al., 2018). Being involved in healthcare policy and having an understanding for how laws are enacted can determine the path in which we need to take to change these healthcare policies.
Advocacy is an important role in being a nurse practitioner. It is our responsibility to protect patients from harm and speak up for them to support them in their healthcare journey. Engaging in policy advocacy is necessary to address social factors that influence community health, preventative care, and chronic illness (Williams et. al., 2018). In order to establish health equity in our communities, we have to provide care to the social and health disadvantaged populations. It is these populations that find themselves in a cycle of poverty, disadvantage, and poor health (Williams et. al., 2018). The foundation of nursing relies on the concern and caring for social, emotional, and physical needs for poor, disadvantaged in society (Williams et. al., 2018). Through changes to health care policy and advocating for our patients in our communities we as nurse practitioners can enact change that will provide better health outcomes for disadvantaged populations.
There are four pillars of transformational leadership, known as the four I's. Idealized influence, inspirational motivation, intellectual stimulation, and individual consideration with each factor assisting a leader in satisfying the needs of those in their care (Farnsworth et. al., 2021). Idealized influence describes leaders as examples of what a role model should be. These managers are trustworthy, respectable, and make good decisions in regard to their organization (Farnsworth et. al., 2021). Inspirational Motivation shows managers as those with the ability to motivate employees to commit to the organizations vision. these managers are able to encourage team collaboration and help the team to reach goals of increased revenue and organizational growth (Farnsworth et. al., 2021). Intellectual stimulation describes leaders who encourage creativity and new ideas that challenge normal beliefs, promote critical thinking, and problem solving. Individual consideration describes managers as those able to advise and guide their associates to reach goals for the organization (Fransworth et. al., 2021). Transformational leaders exceed performance and as nurse practitioners the ability to lead in this way can help to reach goals regarding healthcare policy change. Influencing policy is more than just activity but requires knowledge, and support from peers. Creative thinking, new ideas, challenging old ideas, and critical thinking can help nurse practitioners to change the future.
Reference:
Brom, Salsberry, P. J., & Graham, M. C. (2018). Leveraging health care reform to accelerate nurse practitioner full practice authority. Journal of the American Association of Nurse Practitioners, 30(3), 120–130. https://doi.org/10.1097/JXX.0000000000000023Links to an external site.
Farnsworth, D., Clark, J. L., Hall, J., Johnson, S., Wysocki, A., & Kepner, K., (2021). Transformational Leadership: The Transformation of Managers and Associates. Retrieved from https://edis.ifas.ufl.edu
Willams, S. D., Phillips, J. M., Koyama, K., (2018). Nurse Advocacy: Adopting a Health in all Policies Approach. OJIN. DOI: 10.3912/OJIN. Vol23No03Man01
Your first paragraph captured my attention! "Leaders are not always chosen, but instead have to find in themselves to rise to the occasion". These are very profound words. It is through education and experience that has allowed me to continue to develop as a leader. I certainly did not feel that, in my first years as a new RN, I had the confidence or ability to lead others. I also feel that, in my early nurse years, not every leader (manager) was inspirational and intent on assisting me on my professional growth. As our future role of the APRN expands in healthcare, transformational leadership has proven to be a guide for APRN leadership structure (Proulx, 2021). I feel excited, more prepared, and encouraged with confidence to rise to the occasion as future leaders in the industry set on quality care, health improvements, and leading change in our future industry. Great work!
Proulx, B. (2021). Advance practice provider transformational leadership structure: A model for change. The Journal of Nursing Administration, 51(6), 340–346. https://doi.org/10.1097/NNA.0000000000001024
Thank you for sharing this video. This video was so encouraging, and I love to see and hear about powerful nurse leaders. I especially liked the one nurse who mentioned that she only had 18 months on the job and applied for the supervisor position. I liked that she had the encouragement to apply and stepped outside of her comfort zone. I think nurses are so overwhelmed with their daily tasks and other life obligations that they miss these opportunities for growth and there is a fear factor. I have a fear factor about becoming a nurse leader. I know there is so much that needs to change, and I am passionate about it however, I am not sure where to start.
Thankfully, after watching this video, I have realized that I have started. I am working on a master's degree, and I have started to attend more and more committee meetings in the hospital. Although I am outpatient and off campus, I take the time to attend meetings with department directors, managers, other nurses, and officials of the hospital. I am taking a seat at the table. I can take this information and present it to the rest of my unit. Many nurses on my unit have worked for 20-30 years as nurses are looking forward to retirement. They are interested in new policies or initiatives, but I try to make them interested and get them involved. I am currently working with two committees, and I have encouraged one other nurse to join me.
I am currently the unit-based chair for our unit and when I first started to do the job, I was confused and frustrated. We take care of patients, and we have great patient satisfaction scores; I did not see why we needed anything to change. After this our readings and discussion this week, I see that I was not looking at the bigger picture. It is not the day-to-day that I should be looking for, it's bigger than that. It is the insurance changes, authorization problems with insurance, and miscommunication between the office staff and the providers. There are issues that need improvement even though we are a well-oiled unit, there are opportunities for improvements. I feel more empowered to start to address these issues.