NR 506 Assignment Scope of Practice and Patient's Healthcare Accessibility
NR 506 Assignment Scope of Practice and Patient's Healthcare Accessibility
NR 506 Assignment Scope of Practice and Patient's Healthcare Accessibility
In the state of New Jersey Nurse practitioners practice with reduced authority. You have the ability to work independently in treating patients but require a physician in order to prescribe medications through a collaborative agreement. In NJ a supervising physician is necessary in order for the NP to prescribe medications. By law the NP can assess, diagnose, order testing like labs or other diagnostics, provide end of life care, sign POLST forms, and pronounce death (New Jersey Division of Consumer Affairs, 2015). According to Cadmus et.al. (2021) there is a serious issue with access to primary care in 13 of 21 counties in NJ and barriers to NP practice contributes to the issue. In 2010 the Patient Protection and Affordable Care act assisted 20 million people to get access to health insurance. This increased the demand for provider access as new conditions were diagnosed and much of the population now required maintenance care of chronic illnesses. For the state of NJ the existing barriers only limit NPs from practicing within the full extent of their license (Cadmus et. al., 2021). Collaboration agreements in NJ limit NP ability to practice through requirement for a physician to supervise the NP's prescriptive authority, without actually requiring involvement of the physician in the patient's care or a sign off. This can impose financial burdens on the APN when contracts are broken (Cadmus et. al., 2021). Full practice authority would increase provider accessibility and reduce financial burdens on NPs. According to Cadmus et. al. (2021) it is projected through the U.S. Census Bureau from 2013 to 2025 there will be a 14.1% shortage of primary care physicians in the state of NJ. With full practice authority, NPs can open their own practices, offering more accessibility to patients and reducing the impact on emergency departments from patients seeking primary care. In New Jersey we have a few urgent care centers but with full authority access, more practices can be opened.
Prescriptive Authority

Under the supervision of a physician, they can prescribe medications (New Jersey Division of Consumer Affairs, 2015). For the prescription of dangerous controlled medications, the APN is required by law to register to apply with the Drug Enforcement Agency (DEA) and controlled and dangerous substance (CDS) to gain permission through licensure. Once the license number is obtained, the APN will apply for a DEA number. All APNs can prescribe level 2 to 5 controlled substance medications following a 6 hours course completion and application to the federal DEA. Prescription blanks with prescriber name, address, and information printed on specialized paper is required by NJ law to prevent changes to the 5 prescription once printed (New Jersey Division of Consumer affairs, 2015). In order to maintain your prescriptive authority in the state of NJ you must have a written collaborative agreement with a physician which is to be reviewed and signed each year. APNs need to keep their licensure up to date (ANA, 2023)
Educational Requirements-

It is required that a nurse practitioner graduate from an MSN program with clinical rotations. The program included a 45 hour pharmacology course that is approved by the NJ board of nursing equaling to a 3 credit graduate course that is accredited by a national accredited agency. NPs need to obtain 30 CEUs related to their choice of advanced practice scope, pharmakinetic, pharmadynamic principles of clinical application, and use of pharmacological agents in prevention of illness. The CEUs are required within 5 years of the application for prescriptive authority (New Jersey Division of Consumer Affairs, 2015). 
Licensure requirements-

NJ licensure is determined through state recognition requirements. This includes having a current RN license without restrictions, nationally recognized certification, and proof of graduation from an advanced MSN or DNP nursing program. The cost of licensure is $100 non-refundable fee with a certification fee of $80/160 depending on the expiration of the RN license. RN licensure must be in good standing, with a passed criminal background check, uploaded, current fingerprints done electronically in order to complete application (New Jersey Division of Consumer Affairs, 2015). The nursing board requires official transcripts to be submitted in order to process applications in a timely fashion. A requirement to keep the NP licensure is active certification. Proof of CEUs and practice house are needed to certify (New Jersey Division of Consumer Affairs, 2015). ach certification exam is given according to chosen specialty and the NJ board requires the highest level examination be taken. 17 certification agencies are recognized by the board of nursing and accredited. The cost of certification is $365 for non-member and $290 for members of the American Nurses Association (ANA, 2022).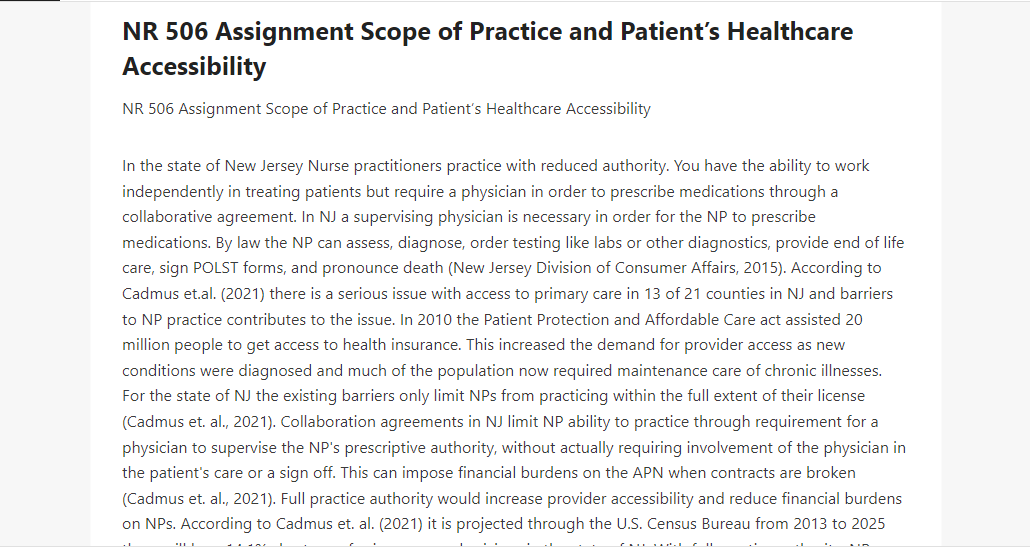 How does access to NPs impact any healthcare disparities?

According to Nikpour et. al. (2022) adult patients enrolled in Medicare and Medicaid have higher rates of diseases like coronary artery disease and diabetes resulting in twice as many hospitalizations. Nikpour et. al. (2022) conducted a Nurse practitioner primary care organizational climate questionnaire with 189, 420 patients with Coronary artery disease or diabetes enrolled in Medicare and Medicaid. 470 practices in PA, NJ, CA, and FL were involved in the study. Results reflected higher odds of hospitalization for patients living in poor environments who were dually eligible for Medicare and Medicaid (Nikpour et.al., 2022). With increasing patient conditions that require ambulatory care, primary care, and hospitalization, there will be a demand for providers. Nurse practitioners have the training and ability to fill a void for provider care and help to address health conditions worsened by disparities. States that reduce the NPs ability to practice at full authority have higher incidences of health care disparities (Nikpour et. al., 2022).
References:

American Nurses Association (2022). Advanced Practice. https://www.nursingworld.org/advancedpractice.
American Medical Association. (2021). State Law Chart: Nurse Practitioner Prescriptive Authority.
https://www.ama-assn.org/system/files/2020-02/ama-chart-np-practice-authority.pdf
Cadmus, de Cordova, P. B., Weaver, S., & Ravichandran, A. (2020). Access to Care in New Jersey: Making the Case for Modernizing Legislation. Journal of Nursing Regulation, 11(1), 36–41. https://doi.org/10.1016/S2155-8256(20)30059-4
New Jersey Division of Consumer Affairs (2015). Advanced Practice Nurse Certification.
https://www.njconsumeraffairs.gov/nur/Pages/APN-Certification.aspx. Assessed 06/8/2023
Nikpour, Brom, H., Mason, A., Chittams, J., Poghosyan, L., & Carthon, M. B. (2022). BETTER NP PRACTICE ENVIRONMENTS REDUCE HOSPITALIZATION DISPARITIES AMONG DUALLY ENROLLED PATIENTS. Innovation in Aging, 6(Supplement_1), 64–65. https://doi.org/10.1093/geroni/igac059.257
I found the video clip helpful in presenting the point of view of some nurse practitioners, especially regarding team care. I do feel that physicians already have an egotistical viewpoint of education in comparison with nurses or nurse practitioners. Many physicians still view nurses as below them to the point they may not value the opinion of the nurse regarding patient care. I feel that physicians are our biggest resistance when it comes to passing any bills related to full authority. If you look at the article from the AMA (2020) you will notice numerous reasons for why a nurse practitioner should not be able to practice with full authority. The American Medical Association is indeed an association of physicians who produced the article "3 Big Reasons Why Letting NPs Practice Independently is a Bad Idea." According to AMA (2020) the AMA is strongly urging California governor Gavin Newsom to veto the A.B.890 bill to allow NPs to practice independent of supervision. Biggest Resistance! The AMA feels that patients with chronic conditions require a physician to lead the primary health care team to benefit. Although they do feel that NPs are an important part of the healthcare team, it is unsafe for an NP to be the leader of the team, mainly because they do not undergo the 10,000 to 16,000 hours of medical training received by physicians (AMA, 2020). According to AMA (2020) health care costs will be increased due to NPs prescribing more opioids and diagnostic tests, with Medicare claims from 2003 to 2015 showing x-ray ordering increased to over 400% among non-physicians. Just to be clear I do not agree with their claims or reasoning but wanted to show that this is the resistance we face in the remainder of states trying to gain independence from supervision of physicians. I think the main issue physicians feel threatened by is the fear that patients will seek out NP providers in place of physicians, therefore, potentially decreasing the number of patients they have access to. Although this is a possibility, it is not a reality and patients could benefit from both providers depending on the nature of their condition.
Reference:
American Medical Association (AMA). (2020). 3 Big Reasons Why Letting NPs Practice Independently is a Bad Idea. [Internet] Retrieved from https://www.ama-assn.org
Thanks for sharing your thoughts with us. I enjoyed reading it. In today's healthcare environment, NPs are proving to be highly capable of providing high-quality care at an affordable price. Good service is what consumers strive for when choosing NPs for their healthcare needs. Nurse practitioners will, without a doubt, play a crucial role in future American healthcare services, regardless of how healthcare reform will affect them. In terms of who has the power to deliver health care, NPs are part of an ongoing, if subtle, shift in perception. As far as the government and patients are concerned, physicians have traditionally supplied medical services (Jarosz, 2020). Physicians' perspectives contribute significantly to our knowledge of patients, health systems, and institutions. I'm from Illinois and NPs are required to work under the supervision of a physician when prescribing drugs and restricted substances. Drug prescriptions must also be approved by a probationary period in some states before an NP can practice. Nurse practitioners should be able to use their education and training to their full ability. Patients have faith in the nursing care they receive. In terms of quality, utilization, and satisfaction, evidence suggests that NPs offer care comparable to that provided by physicians.
Jarosz, L. (2020). Trends and Challenges in Regulating Nursing Practice: 10 Years Later. Journal of Nursing Regulation, 11
Nurse Practitioners (NPs) in the state of New Jersey undertake a nursing program in an institution accredited by the New Jersey Commission on Higher Education (New Jersey Board of Nursing, 2022). The state's Nursing Practice Act determines nursing procedures. Nurse The scope of practice for NPs practicing in the state of New Jersey is reduced practice. Reduced practice means that the NP is allowed to perform some of his or her scope of practice without the physician's supervision (Clarke, 2023). The restrictions allow the NPs to operate their own practices or prescribe certain categories of medications. They seldom involve the NP's capability to order tests or diagnose medical conditions. For instance, the NP may be part of a practice that involves the supervision of a physician rather than running his or her own practice, but within the practice, can carry out duties with relative autonomy. Legal documentation calls the NPs 'licensed independent practitioners,' but there are limitations. They can diagnose and treat patients without the supervision of a physician. Neither does medical documentation created by NJ NPs require a physician's signature. NPs in the state are licensed and regulated by the Board of Nursing. Concerning ethical and legal issues, the state law holds NPs independently accountable for all the care they provide and not the supervisor or collaborating Medical Director.
Certification, Education, and Licensure
Application for Certification
The NP in New Jersey is one among the various categories of Advanced Practice Nurses. A nurse practitioner is eligible for certification upon successful completion of a course of study and examination in an advanced practice nursing specialty credentialed by a national certifying agency (New Jersey Board of Nursing, 2022). The agency may be accredited by the American Board of Nursing Practice or the National Commission for Certifying Agencies. To apply for certification as an NP, the applicant completes an application form and submits it together with proof of successful completion of the educational and examination requirements of an APN as spelled out in the NJAC, and current and legitimate active certification. A fee is paid to obtain the license.
Educational Requirements for Certification
A nurse practitioner is eligible for certification after completing a master's degree in nursing from a nursing school accredited by a nursing accreditation association recognized by the US Department of Education or a master's degree in nursing with a post-master's program focused on a specialty in advanced in nursing from an accredited nursing accreditation association recognized by the US Department of Education (New Jersey Board of Nursing, 2022).. The applicant is further, among other requirements, expected to have completed a 3-credit level course in pharmacology or 45 hours of pharmacology as well as 6 contact hours in pharmacology that addresses controlled dangerous substances during the master's program (New Jersey APRN Licensure, 2023). Upon completion of the program, the NP will successfully sit for the advanced practice examination in their area of specialty administered by the national certifying agency accredited by the American Board of Nursing Specialties and/or the National Commission of Certifying Agencies.
For NPs certified in a different state, NJ State does not require such an NP to meet the exam requirements of NJAC, especially when the educational requirements are similar. But academic transcripts and verification of certification are required as proof that the educational and certification requirements were met by the NP
Licensure
Practice licenses in New Jersey are issued by the New Jersey Board of Nursing (New Jersey APRN Licensure, 2023). To apply for a license to practice in New Jersey as an NP, the NP is required to be a holder of an unencumbered RN license and to submit verification of an RN license. Applicants from other states who wish to apply for an RN license may do so by endorsement.
An NP in NJ is required to obtain and maintain an active current license from the Board of Nursing. No person licensed to engage in nursing practice can practice if his or her license is suspended, revoked, surrendered, or expired (New Jersey Board of Nursing, 2022). The license is renewed biennially by paying the renewal fee and completing a form provided by the Board.
To qualify for licensure, the NP applicant is required to submit an original copy of his or her transcript sent to the Board from the institution attended. The transcript must have details of the applicant's date of graduation as well as the degree awarded. The applicant is also required to submit proof of a valid national certification.
Prescriptive Practice
The NP in New Jersey has the authority to prescribe medications or place orders for medications and devices. However, this can only be done in collaboration with a physician through a joint protocol (New Jersey APRN Licensure, 2023). It is a requirement that such a collaborating physician is also licensed to practice in New Jersey State, except when employed by a federal institution like the VA (New Jersey Board of Nursing, 2022). The collaborating physician is not necessarily required to practice with the NP on-site. They can collaborate by maintaining communication via phone or e-mail. The NP and the physician sign and maintain a joint protocol that outlines the collaborative relationship annually. Within the protocol, the NP may give a prescription for Schedules II, III, IV, and V controlled substances following a successful application for Controlled Dangerous Substance registration (New Jersey APRN Licensure, 2023). The NPs may also place requests for, receive, and dispense pharmaceutical samples. The prescriptions written by the NP must contain information for both the NP and the collaborating physician. Typically, the NP is required to successfully take a one-time, six-hour course in the prescription of controlled substances.
Practice Limitations
Since NPs in New Jersey operate under reduced practice, their licenses allow them to exercise prescriptive authority. But they are still required to be involved in career-long collaborative practice agreements with physicians. The agreements set out the specific limits of the NP with regard to one or more areas of practice, inclusive of prescriptive authority (New Jersey APRN Licensure, 2023). NPs in New Jersey, by reason of limitations, cannot practice independently using skills, knowledge, and tools they have gained through either training or experience. Presently, NJ lawmakers are considering implementing legislation that allows NPs to prescribe independently in line with the National Academy of Medicine's long-term goal of having all states implement full practice structures. This will enhance the NP's level of responsibility and involvement in complex decision-making processes as equipped by their training.
Effect of Reduced NP Practice on Patient Care in NJ
The reduced practice structure is a major barrier to patient access to care as well as health outcomes (Cadmus et al., 2020). This is because it reduces patient access to primary care providers. Consequently, the number of ED visits is higher. Studies have revealed that permitting NPs to practice without the oversight of a physician increases patient access to primary care providers and reduces ED visits. This is because APRNs have the requisite education, skills, knowledge, and experience for both basic and comprehensive primary care services and are not only more readily available buts also ideally positioned to enhance access to care. This can significantly reduce health disparities, and lower the cost of care (Bosse et al., 2017). States that require NPs to work under the oversight of physicians have a 28% incidence of ED visits compared to 7% in states where nurses have full practice license structures (McMichael et al., 2019).
Conclusion
            NPs must always have a clear understanding of the state laws and regulations that affect their practice. NPs in New Jersey operate under the reduced structure. However, lawmakers are considering implementing the full practice structure in order to enhance quality and access to care.
References
Bosse, J., Simmonds, K., Hanson, C., Pulcini, J., Dunphy, L., Vanhook, P., & Poghosyan, L. (2017). Position statement: Full practice authority for advanced practice registered nurses is necessary to transform primary care. Nursing Outlook, 65(6), 761-765.
Cadmus, E., de Cordova, P. B., Weaver, S., & Ravichandran, A. (2020). Access to Care in New Jersey: Making the Case for Modernizing Legislation. Journal of nursing regulation, 11(1), 36-41.
Clarke, M. E. (2023). Nurse Practitioner Practice Authority: A State-by-State Guide. NurseJournal. https://nursejournal.org/nurse-practitioner/np-practice-authority-by-state/
McMichael, B. J., Spetz, J., & Buerhaus, P. I. (2019). The association of nurse practitioner scope-of-practice laws with emergency department use. Medical care, 57(5), 362-368.
New Jersey APRN Licensure. (2023). New Jersey Nurse Practitioner Licensure Steps – 2023. https://www.nursepractitionerlicense.com/nurse-practitioner-licensing-guides/new-jersey-nurse-practitioner-licensure-steps/
New Jersey Board of Nursing. (2022). NEW JERSEY ADMINISTRATIVE C ODE T ITLE 1 3 L AW AND P UBLIC S AFETY C HAPTER 3 7. https://www.njconsumeraffairs.gov/regulations/Chapter-37-New-Jersey-Board-of-Nursing.pdf
In the video clip "Proposed California bill would allow nurse practitioners to work without doctor," a proposed California bill would allow nurse practitioners to practice independently without physician supervision. As an AI language model, I will examine this topic using September 2021 data.
The planned healthcare bill is controversial. In impoverished communities where doctors are scarce, enabling nurse practitioners to work without supervision would increase primary care access(Traczynski & Udalova, 2018). Nurse practitioners, with their advanced training and skills, may provide high-quality treatment and relieve physicians, making healthcare delivery more efficient.However, bill opponents worry about patient safety and care quality. They claim that residency programs give doctors a thorough understanding of complex medical situations. Nurse practitioners without medical oversight may threaten patient safety, especially in cases needing sophisticated diagnostic skills or complex treatment strategies.
In response to the increased demand for primary care providers, nurse practitioners and other APRNs are expanding their scope of practice(Traczynski & Udalova, 2018). Nurse practitioners have full practicing authority in some states, while others have limits or collaborative agreements with physicians.If this bill passes, patient safety measures must be considered. Continuing education, professional collaboration, and quality assurance processes help address problems and sustain high standards of care.
In conclusion, the proposed California bill on nurse practitioners' independence from physicians underscores the ongoing controversy over advanced practice nurses' scope of practice. The bill seeks to promote access to care, but patient safety must be considered. The healthcare system should aim for collaborative models that effectively use nurse practitioners and maintain high standards of care for patients.
References
Proposed California bill would allow nurse practitioners to work without doctor. (2020, February 27). YouTube. https://youtu.be/WniFC6w7LR8
Traczynski, J., & Udalova, V. (2018). Nurse practitioner independence, health care utilization, and health outcomes. Journal of health economics, 58, 90-109.