NR 506 Assignment Kaltura Health Policy Analysis
NR 506 Assignment Kaltura Health Policy Analysis
NR 506 Assignment Kaltura Health Policy Analysis
Introduction
In this presentation, I will discuss a healthcare issue in my state. The presentation will be a health policy analysis presentation that will include a problem statement, background, landscape, options, and recommendations.
Problem Statement

The identified problem in my State, New Jersey, is uninsured children. According to the Kaiser Family Foundation (2022), approximately 3.5% of children in New Jersey were uninsured in 2021. The 2023 County Health Rankings used data from 2020, revealing that 4% of children below 19 years did not have health insurance. This ranged from 2% to 6% across counties in the state.
Healthcare coverage is vital for children since it improves access to pediatrician-recommended care and services that support healthy development. When children get the health care they need, they are more likely to succeed in school, graduate from high school and attend college, earn higher wages, and grow into healthy adults (Yu et al., 2022). On the other hand, uninsured children are more likely to have unmet health needs and lack a usual source of care (Alker et al., 2020). This reduces their chances of growing into healthy and productive adults.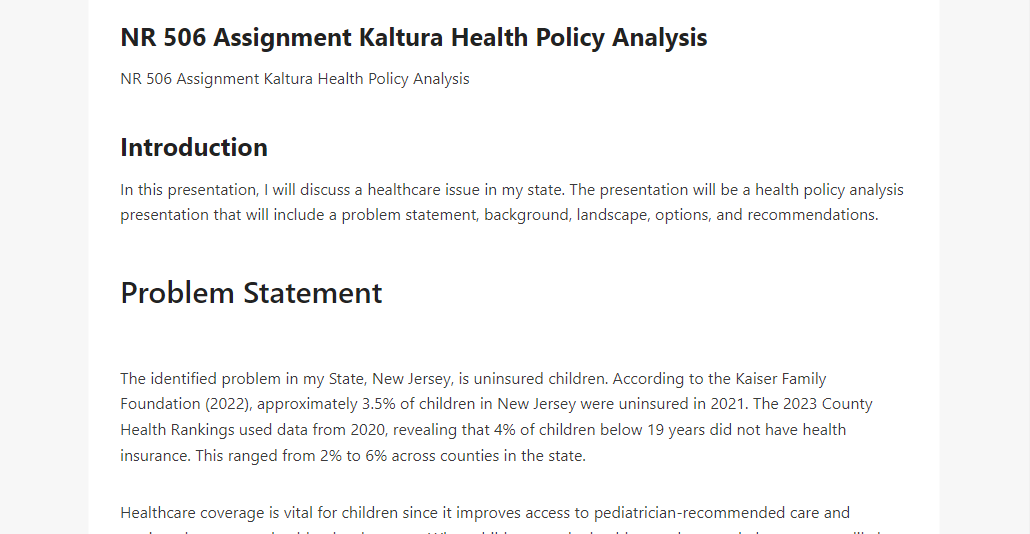 Background

The New Jersey Health Care Reform Act of 2008 mandates that all children have health insurance through private insurance or public programs. In NJ, most children have employer-sponsored insurance at 57.2%. Medicaid/CHIP follows with 33.7%, Direct purchase has 4.8%, Other public insurance funds have 0.7%, and uninsured is 3.5% (Georgetown University, 2023).
Furthermore, 92.9% of all eligible children in NJ participate in Medicaid/CHIP. Many children who are eligible for Medicaid/CHIP may not be enrolled because of a lack of public outreach or administrative barriers. Medicaid and CHIP provide no-cost or low-cost health coverage for eligible children in NJ.
The New Jersey state health insurance program is called NJ Family Care (NJFC) and includes those eligible for Medicaid. It covers children living in households with annual earnings up to 350% of federal poverty guidelines (Kaiser Family Foundation, 2022). The state program was designed to enable all children, despite of their residency or citizenship status, to get public health insurance if their families meet the financial criteria. However, it is estimated that about 48,000 children are eligible but have yet to enroll in NJ FamilyCare, including approximately 16,000 undocumented kids.
Landscape

New Jersey ranks 15/51 in the rate of uninsured children. According to the U.S. Census Bureau 2021 statistics, the percentage of children without health insurance included 4% in 6-18 year-olds and 2.4% in children below 6 years.
Essex County had the highest number of uninsured children with 10,212, followed by Union and Middlesex with 7405 and 7160, respectively (Georgetown University, 2023). Cape May and Salem counties had the least number, with 671 and 477, respectively.
Based on race, Blacks had a child uninsured rate of 3.2%, Whites had 2.4%, and Asian/ Native Hawaiian/ Pacific Islander (AANHPI) had 1.9%. Based on ethnicity, Hispanics had the highest number of children without insurance at 6.2%, while Non-Hispanics had 2.5% (Georgetown University, 2023).
The child uninsured rate by poverty threshold is as follows:
0-137.99% of poverty-6.5%
138-249.99% of poverty- 5.9%
250% of poverty or above- 2.1%
Options

The options that can be considered to address the issue of uninsured children in NJ are:
1.12-Month Continuous Child Eligibility for CHIP and Medicaid: Continuous eligibility will provide coverage to children in Medicaid and CHIP for 12 months unless the child ages out, moves out of state, voluntarily withdraws, or does not make premium payments.
2.Enacting a No CHIP Waiting Period policy: The state currently has a 3 months CHIP waiting period. A No CHIP Waiting Period will increase children's access to healthcare (Dreyer, 2023).
3.Enacting a policy that allows child eligibility for lawfully residing immigrants for Medicaid and CHIP. This will increase health insurance coverage for all children residing in NJ.
4.A policy that allows eligibility for lawfully residing immigrants during pregnancy for Medicaid and CHIP
5.The state can also adopt the unborn child option in CHIP. This option will permit the states to cover "targeted low-income children" from conception to birth in CHIP, despite the pregnant person's immigration status, to increase insurance coverage (Dreyer, 2023).
Recommendations

I recommend expanding Medicaid and CHIP to cover all children, irrespective of residency status. Immigration status is a major barrier to health coverage for a relatively small percentage of the remaining uninsured children since most children in the state are US citizens (Alker et al., 2020). Despite non-citizen children making up only a small proportion, they require special attention since their health coverage disparities are large.
For the relatively small percentage of uninsured children in NJ, who are ineligible for Medicaid/CHIP because of immigration status, I would recommend policy amendment. The state can change the policy to make all children in NJ, regardless of citizenship status, eligible for Medicaid/CHIP if they meet requirements for income and state residency (Dreyer, 2023). I recommend that the state lift the five-year waiting period for lawfully residing immigrant children in NJ.
Expanding public health coverage using these policy recommendations is linked with improved child health, decreased disability, greater educational attainment, and better financial outcomes when children become adults. 
References

—Alker, J. C., Kenney, G. M., & Rosenbaum, S. (2020). Children's Health Insurance Coverage: Progress, Problems, And Priorities For 2021 And Beyond: Study examines children's health insurance coverage. Health Affairs, 39(10), 1743-1751. https://doi.org/10.1377/hlthaff.2020.00785
—Dreyer, B. P. (2023). Achieving Child Health Equity: Policy Solutions. Pediatric Clinics. https://doi.org/10.1016/j.pcl.2023.04.003
—Georgetown University. (2023, January 24). New Jersey state profile. Georgetown CCF Data. https://kidshealthcarereport.ccf.georgetown.edu/states/new-jersey/
—Kaiser Family Foundation. (2022, October 28). Health insurance coverage of children 0-18. KFF. https://www.kff.org/other/state-indicator/children-0-18/
— Yu, J., Perrin, J. M., Hagerman, T., & Houtrow, A. J. (2022). Underinsurance among children in the United States. Pediatrics, 149(1). https://doi.org/10.1542/peds.2021-050353