NR 505NP Assignment Qualitative/Mixed Methods Critique 
NR 505NP Assignment Qualitative/Mixed Methods Critique 
NR 505NP Assignment Qualitative/Mixed Methods Critique 
The selected article to be reviewed is related to the population section of the PICOT question. The publication titled Older Patients' Preferences and Views Related To Nonface-To-Face Diabetes Chronic Care Management: A Qualitative Study From Southeast Louisiana was written by Bazzano et al. (2019).
             
Description of the Purpose

This qualitative research aimed to explore older diabetic patients' opinions and preferences regarding the care management methods nonface-to-face. Additionally, the study's purpose is to use the results to improve diabetic care for this specific population. Patient information can also be utilized to enhance the quality of care and identify individual needs.
           
Explanation of Research Design

The research design used the qualitative element of the Louisiana Experiment Assessing Diabetes Outcomes. Case study design and thematic analysis were used for patient interviews. Four coders classified data from interviews, field notes, and discussions. Central themes were conversed among the stakeholders and research team.
           
Discussion of Sample

The study involved 30 participants, with an average age of 68.3 and 14.5 years since Type 2 diabetes (T2D) diagnosis. Most were female and Medicare-insured, while others had different insurance types. All participants had T2D with at least one coexisting chronic illness. About 13% participated in Nonface-To-Face Diabetes Chronic Care Management (NFF CCM) programs reimbursed by Medicare.
           
Description of Data Collection Methods

Accordingly, 30 participants, including caregivers, were interviewed using a discussion guide. Between October 2017 and February 2018, interviews were conducted personally or by phone (Bazzano et al., 2019). Audio recordings and field notes were used, ensuring privacy. Researchers followed guidelines for reporting qualitative research and emphasized data completeness and trustworthiness. Tulane University Institutional Review Board permitted the study.
         
Summary of Findings

This research found that patients felt that communicating with a health professional by phone was relevant. Some patients also noted that personalized relationships with their providers were more effective (Bazzano et al., 2019). Therefore, chronic care management programs must be flexible and responsive to meet individual needs.
         
The Study's Strengths and Limitations

One of the study's strengths was that the results mirrored findings from other research articles. The research also had limitations, including challenges in recruiting participants from different health systems.
           
Recommendation

 At the population level, future research should investigate whether enhancing diabetes care can be achieved by modifying NFF programming and support to eliminate distinctive barriers. 
         
Reference

Bazzano, A., Monnette, A., Wharton, M., Price-Haywood, E., Nauman, E., Dominick, P., Glover, C., Hu, G., & Shi, L. (2019). Older patients' preferences and views related to non-face-to-face diabetes chronic care management: A qualitative study from southeast Louisiana. Patient Preference and Adherence, 13, 901-911. https://doi.org/10.2147/ppa.s201072Links to an external site.
week 4 article.pdfDownload week 4 article.pdf
I was at an appointment with my mother-in-law a few years ago and the doctor insisted on speaking to me instead of the mother-in-law. She was fully capable of talking and understanding. It was just that she was in her 80s and slower to respond. She drove to the appointment! Totally capable but for whatever reason this doctor was not connecting with my mother-in-law. After the appointment, she changed doctors and I was in full support. The kind of care that is offered to the elderly can be important. Ultimately, changing healthcare at that time, because of a communication issue, meant it took longer to identify cancer in her situation and it altered her healthcare. The next doctor she chose responded to emails and phone calls and spoke directly with her and she felt heard and understood. The told everyone she knew that was the best doctor she had ever had.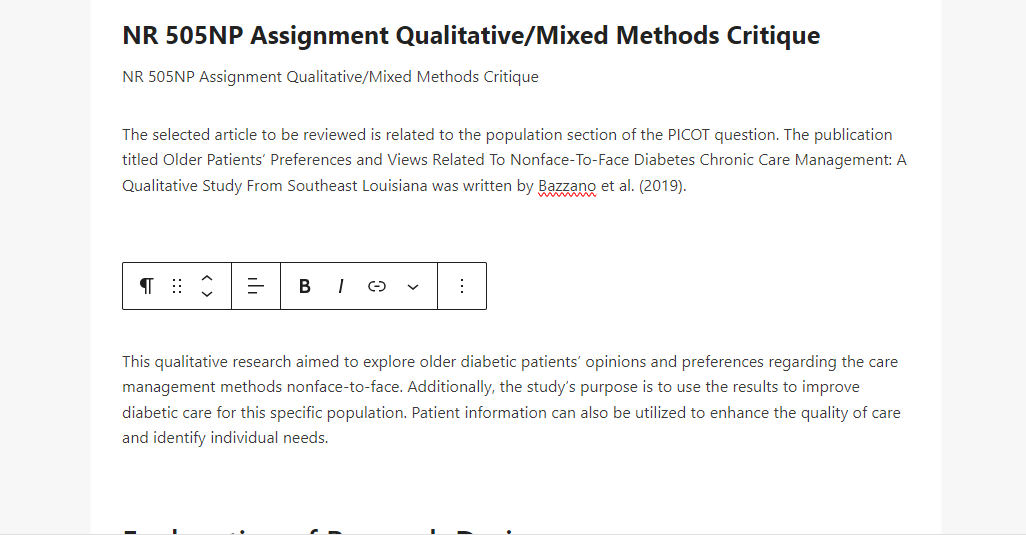 As the population changes, healthcare needs to stay up-to-date and change with those needs (Zhu et al., 2019). Studies such as the one you are using, tell us we need to better understand our patients and their needs to make sure we are addressing the population's needs in the most effective way possible (Bazzano et al., 2019). This study is an excellent resource to apply to try to make policy change as it clearly shows how the patients want and need communication options/resources that their own trusted healthcare professional can provide. The quotations from the patients are impactful and well done in this article. By using the patient's direct words, it really reinforces we can support long-term health by giving the patient better access to reliable resources for the education they trust and can understand.
Bazzano, A., Monnette, A., Wharton, M., Price-Haywood, E., Nauman, E., Dominick, P., Glover, C., Hu, G., & Shi, L. (2019). Older patients' preferences and views related to non-face-to-face diabetes chronic care management: A qualitative study from southeast Louisiana. Patient Preference and Adherence, 13, 901-911. https://doi.org/10.2147/ppa.s201072
Zhu, C., Xu, X., Zhang, W., Chen, J., & Evans, R. (2019). How health communication via Tik Tok Makes A difference: A content analysis of Tik Tok accounts run by Chinese Provincial Health Committees. International Journal of Environmental Research and Public Health, 17(1), 192. https://doi.org/10.3390/ijerph17010192
Description of the purpose
The purpose of this study was to provide a qualitative study that focused on the misconceptions and barriers in which prevent parents from initiating childhood obesity interventions. Due to the prevalence of diabetes tripling over the last 3 decades, there is a need for intervention (Anderson, et al., 2019). For this reason, this study aimed to study the barriers for parents implementing early interventions to prevent childhood and adolescent obesity. There is a much higher risk of becoming obese as an adult if interventions aren't provided early in childhood and followed through (Heller, et al., 2020).
Explanation of research design
This research study uses data collected by trained researchers doing interviews. The interviews were one on one using a script, they were then analyzed by trained researchers and data was collected (Heller, et al., 2020).
Discussion of sample
The sample population of this group was random. The researchers chose a convenience sample strategically chosen from 2 different States in the United States. They chose participants from providers who were experts in childhood obesity prevention. The participants were contacted for interviews via phone, face to face, and email (Heller, et al., 2020).
Description of data collection methods
The data was collected from interviews including in person and by phone, and they were recorded. This was collected via a trained researcher who conducted one-hour interviews. The interview questions sought to determine what obesity habits were observed in children. Those habits included physical activities, screen time, and eating habits (Heller, et al., 2020).
Summary of findings
The study found that there are quite a few barriers to early intervention in childhood obesity. One major issue is the overfeeding of children from 0-2 years of age. The study found that there was a lack of education on portion sizes for small children. The introduction of cereal in the bottle to early in life and the introduction of vegetables to late in life. There were many gaps when it came to obesity prevention. Convenience, cultural, influence, and lack of knowledge. These are noted issues that parents faced when trying to implement early interventions to fight obesity. Another identified barrier was lack of community-based resources for the parents. The article goes on to say that providers, parents, and the community need more education and resources to provide better interventions for early prevention of childhood obesity (Heller, et al., 2020).
Strengths of the study (minimum of 1)
The main strength of this study was the swiftness of the study. The researchers provided a qualitative analysis of misconceptions and barriers the prohibit parents from using obesity prevention techniques.
Limitations of the study (minimum of 1)
The limitation in this study is the lack of a diverse sample population. The participants were limited to two states in the United States and did not represent a true depiction of misconceptions and barriers from multiple locations.
Recommendations regarding potential application for future practice that are insightful and appropriate.
There is a profound need for interventions and resources for providers and patients battling obesity. This article proposes the profound need for education for parents with infants and toddlers. There needs to be education provided to parents with an emphasis on early childhood transitions with food. This could make a huge difference in the future practice if there was food focused education for parents.
Anderson, P. M., Butcher, K. F., & Schanzenbach, D. W. (2019). Understanding recent trends in childhood obesity in the United States. Economics & Human Biology, 34, 16-25.
Heller, Chiero, J. D., Trout, N., & Mobley, A. R. (2021). A qualitative study of providers' perceptions of parental feeding practices of infants and toddlers to prevent childhood obesity. BMC Public Health, 21(1), 1–1276. https://doi.org/10.1186/s12889-021-11305-7
There is no argument that parents make a huge impact on a child's food choices at a young age. Their influence affects a child's health for years and a lifetime. This article was quite interesting and a great perspective of the healthcare provider's perceptions on the cause of childhood obesity.
Catherine touched on something important that I noted about this study and want to expand on it a little. Barriers to accessing healthy food have a major impact on childhood obesity. Something I would consider quite important about this study that I did not see addressed is the location of the study and the parents' access to quality food versus unhealthy food options. Did the parents being evaluated by the providers have the resources to make a healthier choice in their food options? It seems to me here in the United States we should not have to have this conversation, but not everywhere in the country is there access to healthy food.
If you have ever lived in a food desert, you know access to quality food can be difficult. I was reading an article I happened across about food deserts earlier this week (Daniels, 2020). As of 2020, 2 Million people in Georgia live in food deserts, of those 500,000 of them are children (Daniels, 2020). That is little or no reasonable access to quality food to make healthier choices. They are not starving, but they have to make a concerted effort to get fresh fruit and vegetables. Potentially passing up many quick easy unhealthy options to make the best choices. Making time to find the food, which could be over an hour to drive and collect, prepare the food, and do all the things that need to be done as a parent can be time-consuming and difficult. I am not trying to create problems that may not be issues for the parents in this study, but because it was not addressed in this study, it raises a flag for me.
Another point that was touched on but skimmed over was breastfeeding. Breastfeeding is great if the mother has access to healthy foods herself, but when healthy foods are hard to access, breastfeeding is not always healthy for the baby or mom (Machado et al., 2019). I do not disagree that starting foods at the wrong time can be detrimental to a child's long-term health and increase the chances of childhood obesity, but so can being malnourished due to the parent lacking resources (Owino et al., 2019). Ultimately, as healthcare providers, the need to ensure the child is achieving optimal nourishment from the resources provided at an early age allows the child to develop in an appropriate way so as to impact their long-term health outcomes positively.
I believe this study needs to be expanded to look at the resources available and the nutrition each child is actually receiving not just the weight of the child. I agree there needs to be more education surrounding healthy eating habits of both the child and the parents, there also needs to be a better understanding of why parents make the choices they do about how they choose to feed their children.
As providers, we need to be aware of the patient's needs when we try to understand childhood obesity. While we know what is good and healthy for a child, the resources of the parent and the community come into play heavily. We can share healthy eating practices and educate parents on how to make the best choices, but if the resources are not available, making those changes may be a bigger task to overcome.
Daniels, M. (2020, August 11). What is a food desert?. Georgia Rural Health Innovation Center. https://www.georgiaruralhealth.org/blog/what-is-a-food-desert/Links to an external site.