NR 505NP Assignment PICOT Question 
NR 505NP Assignment PICOT Question 
NR 505NP Assignment PICOT Question 
My PICOT question is going to be on childhood obesity and the way to prevent it.
Population – low-income children ages 7-17
Intervention- effects of education on healthy eating and exercise
Comparison- no additional education on healthy eating and exercise
Outcome – Low body mass index, body fat percentage, and weight
Time – over a year
Question –
In low-income children ages 7-17 what is the effect of education on healthy eating and exercise on lowering body weight, BMI, and body fat percentage compared to no additional education on healthy eating and exercise to be compared over a year?
Obesity among children and adolescents is a critical problem in developing and developed nations. An increase in body weight is linked to sleep apnea, asthma, fatty liver disease, impaired balance, cardiovascular disease, high cholesterol levels, orthopedic problems, and insulin resistance and glucose intolerance. Researchers argue that the implementation of physical activity and dietary interventions in obese and overweight children leads to improvements in body composition. Consequentially, education on healthy eating and exercise can lower body weight, body fat percentage, and BMI in low-income children ages 7 and 17 years compared to no education over one year. Education affects behavior, anthropometry, attitudes, and knowledge to facilitate changes in decision-making among study participants. Children in such a study have the capacity to make lasting improvements in their short and long-term health. The improvements are dependent on several factors, including the quality of the programs and instructions, family support, cost of food, low participant burden, and a supportive social environment at home and school. Children with greater social support from their family, friends, and teachers are more likely to experience behavioral changes. Their families play a vital role in influencing their dietary practices and physical activity levels. The comparison group serves as a control group to measure the significant impact that education has on the children's body composition to encourage behavioral and policy changes in future. No intervention effects can be identified in the comparison groupthat does not receive education. Intervention children are more likely to participate in specific physical activity intensities and modes, as well as evidence-based dietary plans, which guarantee better weight management than their counterparts in the control group. Intervention children will also report less sedentary time and family-focused tasks that enhance the relationships they have with their parents or guardians.
References
Grace, J., Biggs, C., Naicker, A., & Moss, S. (2021). Effect of physical activity and nutrition education on body mass index, blood pressure and biochemical variables in overweight and obese adolescents. Annals of Global Health, 87(1). doi: 10.5334/aogh.3147
Wang, D., & Fawzi, W. W. (2020). Impacts of school feeding on educational and health outcomes of school-age children and adolescents in low-and middle-income countries: protocol for a systematic review and meta-analysis. Systematic reviews, 9(1), 1-8. https://doi.org/10.1186/s13643-020-01317-6
Obesity is definitely a concern within adolescents and is an issue that's continuously rising throughout generation. Obesity is one of those diseases that is a foundation to many additional comorbidities that rise concerns within the health of patients. Implementing education, resources and support throughout the journey of lower BMI, body fat percentage and weight through healthy eating and exercise is a wonderful start in addressing obesity concerns.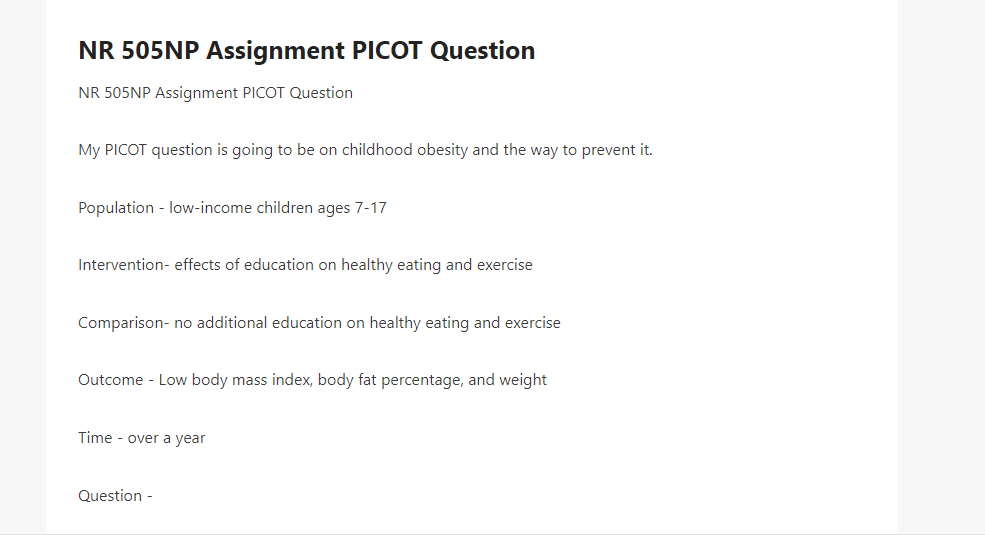 I agree that NPs, as primary care providers, can have significant impact on preventing childhood obesity. It is really good PICOT subject to improve obesity issue and it is interesting to work on it. It is crucial to begin education about healthy eating habits and importance of everyday physical activities since early age. It is significant that you mention low-income children as your (P) population in addressing this issue. As it is mentioned in evidence-based literature, healthy eating habits begin at home (Deavenport-Saman et al., 2019), and for undeserved and low-income families it is everyday struggle to get significant amount of food for family, not even mention to have an access to healthier and better quality food. Unfortunately, to increase physical activity among low-income children can also be a challenge to the limited resources for this population. From what I mentioned above, I am really curious to see what you are planning to implement in order to achieve planned outcome. It might be very useful for any of us in our future practice.
Thank you and good luck with your PICOT assignment.
References
Deavenport-Saman, A., Piridzhanyan, A., Solomon, O., Phillips, Z., Kuo, T., & Yin, L. (2019).
Early childhood obesity among underserved families: A multilevel community-academic partnership. American Journal of Public Health (1971), 109(4), 593–596. https://doi.org/10.2105/AJPH.2018.304906
I enjoyed reading your post . Childhood obesity is a serious issue in the world today . Childhood obesity is incredibly complex and reflects numerous systems that impact a child's health. Education on ways to prevent obesity is the key to helping to improve this issue . The prevalence of obesity in the United States remains dangerously high, at nearly 10% among infants and toddlers, 17% of children and teens, and more than 30% of adults(Brown, Halvorson, Cohen, Lazorick, & Skelton, 2018).
Brown, C. L., Halvorson, E. E., Cohen, G. M., Lazorick, S., & Skelton, J. A. (2018, October). Addressing childhood obesity: Opportunities for prevention. Pediatric clinics of North America. https://www.ncbi.nlm.nih.gov/pmc/articles/PMC4555982/
Childhood obesity is a great topic. There should be tons of information available to you as well. I think over a year is a good time to assess weight gain or weight loss. Children can lose weight and gain weight so fast because of their metabolism its at its peak. Children should be engaged in activities all throughout the year, even while school is out. For me this summer was different for my children because I could not find a regular day camp for 8 hours a day. I live in another state now, and daycamps hard to find. Prior I lived in the city of New York, where day camps are advertised all the time, it was easy to go to the local park, and other children are playing outside. The children not being active and this new boom of technology leads to an unhealthy lifestyle. According to the CDC, Kids can practice better eating habits when schools provide healthy foods. There are lots of opportunities schools have to promote the nutritious foods that are served. Schools play an important role in shaping lifelong healthy eating habits by offering nutritious meals. Educating children on eating healthy from an early age creates a healthier lifestyle for years to come.
 CDC. 2019.  Division of Population Health, National Center for Chronic Disease Prevention and Health Promotion
I am very interested in your topic of childhood obesity, I have heard many takes on this topic and most of them end up with the conclusion that income and education on healthy eating and exercise have a big role to play in this age group. What I think is great about your PICOT is that besides only adding weight as the measurable factor, you are even being more specific and adding body fat. This is really important because two people can be the same weight but one has more body fat and the other has more muscle. With a time frame of a year to measure the outcome it really can give a good result because most likely children will be in school at that time. I can not wait to see how you dive deeper on this topic on the up coming weeks.
PICOT.
P- Pre diabetic Adults patients 18 years and older in the primary care provider (PCP)
I – In walking 30 minutes a day , 4 – 5 days per week and diet modification primary methods of weight reduction.
C- Not exercising, walking and diet mortification compared to not exercising, walking or diet change affects a pre diabetic patient overall health
O- Patient will be able to lose 30 lbs .
T- Twelve months is an adequate time to observe weight loss changes among patients.
PICOT question  
P- In pre-diabetic adults patients 18 years and older in a primary care setting, I- how does , walking 30 minutes a day and  diet modification C-Compared to not walking 30 minutes a day and dieting O- reduce a patients weight by 30lbs T-over 12months?
I actually like them both, but I feel like with the prevalence of childhood obesity, and the fact that by the time individuals are 40 to 60 years old, they have already created lifelong habits that are harder to break in later years of life. However, if you catch people when in their prime (18 years and older), OR even younger, I feel like you would reach more people who in turn will create real change in their lives. It has been proven time and time again that when you are young, time is truly on your side, your body is typically in prime condition and the younger you are the easier it is to maintain a healthier lifestyle and live out that change. I also feel like the younger your test group is the more likely your interventions will stick. Since the prevalence of Diabetes and prediabetes in children and adolescents is becoming a growing epidemic, I think it would be beneficial to study the youth to create an environment of prevention rather than just treatment. The incident of type 2 diabetes among the youth from 9 cases to 12.5 cases per 100,000 youth per year in a 10 year span (Leak, Gangrande, & Tester, 2021). Therefore, teaching children early with healthy habits and proper diet and exercise. Currently, 1 in 5 children are obese, and are more likely to continue to be obese through adulthood (Dunford & Popkin, 2020). Diabetes is a growing problem and as nurses we have seen the endless long term complications that come with it from vision loss, to limb amputation. Great topic with endless possibilities! Good luck!
Reference
Dunford, Popkin, B. M., & Ng, S. W. (2020). Recent Trends in Junk Food Intake in U.S. Children and Adolescents, 2003–2016. American Journal of Preventive Medicine, 59(1), 49–58. https://doi.org/10.1016/j.amepre.2020.01.023
Leak, Gangrade, N., & Tester, J. (2021). Facilitators and barriers to preparing and offering whole grains to children diagnosed with prediabetes: qualitative interviews with low-income caregivers. BMC Public Health, 21(1), 931–931. https://doi.org/10.1186/s12889-021-10915-5