NR 505 Discussion Exploring Research Results
NR 505 Discussion Exploring Research Results
NR 505 Discussion Exploring Research Results
PICo questions: How do nurses in an inpatient setting perceive the value of bedside shift report?
Completing last week's research, it is apparent that bedside shift report adds a layer of safety for the patients. A qualitative study in an inner-city, acute care teaching hospital, was done to gain insight on what experiences nurses had with BSR. Jeffs et al. (2013) interviewed 43 female nurses from various clinical specialties. The participants were asked to list the positive and the negatives about BSR. Topics that were covered included describing the positives and negatives of face to face interactions with nursing colleagues; the negative outcomes associated with the interactions and involvement of patients in care planning; and if they felt that the care was more patient-centered and safer. Over six months, the nurses took in observations and found that they could identify, intercept and correct potential errors. In addition, they could clarify the care plan and patient needs. The nurses were also able to prioritize care with a quick assessment. The results may be affected by the limitation of the study only taking place in one hospital. The study was well rounded to include nurses from different units.
My plan in implementing a change to bedside shift report is to improve patient safety by improving nurse to nurse communication and reducing hospital events including patient falls. I would gather the baseline quality data for the hospital units involved in the study. Once the plan is discussed with all members involved and the education on how to conduct the BSR is provided to the nurses involved in the implementation the next step is to do. Set the date and start monitoring and evaluating the new process of BSR. Conducting interviews with nurses at the beginning and several weeks later to understand barriers and successes from the new process. The length of time to conduct interviews can be difficult to determine in a qualitative study. In this process change scenario, I would continue to conduct interviews until I started to receive redundant responses to questions multiple times. Next, I will study the data obtained through the interviews and the quality data collected over that same time period. I should be able to determine if I reached the outcome I predicted and if the implementation went as I planned. This is a good time to evaluate any barriers or challenges encountered during the implementation. The step in the PDSA is act. Taking the information learned during the implementation and ensuring that the solutions remain sustainable.
Jeffs, L., Acott, A., Simpson, E., Campbell, H., Irwin, T., Lo, J., Beswick, S., & Cardoso, R. (2013). The value of bedside shift reporting: Enhancing nurse surveillance, accountability, and patient safety. Journal of Nursing Care Quality, 28(3), 226-232. doi:10.1097/NCQ.0b013e3182852f46
I think using a pilot as a way to test an Evidence Based Practice concept is the best way to roll new ideas out in the clinical area. Using the Plan-Do-Study-Act (PDSA) model ensures the trial has the best chance for appropriate results. Currently in our ED we have several trials going on at one time. Many times, we find that we need to make small corrections to the process based on the feedback from staff. No one concept will work in every environment in the exact same way so a trial allows the team to strive towards meeting the ultimate goal with specific components included, but maybe using different methods or processes. We wanted to solve the problem of having outdated supplies in the patient rooms. During our Gemba walks we discovered wasted steps, time, and resources to this one issue. We needed someone to restock the rooms when we needed those minutes of work doing actual patient care. So our ED LEAN staff members went to work to identify possible solutions with their co-workers during their multiple daily huddles. Our trial based on their ideas consisted of pulling all stocked supplies out of our ED patient rooms and created areas in the hallways in proximity to their 'pods'. Each pod has a quick supply cart, IV cart, EKG machine, portable vital signs machine, and a crash cart. We placed tape on the floor where each cart should be placed and color coded each cart with the coordinating color of the pod and floor tape. We have four areas in our main ED space so we have a red, orange, blue and green pod with equipment in the hall for each. This has proven to be a great success and we are now having the tape professionally applied to the floor so our EVS can seal it to the floor.
Your post regarding bedside shift report (BSR) is quite interesting. I believe there is a need for more data supporting the efficacy and benefits associated with bedside shift report. I have worked in facilities where the staff was transitioned to bedside shift report. For the most part, staff was extremely resistant to the idea for a myriad of reasons that varied from BSR extends the length of time it takes to report off to concerns regarding the risk of breaks in patient confidentiality to the staff just simply did not see a need to do so. Roslan and Lim (2016) conducted an interpretive, descriptive, qualitative study using focus group interviews with semi-structured questions. Twenty nurses were asked about their perception of bedside clinical handover. Results of this study concluded that the nurses found bedside clinical handover to be a possible cause of breaks in patient confidentiality, a source of interruption and distraction by patients and family members. On the other hand, research subjects also found bedside clinical handover to be a foundation for communication between patients and nurses. As an acute care nurse, I know and understand the angst caused from bedside report. Despite this fact, I remain a staunch supporter of bedside shift report. When I was a manager, I cannot recall the number of times I received complaints from staff who complained because the patient in room 301 had an infiltrated IV at the start of the shift or the patient in room 345 was dirty at the beginning of the shift or the patient in room 320 was complaining because they have been asking for pain meds for over an hour. Each of the issues would have been known and could have been addressed during shift report. Most nurses do not intentionally leave work undone but there is the occasional unicorn who leaves work undone on a consistent basis. Although healthcare is a 24-hour rotation, no nurse wants to follow someone who consistently leaves a mess for the next shift. BSR hinders the possibility of this becoming a persistent issue.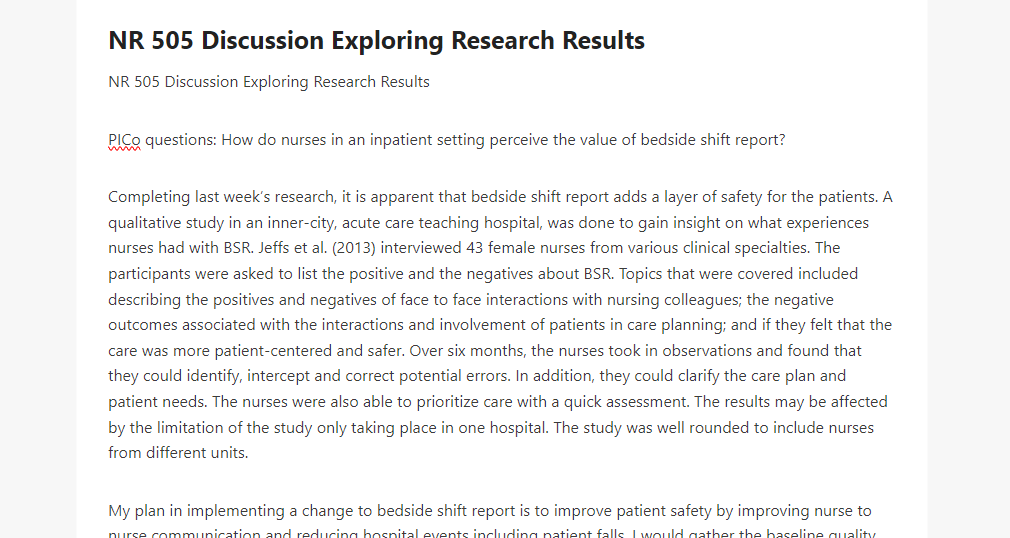 I look forward to your continued research on this matter.
Roslan, S. & Lim, M. (2016). Nurses' perceptions of bedside clinical handover in a medical-surgical unit: An interpretive descriptive study. Retrieved from: http://journals.sagepub.com/doi/full/10.1177/2010105816678423
PICo question: Are post war veterans at an elevated risk for suicide as they reintegrate into society?
Research on my PICo question showed post war veterans were at an elevated risk for suicide within the first three months of returning state-side. Many issues can arise as veterans reintegrate into society following deployment and can experience feelings of burdensomeness, loss of belonging, and combat guilt among other factors that can negatively affect their mental health. Lusk et.al. (2015) completed a qualitative study on post war veterans and results showed the first month of return to be the highest risk for suicide especially among veterans who reported burdensomeness and combat guilt. Lusk (2015) discussed the success of acceptance and forgiveness-based interventions through cognitive behavioral therapy as a way to re-define traditional roles and encourage the outflow of emotional response as a therapeutic outlet.
As a potential family nurse practitioner (FNP), within a rural community, the integration of cognitive behavior therapy specializing in acceptance and forgiveness-based interventions for post war veterans would fit the demographic area, be feasible under the benefits of Tricare, and be appropriate for the patient population. Utilizing a Plan-Do-Study-Act (PDSA) the first action would be to narrow the focus on the problem and formulate an interdisciplinary team that will accomplish tasks and complete the details of the agenda. The goal would be to improve access to mental health treatments such as cognitive behavior therapy via telehealth within a veterans' home. Gros, Lancaster, Acierno, and Lopez (2018), found many governing bodies and insurance companies willing to cover telehealth as a preventive measure in treatment of PTSD and received funding from grants authorized from Veterans Affairs to hire master's level counselors and provide telemonitoring devices to patients within their homes.
Members from the local armory, military chaplains, licensed therapist, community leaders, and physicians could advocate on the importance the importance of improved mental health among local combat veterans. A brief semi-structured questionnaire could be completed upon the veterans' initial return to the community and the physician or FNP could determine whether the veteran should be enrolled in the telehealth service that provides weekly access to a licensed mental health provider specializing in combat veterans and PTSD. The mental health counselor would establish a baseline utilizing the patient's response to questions and then repeat the same questionnaire after approximately three months of weekly sessions to determine if the veteran likes the use of telehealth and has felt improvement within their overall mental outlook. The repeat questionnaire would help determine if individuals liked the overall delivery of services, if improvement in mental health had been made, or if they preferred a different method of receiving psychiatric care.
Financial resources could be obtained through the form of grants and communication with local business owners. Securing funding would be the biggest obstacle along with raising awareness to the risks veterans experience during the first few months post-deployment and establishing a trust factor where local veterans would be willing to participate. A few telemonitors and licensed therapists or counselors would be needed to provide the interviews and implement interventions through the telehealth program. A licensed physician would need to oversee the program because the state of Alabama requires FNP to operate under supervision.
A future research study that could extend knowledge on post war veterans would be improved mental health screenings pre-deployment as well as improved methods to manage mental health needs throughout deployment as a way to possible identify soldiers at risk and meet their emotional needs. I feel more research is needed on ways to assist veterans throughout deployment with mental and emotional needs. Further research is needed to ensure post war veterans have the coping skills needed to reintegrate into society and function appropriately and in a healthy productive manner.
https://chamberlainuniversity.idm.oclc.org/login?url=https://search.ebscohost.com/login.aspx?direct=true&db=edswss&AN=000419868900008&site=eds-live&scope=siteLinks to an external site.
https://chamberlainuniversity.idm.oclc.org/login?url=https://search.ebscohost.com/login.aspx?direct=true&db=mdc&AN=25759094&site=eds-live&scope=siteLinks to an external site.
Gros, D. F., Lancaster, C. L., Acierno, R., & Lopez, C. M. (2018). Treatment satisfaction of home-based telehealth versus in-person delivery of prolonged exposure for combat-related PTSD in veterans. Journal of Telemedicine And Telecare, 24(1), 51-55.
Lusk, J., Brenner, L. A., Betthauser, L. M., Terrio, H., Scher, A. I., Schwab, K., & Poczwardowski, A. (2015). A qualitative study of potential suicide risk factors among Operation Iraqi Freedom/Operation Enduring Freedom soldiers returning to the continental United States (CONUS). Journal of Clinical Psychology, 71(9), 843-855. doi:10.1002/jclp.22164
It is imperative that healthcare providers, communities, state and local public health departments, and other government entities promote high-quality end-of-life care so that the negative consequences of living with and dying from chronic terminal illness can be prevented. The WHO strategy for palliative care recommends educational initiatives directed toward both the public and healthcare professionals. "Examples, such as the Dying Matters Coalition in England and Good life, Good death, Good grief in Scotland, have been established with the aim of engaging society in becoming more open about death, dying and bereavement." (Brogaard et Al, 2016)
Fit- Knowing whether or not a Nurse practitioner could enhance the election of hospice or palliative care in community residing aging individuals would definitely fit into the target group.
feasibility- It is entirely feasible to incorporate an Np at different levels of healthcare to communicate the importance of quality end-of-life care within the community setting.
Appropriateness- It is certainly appropriate to implement an end-of-life specialist in the form of an advanced degree nurse to educate the aging community on hospice and palliative care
Plan- Identify the need to improve understanding regarding end-of-life care in the community dwelling aging population. Illustrate an interview process designed to better understand participants' position on electing hospice care when curative treatments are no longer beneficial, and further disclosing their outlook on the impact having an informative conversation with a nurse practitioner. Do– Using a comprehensive interview process, the project leader is able to gather information on participants' past, ideas, understanding on the subject, as well as their experiences with hospice and palliative care. The researcher will develop a blue print for the interview made up of open-ended questions about hospice underuse and misuse, but at the same time, will allow the conversation to unfold in the way that the subject leads. Follow-up questions should be tailored to individual discussions, and should be based around the respondent's initial answers. Trust must be established early on between the project coordinator or researcher and participant or subject so that true feelings, thoughts, and actions are shared. Because of the dynamic interaction, the project coordinator or researcher is unable to take notes, so recording of the interview is done with the participant or subject's permission. The interview is then transcribed from the audio into text format so that the project coordinator or researcher can reflect upon common themes present within the interview and compare responses of different participants or subjects. Study– review the recordings performed during the interview process and document all pertinent information making special note of trends and similarities in responses. Act– follow up with participants to gather any additional information that may be beneficial to improving the underuse and misuse of hospice and palliative care. One way to overcome the roadblock of utilizing the knowledge gathered in this evidence based project would be to incorporate critical listening skills. A critical listener looks beyond the words for the message by picking up on body language, and emotion from the speaker in order to gather a more accurate perception of the message.
Resources needed for my action plan will include: a computer, paper, printer, an environment to analyze the data collected, research assistance to help with data transfer from voice recording to computer program.
Success of this particular study would materialize as literature included in educational developments for the advancement of community based hospice and palliative care.
One future research study that would be useful in extending knowledge on the misuse and underuse of hospice and palliative care would be a study to identify bereaved families' views on and experiences with end of life care, specifically, how the families viewed availability of staff, symptom control, spiritual support, and overall quality of care.
Brogaard, T., Neergaard, M. A., & Murray, S. A. (2016). Promoting palliative care in the community: a toolkit to improve and develop primary palliative care throughout Europe. Scandinavian Journal of Primary Health Care, 34(1), 3–4. http://doi.org/10.3109/02813432.2016.1152092