NR 501 Assignment Development of Nursing Theory and Concept Analysis
NR 501 Assignment Development of Nursing Theory and Concept Analysis
NR 501 Assignment Development of Nursing Theory and Concept Analysis
The nursing theory I chose for this discussion post is Kolcaba's theory of comfort. Within this theory, I chose comfort as the nursing concept since it is so broad and important.
Comfort is a term that is always going to associate with nursing. It can be used as a verb or a noun and signifies both the physical and mental comfort of a person. There are four main meanings when it comes to comfort.
A relief from discomfort and/or the state of comfort (Wensley et al., 2017).

The state of peaceful contentment (Wensley et al., 2017).

Relief from discomfort (Wensley et al., 2017).

Whatever makes life or situations easy or pleasurable (Wensley et al., 2017).
Three attributes of the concept of comfort include a state sense of comfort, such as cessation of stressful activities, absence of severe discomfort, or an environmental influence employing comfort. The second attribute includes a relief sense, which includes an impulse of relief, no active requirement, and can be either a whole or a partial relief. The third attribute is a renewal sense, this includes an enduring condition, positive motivation, and a readiness to perform (Smith et al., 2015).
An antecedent about comfort includes the fact that comfort started back with the time of Florence Nightingale and even to this day is a desirable outcome of nursing care. This concept has also been utilized by other theorists such as Roy, Orlando, Watson, and Peterson. A consequence of this concept is that comfort is not permanent. It may be a brief or partial relief, but comfort is never permanent (Smith et al., 2015).
An empirical referent that makes this concept measurable is the overall outcome and wellbeing of the patient. Achieving desirable outcomes for our patients and selecting goals and interventions that apply to our patient's diagnosis is an empirical referent of comfort. Comfort itself is tailored to the specific patient type (Smith et al., 2015).
We know that comfort is informally integrated into the entire nursing profession. Comfort should improve the nursing profession and is relevant to Kolcaba's Theory of Comfort because Kolcaba describes comfort as a relief, an ease, and a transcending form in the nursing practice. Kolcaba goes in depth about how to address comfort in our field just as the concept of comfort addresses as well.
References:
Smith, M. C., & Parker, M. E. (2015). Nursing theories & nursing practice (4th ed.). Philadelphia, PA: F.A. Davis Company.
Wensley, C., Botti, M., Mckillop, A., & Merry, A. F. (2017). A framework of comfort for practice: An integrative review identifying the multiple influences on patients' experience of comfort in healthcare settings. International Journal for Quality in Health Care. doi:10.1093/intqhc/mzw158
I do believe that an antecedent of comfort can be discomfort, but does not have to be. An antecedent is occurring before something, with that being said, before someone has comfort they may be experiencing discomfort. Most studies on nursing comfort relate to the physical aspect of comfort. Comfort is a state resulting from satisfaction of the need for relief, ease, and transcendence in physical, spiritual, social, and environment contexts (Pinto, Caldeira, Martins, & Rodgers, 2017). Since Nightingale, the concept of caring has become more relevant in nursing theoretical development (Pinto, Caldeira, Martins, & Rodgers, 2017). Comfort is seen in nursing as a holistic experience, a state of satisfying human needs for ease, relief, and transcendence in many different contexts (Pinto, Caldeira, Martins, & Rodgers, 2017). These definitions proposed are restrictive in defining comfort because they only relate to the physical aspect of comfort, showing that the antecedent would be discomfort.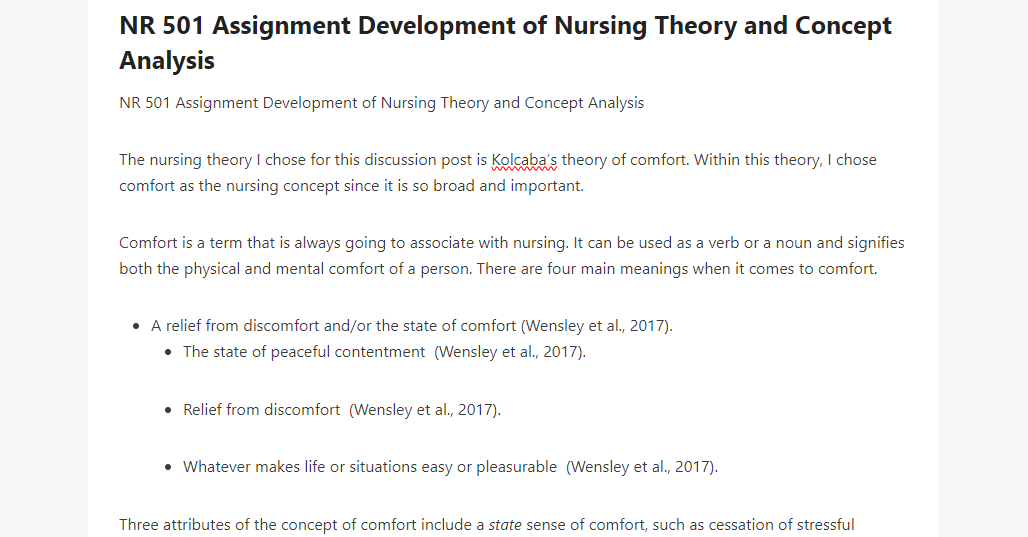 Kolcaba's Comfort Theory is useful in understanding the concepts of comfort. According to Kolcaba's theory, comfort is also related to satisfaction of needs, which relates to quality of life, happiness, and suffering (Pinto, Caldeira, Martins, & Rodgers, 2017). These concepts show the satisfaction with meeting personal needs and expectations towards life leading to a form of comfort.
The concept of comport is complex and dynamic in the nursing world. It is a concept that is holistic, subjective, and based on individuals needs (Pinto, Caldeira, Martins, & Rodgers, 2017). While discomfort can be an antecedent of comfort, there are also other dimensions of comfort that are not related to discomfort first. These include achieving comfort through spiritual, psychological, social, and environmental magnitudes (Pinto, Caldeira, Martins, & Rodgers, 2017). Aspects of the individual's personality, age, culture, and beliefs influence the perception of comfort and how a person perceives it (Pinto, Caldeira, Martins, & Rodgers, 2017). Comfort is not a straightforward concept and can change over time due to a person's perspective. A person can achieve comfort in one dimension such as physical, but not another such as spiritual leading to antecedents other than discomfort.
Pinto, S., Caldeira, S., Martins, J.C., & Rodgers, B. (2017). Evolutionary analysis of the concept of comfort. Holistic Nursing Practice, 31(4), 243-252. DOI: 10.1097/HNP.0000000000000217
I absolutely would say discomfort is an antecedent of comfort. I think distress and suffering are antecedents as well (Tsai, 2012). This may be a silly analogy, but this is what I think of right now when I think of comfort and discomfort:
I am currently 9-months pregnant. In fact, I am due January 29th. I am beyond uncomfortable! I cannot put on my shoes, reach something off the floor, etc. In order for me to realize I am experiencing discomfort, I must first know what makes me comfortable. Which right now includes laying down with my feet up, taking a long bath, or even finding measures that help me sleep. My discomfort comes from being pregnant and will be relieved (hopefully) when I am no longer pregnant! (Week and a half! Yay!)
With my first hand experience of discomfort, I crave comfort. I crave to have my body back and be able to perform my daily activities that I was able to do before. With this being said, I think that in order to know what makes you comfortable you must know what makes you uncomfortable first.
Some characteristics of comfort include:
1) An ability to maintain functionality (with a big baby in your belly you cannot do this easily!)
2) Physical symptom relief (that joyous feeling of relief after working all day and I can come home and put my feet up)
3) A sense of safety and security (Tsai, 2012).
4) A pleasant experience (Tsai, 2012).
5) Reduced suffering (Tsai, 2012).
6) An absence of discomfort (Tsai, 2012).
Reference:
Tsai, J. L., Lee, Y. L., & Hu, W. Y. (2012, February). Comfort: a concept analysis. Retrieved January 18, 2018, from https://www.ncbi.nlm.nih.gov/pubmed/22314653
First and foremost, congratulations in advance on your new little one. As an LDRP nurse I see what your describing every day at work with my patients and my pregnant co-workers. I think everyone starts a countdown towards the end! Your little one will be here before you know it.
I liked your characteristics of comfort as they clearly are relatable and made sense towards what comfort feels like. This seems like the perfect concept for you as you truly are experiencing discomfort at this time. One characteristic you mentioned was " A pleasant experience". I really enjoyed that because it is so true. Even if a person is not uncomfortable, a pleasant experience can bring comfort to them which helped answer the question that Dr. T. was asking. While I completely agree that discomfort is an antecedent of comfort, it doesn't have to be. There are other antecedents such as a memory or spiritual belief that give comfort to someone even if they were not having discomfort. Another example you mentioned is "A sense of safety and security". This can relate to your newborn. Babies crave the sense of safety and security. As a mother, there is no better person to comfort their newborn and bring them that sense of security.
Comfort is such an important topic to nursing and life in general. We as humans need comfort, we want it, and we miss it (especially in your case)! I hope you have a great labor experience and find comfort in the fact that you will have a blessing coming your way here soon. Hang in there!
Thank you for your discussion, I agree with you that comfort is a broad, and yet important concept. However, the statements you made on your discussion are easy to understand by the reader. According to Hinkle & Cheever (2014) comfort is an impression of mental, physical, or social well-being. Nurses play an important role in the provision of comfort measures to those patients in need of and accepting care, also the appraisal of those measures for efficiency.
Also, according to Pinto, Caldeira, Martins & Rodgers (2017) who outlines that comfort is currently understood as a holistic practice, a state of satisfying human requirements for relaxation, relief, and wholeness in physical, psychological, social, and spiritual contexts. The concept of comfort has assumed much more significance since Nightingale when the topic of theoretical development is approached.
According to Pinto, Caldeira, Martins & Rodgers (2017) comfort theory is appropriate, it includes comfort for all involved parties' patients, families, health care personnel including management and administrators. The comfort theory which was developed through Kolcaba's concept analysis of comfort as an anticipated wanted result of nursing care as determined by the client.
We can also describe comfort as a complicated and subjective concept, according to Pinto, Caldeira, Martins & Rodgers (2017) comfort is described as a desired state of fulfillment and pleasure, a holistic experience closely correlated with the person's insights and satisfaction of desires, to accomplish release, ease, and transcendence in all human life magnitudes.
Providing comfort while performing nursing interventions is an important aspect in nursing care, it complements the treatment and assist the patient in recovering and maintain a proper and stable status involving the mental, physical, or social well-being of the affected patient.
Reference
Hinkle J.L., & Cheever K. (2014). The 13th edition of Brunner & Suddarth's Textbook of Medical-Surgical Nursing. Lippincott, Williams & Wilkins, Philadelphia, Pa.
 Pinto, S., Caldeira, S., Martins, J. C. & Rodgers, B. (2017). Evolutionary Analysis of the Concept of Comfort. Holistic Nursing Practice 31(4), 243–252. DOI: 10.1097/HNP.0000000000000217
Our book defines concept as the "phenomena that occur in nature of thought" (McEwen & Wills, 2014). The concept I have chosen to focus on is compassion fatigue. Often as caregivers we spend a lot of time offering our emotional support to our patients in need. By doing so we can sometimes forget that we need to remember to care for our own emotional health and release of stress. The American Institute of Stress defines compassion fatigue as "the emotional residue or strain of exposure to working with those suffering from the consequences of traumatic events (2017).
Three attributes that relate to the concept of compassion fatigue are emotional intensity increase (Sorenson, Bolick, Wright, & Hamilton, 2017), abrupt onset (Sorenson, Bolick, Wright, & Hamilton, 2017), loss of job satisfaction (Sheppard, 2016). Among these there are many more attributes that identify how compassion fatigue is seen.
An antecedent is something that has to occur before an event. In this case an example of an antecedent could be the desire to absorb or alleviate an individual suffering by connecting with a patient on an emotional and compassionate level (Sorenson, Bolick, Wright, & Hamilton, 2017).
A consequence is something that is the result of something that has occurred. An example of a consequence when related to compassion fatigue could be the feeling of dreading work.
An empirical referent that could be asked to determine if compassion fatigue in present in an individual is the question of "Do you suddenly feel more angry, sad, empty or seem to be crying more frequently"? This helps to identify if the attributes that were mentioned are being exhibited in this individual.
Watson's theory of human care is all about the relationship a nurse has with a patient. The core concept of this relationship-based nursing relationship is empathy and communication empathy (Lombardo & Eyre, 2011). Compassion fatigue is experienced by nurses who help with life changing problems. When one cannot cope or properly manage these stressors they develop compassion fatigue. Inadequate self-care behaviors or an increase in self-sacrifice is often seen in those who suffer from compassion fatigue.
While we all joined nursing to care for others and be their emotional support during their time a need we should keep in mind ways in which we can relieve the emotional stress and baggage we try to care for others. By relaxing and reflecting we can help to eliminate these in the moments they occur, but one can also think about working out as a great way to reduce stress.
References
American Institute of Stress. "Compassion Fatigue." The American Institute of Stress, 2017, www.stress.org/military/for-practitionersleaders/compassion-fatigue/
Lombardo, B., & Eyre, C. (2011). Compassion fatigue: a nurse's primer. Online Journal of Issues in Nursing, 16(1), 3. doi:10.3912/OJIN.Vol16No01Man03
McEwen, M., & Wills, E. (2014). Theoretical basis for nursing (4th ed.). Philadelphia, PA: Wolters Kluwer/Lippincott Williams & Wilkins
Sorenson, C., Bolick, B., Wright, K., & Hamilton, R. (2017). An Evolutionary Concept Analysis of Compassion Fatigue. Journal of Nursing Scholarship: An Official Publication of Sigma Theta Tau International Honor Society of Nursing, 49(5), 557-563. doi:10.1111/jnu.12312