NR 500 Systems Theory and Practice Issues Assignment
NR 500 Systems Theory and Practice Issues Assignment
NR 500 Systems Theory and Practice Issues Assignment
Health organizations function in highly challenging environments. As a result, they have grown to be complex and adaptive in nature. The complexity arises from the unpredictability of the healthcare environment, which demand responsive and adaptive interventions (Chesnay & Anderson, 2019). Several issues are likely to affect my practice as a nurse practitioner in the future. One of them explored in this paper is nursing shortage. Therefore, the paper examines the issue of nursing shortage, addressing it, impact on other system levels, and use of interprofessional collaboration to solve it.
Issue or Concern
            The selected issue that will affect my future practice is nursing shortage. Statistics shows that America will experience an acute shortage of nurses by 2030. The American Association of Colleges of Nursing (AACN) notes that about 1 million nurses will be retiring by 2030, creating a sharp demand for nurses in the county. The county will require an average of 175900 nurses yearly to meet its demand for nurses by 2030 (Graystone, 2018). The implications of the shortage to my practice are the increased workload for nurses. There will also be an increased risk of poor quality of life for nurses because of work-related challenges such as burnout and low job dissatisfaction. The impacts of nurses' shortage on the quality, safety, and efficiency of care are evident. For example, nursing shortage has been associated with errors in the care process, missed or delays in service provision (Alexander & Johnson, 2021). Therefore, the issue should be addressed to promote the health and wellbeing of the nurses in the future as well as the quality, safety, and efficiency of patient care. The issue of nursing shortage is a meso-system problem. It arises from factors that are beyond the healthcare system. Retirement is an external factor that that the hospitals cannot influence.
Addressing the Issue
Some interventions can be adopted to address the anticipated nursing shortage. One of them is advocating for an increased enrollment of nurses into the bachelor's program. The number of students joining nursing education has been low as compared to the anticipated population of retiring nurses. Advocating for increased training of nurses would offset the anticipated nursing shortage (Chesnay & Anderson, 2019). The other solution is advocating for government support for nursing training institutions. Often, nursing institutions turn away students interested in training to become nurses because of the lack of adequate resources to train a high number of learners. As a result, it is essential for the government to increase financing for nursing training institutions, as an approach to addressing the issue of nursing shortage (Rosseter, 2019). The last strategy is ensuring organizations strive to retain their existing nursing staff. Strategies such as promoting their continuous professional development, rewarding performance, and offering safe working conditions minimize the risk of poor retention in healthcare organizations (Feyereisen et al., 2021).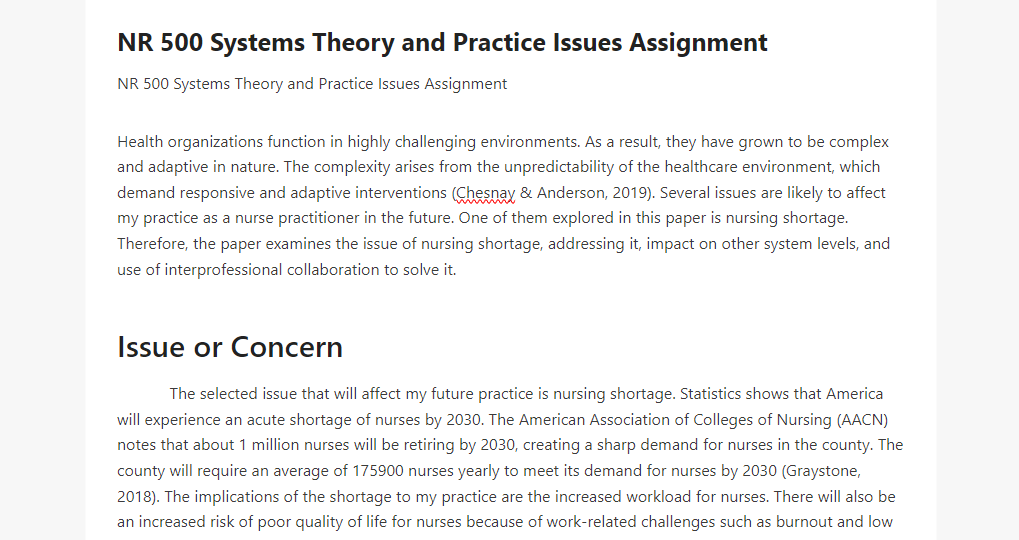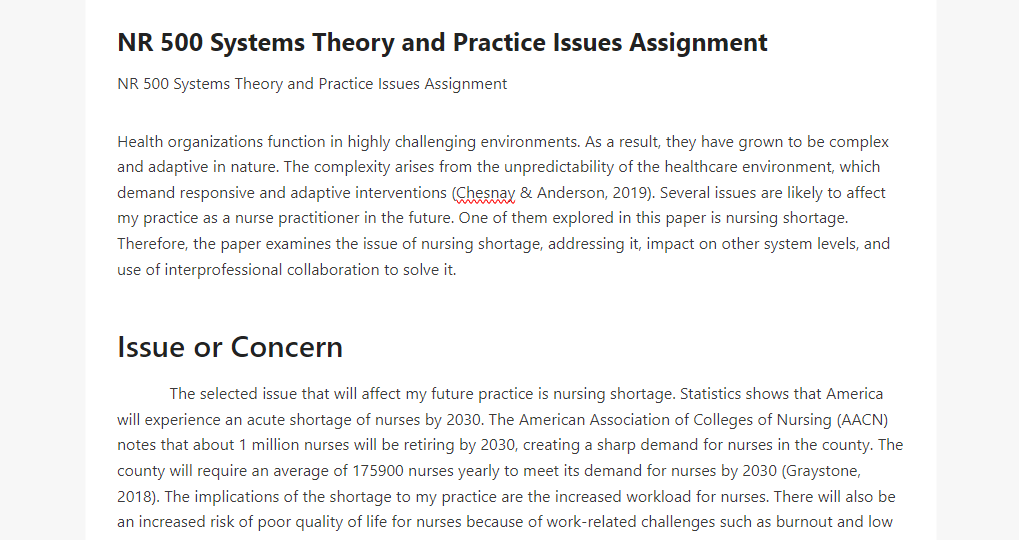 Impact on other Levels of the System
The proposed solutions will affect the other system levels. For example, it will lower the workload that other healthcare providers experience in their respective workplaces. The solution will also affect meso-system by enhancing care coordination and interprofessional collaboration among care teams. It will also enhance the care given in healthcare organization, hence, effective community-health organization interactions at the macrosystem level (Kennedy, 2019). Interprofessional collaboration could be used to address the issue of nursing shortage. Accordingly, nurses and other healthcare providers could collaborate in identifying effective strategies that can be adopted to enhance employee retention in their organizations. They can also advocate the adoption of policies that address the factors that contribute to nursing shortage (Feyereisen et al., 2021).
Conclusion
In summary, nursing shortage will affect my future nursing practice. Strategies such as organizations striving to maintain their existing workforce and governments supporting nursing training institutions can address the issue of nursing shortage. Interprofessional collaboration also helps organization embrace best practices for employee retention. Therefore, I would explore these strategies to mitigate the effects of nursing shortage on my future practice.

References
Alexander, G. R., & Johnson, J. H. J. (2021). Disruptive Demographics: Their Effects on Nursing Demand, Supply and Academic Preparation. Nursing Administration Quarterly, 45(1), 58–64. https://doi.org/10.1097/NAQ.0000000000000449
Chesnay, M. de, & Anderson, B. (2019). Caring for the Vulnerable. Jones & Bartlett Learning.
Feyereisen, S. L., Puro, N., & McConnell, W. (2021). Addressing Provider Shortages in Rural America: The Role of State Opt-Out Policy Adoptions in Promoting Hospital Anesthesia Provision. The Journal of Rural Health, 37(4), 684–691. https://doi.org/10.1111/jrh.12487
Graystone, R. (2018). How Magnet® Designation Helps Hospitals Tackle the Nursing Shortage. JONA: The Journal of Nursing Administration, 48(9), 415–416. https://doi.org/10.1097/NNA.0000000000000640
Kennedy, A. (2019). Nurse Preceptors and Preceptor Education: Implications for Preceptor Programs, Retention Strategies, and Managerial Support. Medsurg Nursing, 28(2).
Rosseter, R. (2019). Fact sheet: Nursing faculty shortage. Washington, DC: American Association of Colleges of Nursing.