NR 500 Artistic Expression: Caring Concept Assignment
NR 500 Artistic Expression: Caring Concept Assignment
NR 500 Artistic Expression: Caring Concept Assignment
I consider the ability to facilitate learning to be the most essential professional competency for a master's-prepared nurse practicing in the 21st century. As stated by the AACN (2011), master's-prepared nurses can teach patients, families, student and staff nurses, as well as an array of other health care professionals. This competency is especially crucial for nurse educators, who are accountable for promoting a positive academic environment within the various settings in which they practice, to ultimately attain the proposed outcomes.
Recognizing today's ever-changing healthcare system and the demands it poses, I believe it is imperative for master's-prepared nurses to possess the knowledge necessary to foster learning in various populations and across the life span. Individuals learn through various styles and at different speeds. Master's-prepared nurses must be flexible with their teaching methods and consider the individual needs and considerations of each learner. According to Summers (2017), effective educators use numerous teaching techniques, connect with their learners, and assist the diverse learning needs of students to involve them in the learning process.
An example that helps illustrate this concept applied to professional practice is a personal experience with a professor in my baccalaureate degree program. I took a nursing research course, which I was slightly nervous about initially, but it ended up being one of my favorite courses thus far, and it was all because of the instructor. For starters, the framework for the course was very well organized, which greatly helped ease my mind. The instructor was knowledgeable, friendly, helpful and genuinely cared about her students' understanding of the material she presented She utilized an interactive style of teaching which helped keep all of her students engaged, and also made class fun! It was a small class, yet very diverse, and the instructor succeeded at facilitating learning for all of the students.
References
American Association of Colleges of Nursing. (2011). The essentials of master's education in nursing.
Washington, DC: Author.
Summers, J. A. (2017). Developing Competencies in the Novice Nurse Educator: An Integrative Review.
     Teaching and Learning in Nursing, 12(4), 263-276. doi:10.1016/j.teln.2017.05.001
As defined by the American Associations of Colleges of Nursing (2011), "nursing-practice interventions include both direct and indirect care components." The baccalaureate or master's prepared nurse serves the healthcare continuum in many different ways and in many different settings. The baccalaureate-prepared nurse is the stepping stone required for advanced studies. As mentioned in the CCN Nursing Conceptual Framework (2016), "the BSN degree program provides the foundation for graduate study… and supports the concept of lifelong learning." Whereas, the master's-prepared nurse is an advanced healthcare professional that is able to provide essential duties through advanced education. Despite the roles or setting they provide their services, they are able to help lead the future of practice through knowledge, theory and evidence-based research (American Associations of Colleges of Nursing, 2011).
I believe the value of a master's degree-prepared nurse is unique from any other healthcare professional in the setting. Aside from attaining a higher level of education, nursing is still the fundamental component to everything we do. According to King and Kornusky (2016), Jean Watson's theory is the basis in which nursing education is founded upon, we are all connected in one way or another in this universe. As a result of the education pathway, we are introduced into the field with basic theory and knowledge with a key component that no other profession can teach, we are introduced into the caring and compassionate approach in our nursing careers at a very early stage. Call it a milestone if you will. "When Watson's theory is applied in clinical practice, its impact is evident in specific nursing actions that aim to promote a harmonious, healing environment that preserves human dignity" (King and Kornusky, 2016).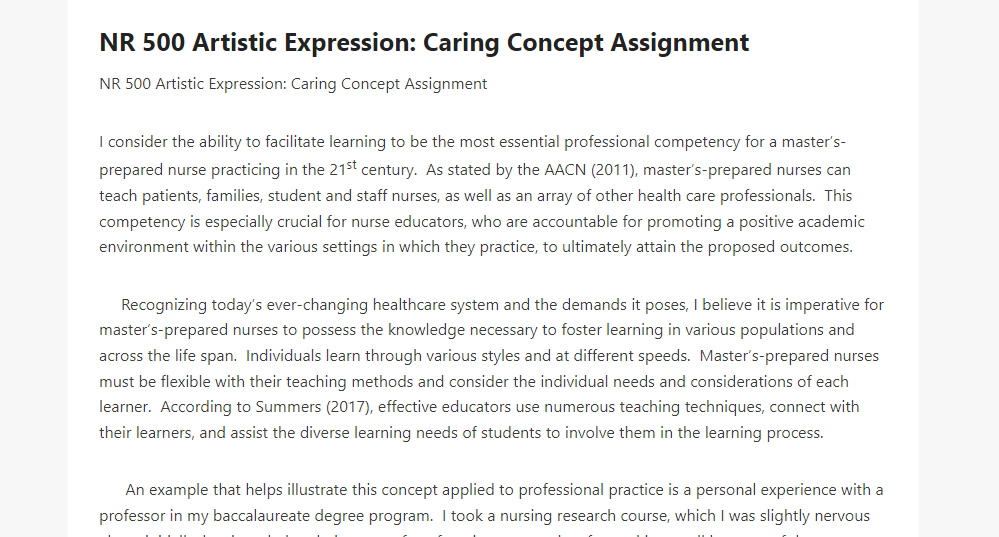 I believe the most essential professional competency for a master's-prepared nurse practicing in the 21st century is one that is able and capable of mastering all basic and essential needs required to achieve a positive end result for the present and into the future. Time will continue to pass, technology trends will continue to advance and hospitals will continue to change their approach and the population will continue to grow ever complex and just as everything does indeed change, the essence of nursing remains the same. Therefore, the heart of nursing is to care. When an individual possesses care in what he or she does, this will guide their practice further no matter the ever-growing changes that exist today and in the future that awaits.
References
Chamberlain College of nursing masters of Science in nursing conceptual framework. (2016). Chamberlain College of Nursing. Retrieved from https://www.chamberlain.edu/docs/default-source/academics-admissions/catalog.pdf.
King, J. B., & Kornusky, J. M. (2016). Watson's Theory of Caring: Integration into Practice. CINAHL Nursing Guide. Retrieved from http://eds.b.ebscohost.com.proxy.chamberlain.edu:8080/eds/pdfviewer/pdfviewer?vid=1&sid=1361a9f5-26f2-40be-b5bd-0e87195dee12%40sessionmgr102
The essentials of master's education in nursing. (2011). American Associations of Colleges of Nursing. Retrieved from http://www.aacn.nche.edu/education-resources/MastersEssentials11.pdf
Master's trained nurses are now helping to lead at an exciting time in health care. Nurses now have many different roles and opportunities for career growth. Master's trained nurses also have the ability to expand their knowledge and continue their education to advanced levels. The value in obtaining a master's degree in nursing is that it will provide nurses with not only more advanced practical skills,  but also more experience to provide better patient satisfaction and outcomes.  Today's nurses need to be autonomous and utilize critical thinking and act quickly. Master's trained nurses will use their new skills in a variety  of ways, such as, saving a critical patient or helping to provide care and compassion at end of life. Other master's trained nurses  will use these skills when deciding on new budgets for the projected year and help make financial decisions for company growth. With the ever evolving health care system employers are seeking nurses with advanced nursing degrees to work alongside them and provide care to every patient, young and old. One study reviewed the significant impact of the advanced practice nursing role on the quality of care, clinical outcomes, patient satisfactions and the cost in the emergency and critical care setting (Woo, 2017). This Journal discussed the important role that advanced nurses add to healthcare and the increase in patient satisfaction. This study showed patient satisfaction was greatly improved with the addition of the advanced practice nurse in an emergency setting. According to Woo (2017) " the study [31] reported that NPs performed better than physicians in teaching, answering questions, listening, and pain management" (p.18). Master's prepared nurses use their previous experience and now advanced skills in every aspect of the care they provide. Another study reviewed suggested effective leadership skills are more prevalent in a nurse who has an advanced degree ( Francis, 2013).  Healthcare will continue to grow and evolve and nurses need to continue to follow suit.
I believe critical thinking and judgement are the most important values of a master's prepared nurse. With the extensive knowledge and skills that comes with obtaining a master's degree, nurses are able to improve their critical thinking and judgment that was learned in past experiences. Today's nurses now work in a variety of settings and need to be able to analyze problems quickly and respond efficiently.
Part of my position in my current role is to oversee the triage staff. Triage staff often receive calls from very frantic families. I have seen my triage staff handle these calls with confidence and make recommendations quickly to help relieve patient suffering. These nurses utilize critical thinking and judgment to assess the situation and quickly deescalate the family. According to Ludin (2017) "nurses working in critical care settings should be encouraged to improve and develop their critical thinking and decision-making skills to set them apart from other practitioners. This will also prove they are able to provide the same level of care and expectations" (p.6).
I believe obtaining a master's degree will only improve my critical thinking and judgement; I will incorporate these into my future nursing practice.
Reference
Ludin, Salizar Mohamed.2017. " Research article: Does good critical thinking equal effective decision-making among critical care nurses? A cross-sectional survey." Intensive & Critical Care Nursing 44, 1-10.
A master's degree in nursing is an asset used to advance a nursing career. There are pros as well as cons to getting such a degree. Like any other advanced degree, it requires several additional years of commitment typically two to three years, and the cost can be a drawback for some. For those who choose this path, the nursing opportunities are limitless.
The healthcare field is everchanging, and nursing has been at the forefront of that change. Nurses practice across a broad spectrum, from hospitals, to clinics to communities, and a master's prepared nurse can work in varying healthcare settings diagnosing and treating patients under their care. Others continue in academia, while others choose management.
With an aging population coupled with the technological age, master's prepared nurses are in demand as they are often the first line of defense for patients. From a personal experience I find that patients are more revealing to the nurse. There is an ongoing public trust in nursing (AACN, 2011), patients have expressed to me crucial things that they felt were trivial and a waste of the doctor's time, the nurse is the line of communication between clinician and patient as the patient may find the nurse to be more relatable. A master's degree in nursing helps the nurse to keep that focus on the patient, as the patient-centered care model stresses the role of the patient as the key decision maker and a member of the healthcare team (JNP, 2017).
There is little evidence to show that a master's degree in nursing improves patient outcomes (Cotterill-Walker, 2012), it however has shown to improve the level of thinking of the master's prepared nurses. These nurses are leaders in their field, with a vast array of knowledge and they portray an increased level of confidence related to providing evidence-based care to patients (Cotterill-Walker, 2012), providing critical thinking skills and problem solving.
American Associations of Colleges of Nursing. (2011). The essentials of master's education in nursing. Retrieved from http://www.aacnnursing.org/Portals/42/Publications/MastersEssentials11.pdf
Cotterill-Walker, S. M. (2012). Where is the evidence that master's level nursing education makes a difference to patient care? A literature review. Nurse Education Today, 32(1), 57-64. doi:10.1016/j.nedt.2011.02.001
Journal of Nurse Practitioners. (2017). Leveling Evidenced Based Practice Across the Nursing Curriculum. Retrieved from http://www.npjournal.org/article/S1555-4155(16)30569-4/pdf
Nurses are indispensable personnel in the healthcare setting. We provide patient care, administer medications, and collaborate care with interdisciplinary team members among other tasks. As nurses provide direct and indirect patient care, it is necessary to establish interventions that will maintain patient safety, and guide patients to achieve positive outcomes. There are a variety of changes that affect the healthcare organization that are occurring in the 21st century such as technological advancements, chronic illnesses, health care policy changes, and medical developments. Therefore, it is imperative for nurses to stay abreast of these changes, and remain current with continuing education activities. A prudent professional nurse practicing in the 21stcentury should be competent in organizational and systems leadership within the healthcare setting. According to Pilon, Crutcher, Leming-Lee, Watters, Wolgast, & Arnow (2014), a masters prepared nurse will possess the educational background that will afford them with the knowledge and skills to be an effective leader within the healthcare organizations. The advanced practice nurse will be able to use their expertise to promote improved patient outcomes in various healthcare settings. The masters prepared nurse will also have the capability to manage, and lead the healthcare organization to achieve patient safety, positive outcomes, and disease prevention strategies (pp.1281-1285). An advanced practice nurse will be able to use their knowledge and education to provide in-services and guidance for the fellow nurses. An effective organizational and systems leader will be well informed of the strategies that are necessary to adapt to the healthcare changes by fostering an environment that will be conducive to the nurses accepting the change by acting as a change agent. A masters prepared nurse must be conscious of the how the messages are conveyed when communicating with the fellow nurses. A systematic and organizational leader will be an asset with the ability to use their effective communication skills, and develop working relationships in leading their fellow nurses to be successful within the healthcare organization. The masters prepared nurse should also understand the organizational concepts in the healthcare setting including the financial aspects such as budgets. The monetary aspect of the healthcare organization should be carefully managed to prevent the organization from experiencing financial deficits. The advanced practice nurse will demonstrate an understanding of the barriers, or negative outcomes that patients may face throughout their healthcare experience. The masters prepared nurse will be equipped with the critical thinking, and leadership skills to navigate through the unexpected areas that may arise to ensure that the quality patient care is not compromised. Quality improvement projects will provide the masters prepared nurse with information including data that can be used to evaluate their processes. The masters prepared nurse can utilize the data that is obtained to incorporate evidenced based practice into their standards of care to provide patients with best practices. The masters prepared nurse that successfully acquires the competency of organizational and systems leadership will able to lead the healthcare organization to provide safe and quality healthcare to patients. The capability to be skilled in leadership will require the advanced practice nurse to ascertain extensive knowledge of the healthcare organization along with their educational knowledge as they work towards leading a successful organization.
The competency of organizational and systems leadership is an essential component for the masters prepared nurse to have. This competency will prepare the advanced practice nurse with the educational, and clinical experience that will need to be a successful leader regardless of the area that is specialized in. It is the foundation that will guide the advanced practice nurse to be an effective leader within the healthcare setting. The leadership style that the masters prepared nurse will decide to use within the healthcare organization will be based on the situation, or task that need to be accomplished. It is vital for the advanced practice nurse to be a change agent within their healthcare organization. The changes that are occurring within the 21st century necessitate for the healthcare organizations to be able to adapt, and adjust their policies and procedures to meet the needs of the patients. A masters prepared nurse in the role of a Chief Nurse Officer (CNO) will benefit from utilizing the competency of organizational and systems leadership as a leader in the healthcare organization. The CNO must be aware of the how the organization functions from the financial operations, nursing personnel, healthcare policies, and organization's policies. As the masters prepared nurse makes decisions, and implements changes within the healthcare organization, it is imperative that their decision will not negatively affect the organization or the patient.
Reference:
Pilon, B., Crutcher, T. D., Leming-Lee, S., Watters, R., Wolgast, K. A., & Arnow, D. (2014). The Value Proposition for Graduate Education of Emerging Nurse Leaders: Immediate Benefit to Organizations. Nurse Leader, 1281-85. doi:10.1016/j.mnl.2013.11.004