NR 500 Addressing Bias Assignment
NR 500 Addressing Bias Assignment
NR 500 Addressing Bias Assignment
In this paper, the focus is on family nurse practitioners. Several forms of biasness are present in our regular environment, which has a particular impact on the practice of family nurses. Any form of biasness tends to affect the quality of services provided within the periphery of nursing practices. The bias is more pronounced element in the healthcare system that brings down the quality of services. This leads to a non-deliberate reduction in the performance of activities that are performed by the nurses on a daily basis. When there is a shift in cost of services provided by family nurse practitioners when a bias peeps into the system. The cost of activities tends to rise as the motivation of the nurses reduces and there is a reduction in the overall performance of the nurses (Klemenc‐Ketis & Kersnik, 2014).
As elucidated by Alligood (2014) several personal biasness find their way in the family nursing practice, which tends to affect the aspects of culture, gender and sexuality, and the religion of the client that is being treated under nursing practice. Issue often roots out from problems oriented to the health of the patient. This may in particular be that of obesity-induced issues, biasness against individuals with diabetes and so on. Often such individuals suffering medical illness of the common type are refrained from participating in the making of healthcare standards and guidelines for the daily activities of family nurses.
In my experience, as a family nurse practitioner I am highly biased against individuals who are not accurate in their level of verbal and written presentations. Often I do not even give them the due chance to individuals who are slow in their operational activities. This has given rise to issue of team conflicts, which reduced the rate of success of operation, or there is delay in completion or often rise in cost of completion or the time line tends to be crossed.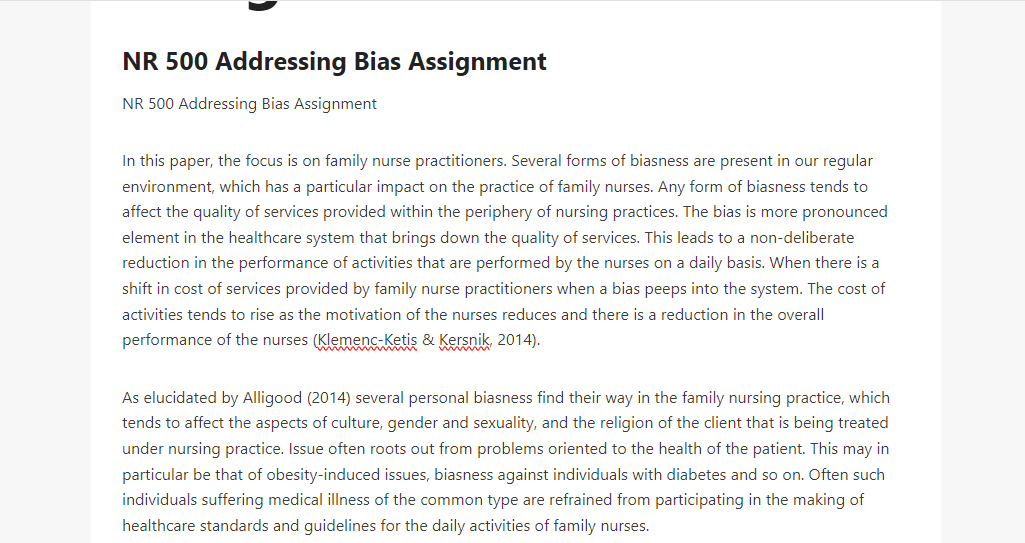 The level of bias can come down to a great extent by ensuring that the process of educating the staff deployed as family nursing practitioners. It is essential for the leaders to make significant investment and undergo critical decision making in order to resolve conflicts within the system and raise the understanding and ability of each employee in line with the needs of the system (McCormack & McCance, 2017).
References
Alligood, M. R. (2014). Nursing theorists and their work. Elsevier Health Sciences.
Klemenc‐Ketis, Z., & Kersnik, J. (2014). New tool for patient evaluation of nurse practitioner in primary care settings. Journal of clinical nursing, 23(9-10), 1323-1331.
McCormack, B., & McCance, T. (2017). Person-centred practice in nursing and health care. Theory and practice (2nd ed.). Oxford: Wiley Blackwell.