NR 451 Types of Nursing Models and Frameworks of EBP Assignment
NR 451 Types of Nursing Models and Frameworks of EBP Assignment
NR 451 Types of Nursing Models and Frameworks of EBP Assignment
Evidence-based practice is not a new idea or concept. Its history dates to the mid-1800s with Florence Nightingale. "While outcomes are essential, the [Evidence-Based Practice] process itself provides a framework for clinicians, educators, and nurse researchers to ponder, and then expertly construct the most relevant, patient-centered, and testable questions, which in turn yield important practice guidelines for optimizing patient outcomes" (American Nurses Association, 2015, p. 18).The purpose of utilizing models in evidence-based practice is to develop a methodical and efficient approach when examining data. There are multiple models of evidence-based practice. No individual model will fit every area of patient care. Stevens states that there are "forty-seven prominent EBP models" (Stevens, 2013). Johns Hopkins Nursing Evidence-Based Practice Model, Stetler Model, Advancing Research and Clinical Collaboration Model, Iowa Model, Promoting Action Research Implementation in Health Services Framework Model, and the ACE Star Model of Knowledge Transformation are all models that are discussed in this week's lesson.
After data is collected, it is important to decide the strength of the evidence to determine if practice changes should be implemented. Evidence is rated from Level I to Level VII. Level I means that the evidence is "from a systematic review of all relevant randomized controlled trials (RCT's), or evidence-based clinical practice guidelines based on systematic reviews of RCT's" and Level VII means that the evidence is "from the opinion of authorities and/or reports of expert committees" (LibGuides, n.d.). This hierarchy of evidence rates Level I as the strongest evidence for change. Reviewing the purpose, population, methods and materials is also important when determining strength. Verifying that the results are clearly defined and that the conclusions are based on supporting evidence is imperative. The stronger the evidence, the more likely the positive outcome from a change in practice.
It is important to integrate evidence-based practice with patient and family preferences when delivering patient care. For evidence-based practice to work, the patient must be willing to participate in the plan of care. Patients must be given all their choices and options for care prior to deciding the best fit. The Evidence-Based Practice "paradigm calls for the integration of patient preferences, best available evidence and clinical expertise within the context of healthcare planning and decisions" (Veterans Health Administration Office of Nursing Services Evidence-Based Practice Curriculum, 2016). In evidence based practice, "patient preferences are the 'trump card'" and it is the nurse's responsibility to adhere to the patient's requests within the nursing scope of practice (Veterans Health Administration Office of Nursing Services Evidence-Based Practice Curriculum, 2016).
References:
American Nurses Association. (2015). Nursing: Scope and standards of practice (3rd ed.). Silver Spring, MD: Author.
LibGuides: Nursing Resources: Levels of Evidence (I-VII). (n.d.). Retrieved August 28, 2017, fromhttp://researchguides.ebling.library.wisc.edu/c.php?g=293229&p=Links to an external site. 1953406
Stevens, K. R. (2013). The impact of evidence-based practice in nursing and the next big ideas. Online Journal of Issues in Nursing, 18(2), manuscript 4. doi:10.3912/OJIN.Vol1 8No02Man04. http://search.proquest.com.proxyLinks to an external site.. chamberlain.edu:8080/docview/1449497144?OpenUrlRefId=info:xri/sid:wcdiscovery&accountid=147674Links to an external site. Veterans Health Administration Office of Nursing Services Evidence-Based Practice Curriculum: Patient Preferences. (2016, August 30). Retrieved August 28, 2017, fromhttps://www.va.gov/nursing/ebp/docs/DefiningPatientPreferencesCurriculumLinks to an external site._www.pdf
I was reading a nursing text on policy for one of my classes and did not realize that in history the separation of nursing from medicine really did not start until 1929 when a nurse in the Philippines was convicted of manslaughter for following an erroneous order from a physician (the physician was found not guilty). Until that time, nursing was loyal to the Physician. It was not until the courts decided that we had a duty to use our own knowledge to practice did we come out as a profession. This still did not fully blossom until the 1950-1960s with feminism and consumer rights bring the concept of nursing as being the advocate for the patient sometimes being at odds with the medical profession. EBP for nurses really did not come into the lime light until 1970s-1980s. I never heard of EBP in my first nursing program and in my AD program, it was mentioned but not dwelled upon. In my BSN and MSN program, is were I learned the most about EBP and how to become a change agent for the good of the patient.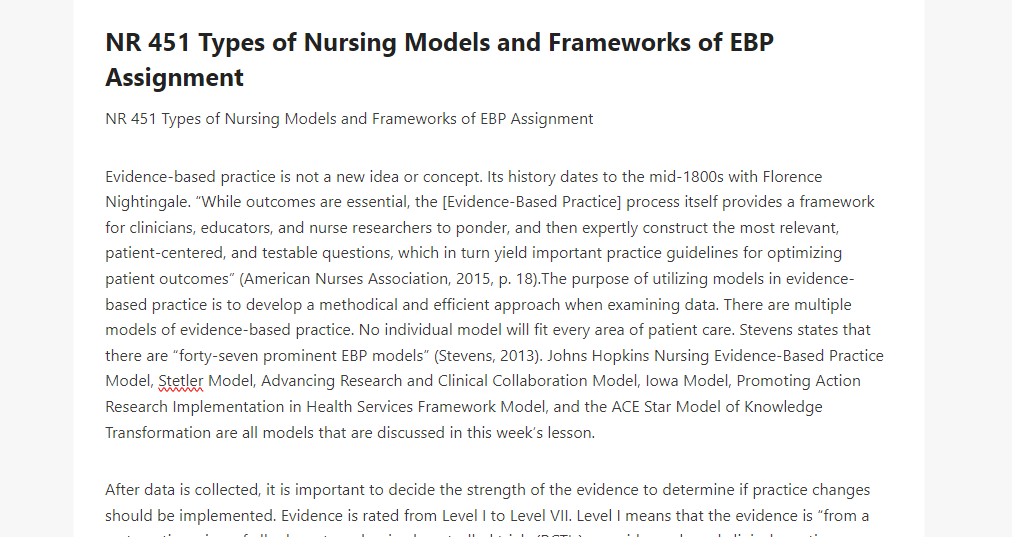 Mason, D. J., Gardner, D. B., Outlaw, F. H., & O'Grady, E. T. (Eds). (2016). Policy & politics in nursing and healthcare (7th ed.). Retrieved from https://bookshelf.vitalsource.com
. I finished my LPN in 2009. I do not remember learning anything about EBP. I received my ADN in 2013. I may remember my professor mentioning EBP but not in detail. I was thinking that it only came about in the last 2 years. To read in this post that it arrived before I was born is new news to me. While obtaining this degree I have learned to evaluate research and evidence. This has helped me to understand EBP and its importance. "EBP is important because it aims to provide the most effective care that is available, with the aim of improving patient outcomes. Patients expect to receive the most effective care based on the best available evidence. EBP promotes an attitude of inquiry in health professionals and starts us thinking about: Why am I doing this in this way?" "EBP is important because it aims to provide the most effective care that is available, with the aim of improving patient outcomes. Patients expect to receive the most effective care based on the best available evidence."
http://canberra.libguides.com/evidence
There are many different models and frameworks that are currently used for evidence based practice. One includes the ACE Star Model of Knowledge. This nursing model of EBP is a good starting for place for nurses as it incorporates five points to help the nurse integrate new practice. "The model of evidence translation that will prove most useful depends on the type of practice, the setting, and the practitioner's needs(Houser,2018, p.468). The stronger the research the more informative a nurse can be about translating it into their practice. While implementing the evidence nurse have to take the patient into consideration as they may not agree with the new practices. As nurses, we are taught to respect the patient and the family preferences to make sure the patient receives the best care possible. If the patient and family does not agree with EBP the nurse can try to educate the patient and family. If at the end of the education they still do not agree respect the wishes of the patient and family, and take care of the patient with other methods that they wish to be taken care of. As nurses, we are taught to critically think, and adjust our practices to individualize for each patient that we meet. "EBP is aimed at hardwiring current knowledge into common care decision to improve care processes and patient outcomes"(Steven, 2013, p.2)
Lesson Week 1
Houser, J. (2018). Nursing research: Reading, using, and creating evidence (4th ed.).Sudbury, MA: Jones and Bartlett. Stevens, K. R. (2013). The impact of evidence-based practice in nursing and the next     big ideas. Online Journal of Issues in Nursing, 18(2), manuscript 4.doi:10.3912/OJIN.Vol18No02Man04.
This week's lesson listed five different EBP models (CCN, 2017):
The John's Hopkins Nursing Evidence-Based Practice Model (JHNNEBP)

The Stetler Model

The Advancing Research and Clinical Practice through Close Collaboration Model (ARCC)

The Iowa EBP Model

The Promoting Action on Research Implementation in Health Service Framework (PARIHS)
These models provide the direction or roadmap to guide new strategies for care when new research has been identified. When a problem has been identified, you must first collect internal data to support the problems exists. The next step is find data to determine the magnitude of the problem, along with its causes. The final step is to analyze your findings. Not all nursing models of EBP will fit all organizations (CCN, 2017). Prior to the last class, EBP NR439, I really wasn't too familiar with the term EBP. As I reflect and have more knowledge, I know see the Iowa EBP Model was and is used in my current practice to most of our daily care. This all took place several years back, never labeled as EBP. I now know the painstaking time and energy that went into all of these algorithm changes. It did create an uproar and we were wondering, "Why can't we just do what we have always done"? Many of the changes came with the care of pregnant hypertensive patients and hyperemetic patients. It all made sense after our organization provided us with an in-service and support. But, today we still have some who just can't see past the old ways. The introduction of EBP has made caring for the patient much more efficient and prevents unnecessary interventions and reduces costs.
As stated by Houser (2018, p. 25), "Based on the strength of the evidence and the preponderance of benefit or harm, recommendations are generated that are classified as strongly recommended, optional, or recommended. Evidence collected by research studies are graded based on the strength. Vigilant evaluation of specific characteristics matched with an assessment of the credibility and validity of the studies is essential before carrying out changes. Evidence that supports better patient outcomes, efficient, effective care and reduction in errors is what gets translated to practice.
When we integrate EBP with patient and family preferences, it allows us to design and develop appropriate and acceptable interventions tailored to that patient/family unit. By doing so we are implementing PFCC and allowing the patient/family to be active participants. As nurses, we provide the knowledge, resources, and support each patient needs to be involved in informed decision making processes and assume important aspects of self-care (Hood, 2014, p. 408). The patient is not exclusive in PFCC as most people are part of a family. Personal preferences, values, family dynamics, religious and cultural traditions must all be taken into consideration.
Healthcare providers and patients approach clinical care and treatment differently. First and foremost, it is my obligation and duty to uphold the patient and or family's preferences. We have a duty to care according to the patient's wishes. So it is inevitable that there will be a time when EBP and the patient and family practice are at odds and don't agree. There will always be these dilemmas. According to Siminoff (2013), PFCC increases treatment adherence and better outcomes. The family influence has a significant impact on health care decisions. Working with the patient and family and understanding their approach and decisions is important. Understanding that illness is not just a biological process but also a social process. Open commination and actively listening to the patient/family to make sure there is no misunderstandings about the EBP practice chosen is important. The decision to be an active participant is the patient's to make, not ours. Increased patient involvement is an important part of quality improvement because it is associated with improved health outcomes (Say & Thompson, 2003). With that being said, we must abide by our patients wishes. Several years back I can remember taking care a very sick hyperemesis patient who was Orthodox Jew. She was to be started on a sq Ondansetron pump, but because it was religious fast day, Yom Kippur, we could not start her until the fast was completed. I was so upset as this woman was already very sick and not eating or starting her therapy meant even more insult to her already depleted condition. After talking with her and listening, I understood the importance of this religious day and nothing I could say would change her mind. I did more research myself and came to realize the significance of this day for her. Cleary, compromise and allowing the patient to be the driver in her care was the best approach to take.
References,
Chamberlain College of Nursing. (2107) NR451 Week online lesson. Collaborative Healthcare: Chamberlain College of Nursing. Downers Grove Il
Siminoff L. Incorporating patient and family preferences into evidence-based medicine. BMC Medical Informatics And Decision Making [serial online]. 2013;13 Suppl 3:S6. Available from: MEDLINE Complete, Ipswich, MA. Accessed August 23, 2017.
Say, R. E., & Thomson, R. (2003). The importance of patient preferences in treatment decisions-challenges for doctors. BMJ: British Medical Journal, 327(7414),542. doi:http://dx.doi.org.proxy.chamberlain.edu:8080/10.1136/bmj.327.7414.542