NR 451 Core Competencies for Nurses Discussion
NR 451 Core Competencies for Nurses Discussion
NR 451 Core Competencies for Nurses Discussion
The QSEN has six core competencies used in nursing to include: patient-centered care, teamwork and collaboration, evidence based practice, quality improvement, safety, and informatics. "Enhanced communication along with care coordination, patient integration, care quality, safety, and improving access are essential components that can actively integrate patients and their caretakers into the healthcare team"(Carr,2017,p.39). As nurses we use these competencies within are practice, sometimes daily. Patient-centered care should be used daily within nursing practice. My practice setting is a nursing home, and it is all about the resident. At the nursing home we center everything on the residents including activities, meals, and even our lunch break. Team work is another aspect of competencies that is used daily. The nurses work together to achieve task that need to be done throughout the day, and coordinating care with the certified nursing assistances. With my practice I use evidence based practice often as I am a wound care nurse. When starting this position I knew very little about wounds. This led me to seek more information on how to treat and manage wounds with evidence based practice. Quality improvement is another area that is being focused on by state. With the final rule quality improvement is a huge part of nursing home regulation, and is a topic I am looking more into at this time. It is a very complicated process. Safety should be taken in every nursing practice every second of the day. We use call lights, locks on doors, alarms, and many other interventions to assure safety for out residents. Informatics is growing in healthcare. We use electronic medical records in our facility to document medication use. We also have reports that we can pull to show graphs of different area that we may need to look at. 
Carr, D. D. (2017). Motivational Interviewing Supports Patient Centered-Care and Communication. Journal OfThe New York State Nurses Association, 45(1), 39-43.
QSEN competencies. (2014). Definitions and pre-licensure KSAs. Retrieved from (http://qsen.org/competencies/pre-licensure-ksas/ (Links to an external site.) (Links to an external site.)
I enjoyed reading your post.
Wound care involves patient-centered care, teamwork and collaboration, evidence based practice, quality improvement, and safety. Hospital-acquired pressure wounds are a hot topic right now. Per the Centers for Medicare & Medicaid services, "With respect to progression of pressure ulcers to Stage III or IV during the hospitalization, coding guidelines direct that the Stage III or IV pressure ulcer be confirmed as POA if a lower stage ulcer was recognized on admission and progressed to a higher stage ulcer during the admission" (Overview, 2016). With this ruling, if no pressure ulcer is documented on admission, it is assumed that the pressure ulcer is obtained during inpatient care and the facility is responsible for treatment of the wound without reimbursement. This is a financial burden for the facility because the "[c]ost of individual patient care ranges from $20,900 to $151,700 per pressure ulcer [and they] are the second most common claim after wrongful death" (Preventing Pressure Ulcers in Hospitals, 2014).
References:
Overview. (2016, September 23). Retrieved September 20, 2017, from https://www.cms.gov/ Medicare/Medicare-Fee-for-Service-Payment/HospitalAcqCond/index.html?redirect =%2FHospitalAcqCond%2F05_Coding.asp
Preventing Pressure Ulcers in Hospitals: Are we ready for this change? (2014, October 02). Retrieved September 13, 2017, from https://www.ahrq.gov/professionals/systems/ hospital pressureulcertoolkit/putool1.html
Hello wonderful students, you are almost there,
QSEN competencies are the core safety measures we as nurses should all aspire to. Patient falls, infections, patient centered care and medication errors are all included in the competencies. When I took boards, QSEN competencies were not formulated yet, but when I looked at a question, safety was first, always, I tell my undergraduates this, when looking at a question on your boards, the first thing to look at is safety, that is your first priority, which is part of the patient centered care paradigm. QSEN competencies are nursing centered and nursing can solve these challenges to meet competencies.

As a current practicing nurse, how do you include the QSEN competencies into your practice?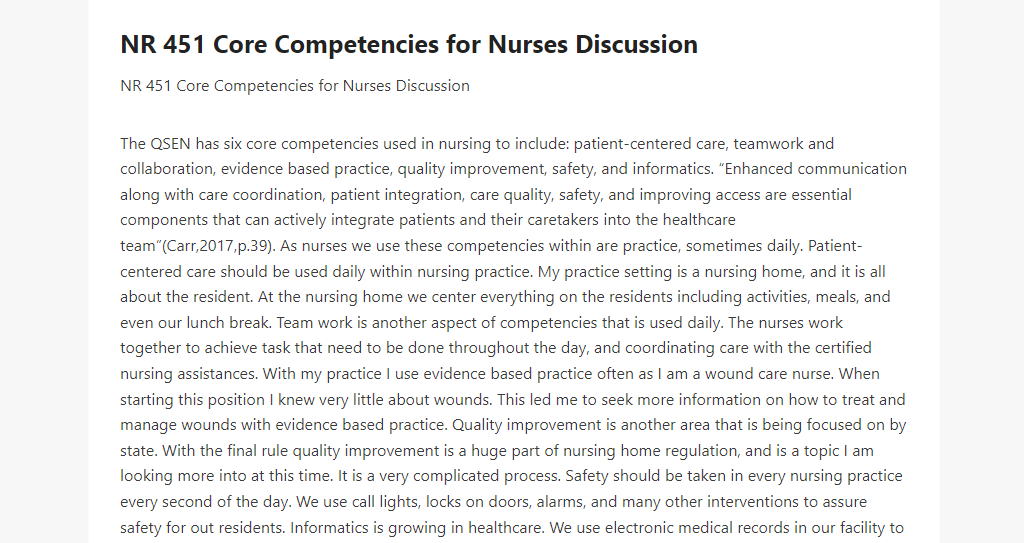 What do you think is the most important part of the competencies?
What other competencies should be added, if any, to QSEN?
Look forward to reading your posts!
Prof. MM
I feel like I have been unconsciously including the QSEN competencies in my practice for years. As you stated safety is always first priority. Also, patient-centered care is key to good outcomes. I try to involve all my patients in their care as much as possible. I let them know that they have a choice and input about everything that we do for them. I believe this helps me develop a personal connection with my patients which allows for a trusting relationship and leads to better outcomes. I try to use teamwork and collaboration in my daily practice to help the department as a whole which in turn provides better care for the patients. The other competencies I need to consciously work on integrating into my practice is better use of evidence-based practice, quality improvement, and informatics. I do utilize it, but not at the extent that I feel that I should.
I think all the competencies are important, but the one that I feel is most important is teamwork and collaboration. QSEN defines teamwork and collaboration as functioning effectively with nursing and other interdisciplinary teams to foster open communication, mutual respect, and shared decision making to achieve optimal patient outcomes (Teamwork and Collaboration, n.d.). I feel one of the biggest keys in this competencies is communication. It is vital to have effective communication between team members and with patients and their families. Misunderstandings can lead to costly mistakes. It can also lead to loss of trust and increase anxiety. Making sure everyone is on the same page and realizes the plan makes giving patient care easier and increases quality outcomes.
I can't think of any other competencies that need to be added. The QSEN competencies cover a broad variety of knowledge, skills, and attitudes needed to be successful. Each one appears to be broken down well. The only competencies that might be beneficial to add would be self-care. As nurses, we are always concerned about everyone else, but ourselves. We put our own needs on the back burner to make sure others are cared for. We neglect ourselves. We push ourselves to exhaustion. I think it would be important to learn the importance of making ourselves a priority. We need to better care for ourselves, so we can better care for others.
Reference
Teamwork and Collaboration. (n.d.). Retrieved September 26, 2017, from http://qsen.org/competencies/pre-licensure-ksas/#teamwork_collaboration
In my current practice, all of the QSEN competencies are included in practice. We are a MAGNET facility and as such must utilize evidence-based practice. Quality improvement is the driving force for safety, teamwork and collaboration, patient-centered care, and informatics.
The most used competency for me is teamwork and collaboration. Working in the Emergency Department means that I have to constantly collaborate with physicians, pharmacists, respiratory therapists, radiologists, radiology technicians, nursing assistants, unit secretaries, other nurses,and lab technicians. Without appropriate collaboration and teamwork, the patient suffers. He may not receive medications or tests in a timely manner. Without nurse / physician collaboration, patient safety is a major concern. The nurse spends more time in the patient's room and may notice subtle changes in the patient. Relaying that information to a physician in a timely manner may mean the difference between life and death.
When I try to think of other competencies that should be added, I am at a loss. I feel that so much is covered under the umbrella of the six QSEN competencies. The competencies are all inter-related and are vital parts of nursing.
The QSEN mission statement:  to collaborative of healthcare professionals focused on education, practice, and scholarship to improve quality and safety of healthcare system. 
In my current job as a Quality Improvement Analyst, my job is to collect and use data to monitor the outcomes of care processes and use improvement methods to design and test changes to continuously improve the quality and safety of healthcare systems. 
 It requires me to have knowledge in order to describe strategies for improving outcomes and analyze the impact of context (such as access, cost or team functioning) on improvement efforts. 
 The skill  to use variety of sources of information to review outcomes of care and identify potential areas for improvement and to propose appropriate aims for quality improvement efforts
My attitude is to always appreciate continuous quality improvement as a part of my daily work as a health professional.
The most important part of the competencies is Safety: Minimizing the risk of harm to patients and providers through both system effectiveness and individual performance should be the first and the utmost competence that we should ensure with our patients.
One competence I think should be added is  "patient's acknowledgment of care." Sometimes we are so busy completing all our tasks that we forget to ask our patients "what they think of the treatment (before and after)? Or ask for their input into the delivery of care.  Over the last few weeks, I became very ill and I couldn't figure out what was happening to me.  I went to my doctor after urging from a fellow nurse( as nurses we forget to take care of ourselves). During this visit, it was determined that I had a blood sugar 600 and a1c increased from 4 to 9.5 in 4 months.  No one was able to figure out the cause of the sudden jump.   This one visit turned into (3) doctor's visits and although I was grateful for that everyone was trying to find the source of my illness, I felt like I was being herded through doctor's office and diagnostic testing like a herd of cattle.  I informed the doctors and nurse that I was also an RN to prove that I would understand if they took time to inform me of what was happening, it did not occur and I was too sick to argue.  Later, as I began to feel better, it occurred to me that the doctors and clinical staff that treated me never stop to explain what was really happening to my body or ask my permission for any of the procedures.  I was handed a clipboard with a consent form and asked me to sign and never with an explanation.  I have always been a  healthy person and visits to the doctor office are very few and far between. However this unexpected illness made me feel vulnerable and scared and if a nurse of 30+ years felt this way, imagine how other patients with less knowledge about medical care might feel.
Maybe "patient's acknowledgment of care," may not be the best way to name this issue but there must be someone who can find the correct name for it as a competence.
Reference:
http://www.qsen.org/ (Links to an external site.)
QSEN Institute, Frances Payne-Bolton School of Nursing