NR 439 Discussion Applying and Sharing Evidence 
NR 439 Discussion Applying and Sharing Evidence 
NR 439 Discussion Applying and Sharing Evidence 
Many thanks for this week's post on applying and sharing evidence. The main aim of evidence-based practice research is to inform clinical decisions so that healthcare practitioners can make the appropriate decision when it comes to offering care to various patients. It is, therefore, important that appropriate strategies are employed in applying and sharing the evidence (Houser, 2018). I like the proposals you are making regarding adjustments to the study involving anxiety. Anxiety, depression, and stress among nurses is a worry since it impacts negatively on their day to day performance. Therefore, the research in this area deserves the attention it is currently receiving.
I believe that some of the conclusions made by Hegney et al. need further research. For instance, the conclusion that regardless of the geographical location, the levels of well-being and the professional practice environment perception were found to be more identical. The geographical location of the study should definitely play a significant role. However, the percentage of nurses that experience high levels of depression, stress, and anxiety is worrying, and researchers should use such findings to help come up with new strategies to make those numbers come down. One way of lowering such numbers is through support systems composed of psychologists and counselors, among other members of the Interprofessional team. I concur that, apart from researching and sharing evidence on anxiety, depression, and stress about facilities in different locations, it is important to research how the experiences compare in different hospital units. Indeed, the levels of stress may differ from one hospital unit to the next. Besides, working in different shifts of the working schedule could present different levels of anxiety, depression, and stress.
References
Houser, J. (2018). Nursing research: reading, using, and creating evidence. (4th ed.). Jones & Bartlett.
Great discussion! I like how you said, "At prior meetings/informal discussions, several of my co-workers suggested different techniques to help reduce anxiety levels. I would compile a list of these suggestions and use these to help identify effective strategies." I like the idea of putting everyone's mind together in order to collectively come up with different solutions. We do this day in and day out with our patients, so why not do it for us as well? Technically speaking, in this "study," the nursing staff would be considered to be the "patients."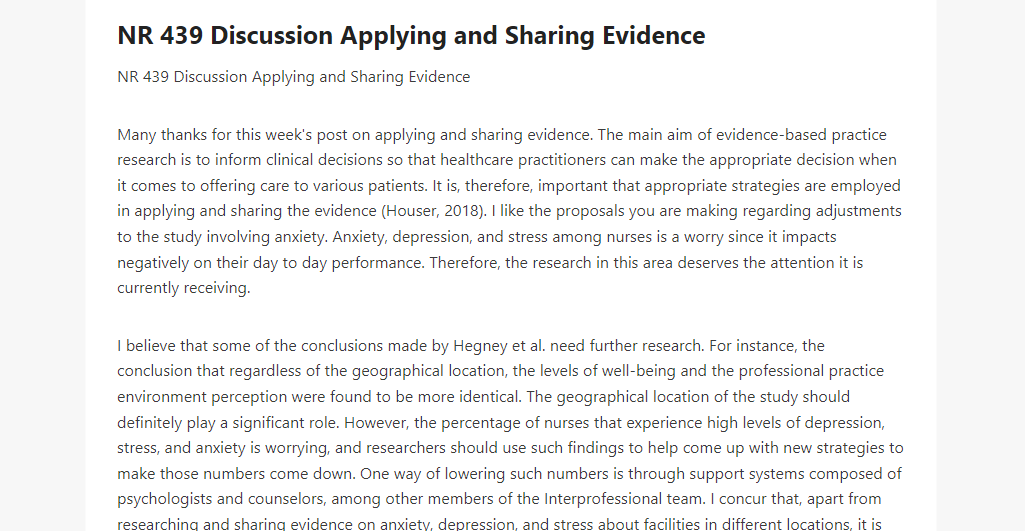 I was also a little intrigued by your comment of "I think it would be helpful to limit this study to RNs and LPNs only."  What would be your rationale for the limitation?  I personally feel it would be helpful to include as much staff as possible for a study like this (RNs, LVNs, CNAs, Unit Secretaries, RTs, Phlebotomists, IT, managers, supervisors, EVS, dieticians, and even the MDs themselves – bring 'em all in!).  We all deal with stress in our own ways and it would interesting to see if a study like this would be beneficial to everyone…not just RNs and LVNs.
The reason I said I would limit this study to RNs and LPNs, because we share similar jobs. Furthermore, separating RNs and LPNs could also be considered, not to mention possibly categorizing everyone by there type of work. For example, it would be interesting to see how RNs working at a large urban trauma unit compare to RNs at a small rural community ER. I work at a large urban hospital that has a Level 1 trauma unit that sees sometimes 3-4 gunshot victims per day. I would guess that their levels of stress would be higher than nurses working in a small suburban emergency room that doesn't see the same types of patients as frequently. It would be interesting to compare these goups.
I do think that other groups should have independent studies and then we could compare the results to see if there are differences or similarities. All of the groups you mentioned are all part of collaborative health care, but their roles and responsibilities are completely different. 
One conclusion from the week 6 assignment article that I found interesting and applicable to practice is that "mandala coloring could be used in nursing practice as an evidenced-based intervention to decrease anxiety for medical-surgical staff" (Maguire, 2020). In order to apply this I would have mandala coloring sheets with crayons and colored pencils placed in break rooms for staff. I work on a medical surgical unit in a hospital and we are allowed to place things in the break room. We actually have a designated share table. Anything placed on the table is up for grabs for anyone who wants it. This can be food, health care items, clothing, shoes, stickers, books or anything at all. By placing the mandalas on the this table and then having cups of coloring pencils/crayons on the individual break tables, everyone would be aware that they are for anyone to take and color.
"EBP has rapidly evolved into an international standard for all healthcare practitioners." (Houser, 2018). When I first became a nurse I worked in a skilled rehab facility. If I had a suggestion for improvement in any aspect of nursing all I had to do was present the information in the form of a bulleted handout to my Director of Nursing (her preference for receiving information). She would then take it, do some research on her own and then decide if we could make a change or incorporate it into our practice. If she thought we could, she would have us hand out the information at our next nurses meeting and discuss it with the team. Now, years later, I work in a hospital that has an EBP team that includes an infection prevention nurse and research nurse. Presenting information is quite the process. It has to be written then given to our unit manager, who can give it to our Director of Nursing who then can give it to the EBP team to look into. If they decide to utilize the information then they prepare the information and decide how to incorporate it. Although this is a process and takes things out of our hands as nurses on the floor, it is nice to have a team dedicated to this task. Since they are no longer nurses on the floor and do not have the day to day experience with patients and products, I think they appreciate our ideas and are open to the information we pass along. When a change, new practice or different supplies are incorporated onto the floor the EBP team will come onto the floor and do demonstrations or present the information in an interesting way. They have gone so far as to dress up as different bacteria and carry signs saying what they are and how to treat them. It is always very visual and they usually bring candy!!
Houser, J. (2018). Nursing research: reading, using, and creating evidence. (4th ed.). Jones & Bartlett.
Maguire, P.; Coughlan, A.; Drayton, D.; Lacko, H.; Reich, J.; and Hatfield, L. (2020). The effect of coloring mandalas on the anxiety of medical-surgical nurses and nursing support staff. Medsurg nursing. Vol. 29 (3).
We have a similar process at my job. This is a fantastic way to introduce EBP concepts and strategies to our department. The biggest complaint from many staff members are concerns/ideas that are discussed, but not addressed. There always seems to be a "disconnect" between front-line workers and administration. It is frustrating to hear an administrator say, "We'll see what we can do", or "my hands are tied". Six months later…. still no change. Another frustrating thing is when you start to see some positive change, there ends up being a disruption in the process. For example…. budget restrictions, change in administration, etc…
You said, "I think they appreciate our ideas and are open to the information we pass along". I typically feel the same, however, I wish I could say, " They appreciate our input and act on our suggestions". As we all know, "actions speak louder than words". Often, suggestions are made, but there is little action. For me, seeing positive results in response to action/intervention is critical to the entire process. I really believe that overall nursing satisfaction would continue to improve if an emphasis on empowering nurses to facilitate meaningful "evidence-based" change is a top priority.
I love that your unit provides a share table for you in your break room! We are allowed to place things in our break room as well, but lately the only thing in our break room has been aromatherapy as an effort to help staff members. Maybe aromatherapy can be added to your share table too! However, I think that if the coloring tools were more available, for example, on your unit's share table that everyone is aware of, then more staff members would be inclined to use it. Our breaks are so limited in time that if we waste time getting the tools to release our anxiety it won't be worth it. I would be interested in a study that showed how uninterrupted breaks relieve nurse workplace anxiety, how about you? Once I read more about how your hospital has an EBP team it seemed even more enticing to work there! I don't believe my hospital has one, but they do hold safety huddle meetings across the hospitals with ANM's who provide us with the information regarding the practice during our huddles. We do have pressure ulcer prevention committees though who come around and round on patients which I think is a great contribution to patient care.