NR 393 Discussion Impact of 19th Century Nurses 
NR 393 Discussion Impact of 19th Century Nurses 
NR 393 Discussion Impact of 19th Century Nurses 
I have selected Mary Mahoney. This is a new name to me in nursing history. It was very interesting to read about her and her accomplishments in the article, Eyes on the Prize. Mary Mahoney exhibited her leadership abilities before becoming a nurse, as well as after, by attending nursing school, which was usually attended by white females, and with becoming the first African American nursing graduate to obtain a nursing license. She also fought for women's equality for women of all races. Mary had goals during her life, and she worked to achieve those goals. Mary Mahoney was an inspiration in the nursing field so much that, "The Mary Mahoney Award, which is given every two years, recognizes individual nurses or groups of nurses who have made outstanding contributions to opening and advancing opportunities in nursing to members of minority groups" (Wessling, 2006).
In demonstrating her leadership abilities, Mary Mahoney helped opened the door for other African American women to attend nursing school by helping them get enrolled in the same school she went to, the New England Hospital for Women and Children. She formed the National Association of Colored Graduate Nurses (NACGN), because of nursing education inequalities between white and black students. Mary Mahoney also was a director of the Howard Orphan Asylum for Black Children. (The Chronicle of Nursing, 2008).
But Mary Mahoney did not stop there. She did private duty nursing for thirty years with many patients. She treated her patients like family, and the patients were happy with her nursing care. Mahoney was so well received, that families from all over the country were requesting her for her nursing care.
Besides nursing, Mary Mahoney fought for women's rights. She supported the right to vote and was one of the first women to register to vote.
I enjoyed learning some about Mary Mahoney.  She opened the path for black women in nursing and stood up for what she believed in.  All she wanted was fairness, treated as equally as white women in nursing, treated equally as a person, and the same opportunities.  Well, Mary showed them!  She leaves a legacy.  She proved herself in leadership roles and with her nursing care.  Mary Mahoney left such a good impression on her patients and the families, that others were requesting her to be their nurse.  This is a nursing value that Mary left behind for other nurses to live up to.
References
The Chronicle of Nursing. (February 1, 2008). Mary Eliza Mahoney. American Society of Registered Nurses. Retrieved from https://www.asrn.org/journal-chronicle-nursing/282-mary-eliza-mahoney.htmlLinks to an external site.
Wessling, S.  (2006).  Eyes on the prize.  Minority Nurse.
Nurse Mahoney is always a popular selection and she always gives me a moment for pause. As a woman of color, she faced many challenges in achieving her nursing education. Unfortunately, according to the minority report, there is still a large discrepancy in ethnicity and race in the nursing field.
Why do you feel those same challenges that Mary worked to overcome a century ago continues to be present as noted with a lack of diversity in nursing? how do you perceive this has affected patient care? 
I think some people that are from ethnic and racial diverse backgrounds also face economic, social, and environmental challenges.  Therefore, they may feel that becoming a nurse is not possible.  They may not know about financial assistance, they may not think that they have a chance at being a nurse as most others in the same race and ethnicity are not nurses, and perhaps they are not close to a school or have a way to get to a school.  They may also feel that they have no chance of getting admitted to a school due to their race or ethnicity.  Unfortunately, racism does still exist in America, and they may feel that nurses are white men and women, and that they would be chosen over them for entry into a nursing school.  This may not even be a factor, but they may feel that way anyway.  There is not that much advertising for nursing school, and I think there should be more as they say we are entering another nursing shortage, perhaps more advertising showing diversity and financial assistance should be done.  It is said if you want something bad enough you will find a way, but people need the information also.  Mary Mahoney had the perserverance to go for what she wanted.  Patient care is affected in that people of the same race know about their own culture and can relate better with the patient, and may make them feel more comfortable with their patient care.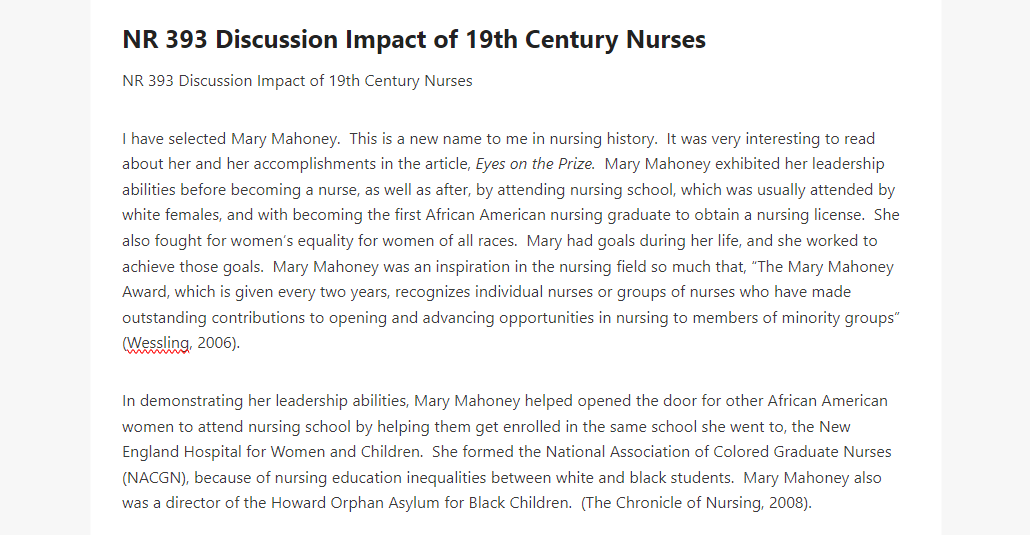 I am a minority nurse and this conversation came up a week ago as I interviewed one of the nurse managers who are a minority. And asked why more minority nurses are not represented equally in so many areas. One thing I've come to realize is that minority nurses are not given the opportunity or informed of the avenues for growth.  When I say that let me explain or give an example. This institution had a lock of nurses in the swat unit. Now one of the qualifications is being an ICU nurse. This nurse was then the manager of the float pool which staff the entire hospital. She realized that a vast number of her staff were minorities and many of them were ICU nurses. She approached them and told them about the vacancy and that they met the qualification. They were also informed of other certifications they would need. This information was brought to the nurse leader and scheduling accommodations were made. The lack of representation at the bedside does affect patient outcomes. For example, I took my father to an appointment and just sat in the room the doctor was nice and respectful. However, like my dad who has no medical training was talking and so was the doctor they were having a conversation about two different things. My father used a layman's term or a cultural term but means something different to the doctor. so I had to say something. Also, mistrust of patients can lead to negative outcomes. When patients do not see anyone that looks like them they become suspicious. On my unit, I've been asked to switch patients because of the situation.
I see a lot of struggle at my hospital for people of color to advance in their careers. I see some of our techs working and speaking to patients and I wish for them to become a nurse rather than stay at the same pay grade. I see so much potential in so many of them. I think in some cases, the responsibility seems too much or my coworkers enjoy what they do as is. However, in some cases, my coworkers worry to be able to afford school as well as be able to maintain full time status and get through a grueling program. It's not an easy task unless you have tons of support. I think we should all make sure that we are actively valuing all of our coworkers for what they bring to the table and always encourage their dreams and help find ways to make it happen. Does that mean we have to fund someone's career? No. But, sharing scholarship ideas helps and also just telling those coworkers they CAN make it happen and we believe in them makes a difference.
I do love my diverse crowd at my hospital and unit. We have people from all over and especially when a patient speaks another language, it's awesome to have nursing staff that speaks that same language to work with the patient.
I think that patients of all backgrounds mostly enjoy diversity just as much as we want to be a diverse career path! Also, people of the same or similar cultures do enjoy working with people who understand their own faith and cultural values sometimes. This can be comforting to the patient although not necessary to care for people of a particular background, the camaraderie can be really nice. 
I was intrigued to see that even in such a diverse and caring profession, racism was present in the regards that African American nurses faced discrimination with getting employed as nurses. I found an interesting article that stated Mary Mahoney was almost denied but that "the New England Hospital for Women and Children (NEHWC) was shocked into insight when it realized it had rejected an applicant to the intern program on the basis of race" (Doona, 2020). The article stated that once she was in the program she did not disappoint and that everyone who worked with her described her great work ethics. It is so fortunate that she was given the opportunity because of all the work she did once she was a nurse including the many things that you listed such as her advocacy for integration as well as women's rights. It always takes a brave soul to push the boundaries of what is the current practice so that we can lead to positive changes for the future. 


References: 

Doona, M. (2020). The Search for Mary Eliza Mahoney. Massachusetts Report on Nursing.
I have selected Mary Adelaide Nutting. She was new to me in nursing history. Mary Adelaide Nutting was a nurse at the end of the 19th century who went to nursing school at Johns Hopkins Nurse Training School. (Judd, 2013) After Mary graduated from the 2-year program she stayed at Johns Hopkins as a head nurse. ( Spring, 2017) She continued to move up the hospital ranks and became an administrator for the nursing college and became the principal of John Hopkins Nurse Training School in 1892 ( Spring, 2017) She continued to develop the formal education of nurses both in the classroom and in the hospital. She was instrumental in starting the nursing school at Columbia University and recommended to Congress the use of University trained nurses in the US Army Hospital Corps. She also wrote A History of Nursing and A Sound Economic Basis for Nursing. (Spring, 2017)
Mary Adelaide Nutting found the works of Florence Nightingale inspirational and was teaching music prior to becoming a nurse. She started her career at Johns Hopkins and continued through hard work to become a leader and administrator, and also shaped education for nursing school that is still in practice today. Further, even after retirement, she continued to advocate for university-trained nurses to be used in hospital systems and for the US Army. Mary Nutting started the path for nursing education and also interestingly taught and wrote A History of Nursing.
I enjoyed learning about Mary Adelaide Nutting as she was both an educator and historian. I think that her work is very reflective of the current education system that we currently have and also reflective of how important University education is for the nursing profession. Through encouraging more education for nurses, also increased the respect for the nursing profession.
References:
Chamberlain College of Nursing. (2020). Week 4 lesson. Retrieved from: https://chamberlain.instructure.com/courses/71197/pages/week-4-lesson-notable-19th-century-us-nurses?module_item_id=10094139
Chicago – Spring, Kelly. "Mary Nutting." National Women's History Museum. 2017. http://www.womenshistory.org/education-resources/biographies/mary-nutting.
Judd, D. (2013). A History of American Nursing. [VitalSource Bookshelf]. Retrieved from https://online.vitalsource.com/#/books/9781284044324/
My chosen nurse of the 19th century is Clara Barton.
Clara Barton was what I call altruistic – she served others selflessly throughout her life beginning with her injured and disabled brother (Strickler, 2018 and Clara Barton Missing Soldiers Office Museum, 2020). She began her career as an educator and even founded a public school which was taken away from her as she was considered unfit as a woman to run the school (Strickler, 2018 and Clara Barton Missing Soldiers Office Museum, 2020). Later she would work for a patent company in Washington, D. C. where she was also demoted for being a woman (Clara Barton Missing Soldiers Office Museum, 2020). A running theme in Clara's history is that men tried to stop her from reaching her potential, but she persevered through all of it and would keep trying (Clara Barton Missing Soldiers Office Museum, 2020).
As the Civil war began, Clara was working in Washington, D.C. and saw the repercussion of the first battle of the Civil War – finding some former students of hers injured and got into her work as a nurse officially (Strickler, 2018 and Clara Barton Missing Soldiers Office Museum, 2020). Clara would continue from here to gather three whole warehouses of supplies to distribute to wounded soldiers as well as camp outside battlefields to provide aide (Strickler, 2018 and Clara Barton Missing Soldiers Office Museum, 2020). Clara with the help of a former soldier helped to find missing 22,000 missing soldiers (Clara Barton Missing Soldiers Office Museum, 2020).
When Clara visited Europe, she came across the International Red Cross and brought that concept back to the United States (Clara Barton Missing Soldiers Office Museum, 2020). She created the American Red Cross and later the National First Aid Association of America (Clara Barton Missing Soldiers Office Museum, 2020). Clara was quite a role model from our past and deserves to be well known for her work.
References
Strickler, Jeff, DHA,R.N., N.E.-B.C. (2018) Clara Barton: Angel of the battlefield. Nursing. 48(3):43.
Clara Barton Missing Soldiers Office Museum. (2020). Biography in Clara Barton Missing Soldiers Office Museum. https://www.clarabartonmuseum.org/bio/