NR 361 Discussion Experiences with Healthcare Information Systems
NR 361 Discussion Experiences with Healthcare Information Systems
NR 361 Discussion Experiences with Healthcare Information Systems
Most of my nursing experiences with healthcare information systems are from nursing school as a nursing student. I had clinical rotations at nursing home, short/Long-term rehab center, and hospitals. In nursing home setting, they use both paper and computer charting. Paper charting is used for daily activities such as vital signs, In&out and daily schedule. Computer charting is used for administration, health history, meds record, doctor's order, and notes. In rehab center, they used computer basis charting all the time, but they also provided a binder with paper sheets/forms for each patient at nurse station. I feel kind of like this style especially when computer is not enough for everybody to use, or computer doesn't work for some reason. The information is actually straight forward for nursing student who want to know the whole picture of patient and not familiar their electrical information system. In hospital setting, I was able to have experiences with EPIC system. As a student, we have access to the system with our own username and password, but we are not allowed to do documentation unless it approved by our supervisor. I thought it is simple and straight forward to use after training. "Due to the applied nature of HIT, provision of skilled training plays a critical role in adoption and maximized use of HIT. Nurses, Physicians, allied health care professional, and healthcare support staff must become skilled in both the use of computer technology and the use of health-information system; effective training is a key piece of this process." (Hebda, Hunter, & Czar, 2019 p. 219.)
I am currently in orientation at a long term rehab center in Connecticut where I had clinical rotation as a nursing student last year. The transition is a lot easier for me since I practiced there for a whole semester, and they basically had no big change of the information system. I believe my previous nursing experience in the facility as a nursing student build a very good foundation for successful transition. They use Point Click Care system for data entry including health history, assessment, treatment, notes such as fall accident, fracture, ulcers, etc. They also have paper sheet for charting since they just have two computers available at nurse station. At the end of the shift, the floor supervisor will check everything and enter the data into computer selectively.
Hebda, T., Hunter, K., & Czar, P. (2019). Handbook of informatics for nurses & healthcare professionals (6th ed.). Pearson.
My experience with different healthcare information systems is limited because I have only worked at one hospital. When I started at this hospital, the physicians were still hand-writing orders and progress notes. They had already integrated a basic electronic charting system called Meditech, for the nurses to chart and the secretaries to transcribe the hand-written documentation from the physicians. In 2013, my hospital converted to all electronic medical records and overall it was an easy transition. As a 19-year-old, computers and new applications did not scare me. But I believe the sudden implementation of this system forced some of the older physicians and nurses out of the hospital setting. My experience with healthcare information systems has been positive. According to our textbook, Electronic Health Records have the ability to "add decision support and flag potentially dangerous drug interactions, verify medications, and reduce the needs for risky tests and procedures" (Hebda, Hunter, & Czar, 2019, p. 119). One example of how this feature has helped me is when I have patients who are receiving IV Furosemide, the system will alert me if the patient's last Potassium level was low and it has not been re-drawn recently. The government was a driving force in the implementation of electronic healthcare information systems. In 2009 President Barack Obama signed a piece of legislation called the Health Information Technology for Economic and Clinical Health (HITECH) Act. This act provided more than $35 billion to hospitals and clinics to encourage the use of Electronic Health Records (Reisman, 2017).
References
Hebda, T., Hunter, K., & Czar, P. (2019). Handbook of informatics for nurses & healthcare professionals (6th ed.). Pearson.
Reisman M. (2017). EHRs: The Challenge of Making Electronic Data Usable and Interoperable. P & T : a peer-reviewed journal for formulary management, 42(9), 572–575.
Share your experiences with healthcare information systems, past or present. Has it been an easy transition or difficult? Why do you believe your experience has been positive or negative? If you are currently not working in a healthcare setting, how has the medical record exposure in nursing school impacted your current knowledge?
I have worked in a variety of healthcare settings throughout my career before I became a nurse. You could even consider lifeguarding part of healthcare because I was CPR certified, although I didn't ever have to document anything or save anyone. I worked in a doctor's office for a few years while I was starting school. This office was private practice, so they didn't have an electronic documenting system. All the charts were paper, and they were very heavy! If I took a call from a patient, I had to find their chart in the files and hand write what they needed and give it to the doctor for him to reply. I learned spelling and medical terms very quickly! Although this system mostly worked for their needs, I sometimes found other patients results in others charts. Every result was faxed to us and sorted and filed by hand. Therefore, a lot of mistakes were made and there wasn't a great way to monitor that the correct papers were getting into the correct charts. If a specific result was lost, there was really no way to find out where it went, we would just have to have another copy faxed. Thankfully while I was there nothing catastrophic happened, but with no safeguards in place, it's really only a matter of time. In a study comparing electronic documentation verses conventional (paper) charting, this found that the electronic documenting showed more diagnoses for each patient, less false or redundant ICD codes, and less time spent on documenting (Stengel, Bauwens, Martin, Kopfer, & Ekkernkamp, 2004). Improper or false ICD billing codes can get you in a lot of trouble, even if you're not doing in on purpose. Medicare fraud is highly monitored and can negatively affect a physician's medical license. Not to mention the potential repercussions for the patient receiving wrong information and potentially having to pay more money unnecessarily.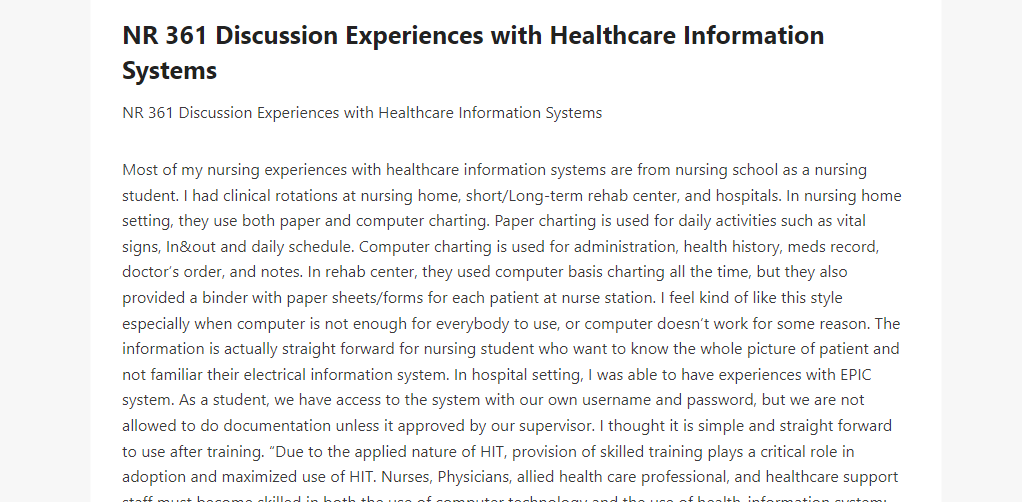 I found the transition from that old paper system to an electronic system to be very smooth. I often felt like I lacked detail in some instances and I know how important documenting is. But the amount of time I spent hand writing requests in the chart took away from the amount of detail I could put into it. I was already spending extra time after the office closed to call back the patients who had called that day, I didn't have any extra time to write more. I can type a lot faster than I can write, so an electronic system would have really helped streamline this office. I understand how expensive it can be to convert, so I realize why they never changed over. I used Epic documenting now and I could not imagine what it would be like to try and document a hospital patient with a pencil and paper. I already spend a lot of time charting, I feel like I would never get the amount of detail necessary while trying to hand write all my documentation.
Stengel, D., Bauwens, K., Martin, W., Kopfer, T., & Ekkernkamp, A. (2004). Comparison of Handheld Computer-Assisted and Conventional Paper Chart Documentation of Medical Records: A Randomized, Controlled Trial. Journal of Bone and Joint Surgery, 86(3), 553-560.
Actually, now that you mention it, I think I remember the doctors mentioning something about paying fines but it was still less money than the cost of transitioning. I wonder if that was related to this incentive. Like all government policies, they work until they don't work! Their best option to transition without having to pay so much was to join a larger company that would transfer the records for them. That's what they ended up doing when it was all said and done. I don't know what the deal was behind the scenes, but they now are no longer a private practice and they work for a larger company. That wasn't their ideal move, but it was the best for them in the long run. One of the 4 did decide to go to another company, but the other 3 stayed together in the new practice.
It is necessary always to understand the process the health care systems have passed through as it is helpful to students to practice with old systems for preparedness. Going through such a period in a nursing career is advantageous. I like that you were meticulous in her work. Nursing involves being thorough in what we do; it entails saving lives. Electronic systems, compared to manual documentation, bring more competency in the health facility systems. The transition may not be easy, but moving from paperwork to electronic system brings in speed and efficiency in the health systems.
My experience with healthcare information systems has been generally good. When I started in oncology I would have utterly failed if it was not for healthcare information systems. When I am doing telephone triage, I have everything on the internet at my fingertips. Having access to all of this allows me to answer patient questions in real time. If I am uncertain if a certain adverse event patient is experiencing is expected with the particular medication he or she is on, I can simply look up the package insert for the drug and quickly find out. According to Hebda, "an information system, at its simplest, is a combination of computer hardware and software that can process data into information to solve a problem" (2019, p.135). I use these sorts of systems daily in my nursing career. My current EMR comes with free access to UpToDate. If I need to know anything about a drug, I can simply click the link and it will take me to page regarding that drug. I utilize NCCN template guidelines when building new regimens into our EMR, I can easily trend and graph a patients' tumor marker with a click of a button providing the patient with a visual, easy to read snapshot of how their treatment is working for them. It seems the benefits are endless yet there is some apprehension when it comes to implementing new systems.
All transitions are difficult. Implementing a new EMR is especially difficult. I have gone through a full EMR change and am now working on yet another. There is no perfect system and the learning curve is always step. Ljubicic et. al. explains some of the challenges facing these types of transitions are including but not limited to limited staff, budget concerns, and the fact that the work force is aging and my not be as tech savvy as a younger workforce. This all the in setting that patients expect us to be cutting edge and provide the most up to date, quality care possible (Ljubicic et. al., 2020). Each new system is advertised as the "best out there" yet there is no perfect system for anyone. Add on that these systems must constantly update to stay cutting edge means that you sometimes have to relearn how to use them. I can see how there is apprehension. The nature of my position puts me central in the development/transition to a new system. Working with these companies that have developed a program a certain way that they assume works for everyone is difficult at times. They are often not clinicians and do not understand why their prescribed workflow does not work for our particular office/specialty. It is a battle and a stress particularly when it seems we are speaking different languages. It's a high stakes game. Our clinic works as a well-oiled machine to keep up with the demands of patients; if a new EMR does not help us increase efficiency then it is useless to us. I must ensure that proper workflows are in place before we go live. We know that these healthcare information systems can help us improve care but I can also see how it can have negative outcomes as well.
Reference:
Hebda, T., Hunter, K. & Czar, P. (2019). Handbook of Informatics for Nurses & Healthcare Professionals 6th edition. Pearson. New York, NY.
Ljubicic, V., Ketikidis, P., & Lazuras, L. (2020). Drivers of intentions to use healthcare information systems among health and care professionals. Health Informatics Journal 26(1). p. 56-71.
http://dx.doi.org.chamberlainuniversity.idm.oclc.org/10.1177/1460458218813629Links to an external site. 
The experience of understanding healthcare information systems brings efficiency in the nursing line of work as it facilitates the smooth running of the health care facility. As demonstrated by you, for instance, as one requires prescribing particular drugs to a patient, the information system makes it easy and fast to track the patient's information and do the correct prescription. System transition is often not smooth but has its positive outcomes. It is necessary to face certain challenges in our occupation as we are called to help improve and change lives. A transition in this system takes anyone out of their comfort zone and helps workers be creative in improving and mending holes in the systems.
WEEK 2 DISCUSSION: EXPERIENCES WITH HEALTHCARE INFORMATION SYSTEMS
In the surgical environment where I have worked for the last 15 years, the change from paper charting to computer charting was a long time coming. We heard about years before it actually happened. We were nervous about not being able to access surgeon preference cards more than actual charting a surgery. Funny how the surgeons scare us more than new technology. The transition to EPIC which is the system that my hospital is on was very smooth. The charting itself is easier and legibility doesn't come into play. Having immediate access to information shared from the patient's primary care physician or surgeon's office is very beneficial. This information crosses over into our patient's chart saving time hunting for it. Immediate access to a patient' s allergies, lab results, radiology reports, prior surgeries, health history and current medications can be life saving in an emergency. 
My experience was a positive one because I was so looking forward to it coming to our hospital. I signed up to be a super user in my department and that helped to make me comfortable quickly. In the OR, this electronic documentation provides functions to manage surgical scheduling which helps to minimize the costs of unused OR time.  Other important functions are perioperative nursing and anesthesia documentation, tissue tracking, integration of medical devices, supply management, and real-time displays of ongoing OR activity. (Hebda, 2019, pg. 138) Electronic documentation has helped to improve the care we provide as well as our patient outcomes. 

References

Hebda, T., Hunter, K., & Czar, P. (2019). Handbook of informatics for nurses & healthcare professionals (6th ed.). Pearson.
Share your experiences with healthcare information systems, past or present.
   In the more than 20 years I have been an R.N. at the bedside and I have seen many transitions with a wide variety of information-sharing systems. When I was a new grad in 1999 the primary form of documentation was paper charting. I remember when the Care Plans became computerized and I thought it was such a great tool that not only helped me be more efficient at my patient care but also more thorough. Fast Forward to 2019, my hospital decided to invest in the transition to Epic. Epic was not only the first HIS that I was able to experience from its initial launch, but it was also the first system I was officially trained on. Before that, in my career, I had encountered various healthcare information systems, and many seemed to be pieced together. I can not recall being formally trained on any of the other systems. Since much of my career I was either Registry or Float Pool, the expectation was that you just come in and do it. I can see the value on how much more effective I can be at my profession when I can utilize all the functions and tools available to me through my HIS. I felt more confident during the launch of the Epic program after the training classes. The administration saw the value to invest the time and money in our computer training environment. I had work shifts switched to classroom days and paid practice time with created patient scenarios. The instructors were very patient and helpful in the process. After we launched there was a superuser assigned on every unit for months to answer questions and assist. According to Hebda (2019), "Education is the key to the successful use of an information system" (p. 229). It would have been a challenging transition without the training especially since it is a holistic program, and everything is run on that one system. The benefits of all the interdisciplinary communication on one system are very helpful for safe quality and efficient patient care delivery. In the past, my patient charts were run on various programs, for instance, the MD orders were in one place, pharmacy and nutrition in another place, and even central supply and infection prevention would be accessed from an entirely different system. I had multiple passwords and had to go in and out of systems remembering which password was for which system. During an emergent situation, this could be challenging and delay patient care. Sometimes I was the only safety check.
Now I can text a physician in the middle of the night on my work iPhone with the Engage app regarding arrhythmia. For example, they can access the patient's chart with real-time data and send the pharmacy order for an antidysrhythmic appropriate for the scenario after careful consideration of the real-time data. I can initiate the drug very quickly and many times this efficiency is the key to break that rhythm quickly and therefore better patient outcomes. In emergent situations, I just simply scan my badge in and everything I need is at my fingertips. There are safeguards for these scenarios built right in. Allergy lists and hemodynamics are available for the physician to make the appropriate med choices or verify my recommendations. In my electronic MAR, we have a Lexicomp link that is the medication information at a click of a button if I am unfamiliar with medication or just need a quick review. It also has quick print access for patient education. I have a quick link to patient home medication lists so that I can follow up and reinforce changes related to the medication plan of care. I have used this list to inform the physician that perhaps a beta-blocker or anticoagulant from home has not been resumed during the hospital stay, possibly preventing an arrhythmia or a stroke to develop. This might be an area in which the program can improve in the future, new alerts are being developed and embedded for more safeguards all the time. Nursing has a unique perspective to contribute to this area. The program is a wonderful system, but improvements can continue to be made. I would like to see a link from the physician's orders to send auto-generated messages to central supply for example. This would save time on the extra step of messaging and the follow up with central supply for specific supplies ordered for the patient. We have a Nursing I.T. department and they are always taking suggestions, working diligently to help improve and update our system. David Bates (2019) discussed how these programs are set up with safeguards, but there is still a lot that slips through the cracks because these are universally vendor developed as opposed to customized specifically to the facility. Nursing will always have continued contributions to the safeguards with patient care technology for the simple fact that patient care and pathways for treatment are always changing.
References
Bates, D. W. (2019). Getting Over the Hump: Realizing Benefit from Clinical Decision Support in Electronic Health Records. The Joint Commission Journal on Quality and Patient Safety, 45(11), 719–721. DOI: 10.1016/j.jcjq.2019.08.007
Hebda, T., Hunter, K., & Czar, P. (2019). Handbook of informatics for nurses & healthcare professionals (6th ed.). New York, NY: Pearson.