NR 351 Discussion Informatics in Professional Nursing
NR 351 Discussion Informatics in Professional Nursing
NR 351 Discussion Informatics in Professional Nursing
As a nurse I use informatics in numerous ways daily in my patient documentation, use of monitoring devices, by developing and implementing care plans, looking up of previous medical records and imaging, telehealth when patients call for advice, and access and implementation of current practice standards.
Nursing informatics is defined by the American Medical Informatics Association as "science and practice that integrates nursing, its information and knowledge and their management, with information and communication technologies to promote the health of people, families and communities worldwide" (AMIA, 2009). As nurses and health care providers we use informatics in the clinical setting which "addresses the needs of nurses and other health care providers to streamline client care documentation, keep accurate client records, and integrate various aspects of client care to improve the quality of care" (Hood, 2018. pg. 370).
Working in the HBV and radiology dept we sometimes do sedation's on patients without knowing ahead of time it is needed or when the patient is already on the CT or MRI table. Unlike a scheduled OR case, most of the time I am getting paged and given a verbal order from the MD for Fentanyl and Versed to be administered for procedural pain management as the procedure is being performed. Now that our hospital has transitioned to the use of EPIC for our EMR, we as nurses can order the medication and pend it to the MD to sign in the future but will still show up in the patients MAR to be linked to the med I over ride and pulled from the PIXAS. This will trigger any medication interactions and allergies, giving me a second check on the allergies I was quickly reviewing as I am drawing up the medication. With the MAR now being on EPIC EMR in the procedure room I can quickly see what pain medications if any the pt. has taken previously. I can also order the medication to be given in interop multiple doses so if the MD orders more I can chart quickly on the same medication pull by administering and scanning the bar code of the pt. and the medication. This will immediately document the time of administration for helping monitor the patient for the appropriate hospital protocol time frame of post sedation patients.
Ethical issues that I noticed that have arisen from use of informatics in my time as a professional nursing have been that with the ease of access to patients' medical records there is ease of access to information the intrude on patients HIPPA rights. Living on a small island that only has one hospital you daily see someone you know coming or going to the hospital or departments, or you see a name you know of friend or family member on the patient lists. There have been numerous times that myself have gotten a call from a friend that has "someone" here being seen at the hospital and requesting that I review their chart and give them information on there care. I tell them as diplomatically as I can that I can neither confirm or deny that that patient is in our hospital and that looking into a patient's medical record chart for someone is not only unethical but also breaches their right to have medical management and records private. As stated in the Code of Ethics for Nurses provision 3 by the American Nurses Association "The nurse promotes, advocates for, and strives to protect the health, safety, and rights of the patient" (ANA, 2015).
Hood, L. J. (2018). Leddy & Pepper's professional nursing (9th ed.). Philadelphia, PA: Wolters Kluwer
American Medical Informatics Association. (2009). Nursing informatics. The Science of Informatics. Retrieved on April 14, 2020 from https://www.amia.org/about-amia/science-informaticsLinks to an external site.
American Nurses Association. (2015) Code of ethics for nursing with interpretive statements. retrieved on April 14, 2020 from https://www.nursingworld.org/coe-view-onlyLinks to an external site.
Agnes (as cited in Hood, 2018) states informatics is the science of information that strives for improved efficiency with regard to the gathering, organization, and dissemination of information. Downman (2018, p. 30), states nursing informatics is the integration of nursing science "with multiple information and analytical sciences." A combination of nursing, data and analytics, and computer science helping "to put evidence-based care in the hands of nurses at the point of care" (Downman, 2018, p. 30).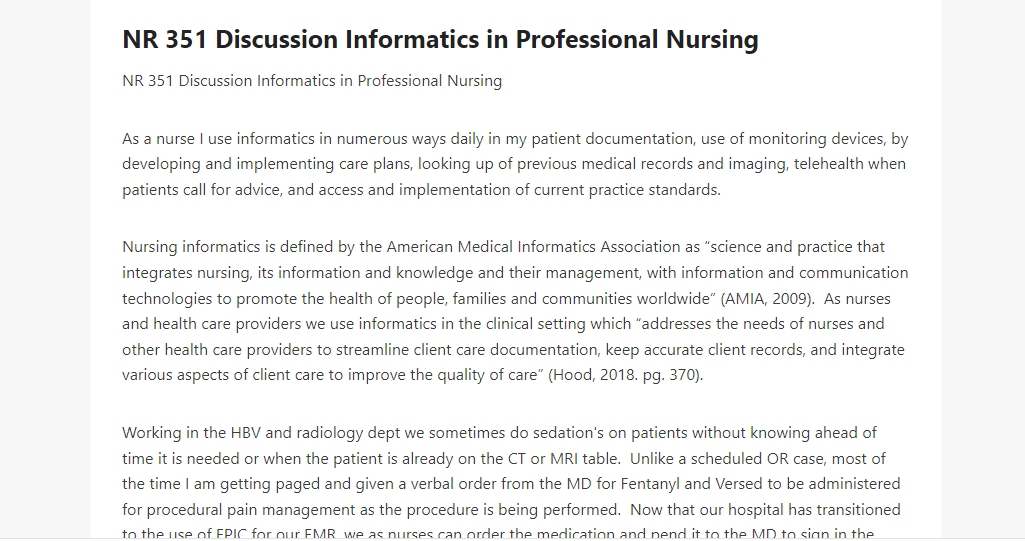 Information collection, through advances in technology like the glucometers Tracy mentioned in her post, has seen increased efficiency and safety through informatics. I think another great contribution made by technology is the barcode scanning system of medications to help prevent errors.
In terms of improving the organization of data, I use informatics in my practice to easily trend clinical findings. The EMR organizes lab values and vital signs in a way that makes it easy to view changes over time. A graph feature is also available to better visualize these changes.
In addition, informatics also improves the dissemination, or availability, of information through the EMR. Multiple healthcare providers can simultaneously review records and discuss a patient from their own computer or device and "when you're looking at the same data, that improves care" (Downman, 2018, p. 31). In addition, I can send a message from my computer to a physician's smart phone to, for example, let them know that the results of a particular test are available to view. This aids my nursing practice through improved communication and by increasing the rate at which decisions regarding patient care are made.
Since patient information is so easily disseminated, through informatics, privacy has become a very important issue that has arisen from its use in professional nursing. One could view the EHR of any patient in the hospital, if one were so inclined. Due to this reality, accounts are tracked and punishments are steep because, "with the use of technology in professional nursing practice comes great responsibility" (Chamberlain College of Nursing, 2016).
References
Chamberlain College of Nursing. (2016). NR351 Transitions in professional nursing: Week 7 lesson: Informatics and Technology. Downers Grove, IL:Online Publication.
Downman, S. (2018). The power of nursing informatics in streamlining patient data, (Tran, M., Interviewer). Nursing Review, (6), 30-31.
Hood, L. J. (2018). Leddy & Pepper's conceptual bases of professional nursing (9th edition). Philadelphia, PA: Wolters Kluwer Health | Lippincott Williams & Wilkins.
Informatics, or the science of information impacts the management of information and technology with emphasis o security and confidentiality of patient and provider information (Rossel, 2003).
The Health Insurance Portability and Accountability Act (HIPAA) mandates confidentiality of client medical records and certain information shared with insurance companies, physicians, hospitals and other health care providers (Hood, 2018).
Being an RN, I take special measures to ensure patient privacy. During my assessment and interview in the pro-operative area I am aware of how loud my voice is and I always pull the privacy curtain. I am diligent in logging out of the computer after my charting as well. If I make any notes for myself, I only use the patient initials as my identifier and make sure my notes are shredded after my care is complete.
During my time as a circulator, I have encountered high-school peers, friends, relatives colleagues and people who I know from my church. If the situation allows, I approach them with the option of me excusing myself from participating in their care. In some cases, I know the patient would not wish for me to be involved so I simply explain to my charge nurse and ask to be re-assigned. As a surgical technologist, there were times that I only realized that I knew the patient after they had entered the surgical suite. As a surgical technologist, I could remain in the "shadows" and under my hat and mask remain anonymous. I would not greet them and make my presence and identity known.
Regarding the use on-line resources for finding credible information, I use the Chamberlain Library as directed and if not searching the library, I try to find web-sites that end in .gov or .edu. There are standard sites that I return to time and again because I feel that they are legitimate sites based on the reference used in their sitings.
This class has expanded my knowledge of how to find credible sources and I find that when I see an article, I am now better informed on how to research further and investigate thoroughly so that my information is credible.
References
Rossel, C. L. Chart (CHART), 2003 Jan-Feb; 100(1): 11-11.(1p)
Hood, L. J. (2018).  NR351. Leddy and Pepper's Professional Nursing (9th edition).  Philadelphia, PA Wolters Kluwer 
I use informatics in my everyday practice by applying evidence-based practice along with my own personal experiences to better communicate with patients. According to the Massachusetts Nurse of the Future (2016), nurses need, "to analyze as well as synthesize information and collaborate in order to make critical decisions that optimize patient outcomes" (p. 26). Similarly the Massachusetts Nurse of the Future (2016), also states under evidenced-based practice, that nurses need to, "evaluate, and use the best current evidence coupled with clinical expertise and consideration of patients' preferences, experience and values to make practice decisions" (p. 47). While informatics and evidence-based practice are their own core competencies for nursing, I see many areas where they overlap.
According to Hood (2018), informatics is, "the science of information" (p. 355). When I hear the word science, it makes me think of the scientific method and how emotion and different belief systems are left out of the equation. This is where there is room for ethical issues to arise from using nursing informatics in professional nursing.
One example of an ethical issue is whether to treat cancer or let nature take its course. While the medical field might have answers on how to treat cancer due to nursing informatics and evidence-based practice, a person might not want to do so. According to Roy (1989), people have realized that withholding life support is sometimes the right thing to do. "Allowing terminally ill patients to die with dignity…may involve withholding or discontinuing such interventions as respirator support, chemotherapy, surgery and even assisted nutrition and hydration" (p. 343).
References:
Hood, L. J. (2018). Leddy & Pepper's professional nursing (9th ed.). Philadelphia, PA: Wolters Kluwer.
Massachusetts Nurse of the Future Nursing Core Competencies: Registered Nurse. (Revised March 2016). Retrieved from http://www.mass.edu/nahi/documents/NOFRNCompetencies_updated_March2016.pdfLinks to an external site.
Roy, D. J. (1989). Ethical issues in the treatment of cancer patients. Bulletin of the World Health Organization, 67(4), 341-346. Retrieved from https://www-ncbi-nlm-nih-gov.chamberlainuniversity.idm.oclc.org/pmc/articles/PMC2491264/?page=3Links to an external site.
I definitely believe that could be a very big issue. For example we have two oncologist, one will treat everyone, giving patients some may say "false hope" on stage 4 terminal cancer. Very quick with his explination, "Oh this chemo and radiation regimen can prolong your survival for 6 months." In and out in 5-10 minutes. The other, very upfront with there diagnosis, explained chemotherapy and radiation, including all the side effects and everything involved if they choose treatment to patient and family. Giving patients better informatics on there diagnosis and everything that comes with it. Patient has all the information needed to chose which option they would prefer to go with, comfort measures or treatment.
Some times the information given actually taking the time to sit down with the patient and family face to face, answering all there questions can make a world of difference on there end.
Informatics is helping to change the face of healthcare and technology continues to have the capability to change our practice for the better. Performing glucose readings on my unit is very common with our pregnant moms. These monitors are very user friendly and provide a quick result along with the ease of automatically downloading the results to the computer after redocking it when the testing is complete. By embracing informatics in healthcare and technology along with understanding strengths and weaknesses we can use them to help with making clinical decisions. Providers can stay ahead of the curve as well as help advance practice and patient safety. Computer and information literacy are very important for nursing in the future (AACN, 2008).
Safeguarding the privacy and security of health information is very important along with the appropriate disclosure of health information as well as ensuring it is available. Having the ease of automatically downloading the results eliminates the risk of data entry errors and data breaches can occur if information is not secured (Kruse, et al 2017).Having this information automatically entered can also allow more time for patient care.
References:
AACN Essentials of Baccalaureate Education for Professional Nursing Practice. October 20, 2008 Pages 17-20.
Kruse, C. S., Smith, B., Vanderlinden, H., & Nealand, A. (2017). Security Techniques for the    Electronic Health Records. Journal of Medical Systems, 41(8). doi: 10.1007/s10916-017-0778-4
On the medical-surgical floor that I work, we use glucometer for the diabetic patient and one thing I love about these glucometers is it automatically uploads the results into the patient medical records. We do the blood glucose test around 6 am, I will write down the results so I can give the incoming nurse when giving a report.
There is a day I lost the piece of paper I wrote it on and I was waiting on the other nurses to finish their blood glucose test soi can dock the glucometer to upload, I waited like 10mins before someone told me it upload automatically without docking the machine. 
There are many ways that I use informatics in the area of nursing that I am currently in. One of the forms of informatics that I use daily is related directly to patient safety in forms of medication pyxis pull stations and patient barcoding for medication administration. These forms of informatics ensures patient safety as well as provides information that is pertinent prior to administration. Medication dispensary pyxis contains a list of medications that are ordered for the patient and instructs you how many of the medication should be taken for the dose. Patient barcoding alerts the nurse of incorrect medication, dosage discrepancies, allergies, and medication incompatibilities. By scanning a patient's barcode and the medication, this performs many of the basic nursing checks when administering medications: right patient, right medication, right dose, right time, etc. In an article by Anne Woods (2003), she states "research clearly demonstrates that the use of computerized prescriber order entry and barcoding successfully decreases error rates" (par 6).
I think the largest and most obvious ethical issue from the use of informatics in nursing is the breach of EHR systems. In our hospital, a couple of years ago there had been an attempted breach of our system which prompted our organization to place extended firewalls to ensure medical information. The attempted breach was unsuccessful and the helped the facility increase efforts and awareness to prevent further such attacks. Staff are now emailed mock phishing emails to educate staff on how to detect these types of emails, report them, and to prevent future attempts. As health care workers, the EHR is an asset which improves healthcare across the span of a patient's life. As noted by Hood, "When consumers receive care from an integrated health system, EHRs can be accessed nearly seamlessly" (p 355). The benefit of continuity of care and accessing data to treat patients more effectively and efficiently is important and safeguard increases must be taken to protect this tool from the risks it poses.
Woods, A. (2003, September). Patient safety: Not a question of competence. Nursing Management, 34(9), 6. https://oce-ovid-com.chamberlainuniversity.idm.oclc.org/article/00006247-200309000-00001/HTMLLinks to an external site.
Hood, Lucy. (2017). Leddy & Pepper's Professional Nursing, 9th Edition. [Vitalsource Bookshelf]. Retrieved from https://online.vitalsource.com/#/books/9781496351388/cfi/6/52!/4/2/76/4@0:88.0
That is a great point! I started nursing before our facility had a means of EHR and barcode scanning for medications, so the habit of my checks of medication administration prior to even scanning the patient or any medication is still there. I think I can speak for a lot of nurses that may have started their nursing career before the electronic medication records in saying that "old habits die hard" and the habit of checking the medication, dosage, timing, patient, and route, etc. all happen in our own head and habit before we scan a wristband. I think the reliance on technology can in fact become a crutch that can cause errors due to the system or process. I would hope the nurse's critical thinking doesn't go due to the aide of technology. I would assume that these nursing fundamentals are still taught in nursing schools and I would hope that newer nurses who are starting their careers in a world of electronic and technological assistance would recognize the importance of why these methods are still taught and to continue practicing them and just use the electronic record like a "second nurse" check.