NR 351 Discussion Best Leaders 
NR 351 Discussion Best Leaders 
NR 351 Discussion Best Leaders 
The best manager I've had the privilege of working with was the manager that was on 4E when I was hired at McLaren Bay Region as a nurse assistant. I felt like she always had my back and was there to help everyone be successful. She understood the struggles I had with juggling working part-time, going to nursing school full-time, and being a new mother all at the same time. She also seemed to be the fairest manager by awarding vacation to the correct people and by creating the work schedule based on people's school schedules and seniority on the unit. According to Iorio (2012), "Real leadership is collaborative, respectful and positive. People aren't punished for disagreeing; listening and compromise are strengths" (p. 11).
One of the best things she did for the unit was creating a contract for the employees to be nice to each other and not say anything mean about anyone else. She had the employees on the unit sign it and then re-sign it if we broke the contract. There was also punishment such as write-ups if people were caught breaking the contract. It seemed silly at first but with that small contract, she drastically changed the atmosphere on the unit. The staff seemed less spiteful and worked together with increased teamwork.
I believe I liked her the best because she had a more transformational leadership style. According to Hood (2018), a transformational leader often motivates staff by offering rewards and, "has a high level of trust, gets others to share common values and mission, shows a committed work ethic, defines reality, keeps the dream alive, examines efforts of actions, and makes adjustments as needed" (p. 446). I feel that her leadership style constantly motivates me to like her and I hope that my coworkers feel the same way about me as I do about her.
References:
Hood, L. J. (2018). Leddy & Pepper's professional nursing (9th ed.). Philadelphia, PA: Wolters Kluwer.
Iorio, P. (2012, February 6). A lesson in bad leadership. Tampa Bay Times, sec. A, p. 11. Retrieved from https://search-proquest-com.chamberlainuniversity.idm.oclc.org/docview/921614242?accountid=147674
We are well aware that leadership does not always mean management. Nurses demonstrate leadership in many different ways and in many different positions. "Nursing requires leadership, yet progress in leadership behaviors is sometimes difficult to measure" (Foli, Braswell, Kirkpatrick, & Lim, 2014, p. 81).
For this discussion, you are instructed to evaluate the leaders you have known and choose one to apply to the questions stated above in this week's question
Reference
Foli, K. J., Braswell, M. Kirkpatrick, J., & Lim, E. (2014). Development of leadership  behaviors in undergraduate nursing students: A service-learning approach. Nursing Education Perspectives, 34(2), 76-82.
I try to draw from my own experiences with my previous manager when dealing with issues in my new unit. There is a lot of silly conflict and cattiness in the unit I work on. I've called people out on it before by simply stating both sides of the argument and offering help in any way they'd like. I feel that my unwillingness to participate in the cattiness is rubbing off on people and they don't argue about it as much around me. They also used to give me the hardest patients on the unit and I've made sure to fill out acuity on my patients so that the next shift doesn't receive that load of patients too. Since confronting the issues head-on things seem to be improving. I've thought about presenting the contract to my current manager for him to show to the unit, but his style of management is more laissez-faire and I don't think he'd follow through with it. If things don't continue to improve I'll consider showing him again.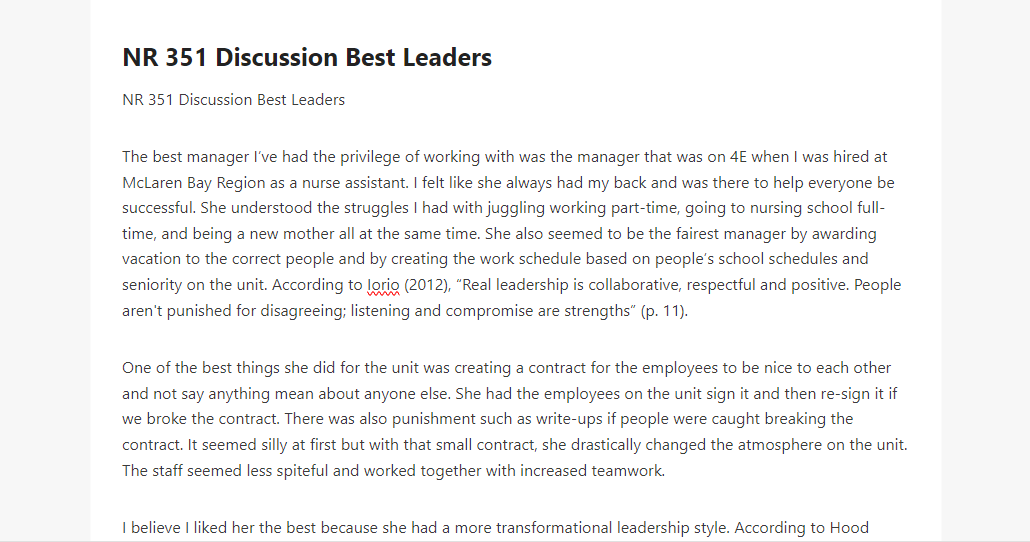 Great leaders empower their employees and recognize when they are promoting teamwork and creating a positive atmosphere. The idea of a "contract" is wonderful in that your signature holds you accountable to follow a set standard.  In nursing there is a lot of clicks and cattiness and when a new employee enters the workplace it can be most difficult for them to assimilate.  Team work in healthcare is the essence of what we do.  We are all doing the job for a reason and we need to lift each other up so that we can build rapport with each other and know that you are supported and respected.  This in turn, allows you to provide excellent care.  Leaders can make this happen!  
I know exactly how you feel when you've had a great manager that has your back, sees the needs of the staff and unit and creates a positive working environment for everyone. This type of environment is what makes people want to come to work with a positive attitude that provides optimal care to patients. Once you have had the opportunity to work in such a positive, team-oriented environment, it is hard to work under a different leadership style. Many times I find myself referring back to the great manager I once had at an LTAC hospital I worked at when trying to handle certain situations. It was always done in a positive and non-punitive environment. A great manager would put a stop to the cattiness and create a stress-free, positive environment that everyone wants to work in. Keep doing what you are doing to stop the cattiness and create a positive working environment in your unit and hopefully one day your manager can be empowered by you. Sounds like you are on the right path to being a great leader one day. 
I have had the wonderful opportunity to work along side and be trained by one of the best CNOR's ever! Her name is Beth and I worked with her for 6 years in the operating room before I earned by RN. Beth is considered my "work mom" within our department. "She is a cross between autocratic and democratic, leading others as well as allowing them to contribute to the decisions being made" (Hood, 2018). She has the ability to motivate people and expects you to perform all tasks completely and correctly. Using kindness and good explanation as well as demonstration makes her highly effective. Her transformational style is what I most love about her. Her "leadership empowers groups, shares vision, engenders trust, and is charismatic" (Hood, 2018).
I came across an article that discusses emotional intelligence that I believe to be closely related to leadership. "Emotional intelligence, referred to as EQ, involves the ability to relate to and influence others. It is the ability to influence and motivate people by being attune to their needs, effectively handling conflict, and creating an environment in which everyone can work at their best level. Nurses and leaders in the peri-operative arena find benefits of EQ reach beyond patient care and can positively affect the workplace. Several key attributes are found in individuals who possess a high EQ, including self-awareness, self-management, empathy, and social skills. Self-awareness is when you take personal responsibility for your actions and view obstacles as opportunities and remain positive in the face of challenges. Self-management skills include motivation, achievement and passion for your work with a relentless seeking of improvement and embracing of change" (Beydler, 2017). Empathy and social skills are self-explanatory and we should be well versed in both of these .
We all posses leadership skills in one way or another. Where do you excel in leadership?
References
Beydler, K. W. The Role of Emotional Intelligence in Perioperative Nursing and Leadership: Developing Skills for Improved Performance. AORN Journal, October 2017 Vol.106. No. 4 p.317-323
Hood, L. J. Leddy and Pepper's Professional Nursing (9th ed.).  Philadelphia, PA Wolters Kluwer 
You are fortunate to have such a supportive leader. II have read your article before and I liked the idea of emotional intelligence. It is difficult sometimes to make allowances for everyone's emotional state while still ensuring that the work gets done. APA tip- your quote from the AORN is too long. If a direct quote is over 40 words, it must be indented in block formation without quotation marks. See pg 272 of APA. This is not recommended for posting or a short paper. In your discussion posts, we want to hear about your experiences. Try to make your direct quotes short. The purpose is to back up what you are saying. For instance, you could talk about how your manager displays compassion and empathy and they back it up with one line from the AORN.  In your reference, the name of the article should be all small case except for the first word. and your journal info should look like this…..AORN Journal, 106(4), p.317-323. Your citations are well done. Good effort.
I have been an RN now for 21 years and have experienced several types of leadership styles. The manager I liked best was the one who empowered us, nurses, to learn how to work together as a team by encouraging us to communicate with one another instead of writing each other up for everything we did or did not do, which is how the previous manager handled everything. This created a lot of tension between staff members with little to no positive communication between us. Within several months of the new manager, our unit was no longer divided, she made us inform one another when we forgot to give a med or hang an IVPB instead of writing each other up, stopped the drama and backstabbing by having us talk to one another when we were upset, was transparent with her expectations and empowered us to believe anything is possible. We became a tight nit unit that worked together as a team, both on days and nights, and even though our unit was closed we have remained in contact with one another. According to Hood (2018)," leadership is a process of influencing, guiding or directing others to attain mutual goals", p. 444.
I believe she used a transformational style of leadership as she used strategies that empowered and encouraged the staff. According to Hood (2018), transformational style is leadership that empowers others to create and work towards achieving anything that is possible. A study that was done found transformational leadership to empower staff, encourage teamwork, and decrease work-related stress which can increase high-quality patient care by supporting the staff and engaging them emotionally and intellectually (Wu, et al., 2020). This style of leadership is definitely how I want to lead nurses into the future.
References
Hood, L. J. (2018). Leddy & Pepper's professional nursing (9th ed.). Philadelphia, PA: Wolters Kluwer Health | Lippincott Williams & Wilkins, p. 444.
Wu, X., Hayter, M., Lee, A., Yuan, Y., Li, S., Bi, Y., … Zhang, Y. (2020, March 7). Positive spiritual climate supports transformational leadership as means to reduce nursing burnout and intent to leave. Journal of Nursing Management. doi:10.1111/jonm.12994
I actually feel I have a really good manager in our area right now. He leads others by displaying confidence, integrity, empathy, passion, having a common goal, accountability optimism and commitment. He also is a good median man when it comes to staff vs upper management. We all know a lot of times that those two may not always see eye to eye when it comes to policies and things we should/should not be doing in regards to patient care. He is a great listener when it comes to problems in the area or anyone having any concerns. If were having issues getting things done with a patient and doctors are trying to make us the middle man or things like that he definitely will bring things up to the Chief Medical Officer to be able to talk to the doctors from there end. He is actually really very good at scripting to the patients and staff like we are supposed to do. He did come from staff to management approximately six months ago. He always keeps a cool head and doesn't get frazzled easily. Which I really feel has a huge impact on my future leadership. I feel like I always keep a pretty cool head but I occasionally will get stressed. It takes me being behind quite a bit to be able to ask for help so I know I do need to work on that and utilize my resources like he does to give the best quality care.
"Good leadership and management is about providing direction to and gaining commitment from partners and staff, facilitating change and achieving better health services through efficient, creative, and responsible deployment, of people and other resources (WHO). Informal leaders lead subtly yet have a powerful influence on those around them. Leaders in the field of nursing have self-confidence when providing care and can accomplish change in order to make situations better for patients, colleagues, and themselves (Chamberlain College of Nursing, 2020).
Resources
Chamberlain College of Nursing. (2016). NR351 Transitions in professional nursing: Week 5 lesson: Patient-centered care and evidence-based practice. Downers Grove, IL:Online Publication.
Management of health programmes. (2017, January 11). Retrieved April 5, 2020, from https://www.who.int/management/programme/en/