NR 305 Discussion Providing Culturally Competent Nursing Care
NR 305 Discussion Providing Culturally Competent Nursing Care
NR 305 Discussion Providing Culturally Competent Nursing Care
I am going to tie together the first and third option.
I am blessed to work and live in a culturally diverse neighborhood. I was raised in Skokie, IL. I work in Evanston, IL. Both are very celebratory of cultural diversity and are neighbors. In Skokie, IL we have a cultural fest each summer (skipped this year due to Covid19). During this fest, each culture has an opportunity to display what defines them such as art, artifacts, books, dolls, or performance arts like dance which defines them (Weber & Kelley, 2018). As a nurse, I can work with patients of all different cultural backgrounds and learn to celebrate them or help relate to them.
I work in hospice or end of life care as part of my unit's specialties. During Covid19, we are forced to follow special guidelines and I would like to discuss a difficulty that I experienced.
I had an Orthodox Jewish patient who was a coroner's case recently. He passed overnight. We have a policy to allow visitors for 30 minutes only. We need a release form filled out to release the body from the hospital to another party – which was not yet signed. We have four hours total to remove the body from the unit and Jewish patients are usually never removed by anyone other than a Jewish funeral home. I had to advocate for this patient's rights to Coroner's office which was incredibly difficult to allow them to have the Jewish funeral home remove the body. They decided after much argument that I could fax the ENTIRE chart to them, which was not yet printed, and they would make a determination from there. I had no secretary. I had to print the chart myself and fax everything while the printer was barely working, the fax machine was not allowing me to fax such a big file at first either!
I barely made it to have the family come sign the form in the middle of the night, have the Jewish funeral home on guard to come as soon as I knew it was allowed, and get all my documentation done.
Time crunch extraordinaire.
I made it happen. With zero help and five other patients because it was important to this patient and his family.
If we rewind to prior to the patient's death, the patient had been in ICU for brain bleed post fall. The patient's family allowed their family rabbi to make some decisions for them which helped determine to go ahead and transition to hospice level of care. Often Orthodox Jewish patients involve a Rabbi even more-so than the medical team (Gabbay, et al, 2017). This has been witnessed several times on my unit. Pre-Covid19 I would often see a Rabbi in the room with patient's making decisions for them. Family also would be incredibly involved and bring in Kosher foods as although the hospital offers a Kosher diet, their food was more appropriately Kosher.
We have an opportunity to respect and learn from people and their cultures all the time.
References
Gabbay, E.,  McCarthy, M., and Fins, J. (2017). The care of the ultra-orthodox Jewish patient. Journal of Religion & Health 56(2): pp. 545-560. http://dx.doi.org.chamberlainuniversity.idm.oclc.org/10.1007/s10943-017-0356-6 
Weber, J.R. & Kelley, J.H. (2018). Health assessment in nursing (6th ed.). Philadelphia, PA: Wolters Kluwer.
The hospital in which I work, is a satellite hospital of the Cleveland Clinic. It was built in 1949, and was originally run by a convent. When it was transferred to the Cleveland Clinic, part of the agreement was to continue the Catholic values and symbols throughout the hospital. There is a statue of Mary in front of the building, photographs of the last three Popes in the hallway, and crucifixes hung in random offices. If you're there early enough in the morning, you will hear a morning prayer over the PA system. One of the more controversial practices of the hospital is that they are not allowed to prescribe birth control in the OB/GYN office, and the pharmacy is not allowed to dispense these medications. On a personal level, it kind of blows my mind that a hospital is so connected to religion. That said, I think that for a lot of the patients who choose our hospital, it is a comfort, and luxury to be encompassed by their faith.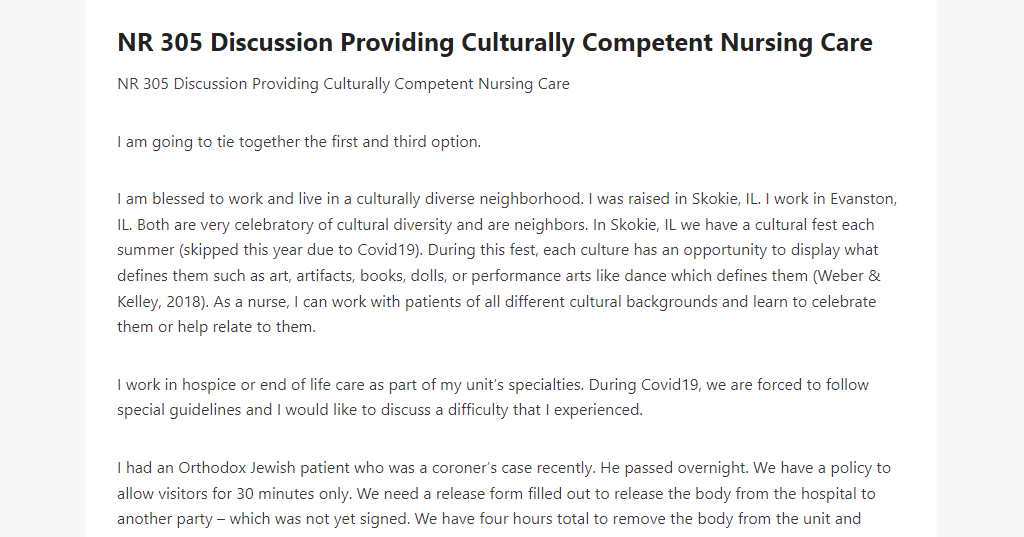 I do not consider myself religious. I was brought up with a Christian faith, and spent some time and a lot of Sundays with a Mormon family, but never found my niche'. When I was diagnosed with IBC two years ago, which has up to a 50% mortality rate, faith did not soothe me. I read stories of people a lot more religious than myself that died, and it just made me feel worse. Friends and family offered to pray for me, and I let them, but I didn't think it was actually going to do anything.
The convent is still on the property of my hospital, and there are Sisters who frequently visit my office as patients. They don't usually wear their habits, but they wear their crosses, and carry prayer books. For the most part, they don't force their religion or beliefs on myself or others. Rather, they assume that we believe. I try never to be disingenuous with them, so I generally avoid the topic of religion altogether. Occasionally, out of genuine curiosity, I will ask them about the origin of certain Catholic holidays or practices, and they are happy to share with me. They know that I am not Catholic, and I suspect they know that I don't go to church.
When in the presence of a patient who is outwardly religious, I will listen attentively and offer what I can in terms of support and resources. Pastoral care has been said to help patients with their emotions and spiritual distress, and also can act as a mediator between patient and caregivers. (Lobb et al., 2018) Our hospital also has a prayer board and chapel. If the patient is able to walk/travel to the chapel area, I will suggest it. Sometimes just surrounding one's self with the familiar can be soothing. If I feel that the patient really needs something more from me, I have been known to tell them I will say a prayer for them. I actually do make a point of saying a few words to an empty room to make good on my promise. I believe in the power of positive thinking. That is, if the patient thinks that my prayer is going to help them, then even if I don't believe, it will help.
I found the SPIRIT assessment tool in our text particularly interesting. (Janet R. Weber Rn Edd & Kelley, 2018) This tool might have its use in my office, for a more pressing surgery or issue. I think it would be an excellent addition to an initial interview with a primary care office, lengthy hospital stay, or as a care manager in Oncology. In my experience, surgeons typically want to do what they think is best for the client, which is not wrong, but may be wrong for the patient. The "Implications For Medical Care", and "Terminal Events Planning" portion of this tool would be most helpful in planning care for a surgical client. (Lobb et al., 2018) I think it's important for caregivers to realize that modern society doesn't fit into certain check boxes. A patient may be Christian, but can also spend a lot of time meditating, or dabbling in other cultures. It is important to know all beliefs that may impact their care path.
References
Janet R. Weber Rn Edd & Kelley, J. H. (2018). Health assessment in nursing (6th ed.). Lww.
Lobb, E. A., Schmidt, S., Jerzmanowska, N., Swing, A. M., & Thristiawati, S. (2018). Patient reported outcomes of pastoral care in a hospital setting. Journal of Health Care Chaplaincy, 25(4), 131–146. https://doi.org/10.1080/08854726.2018.1490059Links to an external site.
Respecting the patients' religious beliefs is indeed a part of the fundamental healthcare ethics. Many healthcare workers place the safety of the patient on top of any other faiths they have. Nevertheless, it is still favorable to cooperate when the patient refuses assistance. Healthcare workers in many countries have the right to refuse to treat the patient and are not allowed to force treatment upon them unless they are minors. However, it is also required in some cases to understand the patient's conditions and beliefs, occasionally a basic understanding of the situation is enough to develop an alternative form of treatment that is suitable for the patient. Furthermore, if the patient still refuses assistance, having them sign on refusing treatment on their responsibility is the only solution left since treating patients without consent (with certain exceptions) is considered a crime in many countries. In addition to that, as introduced in the discussion, some surgeries fall into that exceptions zone since the patient is mostly unconscious and unable to give consent for specific procedures during surgery, saving the patient's life is the priority in such cases.
Works Cited
"Consent to Treatment." NHS Choices. NHS, 2019. https://www.nhs.uk/conditions/consent-to-treatment/.
Singh, Subhash Chandra. "Non-Consensual Medical Treatment: The Legal Justification." SSRN, October 19, 2013. https://papers.ssrn.com/sol3/papers.cfm?abstract_id=2342108
I think it really is great and kind of you to promise to prayer/say nice words for the patients even if you are not religious. That is really big of you. I am religious myself and I find it very easy to support my fellow Christians because we can pray together or with each other. However, I also offer people of other faiths to support them how they would like to be supported. I enjoy signing so if someone wants a song sung to them by me, I will or I will find it on youtube. Whatever helps them get through it all. Sometimes we read scriptures or comforting words together too. I have found that really sweet patients will want to pray together to whoever their higher power may be, will pray for me too. Sometimes their compassion makes me teary. Here you are so sick and you want the best for me too! 
Option #2
I would respond to the patient with Crohn's by when the patient initiates the conversation that he feels he is being punished by God with this illness I would stop whatever else it is I was doing, pull up a chair and make sure he knows that he has my full attention and that I am there for him. It is important to stay composed and attentive so that he knows that I am interested in what he has to say and truly care about his feelings. The most important thing for me to do is be supportive to his needs whether that be him needing just to have someone listen or possibly look further with assessment that he may need the physician to order referrals to psych, possibly begin medications for depression, etc.
Considering patients usually experience the phenomenon of spiritual distress with a moment of pain, generally after a diagnosis of illness. Being able to identify a patient having spiritual distress can be noticed by their attitude in interpersonal and environmental relationships as well as verbal and non-verbal language. Which then using assessment tools and reliable methods are the most effective ways to care and assist the patient. (Prado Simao et al., 2015)
Recommended interventions: Be there physically for the patient and available to help them determine spiritual and religious choices; provide quiet time for meditation/prayer/relaxation; help the patient make a list of important and unimportant values; actively listen, reflect and seek clarification when necessary; use touch (if the patient is comfortable with it) as non-verbal communication is important; help the patient create and achieve short-term goals; include patient with plan of care; help patient develop skills to better deal with their illness; provide privacy when needed; provide religious materials, artifacts and music as requested by the patient; listening is HUGE!
Benefits of spiritual care include: "support for healthy grieving; support for improved self-esteem and confidence; assistance with maximization of potential in the current circumstances; support to improve relationships with self, others and with an Absolute/God; assistance in renewing a sense of meaning and hope; enhancement of the patients sense of belonging; assistance in improving problem solving; help with enduring problems that can't be solved and with continuing distress and disability; and help in finding renewed hope." (Weber, Kelley, 2018)
References:
Weber, J., Kelley, J., (2018). Assessing spirituality and religious practices. Health Assessment in Nursing 6th ed., 12, 208.

Prado Simao, T., Cassia Lopes Chaves, E., Hollanda Lunes, D., (2015). Spiritual distress: the search for new evidence. Revista de Pesquisa: Cuidado e Fundamental. 7, (2), 2592-2602. Retrieved from: https://eds-b-ebscohost-com.chamberlainuniversity.idm.oclc.org/eds/pdfviewer/pdfviewer?vid=4&sid=d00df5a3-4a91-4ec5-bfd6-e43c0197dc87%40sessionmgr101Links to an external site.
Option #3:
Prior to working at my current facility, I worked at a very large pediatric hospital in St. Louis, MO. A huge difference between working in a large city hospital and a medium sized hospital where I am currently at is all of the different cultures and belief systems I encountered at the large facility. When working in the city, I frequently cared for Amish children or neonates.
One of the most surprising things I learned was that many Amish do not believe in taking photographs. So when an Amish family in the NICU lost a premature baby and chose not to take any photos or have hand/footprints done, I decided to look into that subject. "Considering it a violation of the Second Commandment, which prohibits the making of "graven images," the Amish believe any physical representation of themselves (whether a photograph, a painting, or film) promotes individualism and vanity, taking away from the values of community and humility by which they govern their lives" (PBS, 2020). To most of us, not wanting to have photos of your infant came across as shocking and even saddening, but as healthcare workers we had to be understanding and supportive of the family, regardless of how their views differed from ours. Another interesting thing I learned when caring for Amish patients is that many of them do not have insurance and instead rely on their church and community to assist them in paying medical bills. This often led to them needing referrals to social services and assistance with calling community members and obtaining transportation. They were extremely humble people and very thankful for anything that was done for them or their child, even if it was said in very few words. I learned while caring for Amish children that often, the parents are very quiet and enjoy their space, which some workers took offense to, as they felt like the parents were ignoring them. I also learned that the Amish often turn to holistic approaches to health management, such as chiropractors, vitamins, reflexology, and specific diets. According to Weber and Kelley (2018), "Religion and spirituality have shown to relate to a person's greater sense of well-being in the face of chronic disease management and ability to adhere to medical regimens." I certainly feel like I saw many families of sick children relying on their faith in God being the ultimate healer.
References:
The Amish and photography, (2020), PBS- The American Experience, https://www.pbs.org/wgbh/americanexperience/features/amish-photgraphy/Links to an external site.
Weber, J., Kelley, J., (2018), Assessing spirituality and religious practices, Health Assessment in Nursing, 12(205)
Thank you for the interesting post.  I did not know the specifics about how the Amish respond to our current practices after the loss of an infant.  This is very good information to be aware of especially because I work in Maternal Child Health.  I have not worked with the plain community in this setting yet.  I have however worked with them in two different settings.  While in nursing school, I worked in registration in the emergency department and came in contact with many Amish families.  A large portion came in for serious injuries usually from farm accidents but also came in for common illnesses and such.  Being from the west coast this was my first exposure to this culture.  I found them to be very stoic in nature until you get to talking to them.  I also found them to be very supportive to each other as they would generally come in in large groups, immediate and extended family or with supporters from their community or church.  when registering them, they would say they were "self-pay" and we would ask if they were identifying as Old Order or not.  This just meant if they were getting financial support from the church then they would get a small percentage off their bill and we would register them under the father's SSN.  Not all would choose to register this way and would just be regular self-pay.  The other setting I worked with the plain community was in mental health in an RN role.  Many came from several states away to have their children or family members hospitalized.  It was interesting to see the parent/child dynamic in this setting.  It was even more interesting to see the children participate in the program/routine alongside the other children and be exposed to our norms with electricity, tv, music, games, and other children's behaviors.  When educating parents/families at discharge I noticed that at times I needed to be especially sensitive with my instructions in regards to breaking information down to simplistic terms to accommodate their understanding.  I'm finding there is so much to know about this culture and their genetic disease processes and other healthcare needs.  Thanks for sharing! 
You have both shared information that is significant regarding the Amish  community. In past classes, students have shared situations that end in an ethical dilemma while assisting the families to follow their beliefs. I think this is particularly hard in the pediatric units when the parents make choices that could lead to a poor outcome for the child. Your comment that caregivers were offended by the quiet, stoic personalities of parents stood out to me as I have heard this mentioned before. Imagine if the outcome ended with a death and the parents continue to show little emotion. It is important to understand the culture as well as your own comfort level in order to best assist these families during their hospitalization. Nurses are with patients in their most vulnerable times–experiencing things that most people would find unimaginable. Awareness or the open-mindedness to become aware is something that is our obligation to provide. 
Religion and spiritual views can alter patients views on healthcare and can ultimately affect nursing care. I've had my fair cases of patients with their own beliefs and certain practices. A couple times I've switched assignments with male nurses since the patients religion forbids them from being seen by other men other than their husband. I've also had plenty of cases where specific diets plays a huge role in their nutrition. No matter the case, it is vital for nurses to respect and have some knowledge in important details regarding their patients religion and culture to provide effective nursing care.
One of my patients that I've cared for that had religious views different from my own was a 80 year old male Muslim. As a part of the admitting questionnaire, I already asked the patient their religious views. While completing the assigned reading, I came across the HOPE questions for spiritual assessment that I feel would've gave me more benefit with specific questions towards my patients religious views. The questionnaire focused on asking questions regarding sources of hope, organized religion, personal spirituality and practices, and effects on medical care and end-of-life issues (Weber 2018). I distinctly remember asking regarding dietary restrictions but I failed to ask my patient any specific restrictions to his care which is included in the HOPE assessment.
While doing a physical assessment on my patient, he was a little more hesitant than others with regards to physical touch. "In Islam, physical contact between genders (non-married people and non-family members) is discouraged" (Saraha, 2016). This made my assessment very difficult especially since there were physical signs of abuse on my patients arms and he would not let me assess the rest of his body underneath his gown and his pants. When I informed my manager of the situation, she knew to have a male colleague finish my assessment. "Some patients will feel more comfortable with a provider of the same gender, or, if that isn't possible, having a member of the same gender in the room with them during the exam" (Saraha, 2016). My patient was keenly modest when it came to me doing a full body assessment. As a nurse, I respected my patients faith but also engaged to provide appropriate quality patient care.
References:
Saraha. (2016). Culturally Competent Care of Muslim Patients: National Association of Free and Charitable Clinics. Retrieved August 09, 2020, from https://nafcclinics.org/content/culturally-competent-care-muslim-patients
Weber, J.R. & Kelley, J.H. (2018). Health assessment in nursing (6th ed.). Wolters Kluwer.
To follow up on the Islamic patient and full assessment, when your manager had a male nurse take over to complete the remainder of the assessment, how did that work out?  Was the patient at ease with the change of care and allowed for that nurse to complete what they did not allow for you to complete?  Were they angered, frustrated, humiliated?  Just wondering as I was not aware nor have I had this particular issue come about within my nursing career.  I applaud you for being aware and diligent to your patients needs and critically thinking to do what was necessary and needed to complete holistic care for this patient.  We as nurses sometimes can get caught up in getting the job done with the amount of work placed on us with short staffing and over abundance of patients needing more care.