NR 305 Discussion Assessing for Family Violence 
NR 305 Discussion Assessing for Family Violence 
NR 305 Discussion Assessing for Family Violence 
Weber states, the long-term consequences of child abuse and neglect, according to the Child Welfare Information Gateway (2013a), include: Physical: emotional conditions such as chronic fear, hypervigilance, impulsivity, psychological: isolation, fear, and an inability to trust—can translate into lifelong psychological consequences, including low self-esteem, depression, and relationship difficulties; behavioral: adolescent issues such as grade repetition, substance abuse, delinquency, truancy, or pregnancy, and sexual risk-taking; greater likelihood of being raped in adulthood; correlation with juvenile delinquency and adult criminality; abuse of alcohol and other drugs; greater likelihood to become abusive parents. (Page 163). Our goals as nurses are to assess immediately assess and detect abuse and refer to child protective service for close monitoring and removal from harmful situations of abuse. There are communicative approaches to use with Elizabeth who is only ten, and ongoing through the developmental stage of industry versus inferiority-task at this stage are developing social, physical, and learning skills with successful competence; therefore an unsuccessful result to Elizabeth's situation is sense of inferiority; difficulty learning and working (Silvestri pg. 258).
Elizabeth needs to first be in a comfortable setting with the nurse and mother. Elizabeth's mother is initially invited to demonstrate to Elizabeth the nurse's purpose of interviewing her is not for intimidation or to elevate the stress. Simple questions through a physical assessment will be conducted to Elizabeth, and engage in conversations that encourage thinking, providing reassurance to help alleviate fears and anxieties, using clear terms, patience by the nurse to allow time for composure and privacy, and using photographs, books, dolls, and even videos to demonstrate and explore Elizabeth's situation ( Silvestri 267). Thereafter of the physical assessment, the mother will be kindly asked to provide Elizabeth privacy, and assure the mother her child is safe, and the interview will stop at any point Elizabeth expresses so. With all these communication approaches, the nurse allows Elizabeth to be in a mental state to freely speak, where the nurse and Elizabeth find a trusting rapport, and the nurse is assessing within the trust. This approach can assist in intervening this potential psychological and physical abuse by Elizabeth's father.
In the article of the Scandinavian Journal of Primary Health Care, it states from a database with general physicians reporting suspected abuse cases from that gut feeling "all groups discussed the gut feeling described as there is something wrong here and considered it a valuable diagnostic tool. In such cases, GPs got an uneasy feeling, while listening to complaints or observing a child, which put them on the alert. An odd symptom or unusual behaviour, such as a child behaving like 'an unguided missile in my office' [FG4,1] and the intimidating reaction of its parents might make GPs think there is something wrong." (117).
References:
Stolper, Erik; Verdenius, Jan Paul; Dinant, Geert-Jan; van de Wiel, Margje June 2020. Scandinavian Journal of Primary Health Care. GPs' suspicion of child abuse: how does it arise and what is the follow-up? 38(2): 117-123. (7p)
https://chamberlainuniversity.idm.oclc.org/login?url=https://search.ebscohost.com/login.aspx?direct=true&db=ccm&AN=144636703&site=eds-live&scope=siteLinks to an external site.
Silvestri, Linda Anne. (2011) Saunders comprehensive review for the NCLEX-RN examination /St. Louis, Mo.: Elsevier/Saunders
                 Weber, J.R. & Kelley, J.H. (2018). Health assessment in nursing (6th ed.). Wolters Kluwer.
I cannot work with pediatrics. Reading Elizabeth's story made me angry and flood with emotions. Elizabeth's father has hurt her before, and she was again in an environment where abuse was ample to take place again.
In researching articles, I found a case of abuse that was deplorable that happened while a child was intubated in this PICU (Wilkins, et al, 2016). The child could have been suffocated by the visitor who was allowed at this PICU, but later it was found that abuse had previously occurred – it was never screened for in the emergency room (Wilkins, et al, 2016). Had there been a procedure in place for staff to screen for child abuse as a norm, perhaps this visitor would not have been able to further harm this child (Wilkins, et al, 2016).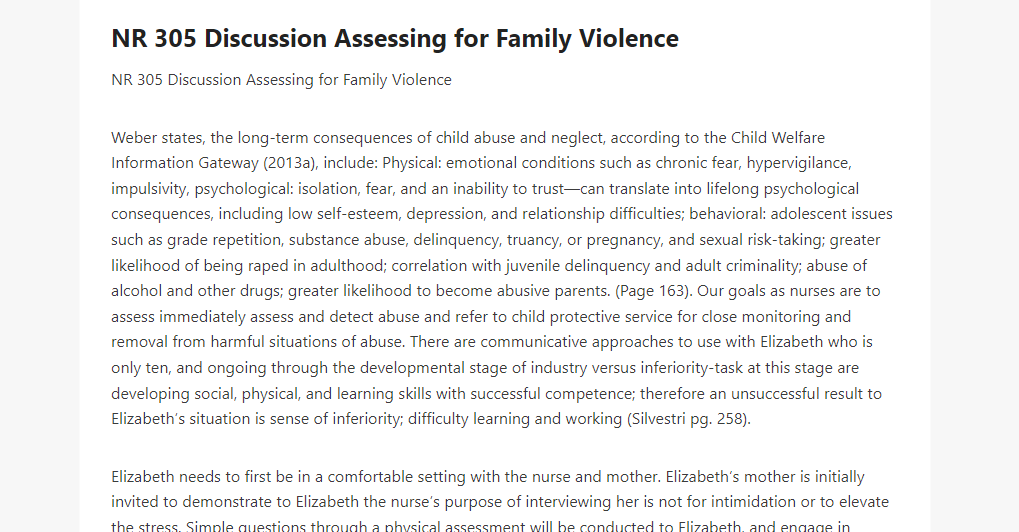 To make Elizabeth feel safe and secure, her mother needs to step away for a time (Weber & Kelley, 2018). She needs that private one on one setting to build a rapport with the nurse and she may feel uncomfortable to speak in front of her mother who reported there had been previous abuse as well (Weber & Kelley, 2018). We need subjective data from the child and further information from the mother too as well as other diagnostic objective data like x-ray (Weber & Kelley, 2018). We do not know that Elizabeth's mother has never abused her in addition to her father. We must explore if there is a safe environment for the patient to return to a little bit. Thankfully, we would also have to report the abuse to our supervisor and other departments who would get child protective services involved as we are mandated reporters (Weber & Kelley, 2018). Elizabeth's mom may be a victim of physical abuse and threats as well. That needs to be a side conversation as well as exploring her own goals for this matter for her daughter and herself.
If Elizabeth were up for it, we could discuss what hurts her first. She could point to areas that hurt. We can ask how bad the pain feels. We can explain that we need to take a picture of her arm to see what we can do to make it feel better. We can discuss likes and dislikes to build a rapport. Maybe tuning into a favorite character on TV helps build a conversation quicker. Maybe offering her some stickers just for getting her vital signs taken can open a door for conversation to asking if someone hurt her today or in the past and who. I think as a nurse it is OK to ask sensitive questions, but we must be careful not to push someone who is not ready to talk. She may not be able to talk. There is an important factor involved that we know there was previous abuse, and this is likely further abuse, we must be careful to not rip of a band-aid too soon. People that experience traumatic things must go through years of therapy sometimes to really make the conversation begin.
Always validate, always ask permission and explain how you may have to touch an abused person before you feel you have the right to examine them. My children's pediatrician always reminds, "It's only OK to take off your underwear because I'm your doctor and this is your mom, right?"
References
Weber, J.R. & Kelley, J.H. (2018). Health assessment in nursing (6th ed.). Philadelphia, PA: Wolters Kluwer.
Wilkins, G. G. , Ball, J., Mann, C., Nadkarni, M., and Meredith, W. (2016). Increased screening for child physical abuse in emergency departments in a regional trauma system: Response to a sentinel event. Society of Trauma Nurses. 23 (6).
My first priority when interviewing Elizabeth, would be to provide her with a safe, comfortable space. If there is somewhere, like a lounge, or sitting area that is away from noise and bright lights, I would take her there. I would want to interview her alone, without the mother present. From the description of the greeting the mother usually gets, it sounds like she is close to her mother. It might be helpful to have the mother join us for the initial transition into the interview. I would start the interview with easy to answer questions, such as her age, grade level, and favorite color. Once I had a sense that Elizabeth was more comfortable, I would ask the mother to step out. This will prevent the daughter from answering the way she might think her mother would want, and to prevent the mother from answering for her. Once the mother left the room, I might ask Elizabeth if she knows why she is here.
Special considerations should be made regarding the alleged history of abuse, as it may have adversely affected her development. (Janet R. Weber Rn Edd & Kelley, 2018) The mother appears to have a relationship with the child, but I would ask the daughter about her friends, and what her interests are. It is important to get some baseline information to guide the interview and to establish a rapport. I would try to remain calm, regardless of my gut feelings regarding child abuse. I would ask open ended questions rather than yes or no questions, as this tends to produce more accurate information from memory. (Brubacher et al., 2018) I would let her complete her thoughts and try not to interrupt with ideas, or try to finish sentences. I would avoid using medical terminology, rather try to use language she can relate to. (Janet R. Weber Rn Edd & Kelley, 2018)
I was interested to learn more about Stockholm Syndrome after touching on it in our text. I thought about how it might relate to the relationship between Elizabeth and her father, in that, she might be reluctant to answer questions negatively about him. I wasn't able to find a lot of concrete information about it. It appears to have been studied, but there is not a clear definition or set of criteria to formally diagnose. (Namnyak et al., 2007) I might consider Elizabeth to be at risk for PostTrauma syndrome because the alleged abuser is her father. (Janet R. Weber Rn Edd & Kelley, 2018) While this is not a romantic intimate relationship, I would consider the relationship of a father and child to be intimate.
References
Brubacher, S. P., Roberts, K., Cooper, B., Price, H., Barry, L., & Vanderloon, M. (2018). A nationwide survey of child interviewing practices in canada. Canadian Journal of Criminology and Criminal Justice, 60(1), 34–68. https://doi.org/10.3138/cjccj.2017-0008Links to an external site.
Janet R. Weber Rn Edd & Kelley, J. H. (2018). Health assessment in nursing (6th ed.). Lww. Namnyak, M., Tufton, N., Szekely, R., Toal, M., Worboys, S., & Sampson, E. L. (2007). 'stockholm syndrome': Psychiatric diagnosis or urban myth?. Acta Psychiatrica Scandinavica, 0(0), 071120024945001–??? https://doi.org/10.1111/j.1600-0447.2007.01112.xLinks to an external site.
I appreciate the information in your post and you bringing up Stockholm syndrome as I had not really heard of it before and had to look it up to get additional information outside of your post.  You placed a valid point in this sense that Elizabeth may be suffering from Stockholm syndrome considering the relationship she has with her father, however its stated that there are four key components that characterize Stockholm syndrome, one being there has been no relationship between captor and victim (wikipedia.com) I am not completely sure if this has to be a deciding factor, but thank you for posting about Stockholm syndrome to open the possibility and causing me to have to research further into it.
Reference: Stockholm syndrome, (2020). Wikipedia. Retrieved from: https://en.wikipedia.org/wiki/Stockholm_syndromeLinks to an external site.
I'm not sure that I would consider Wikipedia a credible source of information.  While it's my go to for answering pop culture questions, it can be edited or revised by anyone.  There's a lot of information on there, and sometimes there's a lag between posting and validation. There were four "common features" in my article, but none mentioned the prior relationship, or lack of. They did refer to the involved as "victim" and "captor".  (Namnyak et al., 2007) I didn't necessarily think that Elizabeth was suffering from Stockholm syndrome, but the thought crossed my mind, causing me to look further into it. I definitely think that in some domestic violence situations, there is a possibility of the victim to minimize or hide truths. I'm not sure if it is out of fear, or because of the relationship. That was the angle I was looking at it from.
Namnyak, M., Tufton, N., Szekely, R., Toal, M., Worboys, S., & Sampson, E. L. (2007). 'stockholm syndrome': Psychiatric diagnosis or urban myth?. Acta Psychiatrica Scandinavica, 0(0), 071120024945001–??? https://doi.org/10.1111/j.1600-0447.2007.01112.x
1) Important considerations to consider when interviewing Elizabeth are:
Make sure to establish a reassuring environment.

Do not convey feelings of being uncomfortable when questioning her about the abuse.

Stay calm and be accepting without showing surprise or distaste when she gives information pertaining to the abuse.

Do not coerce or offer rewards to her for answering questions.

Try to keep the questions simple, keeping in mind the child's ability to understand exactly what is being asked.

Questions should be direct.

Avoid closed ended questions. Give the child as many choices as possible during the interview.

Recognize that the child's abuser may be the adult who is with them.

Provide as much privacy as possible during the interview.
(Weber, Kelley, (2018). Assessing for violence. Health Assessment in Nursing. 10, 171)
Within my nursing career I have not actually dealt with found abuse. There had been times where we brought someone to the OR and with the particular situation and why exactly we had to bring them to the OR we questioned whether there really was some type of abuse that had caused it, but again it was never actually founded. The information pertaining directly to Elizabeth and her situation a lot of different questions come into my mind, specifically what type of abuse she is dealing with. We definitely know it is emotional abuse on all levels, but when it comes to the physical abuse is it the father is hitting her/putting his hands on her? Is he also sexually abusing her? This is where a thorough interview comes in to play to verify that we are taking care of Elizabeth holistically. Research has shown that there is an association with parental trauma and decreased parent-child relationships that a majority of the time have some type of abuse from parental to child because of it. (Montgomery et al., 2018) With this research it makes me wonder how we as health care professionals could possibly help decrease the amount of child abuse if we can acknowledge and offer to assist with treatment for the trauma the parents have endured? In Elizabeth's case it definitely seems as though her father has endured some type of trauma that has been lasting which has affected him to the point of turning to alcohol to cope as well as releasing anger and frustration out on those that he loves/is closest to. Obtaining information from Elizabeth's Mom is also significant as even though Elizabeth is 10 years old, maturity level can play a significant part in not being able to obtain full details of the situation and Mom may be able to fill in some blanks.
References:
Weber, Kelley, (2018). Assessing for violence. Health Assessment in Nursing. 10, 171 Montgomery, E., Just-Oostergaard, E., Jervelund, S., (2018). Transmitting trauma: a systematic review of the risk of child abuse perpetrated by parents exposed to traumatic events. International Journal of Public Health. 63, (9), 241-251. Retrieved from: https://eds-b-ebscohost-com.chamberlainuniversity.idm.oclc.org/eds/pdfviewer/pdfviewer?vid=8&sid=7a5b44f3-6498-4b35-ab47-dc86d467973f%40pdc-v-sessmgr05Links to an external site.
Nurses play a crucial role in recognizing and reporting abuse and family violence. In this situation, Elizabeth is a pediatric patient suspected of a recent child abuse due to the history stated by her mother. Abuse is a sensitive information for any patient and "child victims are often preverbal and may be too severely injured or too frightened to disclose their abuse" (Christian, 2015). For the nurse to have an effective assessment of the patient, the nurse must be aware of their state and facility policies regarding how to approach the abuse screening. It is also important to build a trusting rapport with the patient and let them be aware of the possibility of reporting requirements. "Creating a safe and confidential environment is essential to obtain concise and valid subjective data from any client who has experienced family violence" (Weber, 2018, p 168). Since Elizabeth seems a little more withdrawn with her mother by her side, the nurse should try to get Elizabeth in a more private and secluded area to better screen her. For Elizabeth to become a little less withdrawn, the setting of the interview must be comfortable and away from stressors.
Managing child abuse is one of the most challenging and unsettling responsibilities as a nurse. It's important to include special considerations when interviewing a child that can help avoid re-traumatizing the child. It's helpful to understand the child's developmental age and their level of knowledge so the nurse can interpret questions in ways the child can easily understand. "Questions must be direct to extract information without being leading" (Weber, 2018, p 171). Abuse screening does not call for interrogation. The nurse must give the child time to answer and time to explain their story. It's also important to consider not to ask the child questions that may compel them to answer in your favor. For example, asking if Elizabeth's father is abusing her. "Give the child as many choices during the interview as possible" (Weber, 2018). Open-ended questions are beneficial for therapeutic communication. Allowing the child the opportunity to lead the conversation can benefit the nurse-patient relationship.
References:
Christian, C. W. (2015). The Evaluation of Suspected Child Abuse. American Academy of Pediatrics, 135(5), 451. doi:10.2341/1559-2863-40.5.451a
Weber, J.R. & Kelley, J.H. (2018). Health assessment in nursing (6th ed.). Wolters Kluwer.
My first priority for Elizabeth would be to reassure her that she is in a safe place and nobody here will hurt her. I would then want to ensure privacy for both Elizabeth and her mother. I would want to interview and assess Elizabeth privately to ensure her mother was not influencing her answers. I would want to ask Elizabeth "simple direct questions with a relaxed and calm approach" (Weber & Kelley, 2018). Caneira and Myrick stated, "Presenting symptoms of child abuse may be completely objective, or more general and nonspecific, including irritability, vomiting, lethargy, abdominal distention, anemia, or shock" (2015). I would want to watch Elizabeth's overall behavior, tone of voice, and any odd symptoms she may be experiencing (like a stomachache for example). When conducting my physical assessment, I would want to explain everything I was going to do to Elizabeth before actually doing it, to make her more comfortable. I would assess Elizabeth for bruising (both old and new), scratches, burn marks, signs of old or new broken bones, and also perform a full head to toe assessment. Although Elizabeth is the patient, interviewing her mother would be vital as well as it may lead to more answers about what happened, why it happened, and if this has happened before. This could lead to keeping both the child and her mother safe in the future.
One special consideration I would take due to Elizabeth's age would be to engage her in positive conversation. Asking her what grade she is in, what she likes to do for fun, what her favorite color is, etc. would help to create a relationship with the patient which may help her to open up more when being interviewed about abuse. At the facility I currently work at, I know the ER keeps teddy bears, baby dolls, and other comforting toys to give to pediatric patients when they come in. I would look for an item like that to give Elizabeth to continue to create a comfortable environment for her. If Elizabeth confirms that her dad has hurt her, showing her a diagram of a person and asking her to do something like 'circle where he hurt you' may be more helpful then asking her to describe it. Overall, I would want to use a simple and non overwhelming technique when interviewing a child about abuse, I would allow Elizabeth to guide the conversation as much as she could so that I could obtain the most accurate information.
References:
Caneira, L., Myrick, K., (2015), Diagnosing child abuse; the role of the nurse practitioner, The Journal of Nurse Practitioners, 11(6), https://eds-a-ebscohost-com.chamberlainuniversity.idm.oclc.org/eds/pdfviewer/pdfviewer?vid=8&sid=53980c72-3960-4302-885a-63b0a9a09ed7%40sdc-v-sessmgr03Links to an external site.
Weber, J., Kelley, J., (2018), Assessing for violence, Health Assessment in Nursing, pg 169