LDR 615 Why is vision essential to facilitating successful change in an organization?
LDR 615 Why is vision essential to facilitating successful change in an organization?
LDR 615 Why is vision essential to facilitating successful change in an organization?
A vision provides a future orientation and direction to the leaders, employees and other stakeholders of an organization. There is a compelling component to the vision, which motivates, inspires and engages people into action. Change requires extra dose of motivation to overcome the resistance and inertia. A vision articulates the purpose and meaning to overcome the impediments of change.
An organizational change requires transformation of processes and structures of the organization. An ordinary approach to change is unlikely to bring a revolution to the established systems. A leader with vision and capability to inspire people is required to bring about change. The researchers have observed that most discontinuous changes have occurred under a particular leadership, which indicates the correlation between a leader and change.
Many research studies are available to highlight the organizational changes initiated by Jack Welch, the former CEO of General Electric. The case of Jack Welch confirms that it is possible to undertake a rapid, deliberate and fundamental change in the organizational processes and structure. Jack Welch defined the role of a leader is to unlock a compelling vision, get buy-ins from the stakeholders, and quickly implement the change initiatives. For becoming such a leader, he advises open and caring relationships with the employees.
Thank you for sharing your post with us. I agree that the vision is what the company plans on taking the organization in the future. I believe the vision statement is important for any organization, and it was something that I looked for when I changed jobs earlier this year. I read up on the organization, including its vision statement. I wanted to ensure their vision was in line with mine, and that it was something I could get behind. Organizational change is so important, but I believe when implementing it, it is important to do it the right way. What I mean by that is communication. If you just drop a change and expect people to change, issues will arise. Of course, with communication, you will still have resistance. However, when you communicate the change, it allows leaders to speak to their employees about the change and how it will impact that department. It allows that open dialogue to have those discussions. You touched on Jack Welch and his definition of a leader. How can you get the buy-in from stakeholders when it comes to change? How can you develop those relationships to build upon the trust with your employees?
In many successful organization the role of vision is one of the most important foundation to have. Vision set the path in which the organization will follow. The vision set the bar for what direction all involved will be traveling down in order to achieve this success. The following exert from Indeed explain in a clear and concise manner the what and why of the importance of vision. "A vision statement is a declaration of an organization's objectives. This statement can serve as a guide for the business, indicating a defined direction for growth and goals. As a company grows, its vision statement may change slightly to adapt to differing needs, but the main idea typically remains the same. Formal company documents—such as employee handbooks—usually contain the vision statement. However, some organizations advertise their statement on their website and other public platforms.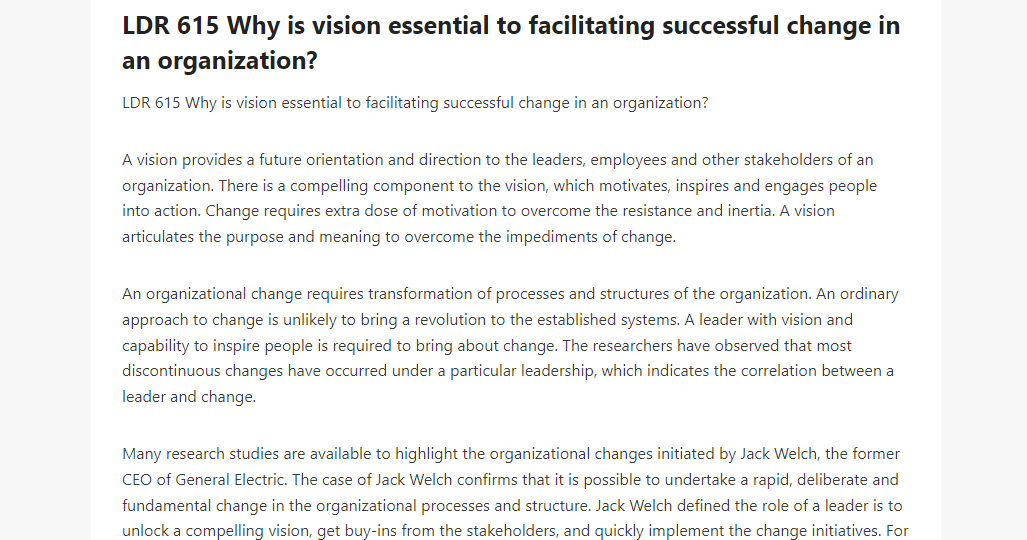 A vision statement should motivate the organization's employees and outline its ultimate goals. While a mission statement concentrates on what a company can provide for its customers, a vision statement is more self-focused, outlining the goals of the business for growth and success.
Consider the vision statement as an umbrella description of what is important to the company and how it helps to improve the world around it. This includes not only customers but potential employees as well. When the vision statement is able to connect to our inner values, it can be easy to admire that organization and support it in a variety of ways. We consider this a powerful communication tool in such a short statement." (Wike, 2021)
In my own life my wife and myself have started a non-profit to aid children fighting cancer. We lost our son in 2013, on Christmas Eve, to Osteosarcoma, or bone cancer. Due to this we formed our organization with the vision every child battling cancer receives a battle pack filled with items unique to them as well as their family receiving financial assistance during these times. With this, we set our standards and goals for not only us, but our stakeholders as well.
Thanks,
Reference:
Wike, E. (2021, September 1). Vision Statements: Tips, Example and Importance. Indeed Career Guide. https://www.indeed.com/career-advice/career-development/vision-statements
A leader or leaders must be able to have a vision to be able to make necessary changes to an organization. The vision assists all stakeholders better understand the reason for the change and the benefits that will occur due the change as well as prepare everyone for those changes. Leaders that share their vision also share their behaviors, their heart, and leadership enthusiasm within the organization causing others to incorporate the leaders' vision which makes the transition more successful.
A true leader can motivate the stakeholders of the organization. They create a sense or opportunity and importance about the organizations transitional change. The leader shows dedication, passion, compassion, urgency about getting things accomplished to make the change happen. Leaders are also realistic that change is difficult for most people. They can comprehend that people are apprehensive about change because of the uncertainty of job security or of the unknown. That is why it is so important for a leader to show motivation and energy so they can transmit the same to their stakeholders and be able to step out of their comfort zone.
I admire leaders that are action oriented. Approximately 4 years ago I had the privilege to work with a wonderful Operations Manager. I had been working for a hospice company for approximately seven years and there were drastic organizational changes occurring that made me feel like leaving. The organization lacked vision and failed keeping their stakeholders involved with the changes that were occurring so rapidly. Fortunately, this wonderful man was hired during this crisis and showed great enthusiasm, involvement, commitment, vision, compassion, dedication, and direction. What I admired about him was that he came and sat with every employee and got to know their strengths and weaknesses. He created a different type of work culture that I had never seen or taken part before. He also not only listened but was a great observer, hard worker and showed immense passion. He developed an environment where the stakeholders were happy to come to work everyday although there was more work to be done but everyone felt invested in the project. Unfortunately, corporate was not allowing him to make the necessary changes to make the company flourish and soon after he left the company like many other great leaders before him. Although we both have gone our separate ways we keep in touch, and he has become one of my greatest mentors. He showed me what a great leader can do in a short amount of time and how he inspired, motivated, and groomed others to make the necessary changes to succeed.
References
Center for Creative Leadership. (2020). What are the characteristics of a good leader? CCL. https://www.ccl.org/articles/leading-effectively-articles/characteristics-good-leader/
I agree that true leaders can motivate the stakeholders of the organization. Having been fortunate enough to currently work for a true leader I have seen her vision coming to life in our organization. I do however think that having an established relationship between leadership and stakeholders can make this vision come to life with less challenges between groups. My organization decided to change leadership, replacing our term as it was her belief that it would provide the best opportunity to be able to provide healthcare to our community. Because she had an established relationship with the nursing staff and their respect, there was little turnover in the nursing department when she communicated her vision. Those that had not worked with her in the past were fearful and those departments had much more turnover in staff. Those that have stayed saw that there had to be change, while they felt fearful of the possibilities, they would become optimistic and could become part of the change. True leaders need to gain the trust of staff for them to be able to get the stakeholders to see, feel and then change and have their vision come to life (Kotter & Cohen, 2002). Have you experienced negative leadership styles that made it difficult for you to see their vision? 
Kotter, P., & Cohen, D. S. (2002). The heart of change: Real-life stories of how people change their organizations. Boston, MA: Harvard Business Press. ISBN-13: 978-1422187333
Thank you for responding to my post. I read your response and I agree that establishing a relationship with the stakeholders is important as well it earns the respect of the staff or stakeholders. Its true that there is fear when change comes about but if trust has been built it becomes a bit easier for the transition. Unfortunately, I have experienced negative leadership through my career in nursing. Currently there is a lack of connection within our department. Corporate is restructuring all departments within the organization but are failing to keep their stakeholders involved in the change. I agree that the change is necessary, and it is important to standardize processes and procedures. These processes and procedures are essential to everyone to ensure that no matter where you are located within the organization there is consistency in the quality of care that is being provided to patients. The problem that we are currently experiencing is the implementation of processes and procedures that have not been communicated to the stakeholders. They have also failed the stakeholders by not providing the appropriate training to allow the stakeholders to succeed in their new roles.
It is important that before any changes are made that the organization consider the possible reactions of those involved. Stakeholders are an essential and vital component to the organization's success. Stakeholders invest in change depending on their objectives and goals. It is important to identify who are the organizations stakeholders. It is necessary for the leaders of the organization to be able to listen and lead with integrity, engage the stakeholders, work as a team, and manage the expectations. But most importantly is for leaders to be able to communicate with their team to exchange ideas and the stakeholder's perspective about the project. Communication can be delivered in all different form, but it must be consistent to keep all stakeholders involved.
References
Schwantes, M. (2016). 6 Companies That Teach Us What It Takes to Communicate Exceptionally Well. Inc.com; Inc. https://www.inc.com/marcel-schwantes/6-companies-that-teach-us-what-it-takes-to-communicate-exceptionally-well.html
Vision is essential to all organizations, especially when it comes to flitting change is because the change being suggested and moved upon must be conveyed correctly to the support staff. As I think upon the many changes I have seen through my law enforcement career, I look no further than creating our first homeland security unit. This unit was unique as it ushered in a new era for how our department would view crime worldwide. Creating a new team out of nothing takes vision and strong communication skills. People crave strong leaders who make sound decisions and can illustrate what the future could look like.
The article "Leading Change through Vision" (2014) describes several strategies that help with successful change, which include making the vision clear to others to follow, paint a picture for everyone to see and mind, and not forcing the change before it's ready to implement (Huyer, 2014). The vision for the unit was quickly explainable because we sought buy-in from other teams who successfully implemented change and stuck to the path.
Reference
Huyer, D. (2014). Leading Change through Vision. Leadership Excellence, 31(6), 19.
Vision is an essential role when facilitating change in an organization since it helps to inspire, motivate, and engages people leading to a higher level of success. The vision reflects what the organization is and the goals of where it intends to go, and what it wants to attain (AIR, n.d.). According to Tearle (n.d.). an organizations vision helps to provide a form of direction, describing what is needed to be successful within the future. The organizations vision contributes to the overall moral of the organization.
It is essential for leaders to engage and demonstrate the organizations vision to the team, for the team to feel a sense of belonging and being valued within the organization. According to Huyer (2014) there are four strategies for implementing change through the vision that consists of 1) Telling and Directing; 2) Forcing; 3) Participating; and 4) Alternative/Engaging through Vision. When helping to assist leaders in the development of a vision, the characteristics looked upon as essential are attracting commitment and energizes people, creates meaning in workers' lives, establishes a standard of excellence, bridges the present to the future, and transcends the status quo (AIR, n.d.).
At my organization the vision states "Together, healthcare the way it ought to be" (Maple Grove Hospital, n.d.). My organization is viewed as building relationships, being accountable, and helping our customers achieve the best care for their health. With my organization being opened for almost 12 years there have been many changes over the years, some for the better and some needing room for improvements. However, our vision has remained the same and we highly value our team members as "work family" leading to high expectations and outcomes for our customers. I have had many nurses that I have met along the way from other organizations tell me they have applied to my organization and have not had the opportunity to receive a second call for an interview leading to a competitive workforce that has a strong reputation for teamwork, family, caring, and valued team member within the community. We highly value strong communication and teamwork. After our organization had all team members attend a customer service training, at first many of us felt like it was a silly unnecessary training that we were having to attend. However, after the training I felt like it grounded our vision as an organization stronger when caring for our customers and helped to guide them to take part in their own healthcare management along with receiving the care that we as team members would want to receive. Delivering inspired, caring, and valued healthcare will all help to deliver healthcare as it ought to be!
References
American Institutes for Research (AIR). (n.d.). Vision, leadership, and change. https://sedl.org/change/issues/issues23.html
Huyer, R. (2014). Leading Change through Vision. Leadership Excellence, 31(6), 19.
Maple Grove Hospital. (n.d.). Philosophy & culture. www.northmemoral.com
Tearle, R. (n.d.). Organizational vision and values. https://changedesigns.net/vision-and-values#:~:text=1%20A%20better%20understanding%20of%20the%20future%20environment,things%20that%20really%20matter.%20…%20More%20items…%20