LDR 615 Discuss two strategies that can be used for leading change
LDR 615 Discuss two strategies that can be used for leading change
LDR 615 Discuss two strategies that can be used for leading change
Two strategies that can be utilize for leading change are resilience and effective communication. The pandemic gave individuals quite a scare; leaders were not omitted. It did not matter if you were educated or not; rich or poor, people were panicking. In organizations, leaders were not prepared for the disruptive change. Mrs. Tamika Curry Smith, BBA '95, president of The TCS Group Inc., recalls, "As a diversity, equity, and inclusion executive, I've been on the front lines since COVID-19 hit. Initially, I was helping leaders think through how to handle the impact of COVID-19, particularly given its disproportionate impact on underrepresented and marginalized communities (Needham, 2020). Ms. Curry Smith also had to deal with George Floyd's murder where the conversations turned to racial, social, and economic justice and inequality. This change agent had to be present "every day as a leader in this space to help other business leaders and employees handle everything they were feeling and experiencing inside and outside of the workplace. She also had to focus on the mental being of her 10-year-old and explain what was transpiring before his eyes. Michigan Ross Professor Lindy Greer, faculty director of the Sanger Leadership Center, says that resilience is one of the most important leadership capabilities in these moments of tremendous disruption (Needham, 2020).
Ms. Greer also believes Resilience is enhanced through one being personally emotionally healthy through exercise, sleep, and connections with others, as well as engaging in healthy conversations about emotions with others, such as taking the time to regularly acknowledge the emotions present in your team and helping everyone to reappraise situations to see positive pathways forward." Stakeholders should also be in the know; they need to feel like a part of the team. Their opinions should be heard and respected while addressing current issues and anticipating other obstacles in the future. Including a vocal critic to the guiding team can be beneficial. It will be more beneficial to get them involved in the early stages of the change process so they can be candid about what is occurring and encouraging their coworkers to be supportive and encourage them that in the end everything will be okay. It will be easier for them to trust this person since they know they are opiniated and can depend on them if necessary.
References
Needham, B. (2020) Leading through Change: Michigan Ross Alumni Share Strategies for
Thriving in Challenging Times. States News Service.
A change agent lacking needed skills would have a tremendous impact, which would not be positive. I hate to bring my organization up again, but we are the perfect example of a leader without the needed skills and how that impacted the organization. Our leader has been trying to force change, and the results are alarming; There is a failure to design a vision, a plan, create a sense of urgency, and build a guiding coalition. Leadership has terrible communication. The lack of effective communication had an impact on the way the stakeholders received the new vision. They rejected the new vision; they denied support and did not get involved with it; since nobody cared to ask for their input, and they knew that the leader would go on with the vision whether they liked it or not. There are issues with diagnosing the root of the problems ( Leadership keeps blaming Covid instead of acknowledging that stakeholders left because they disagreed with the change). There is a lack of emotional intelligence, and the list can go and go; it is clear that the outcome is not what the organization expected, nor what they desired, since they are not making any adjustments, the organization keeps going full force in the wrong direction. It is just a matter of time before we will crash. In this Church "Industry," when events like this happen, and the organization hits rock bottom, they usually end up being absorbed by a larger organization or a larger Church; they will lose their name and become another organization, and they will become a good memory of the past.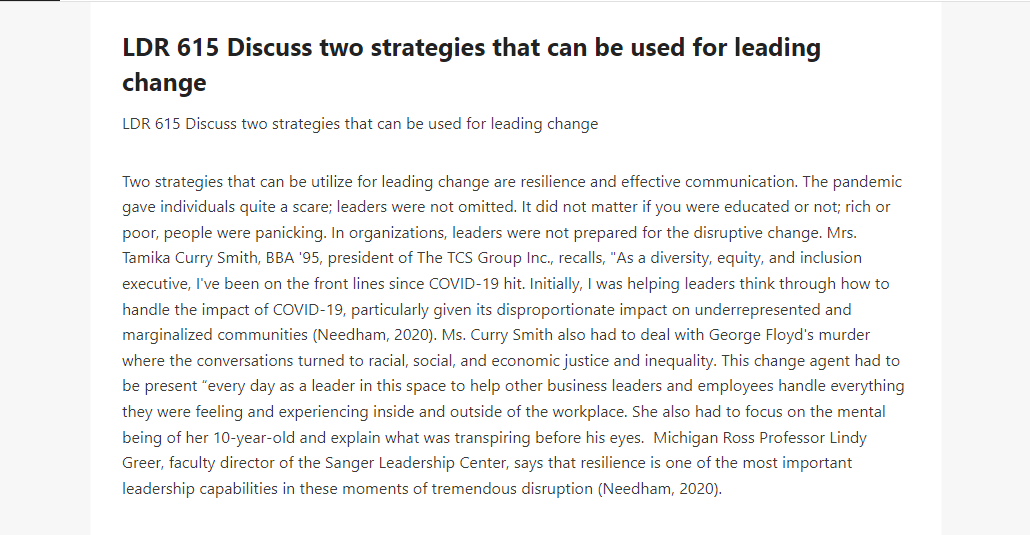 Change is difficult to manage for oneself, managing change for an organization is even more difficult and requires finesse and technique.
Change management requires clear concise communication as a required skill, if one cannot communicate the vision, steps and change process the change will fail or go array. I also learned skills needed in organization, leadership and the ability to understand how to sustain change. Understanding the skills is one thing but developing and implementing the skills and another skill set that requires training. If a leader is to lead a change and does not posses these skills I believe the leader can learn them if they have the desire. The lack of leadership training in my organization is minimal but I was able to find areas to learn. I believe that with desire and the ability any leader can obtain the skills to lead, but without the skills, change management will definitely be more difficult or fail completely.
Organizations can implement several strategies for change and should include planning, transparency, communication, honesty, and creating organizational culture. All these strategies are important to the success of organizational change. Organizational culture is very important in the success of change. Organization culture creates individual involvement which creates a work environment that creates purpose and clear expectations. It decreases employee turnover, elevates productivity, health team, and top performers. Communication is also an essential component to effective change. Communication provides information to stakeholders in the decision-making process. Communication strategy helps identify and assess alternative course of actions. Communication also plays a role in addressing an individual's concerns or behaviors.
Organizational culture varies depending on if the organization has a strong culture or a weak culture. A strong organization is one that focuses on the environment it develops for its members because it will help encourage a more efficient and productive company. The organization that focuses on the development of organization culture demonstrates to their stakeholders that they are a very important part of their organization. Once the organization builds their strong culture it will gain momentum by itself, and it will help the members feel valued and allow them to express themselves freely creating excitement and enthusiasm throughout the organization. Momentum can be created when an organization clearly communicates its message to their stakeholders. It must identify the why it is making the change, why it needs the change, and what is wrong with the current process that requires the change. The communication relayed to the members should be able to paint a picture what they are moving from and what the end goal change will be. The organization must create an environment of trust, transparency, and honesty. Staying purpose-driven through effective leadership communication which will help the members stay involved and help keep the members momentum.
References
 Arijit Banerjee. (2019). Effects Of Organizational Culture. Organizationalculture101.com. http://www.organizationalculture101.com/effects-of-organizational-culture.html
Importance of Communication in an Organization. (2019). Managementstudyguide.com. https://www.managementstudyguide.com/importance-of-communication.htm
The most important strategy – Culture trumps strategy. (2015, March 2). Torben Rick. https://www.torbenrick.eu/blog/strategy/the-most-important-strategy/
In my experience as someone who has assisted in planning strategies for significant scale changes within two different police agencies, I found that solid company culture and transparent communication are vital components to success. One example involved leading a team to develop new ways to be more effective in evidence collection, searching techniques, and other areas associated with searching a home after a search warrant has been executed. Initially, the team was very skeptical about the change. Still, as you stated in your discussion, I openly discussed the "Why" we are changing, which improved the confidence of even the critic and most skeptical of the group.
An article titled "Riding the Wave of Change Why developing a Culture of innovation and agility is essential to success" (2021) confirmed your points of clear communication, empowered and engaged employees. Still, it made another solid point in line with transparent communication I had not thought of, and that included, sometimes change has to happen right away, and there is no time to run things through a committee for strategic processing (Silver, 2021).
Reference
Silver, J. (2021, September 1). Riding the Wave of Change: Why developing a culture of innovation and agility is essential to success. Broadcasting & Cable, 151(9).
Thank you for sharing your post with us. I agree that there are many strategies an organization can use when it comes to implementing change. I also believe it depends on the change that is being implemented. To have the right strategy, the organization needs to determine its vision, and what its goal is. I have been a part of many changes in organizations. You see a lot of changes when you work in a call center environment. Being a part of the change is very rewarding. The last organization I was at did not have a recruiting and interviewing team. The process was all supervisors in the department's new hires were being hired for would have a designated interview window, and that is when they would interview. When the change was implemented, I was so excited to be a part of the change. They implemented a recruiting and interviewing team. This team would interview once a week for eight hours. Now, I did not interview for eight hours straight. I would stager interviews with my peers. There were 10 of us on the team. The change we saw was very positive. Our turnover rate improved, and we were seeing a change in the candidates. The data was sent to other sites, and they also began implementing this. It was so rewarding and so positive. We were able to do this because of collaboration and communication. You touched on communication, trust, and creating a balanced environment, which is exactly what this team did. How would you handle working on a change team and being that representative for the organization?
When looking at two different strategies of change that increase the momentum for successful change could include utilizing the most vocal critic. Still, the process should center around the people most affected by the upcoming change (BISOUX, 2015). Leadership viewing the change process from a transformational perspective (van der Voet, J., 2014).
When thinking of transformational leadership, the employers' mindset and readiness for change are significant parts of successful cage processes (van der Voet, J. 2014). Focusing on the people most affected by the change increases the stakeholders' support because the workers will develop the necessary buy-in to succeed. Without this buy-in, the process can get stalled at many turns by angry workers who represent the company and other key stakeholders, which creates a negative environment without the proper understanding (BISOUX, 2015).
Reference
BISOUX, T. (2015). Navigating Change. BizEd, 14(1), 20–24.
van der Voet, J. (2014). The effectiveness and specificity of change management in a public organization:
Transformational leadership and a bureaucratic organizational structure. European Management
Journal, 32(3), 373–382. https://doi-org.lopes.idm.oclc.org/10.1016/j.emj.2013.10.001