Impact of Nursing Theory Upon Healthcare Organization
Impact of Nursing Theory Upon Healthcare Organization
Discuss how a specific middle-range nursing theory has been or could be applied by nurse leaders or nurse managers to effectively deal with an administrative issue (i.e., staffing, use of supplies, staff performance issues). Include an example from the literature or your own experience to illustrate your points.
Dr. Imogene King developed the Goal Attainment Theory to explain the interpersonal relationship systems in which people develop and progress through life to achieve personal life goals (Schub, 2016). King's Theory of Goal Attainment is a dynamic notion that nursing interactions lead to actions that result in accomplishing a goal (Schub, 2016). According to King, goal attainment fosters successful nursing care as well as growth and development (Schub, 2016).
King's Theory of Goal Attainment is used as a framework for nurse leadership and the director of nursing position. King's theory is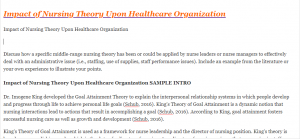 based on accomplishing goals, which is the duty of a director of nursing. As a director of nursing an issue that may arrive is staff performance issues. This could be due to many factors for nurses. Long hours and high acuity patients lead to unhappy nurses. They feel over worked and underappreciated. As a director of nursing, it is imperative to be aware of these issues and find ways to address them to improve nurse satisfaction and performance. King's Theory of Goal Attainment is a method that directors of nursing can use to address these issues……
Impact of Nursing Theory Upon Healthcare Organization – SAMPLE RESPONSE
I enjoyed reading your post about Dr. Imogene King's theory of Goal Attainment and how it is used by nursing leadership and administration to deal with staff performance issues. In a way I find that it goes hand in hand with the theory that I selected which was Patricia Benner's model of skill acquisition in nursing. Benner's model focuses on the different stages of a nurses skill development and the roles that we take on. The nurse leader has certain goals that they want met from their employees. A good nurse leader knows that those goals must be in line with the level of skill the employee has aquired. A good nurse leader is not going to set a goal for a nurse to teach a fellow nurse if they have a novice skill level. Leaders then take into account all of the goals that they need to attain for the facility and the skill level of their employees. By keeping those two factors in mind, a good nurse leader can match the right task to the right employee.