HRM 635 Explain the difference between training and development
HRM 635 Explain the difference between training and development
HRM 635 Explain the difference between training and development
Training refers to an education process in which employees get a chance to develop skills, competency and learning as per the post duty requirements. So simply we can say it is a process of increasing knowledge and skills of an employee. Trainings are performed in an aim of improving knowledge and skill that are needed to perform in their existing jobs. That is why it is short time/term focused, and for a fixed duration. Mainly it is the result of initiatives, taken by management and it is a result outside motivation. Development refers to an informative process which mainly helps in understanding about the overall growth and improvement of the skills of the employee. So simply we can say it is a process of learning and growth. Developments are performed in an aim of improving knowledge and skill to face future challenges. That is why it is long time/term focused, which takes place throughout the life of a person. Mainly it is the result of initiatives, taken by self and it is a result of self-motivation. Trainings are performed in an aim of improving knowledge and skill that are needed to perform in their existing jobs. Developments are performed in an aim of improving knowledge and skill to face future challenges.
Importance of Training and Development:
– It improves productivity when employees stay current with new procedures and technologies.
– Training and development reduce micromanagement as when workers feel empowered to perform a task, they typically require less oversight and work more independently.
– Organizations can grow well trained and innovative potential leaders through development and training bringing in future leaders.
– Training and development are proven to increase job satisfaction and retention, as Well-trained employees gain confidence in their abilities, leading to greater job satisfaction and a reduction in absenteeism.
– Training and development can help your company attract highly skilled employees for new positions by becoming a suitable career option through this.
– Well-organized training ensures tasks are performed uniformly, resulting in tight quality control that end users can trust, and increasing overall performance consistency.
Both training and development are required to work hand in hand, for providing the right skills and knowledge to employees, and help them get the most of both; choosing both organizations benefit as well as their own progression. When an organization looks at employees' overall growth, apart from the job-related training, it also helps in building a more efficient, motivated and productive workforce. The organizational practices must therefore be understood by employees, based on hard, and objective data. I believe it is essential to maintain an approach in which equal pay is given for equal work. Therefore, there is a clear connection between training and performance management. Training can help improve performance management in the workplace. Training gives employees a framework of how their job duties and tasks should be completed, and, most importantly, what their managers are looking for. So, the goals of training and development are: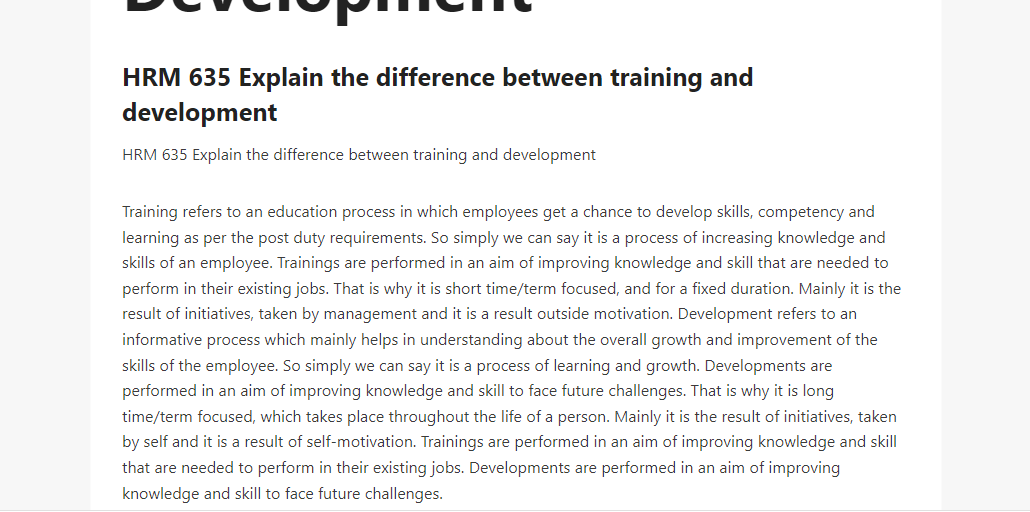 Improve efficiency
Improve team morale
Improve human relations
Reduce supervisory needs
 Improve organizational flexibility and viability
The main purpose of training is to produce a positive change in the functioning of an organization. As applied to the individual, it amounts to an upgrade to that person's knowledge or skills. As it applies to a team, training incorporates organizational and communication elements that can multiply your team's productivity dramatically. When a performance management system is used for development, the appraisal information is used to guide the training, job experiences, mentoring and other developmental activities that employees will engage in to develop their capabilities. Gyrus LMS is a catalyst to narrow down the gap between the understanding of development and training compared to its implementation. It focuses on providing a learning experience that enables the development and improvement of employees, based on the industry requirements. Long term growth and future goals can only be achieved, if proper investment and implementations are made. Conversely, (Armstrong, 2015 and Lawler, 2003) noted that, Performance management system effectiveness (PMSE) is the measure of alignment between employee and organizational objectives. And also, they found certain design factors responsible for PMSE, for example, ongoing feedback, use of behavior-based measures, preset goals, trained raters, and equitable rewards. Having seen all the strategies that enables an organization, to use all the resources they have to succeed; I would like to see in our organization the following:
What improvements do you recommend to the performance management system in your organization and why?
Possible Outcomes from Effective Performance Management
Clarifying job responsibilities and expectations.
Enhancing individual and group productivity.
Developing employee capabilities to their fullest extent, through effective feedback
and coaching.
Driving behavior to align with the organization's core values, goals and strategy.
Providing a basis for making operational human capital decisions (e.g., pay).
Improving communication between employees and managers. I believe and know that these strategies are solely lacking in my organization, for these reasons, employee retention is a big problem.
References:
Armstrong, M. (2015). Armstrong's handbook of performance management: An evidence-based
Dessler, G. (2016). Human resource management (15th ed.). Pearson.
Gyrus. (2016, May 17). The Difference between Training and Development https://www.gyrus.com/the-difference-between-training-and-development
Lawler, E. E. (2003). Reward practices and performance management system effectiveness. Organizational Dynamics, 32, 396–404. https://ceo.usc.eduguide to delivering high performance (5th ed.). Kogan Page.
Dessler (2017) defines Performance management as the continuous process of identifying, measuring, and developing the performance of individuals and teams and aligning their performance with the organization's goals. (pg.573) Also, performance management has six basic elements as direction sharing, goal alignment, ongoing performance monitoring, ongoing feedback, coaching and development support, and recognition and reward. This is how a performance management system is connected with training and development and compensation strategies. The performance management system in my organization needs many improvements but the most important is that the employees work plan is initiated when the new employee arrives at the department and is revies one year later when the employee is due for his yearly performance appraisal not given the employer the opportunity to work ad focus on his goal during the year.
  Dessler, G. (2017). Human Resource Management. (5th ed.) Pearson.
Training is the process of enhancing knowledge, job-related skills, attitude of an employee within the organization. Organizations may evaluate their current and future employees/candidates to help determine what training is needed to succeed and/or excel within their job skill set/job role. Within training employees there are a variety of steps that are within the process such as orientation, in-house, mentorship, and/or external training (Howell, 2022). Training helps new employee in the learning process which usually occurs within a short-term 3–6-month period and focuses on developing knowledge and skills for their current job role they are going to be working in (Surbhi, 2018). Development is a continuous training process that involves existing employees within top level employees such as the management and/or executive development team. Development ensures that the management and executive team has training specific to help enhance their conceptual theoretical knowledge and in result brings more efficient and effective work performance into the workplace. Development involves a wider training scope focused on career orientation (Surbhi, 2018). Essentially both training and development are essential within organizations performance management systems and are used at different times within the employees hiring/career status.
It is essential for organizations to use training and development plans to help assist and evaluate future goals within the organization over the next few months and/or years. When organizations use performance management system strategies to help assist in determining which employees will be retiring soon and whom may be leaving the organization, it can help aid in the process of planning hiring for training and development needs along with helping employees reach their individual goals and retain employees (MRA, 2022). When organizations review job roles and possible advancements within the organization, it is essential to look at how many years of education the employee has along with their degrees, and years' experience to help gage salary compensation and job advancements.
Having a strong performance management system represents recognition programs, performance appraisals, outstanding communication, and adequate training to help ensure that all departments and/or employees are working well together (MRA, 2022). Performance management helps measure, identify, and develop the continuous performance process within employees that aligns their performance with the organizations goals to help better guide achievements, goals, and improvements within the individual and/or organization (Dessler, 2017). My organization needs to focus and improve employee retention. To complete this task, it is essential to evaluate in performance reviews goals and career endeavors within employees to match individual goals within the organizations and to help drive behaviors and goals within the organizations strategic planning process. Being able to retain employees and advance their career positions will reduce cost to the budge within training and will minimize/reduce the orientation process and will help the development within the organization. Providing adequate communication between team members and the organization will help ensure understanding and knowledge gained within feedback, conflict management, and concerns could all potentially affect employee retention and can be prevented with the correct strategies and communication in place (Pulakos, 2004).
References
Dessler, G. (2017). Human resource management (15th ed.). Pearson.
Howell, R. (2022). All 5 types of training in human resources management (HRM). https://sguru.org/hrm-all-5-training-types/
MRA. (2022). Build the right training and development plan. https://www.mranet.org/resource/build-right-training-and-development-plan
Pulakos, E.D. (2004). Performance management. https://www.shrm.org/hr-today/trends-and-forecasting/special-reports-and-expert-views/Documents/Performance-Management.pdf Surbhi, S. (2018). Difference between training and development. https://keydifferences.com/difference-between-training-and-development.html
My organizations human resource (HR) department has changed their process of the delivery of performance evaluation reviews throughout our organization that used to require online multiple questions for the individual to fill out about themselves to now a short four question survey incorporating the individual's feedback on themselves along with how they feel about the organization in terms of support, helping to achieve goals and objective outcomes. Along with this change my director has started to check in with me every two-three months to see how the education process has been going, address any barriers and/or challenges that have occurred, and asks if she can be of any further assistance and/or support within my workload at that current time. Performance management is a process that is continuous and provides positive outcomes within both employees and the organization (Dessler, 2017).
As stated in the article from Crandell (2017), having annual performance reviews can have a negative reflection upon the employee due to anxiety, fear, changes leading up to the review which can affect many factors within the organization such as retention, trust, and communication. When organizations strive to help employees succeed with meeting their future goals and objectives and check in with their employees periodically within the year, it helps retain employees, increases employee's performance, and reduce burnout rates (Crandell, 2017). It is important the HR departments help guide the outline standards for performance reviews to the organizations leadership team to help the process change be rolled out smoothly with all leadership being on the same page and understanding the importance of going away from one annual evaluation a year and instead more casual check-ins and guidance toward employees. Ultimately the leadership team will be the ones communicating with employees throughout the year to help aim at the employees' goals and objectives to help them meet and/or succeed their goals, objectives, and expectations. When employees feel as though they are part of the team and are valued it reflects positively within the organization.
References
Crandell, C. (2017). How employee annual performance reviews can make or break customer experience. https://www.forbes.com/sites/christinecrandell/2017/10/14/how-employee-annual-performance-reviews-can-make-or-break-customer-experience/?sh=e5e4b4131761
Dessler, G. (2017). Human resource management (15th ed.). Pearson.