HLT 362 Discuss ways your organization uses technology to gather patient and health care information
HLT 362 Discuss ways your organization uses technology to gather patient and health care information
HLT 362 Discuss ways your organization uses technology to gather patient and health care information
Technology plays an integral role in all aspects of our lives and has attributed to monumental innovations in health care and delivery systems (Bayramzadeh & Aghaei, 2021). Through the use of electronic health records and registration systems, almost every aspect of a patient's visit to a healthcare facility is tracked and documented in an electronic record including demographics, past visits, preferred pharmacy, previous prescriptions, diagnostic lab values, procedure records, and physician and nursing notes. This information is collected and analyzed for a wide variety of applications aimed at improving health care systems and outcomes. One way this data impacts patient care is by identifying and addressing gaps and shortcomings in current practices. For example, hospital readmissions are a costly challenge faced by healthcare facilities nationwide. Utilizing machine learning models to analyze patient data to predict and identify patients who are at higher risk can prevent readmissions (Davis et al., 2022).
My organization, specifically my unit in the emergency department utilizes shared patient data from pharmacies and prescribers that participate in e-prescriptions. By tracking previous prescription medications, the provider has a more accurate perspective on those patients. This includes those that may require prescription refills, those that are on pain contracts and provides a better medication history for those patients that are poor historians. This improves patient care, particularly in the emergency department by providing additional clinical information in situations that we may not be able to otherwise have the resources, including patients that arrive altered or intoxicated with no support system.
References
Bayramzadeh, S., & Aghaei, P. (2021). Technology integration in complex healthcare environments: A systematic literature review. Applied Ergonomics, 92. https://doi-org.lopes.idm.oclc.org/10.1016/j.apergo.2020.103351
Davis, S., Zhang, J., Lee, I., Rezaei, M., Greiner, R., McAlister, F. A., & Padwal, R. (2022). Effective hospital readmission prediction models using machine-learned features. BMC Health Services Research, 22(1), 1–10. https://doi-org.lopes.idm.oclc.org/10.1186/s12913-022-08748-y
Digital innovations have transformed the healthcare system radically. In the delivery of healthcare, information technology plays a growing role and helps to address health problems and challenges facing clinicians and other health professionals in practice (Campanella et al., 2018). In the United States, electronic health reports (EHRs) are commonly used to track and collect medical information. An electronic health record refers to a comprehensive electronic collection of health records from patients, such as medical histories, prescription instructions, test findings, medical procedures, vital signs, data on radiology, and notes from physicians and nurses. EHRs also allow healthcare professionals to make sound clinical decisions as EHRs also provide decision support systems (DSS) that include up-to-date medical information, notifications, and other actions (Campanella et al 2018).
My organization uses technologies to gather or view patient information among patient care teams and to keep patient information unavailable to unauthorized users in others to secure patient information in compliance with HIPAA regulations. Evidence suggests that EHRs can enhance patient quality, increase time productivity, improve compliance with guidelines, and decrease medication errors and adverse drug events. It also minimizes costs associated with treatment mistakes, adverse medication events and time inefficiency. Considerable reduction in costs occurs when the quality of health care is increased and patient risk is minimized. Adherence to healthcare practitioners' guidelines has a significant effect on the use of healthcare services and costs as DSS assists physicians in clinical decision-making. It eliminates medication errors , adverse drug events, and the wasting of money. The use of suitable information technology in the delivery of healthcare improves hospital efficiency as the benefits exceed operational costs.
Reference
Campanella, P., Lovato, E., Marone, C., Fallacara, L., Mancuso, A., Ricciardi, W., & Specchia, M. L. (2018). The impact of electronic health records on healthcare quality: a systematic review and meta-analysis. The European Journal of Public Health, 26(1), 60–64. https://doi.org/10.1093/eurpub/ckv122
Since the dawn of medicine, physicians have tried to make informed decisions with a very limited set of tools and a growing amount of experience that could be transmitted to the next generation. Even in the case of the first stethoscope, a hollow wooden tube introduced by Dr. Laennec in France in the early 19th century , it took decades to spread the idea of improving care with an innovation. Since then, healthcare has become dependent on technologies but neither the medical curriculum nor the policies and guidelines behind care reflected upon this development.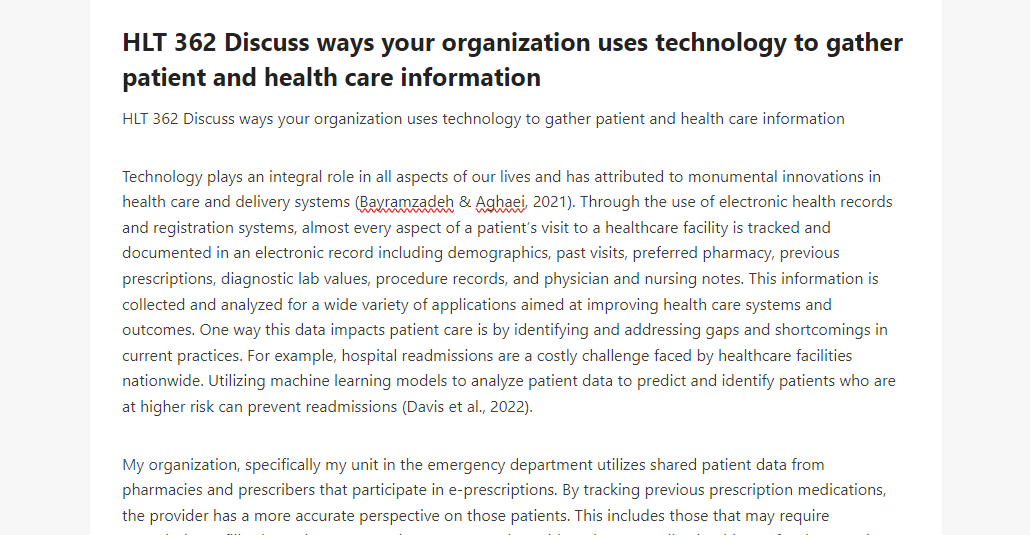 By the 2010s, the digitalization of healthcare became inevitable, the amount of medical knowledge continued to grow rapidly; and patients started to become empowered while stakeholders were not prepared . Physicians burn out easily under the burden of bearing with all the responsibility ; patients become frustrated by looking for solutions in a mess of information and decision makers hesitate to change the system.
Digital health has made a range of technologies from genome sequencing to smartphone connected ECG readily available , although it also carries the risk of dehumanizing care. The authors of this paper argue that the use of technology only leads to better health outcomes if the related cultural challenges are acknowledged and the new needs of patients are met. This way, disruptive innovations such as deep learning algorithms, virtual reality (VR), or health sensors could contribute to value-based healthcare, and help make human skills from clinical judgement and experience to creative problem-solving determine the success of intervention and the doctor-patient relationship. As digital health makes patients the point-of-care, a new status quo and new roles for both patients and caregivers are approaching.
References
1. Cheng TO. How Laënnec invented the stethoscope. Int J Cardiol 2007;118:281-5. 10.1016/j.ijcard.2006.06.067 [PubMed] [CrossRef] [Google Scholar]
2. Topol E. The Creative Destruction of Medicine: How the Digital Revolution Will Create Better Health Care. Basic Books, 2013. [Google Scholar]
Technology plays a monumental role in modern healthcare and there are many ways that technology is used to gather patient and health care information. The main way my facility does this is by utilizing Electronic Health Records (EHRs). An HER is a digital record of a person's health and medical history and treatment plan. It allows providers to access a patient's information quicky, thus improving patient safety and satisfaction. These digital data sources are also shared among providers so there can be continuum of care among various disciplines, which improves coordination and communication. My facility uses Epic to document with and it is an excellent resource that we use to trend data and stay current on all things happening, especially with our complex patients.
My facility and other sister hospitals of the same company also use patient portals. These are secure online platforms that allow patients to access test results, labs, and other information from all encounters. These portals allow patients to improve their health literacy, decision making, treatment adherence, and preventative care (Han et. al, 2019). Portals such as these help patients to be involved in their care and take an active role in managing their care. They can also be used to provide valuable up to date information about a person's health and medical history as it changes.
Telemedicine is also a relatively new idea that my facility has incorporated. Most of our specialty physicians are in house, but for now we utilize telemedicine for consults with a neurologist. Our charge nurse handles a video conferencing device that the neurologists use to have a virtual meeting with the patient. Outside of the hospital, patients can also video conference with their healthcare team, and this is especially useful for those who live in remote areas or have mobility issues. The covid-19 pandemic was the take-off point for this concept, although it was used prior. Telemedicine can also break the barrier of care such as cost, distance, and time (HRS Marketing, 2023).
References
Han, H.-R., Gleason, K. T., Sun, C.-A., Miller, H. N., Kang, S. J., Chow, S., Anderson, R., Nagy, P., & Bauer, T. (2019, December 19). Using patient portals to improve patient outcomes: Systematic review. JMIR human factors. https://www.ncbi.nlm.nih.gov/pmc/articles/PMC6940868/#:~:text=Patient%20portal%20interventions%20lead%20to,adherence%2C%20and%20preventive%20service%20use.
Marketing, H. R. S. (2023, January 25). 5 ways to improve patient outcomes with Telehealth. HRS. https://www.healthrecoverysolutions.com/blog/5-ways-to-improve-patient-outcomes-with-telehealth#:~:text=Telehealth%20can%20enhance%20your%20current,could%20make%20a%20significant%20difference.
My organization uses technology such as the electronic health record (EHR) and EMAR to gather patient data and healthcare information. "eMAR, defined as the use of electronic medication administration record, offers time-saving solutions while adhering to the stringent requirements of medication administration" (InSync Healthcare Solutions, 2022). This allows my hospital to collect patient demographics and it helps facilitate the process of distributing, tracking and ordering medications and treatments safely and efficiently for patients. Some of the information and data direct patient care by helping improve communication between the healthcare provider and the pharmacy, allowing real-time documentation and viewing of current medications while simplifying the refill process, creating high accuracy and efficiency with medication delivery, gathering and presenting patient health data in a timelier, more efficient manner, decreasing medication error, simplifying the entire process and allowing providers to give more personal care to their patients (InSync Healthcare Solutions, 2022). The electronic health record is an excellent technology we use that replaced paper charting. This technology allows hospital staff to chart in real time and gather patient and health care information. The EHR allows access to evidence-based tools that providers can use to make decisions about a patient's care and drives good patient outcomes (What is an electronic health record (EHR)? What is an electronic health record (EHR)? | HealthIT.gov, 2019).
Reference
InSync Healthcare Solutions. (2022, August 1). What is Emar?: Insync Healthcare Solutions. What is eMAR? | InSync Healthcare Solutions. Retrieved March 1, 2023, from https://www.insynchcs.com/blog/emar
What is an electronic health record (EHR)? What is an electronic health record (EHR)? | HealthIT.gov. (2019, September 10). Retrieved March 1, 2023, from https://www.healthit.gov/faq/what-electronic-health-record-ehr
Health technology is defined by the World Health Organization as the application of organized knowledge and skills in the form of devices, medicines, vaccines, procedures, and systems developed to solve a health problem and improve quality of lives (Donaldson & Lohr 2019). Health information technology presents numerous opportunities for improving and transforming healthcare which includes reducing human errors, improving clinical outcomes, facilitating care coordination, improving practice efficiencies, and tracking data over time (Kowalski, 2020). By implementing self-service solutions like appointment self-scheduling, mobile check-in, and flexible payment options, healthcare organizations can be more efficient, save staff time, and deliver more comprehensive, high-quality care.
There is a variety of healthcare data collection methods, from questionnaires and observations to examining documents. Today, the information is mostly gathered with the help of digital channels and numerous applications available in the market (Classen et al, 2020).
The advantages of health information technology (IT) include facilitating communication between health care providers; improving medication safety, tracking, and reporting; and promoting quality of care through optimized access to and adherence to guidelines (Kowalski, 2020).
The 5 common technological devices used that promotes safe and effective patient care include:
· Automated IV Pumps. Automated IV pumps control the dosages and drips given to patients.
· Portable Monitors. The cardiac nurse can monitor patient heart rate remotely.
· Smart Beds. Serve as safety measure for patients at fall risk.
· Wearable Devices. Can monitor for any sudden change in patients' level of consciousness.
· Electronic Health Records. Other health care officers can access patients' health records for treatment purposes.
· Telehealth and Apps. Patient can easily access their medical records in the patient's portal, and RN can easily coordinate patient's care among different health personnel.
The use of technology and information management is so important in healthcare today because it helps to reduce errors, prevent adverse drug reactions, protect patient privacy, and improve overall care (Kowalski, 2020). Also, it increases speed of data analysis and diagnosis while reducing the number of unnecessary tests and procedures (and their associated costs) by sharing and showing past results from other healthcare organizations—thus saving time and energy for both the patient and the provider.
Technology is used to improve patient engagement in their health include Telehealth which can connect patients to providers in areas that experience a shortage of physicians or a lack of specialists (Classen et al, 2020). It also allows clinicians to provide education when patients need it most, empowering patients with the information they need to make informed choices. The electronic health record streamlines patient data across various doctors and healthcare providers, outside of a practice.
Medical technologies are very beneficial to nursing informatics too. It enhances patient outcomes through providing training to clinical staff by using data to identify endemic issues in a healthcare organization and consult on the best way to resolve these problems (Classen et al, 2020).
References:
Classen, D. C., Holmgren, A. J., Co, Z., Newmark, L. P., Seger, D., Danforth, M., & Bates, D. W. (2020). National trends in the safety performance of Electronic Health Record Systems from 2009 to 2018. JAMA network open. https://www.ncbi.nlm.nih.gov/pmc/articles/PMC7260621/
Donaldson, M. S., & Lohr, K. N. (2019). Health Databases and Health Database Organizations: Uses, Benefits, and Concerns. Nih.gov; National Academies Press (US). https://www.ncbi.nlm.nih.gov/books/NBK236556/
Kowalski, K. (2020). Electronic Health Records (EHRs): Benefits, Challenges, and Solutions. Retrieved from https://www.verywellhealth.com/benefits-and-challenges-of-ehrs-1738983