HLT 306 Stages of Life Essay and Interview
HLT 306 Stages of Life Essay and Interview
HLT 306 Stages of Life Essay and Interview
Stages-of-Life and The Influence of Age on Health Care
Birth, childhood, adolescence, and adulthood are the different stages of life, and death marks the conclusion of existence. People interact with the healthcare system as they move from one level to the next to meet their various health demands. In this series, people encounter care in varying ways. For instance, people interact with the healthcare system more than they did when they were younger as they age because they are more susceptible to a variety of health disorders. This paper, therefore, gives an account of stages of life and the influence of age in health care based on the patient's perspective. I will interview a 75year old male relative to share his experiences with the health care system.
Human life begins at birth after the first respiration outside the mother's womb. Infants and children depend on their parents for growth, protection, and adequate milestone achievement. Adolescence is characterized by significant physical and psychological development. However, at this age, young teenagers still need the help of their guardians and parents to make informed decisions in their interactions with a healthcare system. Adulthood commences at 18 years of age; healthcare demands increase with age. After age 65, the body's systems and organs begin to slow down, and the immune system deteriorates, which is why people in this age group make up most of those in need of healthcare services (Silva et al., 2021). Patients have diverse perspectives on healthcare; in particular, as they age, they start to worry about how the treatment is provided. While young adults could be preoccupied with how care is provided, children might not be able to reflect on or share their experiences. However, older people have more time to think, and these claims emphasize how age affects healthcare.
I interviewed my 75year old relative suffering from chronic complications of diabetes mellitus on his experience with health care. As pointed out in the interview below, he consented to share his healthcare experiences. The discussion utilized open-ended questions that had been composed beforehand.
Me: Please accept my warm welcome and gratitude for taking the time to respond to a few of my inquiries about your interactions with the healthcare system.
Relative: Thank you for allowing me the chance to share with you. You're welcome.
Me: Do you think your life stage has impacted your engagement with medical professionals?
Relative: Certainly. I've come to understand that nurses have a greater affinity for the elderly and work to provide individualized care over time. I believe that because of my advanced age, I was given extreme care during my most recent hospital stay.
Me: During the most recent hospitalization, was your family around you?
Relative: Yes, we have always supported one another as a family. The family members took their time to visit me frequently.
Me: Was your family informed about your medical care, including post-treatment instructions?
Relative: Without a doubt, my family had to be consulted before critical health-related decisions were made. I believe care today is more patient-centered than it was a decade ago.
Me: Which departments in the hospital or clinic cared the most about your health and emotions?
Relative: The medical and psychology departments played a crucial role in my recovery. I had enough care in the ward, and the staff was pleasant.
Me: I appreciate your time and your insightful comments.
This conversation makes it quite evident that individuals' interactions with the healthcare system are influenced by their age. These relationships ultimately aim to direct the patient toward health, wellness, and comfort (Oliveros et al., 2019). It has been demonstrated that doctors who are good communicators increase patient happiness, therapy compliance, and the possibility of malpractice lawsuits.
References
Oliveros, E., Brailovsky, Y., & Shah, K. S. (2019). Communication skills: The art of hearing what is not said. JACC. Case Reports, 1(3), 446–449. https://doi.org/10.1016/j.jaccas.2019.09.003
Silva, A. F., Cancela, J. M., Mollinedo, I., Camões, M., & Bezerra, P. (2021). The relationship between health perception and health predictors among the elderly across European countries. International Journal of Environmental Research and Public Health, 18(8), 4053. https://doi.org/10.3390/ijerph18084053
Normal human growth and development go through several stages. These stages are usually a consequence of turning points and new decisions. The chief stages of life include infancy, toddler, childhood adolescence, and adulthood (Orenstein & Lewis, 2021). Adulthood can be divided further into young, middle, and older adulthood. Each phase is relevant to an individual's health. For instance, each of these principal stages has its unique healthcare needs. Consequently, understanding these stages ensures improved health outcomes as the interventions and prevention strategies are directed toward these needs. This paper will explore the interaction of various stages of the life cycle with healthcare professionals, healthcare regions, and families.
Do you feel that your stage of life had any effect on your interaction with health care professionals?
The client interviewed was Mr. Kim 70-year-old African American male with hypertension diagnosed 20 years ago. The patient has since had several appointments making him a regular client. The patient realized that with each stage of his life, his interaction with healthcare professionals varied significantly. For instance, he noted changes in attitudes both from him and the healthcare staff with each stage. During middle adulthood when the diagnosis was made, he was reluctant to accept it and his communication with the healthcare staff was poor (Madula et al., 2018). However, when he finally accepted the diagnosis and during the late adulthood stage, his communication with the providers improved. He was also able to elaborately comprehend his condition. The aims of care also differed significantly with every life phase. For instance, he noted that at the current stage, his therapeutic goals are aimed toward healthy aging. Finally, his financial capabilities were constantly changing throughout his life stages which determined which treatments he could afford.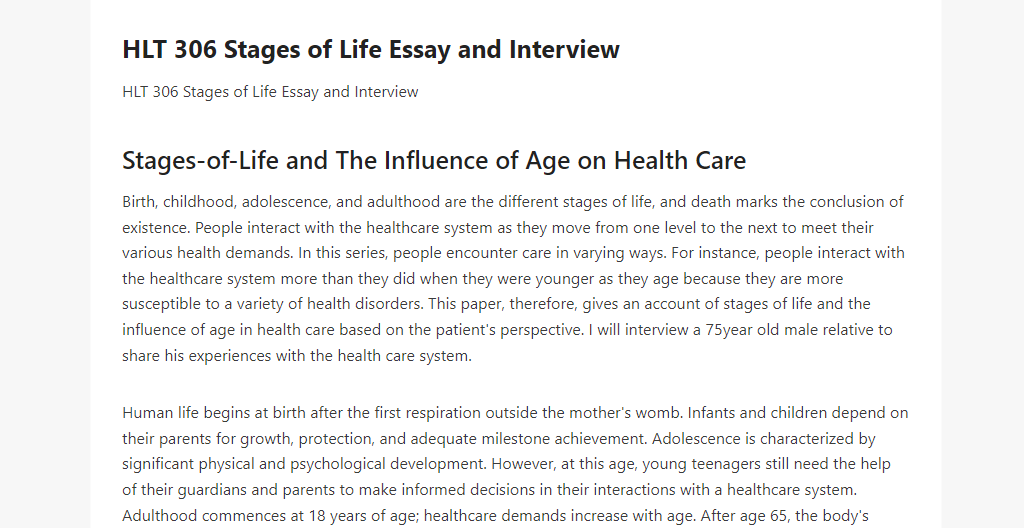 Which areas of the hospital or clinic were most concerned with your well-being and feelings?
According to Mr. Kim, two areas of the clinic were significantly concerned with his well-being and feelings. These included the reception and the specialist room. Mr. Kim appreciates the nurses at the reception for knowing their task. They knew his condition and warmly welcomed him. They talked to him empathically and nicely and had him relax for some time before taking his blood pressure measurements (Setyawan et al., 2020). Finally, they always thanked and encouraged him. Similarly, the specialist was very supportive. She encouraged Mr. Kim to accept the diagnosis that he had initially denied. She had also established a good rapport, was open to ideas, and gave Mr. Kim ample time to express himself and share his concerns (Setyawan et al., 2020). Mr. Kim even reports that the specialist would call him to determine if he was doing well.
Was your family with you during this hospital stay or outpatient visit?
The client admitted that his family was extensively supportive during hospital stays and visits. He relied on them while making healthcare decisions. Whenever he was admitted due to a hypertensive crisis, the family constantly visited him and even prayed for him. Additionally, he received encouragement and financial support from several members of his family. During the regular follow-up visits at the outpatient department, he was always accompanied by his daughter who helped him navigate from department to department.
Was your family included in your treatment, such as post-procedure instructions?
Mr. Kim cannot deny the fact that his family was hugely involved in his healthcare. For instance, his diagnosis was extensively discussed with his family, something that led to the development of a written plan that has always ensured his health needs are achieved in the best possible way (Barnes et al., 2020). Similarly, the family was enlightened on numerous aspects of the condition including its risks and prevention strategies (Barnes et al., 2020). Finally, his family is sought before any diagnostic tests are done. The outcomes of the tests are further shared with the family.
Conclusion
Patient experiences greatly vary across the various stages of the human life cycle. The patients are more satisfied when the healthcare providers are concerned with their emotions, feelings, and well-being. A patient family forms a critical component of patient care. They should always be involved in the process of healthcare delivery including healthcare decision-making.
References
Barnes, M. D., Hanson, C. L., Novilla, L. B., Magnusson, B. M., Crandall, A. C., & Bradford, G. (2020). Family-centered health promotion: Perspectives for engaging families and achieving better health outcomes. Inquiry: A Journal of Medical Care Organization, Provision and Financing, 57, 46958020923537. https://doi.org/10.1177/0046958020923537
Madula, P., Kalembo, F. W., Yu, H., & Kaminga, A. C. (2018). Healthcare provider-patient communication: a qualitative study of women's perceptions during childbirth. Reproductive Health, 15(1), 135. https://doi.org/10.1186/s12978-018-0580-x
Orenstein, G. A., & Lewis, L. (2021). Eriksons Stages of Psychosocial Development. In StatPearls [Internet]. StatPearls Publishing. https://www.ncbi.nlm.nih.gov/books/NBK556096/
Setyawan, F. E. B., Supriyanto, S., Ernawaty, E., & Lestari, R. (2020). Understanding patient satisfaction and loyalty in public and private primary health care. Journal of Public Health Research, 9(2), 1823. https://doi.org/10.4081/jphr.2020.1823