HLT 306 Older Adults Patient Education Issues Essay and Interview
HLT 306 Older Adults Patient Education Issues Essay and Interview
HLT 306 Older Adults Patient Education Issues Essay and Interview
Patient education is a process that entails influencing patient behavior and fostering changes in the patient's knowledge, skills, and attitude vital to improving and maintaining health. Unhealthy lifestyles have been linked with chronic illnesses, which are the leading causes of mortality in the US. Thus, patient education is crucial to foster behavior change and improve lifestyle practices to lower the risk of these illnesses (Bhattad & Pacifico, 2022). Furthermore, providing patients with comprehensive and up-to-date health information creates trust, fosters the clinician-patient relationship, and empowers individuals to participate in their health care (Fereidouni et al., 2019). The purpose of this paper is to discuss the influence of patient education in health care with regard to the experiences of a family member.
Patient's Health Situation
Mr. R is a 78-year-old AA male diagnosed with Type 2 diabetes at 74 years and hypertension at 75 years. He has been overweight since his 40s. He also used to take beer 3-4 beers 4-5 times a week and smoke cigarettes 2PPD. His obesity was highly attributed to living a sedentary lifestyle since he rarely exercised and consumed a high-caloric diet with frequent intake of fast foods.
Summary of Patient Interview
Question: Did a health care professional, pharmacist, nurse, doctor, or elder counselor advise you on your medication, diet, or exercise?
Mr. R reported that when he was diagnosed with Type 2 diabetes, the clinician asked him about his lifestyle practices, including his drinking and smoking habits, exercise patterns, and dietary habits. The clinician advised him to limit alcohol and smoking, eat healthy, and be more active. However, the clinician did not go into detail on how to eat healthy or how to be active. Afterward, he started going to the gym but got demotivated since he did not understand the right exercises for his age. Besides, he would get a lot of muscle soreness when he lifted weights, which made him quit after a month. He tried to quit smoking, but it was impossible because he would get anxious and psychologically distressed. After 12 months, his glycemic levels were high despite adhering to medication, and he had high blood pressure. He was referred to an endocrinologist who identified the knowledge gap.
            The endocrinologist educated him about diabetes, including the factors contributing to the disease, like obesity, heavy alcohol consumption, smoking, and a sedentary lifestyle. He was educated on how alcohol and smoking worsen diabetes and cause complications like hypertension, neuropathy, and foot ulcers. The endocrinologist advised him to limit alcohol intake and smoking gradually. In addition, he was referred to a counselor, where he was introduced to group therapy with other patients with nicotine addiction. He was also referred to a personal trainer who helped him to create a personalized exercise plan that matched his age, health condition, and physical abilities. Furthermore, the endocrinologist educated him on foot care and self-glucose monitoring. A nurse trained him to measure his blood glucose and blood pressure at home and interpret the findings.
Mr. R was also referred to a clinical nutritionist who educated him on the importance of a healthy diet in preventing the progression of hypertension and diabetes. The nutritionist collaborated with Mr. R in developing a meal plan based on the DASH diet. He was asked about the locally available foods, and the information was used to create the meal plan. In addition, the patient was given pamphlets to read at home, which helped him further understand diabetes and hypertension and how to manage them. Mr. R mentions that the health education he was given has been crucial in improving his health. For instance, the DASH diet and exercise plan have significantly helped to maintain optimal blood pressure and glycemic levels. They have also helped in weight loss, and he has so far lost 53 pounds. He was also provided resources to get more information on managing his condition, which he has referred to his friends with diabetes and hypertension.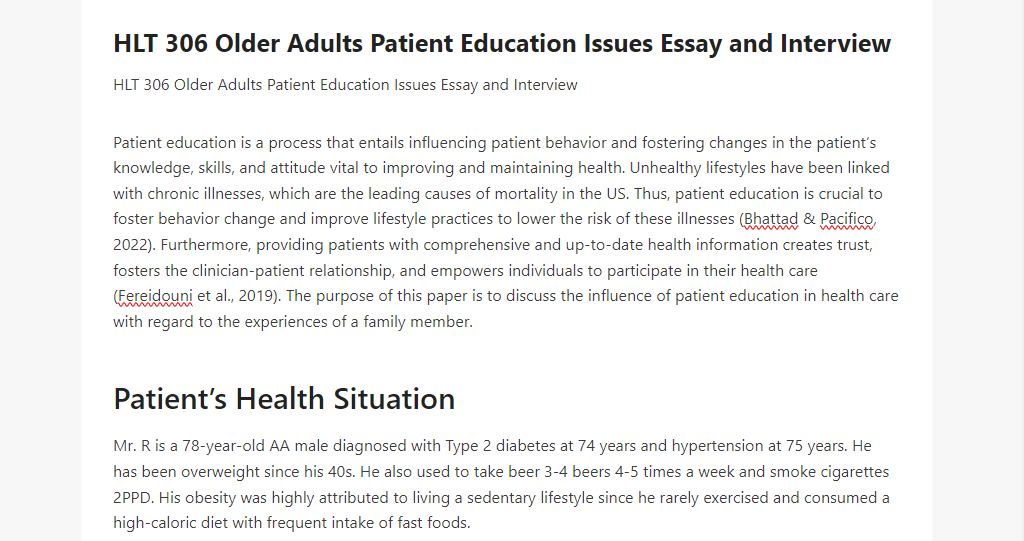 Conclusion
Patient education is crucial in helping patients manage their health, significantly improving their health outcomes. Teaching patients about lifestyle modification should be part of the treatment plan. In the case of Mr. R, comprehensive and detailed patient education helped him to modify his lifestyle, which has improved his health outcomes and motivated him to engage in his care.

References
Bhattad, P. B., & Pacifico, L. (2022). Empowering Patients: Promoting Patient Education and Health Literacy. Cureus, 14(7), e27336. https://doi.org/10.7759/cureus.27336
Fereidouni, Z., Sabet Sarvestani, R., Hariri, G., Kuhpaye, S. A., Amirkhani, M., & Kalyani, M. N. (2019). Moving Into Action: The Master Key to Patient Education. The journal of nursing research: JNR, 27(1), 1–8. https://doi.org/10.1097/jnr.0000000000000280
Patients look forward to health care professionals for medical advice, treatment, and emotional support, among other elements that promote healing. Since patient-provider interaction impacts health immensely, health care professionals should understand its essential components and implement them appropriately. In any setting, the value of patient education cannot be overlooked. Generally, patients' decision-making depends on their knowledge of health and illness, communication with care providers, and the support they receive during and after visiting a health care facility. Close interactions with patients can help health care professionals to comprehend patients' experiences and how to model care to optimize health outcomes. The purpose of this paper is to discuss the influence of patient education in health care using a patient's experience.
Patient Education in Health Care
During routine patient interactions, health care providers are advised to be compassionate and spend appropriate time with patients. Besides general diagnosis and treatment, health care professionals should explore barriers to care, patients' home experiences, and other factors for a holistic care process. Understanding such factors ensures patient education, medication, and essential supports are patient-centered. It further ensures health care is tailored to respond to the patient's immediate needs and factors the home environment's features.
Health care professionals should improve patients' knowledge, solve health problems, and build trusting, respectful relationships with patients and their families. Expectedly, older adults struggle with self-care due to the high prevalence of cognitive impairment and inevitable decline in physical strength (Mayo et al., 2021). Their decision-making is also poor due to progressive memory loss and a decline in health literacy. As a result, patient education for older adults should help them to understand and adhere to complex health instructions and engage in self-care (Manias et al., 2019). Engaging the family is also crucial to improve understanding of health and the care process and ensures health advice is followed.
Interview
The interview below highlights the experiences of a 68-year female friend with hypertension who recently underwent abdominal surgery. The interview focuses on the potential benefits of patient education, assistance, and the ability to utilize knowledge for better health outcomes.
Me: did a patient education representative instruct you on self-care after abdominal surgery?
Her: a nurse gave me instructions on when to take medications, sleep, hydration, and how my condition affects my physical and psychological health.
Me: did a health expert advise you on medication, diet, or exercise?
Her: I was adequately advised in this area too. A nurse advised me on dietary measures, allowed exercises and intensity, and the type of medications to avoid.
Me: who assisted you at home after your operation?
Her: I am lucky to have two sons and a daughter around me. They have been instrumental in my recovery and any support I need at home.
Me: do you know of any assistance services that would help you stay home as you get older?
Her: there are several support groups for older adults in my area. Food delivery and private transportation companies are also many and reliable. I also know of different private mental health counselors and physical therapists I can hire for home-based sessions.
Me: do you communicate with any health care professional regularly?
Her: I still talk to my doctor and get ready support.
Me: what extra support do you require at this critical point of your life?
Her: mental health support, entertainment, and close attention are critical at this point.
Observations and Inferences
Care for older adults is more demanding due to their declining health literacy and decision-making ability. Carr and Utz (2020) noted that older adults depend more on family members for support since they struggle with daily living activities. The same applies to the interviewed patient. The presence of a family member is crucial throughout the care process to enhance understanding and compliance with medication and health advice (Manias et al., 2019). Close attention at home should be prioritized since the decline in physicality increases susceptibility to slides and falls. Health care professionals should understand two crucial things regarding patient education for older adults. Firstly, patient-centered communication should be pursued when providing information necessary for self-care support and problem-related decision-making (Kim & Oh, 2020). Secondly, the objective should be to improve adherence and compliance. Problems related to adherence and compliance stem from a lack of knowledge and can be avoided through adequate health education about the disease, self-care, and patient engagement in the care process (Bastani et al., 2021; Punnapurath et al., 2021). Therefore, communication should be continuous, clear, and sensitive to the patient's values and choices.
Conclusion
Patient education helps patients to make accurate health decisions and adhere to health advice. As illustrated in the interview, older patients need close attention and support besides treatment and medical advice. When designing a patient education plan, health care professionals should be aware of the decline in health literacy among older patients. They should respond appropriately by ensuring communication is patient-centered, and interventions are tailored to address patients' individual needs. Health care professionals should also engage family members to enhance compliance and adherence to medication and health advice.
References
Bastani, P., Bikineh, P., Mehralian, G., Sadeghkhani, O., Rezaee, R., Kavosi, Z., & Ravangard, R. (2021). Medication adherence among the elderly: Applying grounded theory approach in a developing country. Journal of Pharmaceutical Policy and Practice, 14(1), 1-8. https://doi.org/10.1186/s40545-021-00340-9
Carr, D., & Utz, R. L. (2020). Families in later life: A decade in review. Journal of Marriage and the Family, 82(1), 346–363. https://doi.org/10.1111/jomf.12609
Kim, M. Y., & Oh, S. (2020). Nurses' perspectives on health education and health literacy of older patients. International Journal of Environmental Research and Public Health, 17(18), 6455. https://doi.org/10.3390/ijerph17186455
Manias, E., Bucknall, T., Hughes, C., Jorm, C., & Woodward-Kron, R. (2019). Family involvement in managing medications of older patients across transitions of care: A systematic review. BMC Geriatrics, 19(1), 1-21. https://doi.org/10.1186/s12877-019-1102-6
Mayo, C. D., Kenny, R., Scarapicchia, V., Ohlhauser, L., Syme, R., & Gawryluk, J. R. (2021). Aging in place: Challenges of older adults with self-reported cognitive decline. Canadian Geriatrics Journal: CGJ, 24(2), 138–143. https://doi.org/10.5770/cgj.24.456
Punnapurath, S., Vijayakumar, P., Platty, P. L., Krishna, S., & Thomas, T. (2021). A study of medication compliance in geriatric patients with chronic illness. Journal of Family Medicine and Primary Care, 10(4), 1644–1648. https://doi.org/10.4103/jfmpc.jfmpc_1302_20