HIM 650 Database Project Proposal – Part 1 Assignment
HIM 650 Database Project Proposal – Part 1 Assignment
HIM 650 Database Project Proposal – Part 1 Assignment
With the growing demands of internet era, electronic storage systems are essential. A database allows healthcare institutions to manage data in one centralized area. In healthcare management system, there are databases that allow institutions to manage patient data in a single, centralized location. This can help improve communication and coordination between different departments, as well as reduce the risk of data loss or theft. By centralizing patient data, healthcare providers can have a more accurate view of a patient's medical history and current health status. This can allow for more informed decision-making and better treatment outcomes. It can also help prevent medical errors by providing doctors with a comprehensive view of the patient's care (Khatiwada et al., 2020). A healthcare database can also be used to track epidemics and outbreaks. By identifying patterns in patients' symptoms and test results, healthcare providers can quickly identify the cause of an outbreak and take appropriate action. The purpose of this paper is to describe a proposed innovative database that will collect clinical data relating to pharmaceutical items and their use.
Problem Statement and Definition of Terms
The use of Narcotics is increasingly becoming common in pain management during different medical procedures such as surgery. However, the drug misuse has reached unprecedented proportions in recent years and the number of people killed by Narcotic medications climbed six-fold since 1999 (Anderson (2020). Therefore, it is clear that this trend needs some changes so doctors do not become discouraged when prescribing narcotics drugs for their patients who may not need such strong medication or have any intention on taking too muchat once, a scenario which can result into addiction symptoms developing later on if left unchecked. When prescribing drugs, doctors will also see if their patient was last administered a narcotic and has been seen or hospitalized for drug abuse.
Database Users
This database will be a tool for those who are trying to quit substance abuse. It will allow them access not only medical records but also pharmacy data, so it's more accurate than ever. Nurses, doctors, and pharmacists are also considered essential users of this database. The intended database project will start with one institution and grows from there; if successful then other hospitals may want in on the action too- which means this could become an international thing after all (or at least pretty nationwide). There are also specialists on staff who may utilize the database, like nurses or doctors that work specifically alongside pharmacists – they are called Substance Abuse Center Experts (SACEs).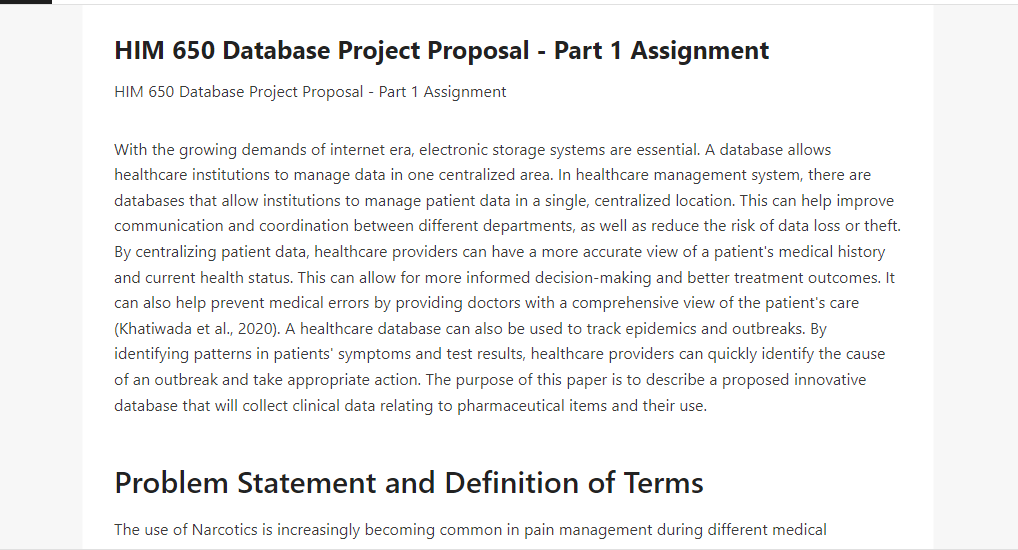 Data and Reports Types
The SAC database is an important research tool that will allow us to track the use and abuse of narcotics. This includes not only street-levelotics, but also prescription medication admissions with their corresponding percentages for addiction levels as well how long someone has been dependent on these substances or indeed any other type in order to determine potential trends among patients admitted under different conditions. The accuracy requirements placed upon recording this information should ensure compliance across all hospitals participating; however some extra details like percentages of addicted/non addicting may also aid in the determination of the use and misuse of narcotics or any other drug under consideration.
With all of the information that we have on our addiction patients report, it is easy to see how they became hooked. The reports include an individualized analysis for each patient showing which drug triggered their addictions and how often they went back into treatment or got worse before arriving at sobriety from narcotics once again. These data will be used by the hospital in determining which medications, if any are creating other difficulties. The reports may also show the frequency by which they write opioid prescriptions to a single individual and whether or not that patient has sought treatment for their addiction during a specified period.
Database Project Goals
The database will function as a resource for information on drug prescriptions, including data from many different sources. It can help doctors make better decisions by giving them all the information they need in one place and allowing users to search quickly with whatever criteria their needs dictate (Coronel & Morris, 2019). Also, the proposed database will enhance data reporting, data aggregation, and advanced analytics to ensure effective decision-making processes among healthcare professionals.
When looking at the database's material, it can "reveal hidden patterns,linkages, and trends" that are contributing to data analysis knowledge acquisition (Coronel & Morris, 2019). Applying these three approaches can significantly transforms operational information into decision-support tools for the healthcare organization or any other company.
Potential Project Barriers
This database is vulnerable if patients use different identities at the clinic and treatment institution. Their name could be misspelled, their birth date incorrect or any other personally-identifying information used by them before may not be recognized in this system due to a spelling error. "Another challenge with the database is failure to recognize prescription from numerous healthcare facilities. When a patient visits multiple facilities for additional prescriptions, the project database will not recognize if they come from different hospitals or Treatment/Rehabilitation Centers. It will only provide information from one healthcare facility.
Conclusion
In conclusion, when assessing the significance that this database will bring, it is hard to put into words how much life could be saved if a facility's attempt at preventing drug addiction or death succeeds. Suppose more data were gathered from other clinics and treatment centers, then this databasesystem value would enhance identification of misuse while also reducing risk factors for future related problems.The database will function as a resource for information on drug prescriptions, including data from many different sources. It can help doctors make better decisions by giving them all the information they need in one place and allowing users to search quickly with whatever criteria their needs dictate.
References
Anderson, A. L. (2021). Prescription Drug Abuse—A National Epidemic. https://www.drugs.com/slideshow/prescription-drug-addiction-1075
Coronel, C., & Morris, S. (2019). Database systems: Design, implementation, and management (13th e). Cengage Learning.
Khatiwada, A. P., Shakya, S., & Shrestha, S. (2020). Paradigm shift of drug information centers during the COVID-19 pandemic. Drugs & Therapy Perspectives, 36(9), 389–395. https://doi.org/10.1007/s40267-020-00757-3