HIM 615 Electronic Health Record Software Solutions Assignment
HIM 615 Electronic Health Record Software Solutions Assignment
HIM 615 Electronic Health Record Software Solutions Assignment
Executing an electronic health record (EHR) system is a challenging task that requires effective planning to reduce errors. Evaluation of the selection process and implementation plan for the EHRs system, intended interoperability, and regulatory compliance are essential (Walkup, 2018). These components are essential for an organization to upgrade or replace its existing electronic health record system (Wager et al., 2021). The purpose of this essay is to provide a request for proposal to a strategic leadership team that is contemplating upgrading or replacing its electronic health record (EHRs) system.
Vital Criteria for Request of Proposal (RFP)
The need to enhance the electronic health records system (EHRs) implores strategic leadership teams to upgrade or replace their existing models. Upgrading an EHRs system may involve wireless hardware solutions and mobile device options. Further, the adoption of mobile functionality through mobile EHR interfaces improves the adoption of EHR by providers (CNY Care Collaborative, n.d). Additionally, it improves communication among providers and healthcare facility staff. A core aspect of attaining all these benefits is having important criteria for the RFP process and vendor demonstration to make final choices and recommendations.
The core of the request for proposal (RFP) is the evaluation criteria that will culminate in selecting the most appropriate vendors. The selection criteria include having a track record of successful implementation and satisfied clients, meeting physician needs and demands, and seamless flow of the patient information across functions, units, and care practices. These will be evaluated through vendor demonstrations, workshops, and references from past clients. The other aspects would include technical base, support and upgrade processes, investment requirements, logistical and straightforward execution, training of staff, and data conversion models.
Based on the evaluation criteria, top vendors who can build EHRs systems with mobile interfaces and functionalities include Dr. Chrono's EHR, the Kareo Clinical EHR, and Allegiance MD. Others are Compulink Health Solutions and PrognoCIS. These vendors have different capabilities, and any selection would depend on certain criteria. Firstly, DRChron's EHR is a top vendor whose software is compatible with mobile devices. The platform would be a top priority since it allows providers to manage patient care, intake, and billing and an interactive patient portal for effective communication.
The second one would be Kareo Clinical EHR, a web-based EHR that enables users to practice management and has a medical billing interface (Software Advice, 2021). The platform is appropriate for selection since it assists providers in scheduling patients, confirming insurance details, managing delinquent accounts, and helps in the collection process. It allows providers to customize patient reports.
The third vendor is AllegianceMD, a cloud-based medical solution that caters to small and medium-sized medical practices and facilities. The platform's selection will be driven by its distinct e-prescribing, management of claims, and effective reporting system. The fourth vendor is Compulink Health Solutions, an integrated hybrid medical solution that helps manage the revenue cycle, management of the inventory, and practice management. One can select this solution since it can be used both on-premises or hosted in the cloud (Software Advice, 2021). The platform is also essential in managing patient care and revenues of practice, particularly profits. The fifth platform is PrognoCIS EHR and Telemedicine. The platform is important in managing a practice, offers telemedicine services, and assists in medical billing. The selection of this platform would be based on its cloud-based solutions with government standards and compliance. The system also helps provide telemedicine services for patients' benefits.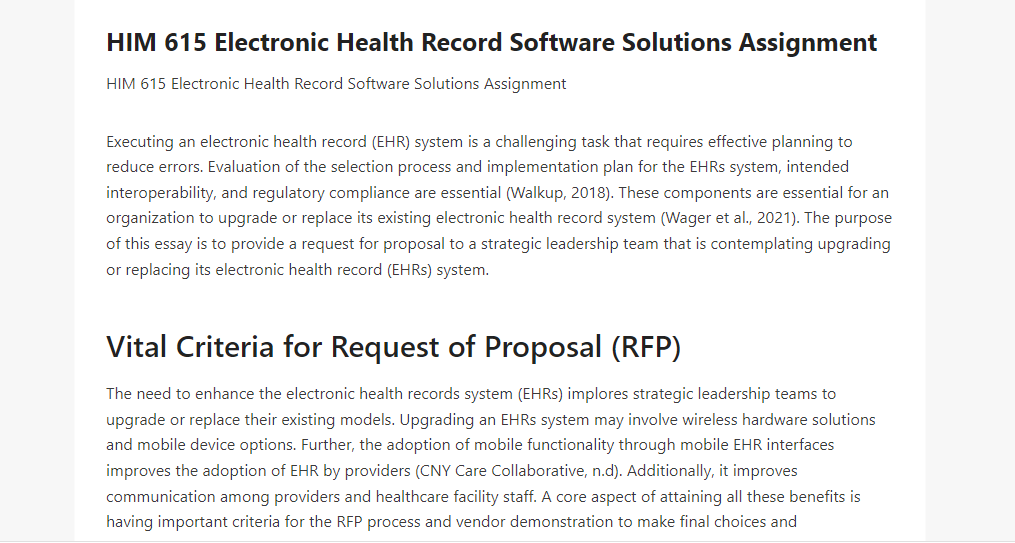 The most effective criteria in selecting any of these vendors and systems in the ensuing request for proposal (RFP) would be defined before standards offered and guidelines, the established viability for effective evaluation of the EHR systems for mobile services. Further, consistency in in-built flexibility would also be essential in the selection process. Again, the system must demonstrate its effectiveness in adapting changes based on enhancing compliance.
Selection Process Requirements
The selection process is an important area that would require the establishment of a team and task advocates who will represent user groups and process experts to determine the implementation as required and meet set criteria. Secondly, I would collect precise and critical practice requirements by giving the team tasks to recognize features that an EHRs mobile software should offer (Parasrampuria & Henry, 2019). Thirdly, I would outline the required budget to deliver the project to the team, whether they will upgrade or replace the existing system. I would consider the scope of the project and practice scale, which will significantly inform the cost of the EHRs system. Additionally, I would deploy demonstrations to show the efficacy of the respective systems (CNY Care Collaborative, n.d). The vendors should submit RFP documents for the presentation of the system to attain explicit answers on the requirement list. The system's installation would allow for precise analysis of their effectiveness and determination of the most efficient (Walkup, 2018). Testing the software will offer results on the most appropriate software to procure.
Ratings by Third Party Organizations
KLAS is a rating platform that recognizes the need for healthcare providers and professionals to deliver better patient care by leveraging existing technologies. The KLAS factors inpatient clinical care, ambulatory and post-acute care, the need for the financial management of a system, the value-based care and consultancy provided, and the imaging models offered (Jason, 2020; Wager et al., 2021). For instance, the rating body recognized Athenhealth 2020 as the best healthcare provision based on IT (Jason, 2020). The platform offers cloud-based services, patient care management, medical billing, and other benefits for providers and patients.
Feedback from Sites and User Interviews
Athenahealth has better ratings from many sites visited and reviews of its functionality and integration with different interfaces. The feedback from users shows that the software is easy to learn and deploy with an excellent billing and rules-based model. The software helps lower errors to less than 1% in healthcare organizations (Uzialko, 2021). Further, the software's interface is easy and pleasurable to navigate for both providers and patients (Parasrampuria & Henry, 2019). However, other reviews show that the system can be slow during workdays. The vendor always fixes the issue when informed about the affected organization.
Pricing Models and Contracts
The cost of its deployment is dependent on the number of users, with the price starting at about $ 140 for every user. The software's medical billing is between $150 and $250 based on the size of the healthcare facility. Patient portals require about $10.00 to $149 each month (Uzialko, 2021). Using its chiropractic software requires an organization to have pay between $49 and $999 per month. The software uses the subscription or software-as-a-service model (EHRGuide, n.d). Users access the software online and make payments on either a per-user basis or the subscription model based on the pricing strategy.
Athenahealth works using contract models like the Transaction Bonus Agreement between the organization and the user. The agreement stipulates that users are eligible for earning a transaction bonus in aggregate amount based on the terms and conditions of the contract (Uzialko, 2021). The company also has a Retention Bonus Agreement with users as a mutual acknowledgment of the organization's employment relationships and the user remaining at will.
Conclusion
Request for Proposal (RFP) is a detailed process that allows organizations in healthcare to get the most appropriate IT solutions for their issues in electronic health records systems, either in upgrading or replacement. The RFP process requires evaluating different vendors and their suitability before deciding to pick one. The essay demonstrates the need for providers to understand this process well.
References
Aguirre, R. R., Suarez, O., Fuentes, M., & Sanchez-Gonzalez, M. A. (2019). Electronic health
record implementation: a review of resources and tools. Cureus, 11(9). DOI: 10.7759/cureus.5649
CNY Care Collaborative (n.d.). Electronic Medical Record (EMR) Request for Proposal (RFP).
EHRGuide (n.d). Athenahealth Reviews. https://ehrguide.org/ehr-reviews/athenahealth-reviews/
Jason, C. (2020 February 03). Epic, MEDITECH, Athenahealth Sweep in 2020 Best in KLAS
            EHR Awards. https://ehrintelligence.com/news/epic-meditech-athenahealth-sweep-in-
2020-best-in-klas-ehr-awards
Parasrampuria, S., & Henry, J. (2019). Hospitals' Use of Electronic Health Records Data, 2015-
            2017. ONC Data Brief, 46, 1-13. https://www.healthit.gov/sites/default/files/page/2019-
04/AHAEHRUseDataBrief.pdf
Software Advice (2021). Mobile EHR Software.
Uzialko, A. (2021 Dec 17). Athenahealth Review.
Walkup, K. L. (2018). Connect with your patients, not the screen: usability claims in electronic
health records. Communication Design Quarterly Review, 6(2), 31-40. https://doi.org/10.1145/3282665.3282669
Wager, K. A., Lee, F. W., & Glaser, J. P. (2021). Health care information systems: a practical
approach for health care management. John Wiley & Sons.