HIM -615 Analysis of Health Information Exchange (HIE) Assignment
HIM -615 Analysis of Health Information Exchange (HIE) Assignment
HIM -615 Analysis of Health Information Exchange (HIE) Assignment
Health information exchange is an essential aspect of investing in health information technology as it reduces costs, enhances patient satisfaction, and improves quality care across an organization within a community, region, and hospitals. Health information exchange (HIE) is a process of utilizing technologies and communication to share information. HIE allows access to clinical data in a safe and timely to help in the provision of quality care to patients. Public health entities use HIE data to analyze the health of different populations within their jurisdictions (Elson et al., 2021). Organizations and state agencies can develop HIE systems in different ways based on their needs and requirements. The four primary types of HIE include direct, public, private, and vendor-based interoperability. The essence of this paper is to compare HIEs in California and three other states that include Texas, Louisiana, Florida, and Maryland, and the District of Columbia.
California Health Information Exchange (HIE)
In their issue brief, Elson et al. (2021) assert that the advent of the Coronavirus disease of 2019 (COVID-19) pandemic necessitated the need for increased sharing of information among providers to enhance quality care and accessibility. The authors observe that data exchange activities in California occur across four types of networks among different stakeholders. These networks include EHR-centered clinical data exchange networks, HIO-centered clinical data exchange networks, specialized data exchange networks, and whole-person data exchange networks. However, the California Trusted Exchange Network (CTEN) is a core component of the state's strategy for statewide, inter-organizational health information exchange.
The exchange combines a multiparty data sharing code, a standard set of policies and procedures, and a lightweight technical infrastructure to establish a trustworthy environment to allow for the safe and secure sharing of health information. Therefore, California does not have a state-control authority that coordinates the sharing of health information among organizations, systems, and providers (CAHIE, 2021). CTEN is fashioned to enhance efficiency, be more agile and flexible compared to national networks while maintaining compatibility with them. The network allows participants that include the California Department of Health Care Services, to define methods and technical standards to implement in sharing health information.
Comparison with the Other States
Different states have different approaches to health information exchange (HIE). The Texas Health Service Authority is a state-level health information exchange network for Texas. The authority covers both private and public health entities. The state has a code, the Texas Health, and Safety Code, to implement its statewide HIE plan. The state's HIE is a useful tool in collaborating with other neighboring states to enhance and facilitate patient interoperability (HealthIT.gov, 2019). Through the HIE Cooperative Agreement Program, Texas like other states gets funding to build capacity for information exchange across the healthcare system within and outside the state boundaries. The enactment of the Health Information Technology for Economic and Clinical Health (HITECH) Act was aimed at enabling providers to exchange data securely across different infrastructural frameworks (HealthIT.gov, 2020). The exchange of information increases coordination, consumer control, and the ability to interact with providers.
Like California and Texas, Louisiana has a network that allows health care providers to share data securely across state lines. The network is called the Louisiana Information Exchange (LaHIE). Emergency departments, inpatient facilities, primary care settings, and ambulatory clinics can access the system. The LaHIE offers patient and clinical portals, secure messaging facilities, and public health reporting for its participants (LaHIE, n.d.). The system offers practical, automatic, and cross-referencing to obtain patients' medical history and prevent duplicate reporting.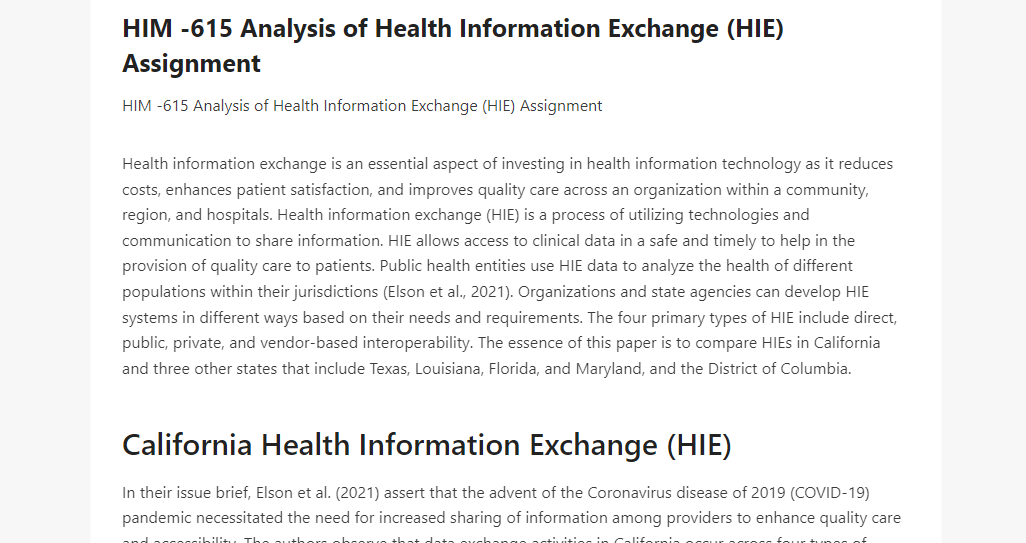 In Florida, the Agency for Health Care Administration governs its HIE. The agency is also responsible for policy setting, assembling stakeholders, and offering oversight. It also engages federal partners and promotes the benefits of health information technology. Florida HIE offers services that include encounter notification service (ENS), direct messaging services (DMS), and eHealth exchange (HealthIT.gov, 2020). The DMS offers a secure platform for organizations and providers to send health information over the Internet while eHealth exchange fosters sharing of clinical data using common standards and criteria.
In Maryland and the District of Columbia, providers and state agencies use a non-profit system to share health information. The Chesapeake Regional Information System for our Patients (CRISP) is a multi-organizational platform that comprises John Hopkins Medicine, MedStar Health, the University of Maryland, and the Erickson Retirement Communities who have partnered with the Maryland Health Care Commission to enhance health information exchange. The CRISP securely connects hospitals and other providers to share health information (CRISP, 2021). Through the platform, organizations can share patient information with others seamlessly to make critical care decisions. Providers also get notifications when their patients make hospital visits through the system. These systems demonstrate that effective health information exchange increases interoperability and the capacity of providers to offer quality patient care.
Coordination of Care
Participation in HIE providers a host of benefits in care coordination among providers and organizations. HIE improves coordination by ensuring that all those involved in patient care have access to vital information promptly to make better decisions. HIE system help in preventing errors in all health care facilities. Patient appointment reminders and follow-up instructions are vital components of efficient care provision. HIE allows patients to save time filling out paperwork and offers medical history fast. They enable patients to spend more time with their providers (Elson et al., 2021). Effective care coordination saves time for both physicians and providers across the care continuum of care delivery.
Public Health Initiatives
Public health agencies at state and federal levels depend on data and HIE to enhance care accessibility to certain clinical and demographic populations. By drawing data created and stored in different health organizations, HIE can develop longitudinal descriptions of patient care and their diseases based on their medical history and treatment interventions. HIE data mirrors the healthcare experiences and usage among different communities, individuals, and health populations (Wager et al., 2021). Multiple data sources provide more advantages to the public health agencies as they can develop programs to capture various aspects of population health to improve overall outcomes. HIE benefits different areas of public health initiatives and practices like disease surveillance, disaster response and management, and healthcare services.
Evidence-Based Research
Evidence-based research requires sufficient data and information to help develop inferences and conclusions about phenomena under study. HIE systems have clinically significant and cross-institutional data that is critical to evidence-based research (Wager et al., 2021). For instance, the availability of electronic health records (EHRs) data enhances research. The EHRs data is part of the HIE components in organizations. Efforts to enhance the quality of care to patients demonstrate the increased role of HIE in different care settings across organizations (Elson et al., 2021). Existing security measures based on laws like HIPAA and HITECH ensure that patient health information and data are secure and safe from any unauthorized access. The potential for research participants, integration of EBP findings into care, and increased generalization of the outcomes demonstrate the critical roles that HIE plays in research for organizations.
Conclusion
Health information exchange (HIE) at the hospital, state, regional, and national levels increases interoperability, quality care, access to care, and sharing of vital patient health data to make better clinical and care decisions. The paper shows that different states have unique HIEs that they use to share information within and across their boundaries. The states under review have varied systems but to enhance accessibility and quality of care among patients and other stakeholders.
References
California Association of Health Information Exchanges (2021). Joining the CTEN).
CRISP (2021). Welcome to CRISP. https://www.crisphealth.org/about-crisp/
Elson, M., Yegian, J., Horowitz, A. & Lim, S. (2021). Health Information Exchange in
California: Assessment of Regional Market Activity. https://www.chcf.org/wp-content/uploads/2021/02/HIECAAssessmentRegionalMarketActivity.pdf
HealthIT.gov (2019). State Health Information Exchange.
HealthIT.gov (2020). What is HIE?
Holmgren, A. J., & Adler-Milstein, J. (2017). Health Information Exchange in US Hospitals: The
Current Landscape and a Path to Improved Information Sharing. Journal of hospital
medicine, 12(3), 193-198. DOI: 10.12788/jhm.2704.
Louisiana Health Information Exchange (LaHIE). (n.d.). Louisiana Health Information
            Exchange. http://www.lhcqf.org/for-consumers/lahi
Wager, K. A., Lee, F. W., & Glaser, J. P. (2021). Health care information systems: a practical
approach for health care management. John Wiley & Sons.