HCM 307 Describe an Accountable Care Organization (ACO) and the benefits of an ACO
HCM 307 Describe an Accountable Care Organization (ACO) and the benefits of an ACO
HCM 307 Describe an Accountable Care Organization (ACO) and the benefits of an ACO
The Centers for Medicare and Medicaid Services (CMS) (2023) developed innovative novel payment and service delivery models to meet the growing healthcare needs and improve the quality of care offered to patients in different care settings. These innovative and new payment models include accountable care organizations and episode-based payment initiative. As part of the accountable care initiative that focuses on improving quality of care, accountable care organizations (ACOs) comprise of groups of physicians, hospitals and associated health care professionals who work collaboratively through effective coordination to offer patient high quality care, enhance health outcomes and reduce costs. ACOs may be located in a specific geographical place and focus on patients with certain conditions like chronic diseases such as hypertension or kidney disease.
Institutions like Healing Hands Hospital can attain several benefits that ACOs offer that include fostering patient participation, patient education and self-management support. Again, as part of value-based care payment, ACOs stimulates more preventive care and a reduction of hospital stay and emergency room visits (Shrank et al., 2022). The ACOs also help organizations offer patient-centric care through increased involvement and participation of patients in the care process.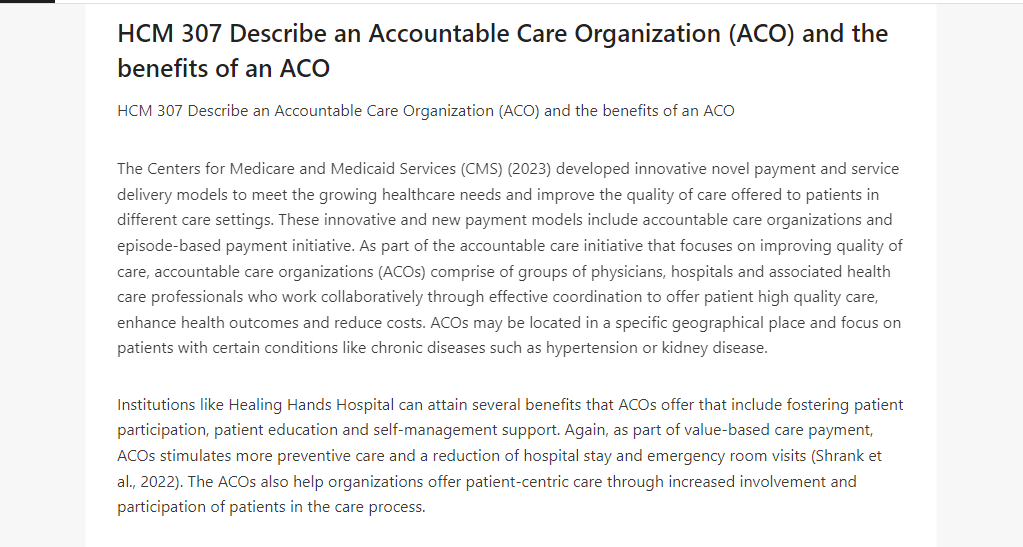 Episode-based payments offer a discounted payment or a set a pre-determined price through which actual costs are reconciled retrospectively based on conditions for a certain time, known as the target price. As bundled payment model, the episode-based payments came into existence with the enactment of the Affordable Care Act to improve patient outcomes at lowered cost of Medicare (CMS Innovation Center, 2020). The episode-based payment initiative offers several benefits to Healing Hands Hospital that include reducing the cost of care for patient, ensuring that patients participate in their treatment, and increased coordination among all providers (Chen et al., 2020). Care coordination amongst providers and throughout the continuum entails organizing and sharing information about patient's care. The shared information assists guide timely, safe, and effective care while keeping costs manageable.
References
Centers for Medicare and Medicaid Services (CMS) (2023). Accountable Care and Accountable
Care Organizations. https://innovation.cms.gov/key-concept/accountable-care-and-accountable-care-organizations
Chen, J. L., Chernew, M. E., Fendrick, A. M., Thompson, J. W., & Rose, S. (2020). Impact of an
episode-based payment initiative by commercial payers in Arkansas on procedure volume: an observational study. Journal of General Internal Medicine, 35, 578-585. DOI: 10.1007/s11606-019-05318-7
CMS Innovation Center (2020 January). Episode Payment Models.
Shrank, W. H., Chernew, M. E., & Navathe, A. S. (2022). Hierarchical payment models—a path
for coordinating population-and episode-based payment models. JAMA, 327(5), 423-424. DOI: 10.1001/jama.2021.23786.