HCA 699 What is the difference between research and evidence-based practice (EBP) projects?
HCA 699 What is the difference between research and evidence-based practice (EBP) projects?
HCA 699 What is the difference between research and evidence-based practice (EBP) projects?
"Evidence-based medicine is the conscientious, explicit and judicious use of current best evidence in making decisions about the care of individual patients" ("What is EBM", 2011). This evidence has been collected, analyzed, recorded, and then implemented into practice using research studies and clinical trials.
Evidence-based practice is primarily based on five well defined steps:
Asking Focused Questions: translation of uncertainty to an answerable question
Finding the Evidence: systematic retrieval of best evidence available
Critical Appraisal: testing evidence for validity, clinical relevance, and applicability
Making a Decision: application of results in practice
Evaluating Performance: auditing evidence-based decisions
("What is EBM", 2011).
Using EBM and applying it to practice allows that knowledge to be strategically transferred into care for patients. This knowledge gained from multiple clinical trials which allows physicians better clinical decision-making using this evidence. EBM provides more of a predictability of patient outcomes. Citing research of Bodenheimer and Sinsky (2014) and Melnyk and Fineout-Overholt (2015), "Evidence-based practice (EBP) enhances healthcare quality, improves patient outcomes, reduces costs, and empowers clinicians; this is known as the quadruple aim in healthcare (Melnyk & Fineout-Overholt, 2019, p. 7). A current example of using EBP would be with preventing spread of the coronavirus (COVID-19) based on research studies regarding SARS-CoV2. EBP would indicate that using gloves, N95 respirators, (PPE) by physicians, nurses, and health care workers (HCW) prevents exposure to this contagion. Yet, physicians and providers derive that evidence from research.
Research is gaining new knowledge through experience, or a clinical trial. According to Melnyk and Fineout-Overholt (2015), "research uses a scientific process to generate new knowledge/external evidence and research utilization, which has been frequently operationalized as the use of knowledge typically based on a single study" (Melnyk & Fineout-Overholt, 2019, p. 9). An example of this would be with the current pandemic, for initially little was known about COVID-19. "World scientists on COVID-19 met at the World Health Organization's Geneva headquarters from 11 to 12 February 2020 to assess the current level of knowledge about the new virus, agree on critical research questions that need to be answered urgently, and ways to work together to accelerate and fund priority research that can contribute to curtail this outbreak and prepare for future outbreaks" ("Coronavirus disease", 2020). HCW's should be concerned with learning more about EBP because they can use that knowledge and translate it into application thus achieving quality care for their patients according to the clinical circumstance. Additionally, HCW's must also take into consideration not only research, but the beliefs and preferences of their patients and families.
References:
Coronavirus disease (COVID-2019) R&D. (2020). World Health Organization (WHO). Retrieved from https://www.who.int/blueprint/priority-diseases/key-action/novel-coronavirus/en/
Melnyk, B. M., & Fineout-Overholt, E. (Eds.). (2019). Evidence-based practice in nursing and healthcare: A guide to best practice (4th ed.). Philadelphia, PA: Wolters Kluwer. Retrieved fromhttps://www.gcumedia.com/digital-resources/wolters-kluwer/2018/evidence-based-practice-in-nursing-and-healthcare_a-guide-to-best-practice_4e.php
What is EBM? (2011, November 1). Retrieved from http://www.cebm.net/index.aspx?o=1914
Re: Topic 1 DQ 1


According to Keele (2011) "Research entails a systematic and scientific investigation that aims at answering specific research questions through disciplined and precise methods. Its primary purpose is to either produce new knowledge or rather authenticate one already in existence." A good example for instance in a nursing setting is whereby a research is conducted through control to determine new and appropriate wound care methods thus bearing the uniqueness in that it aims at the establishment of a proper and a new way of wound care and treatment.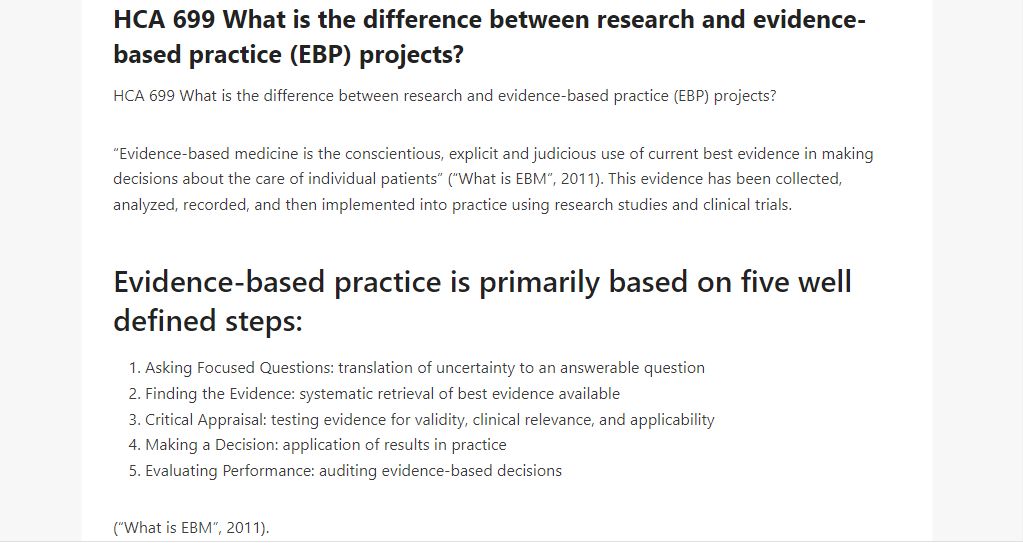 Evidence based practice, unlike research, mainly involves translation of evidence and subsequent application to quantifiable decision making. A good and appropriate example is infection control that distinguishes EBP apparently from research primarily because of the availability of existing evidence that eventually enhances the given infection at hand control through individual decisions made. The determination of Evidence Based Practice is to use the greatest evidence accessible to create patient-care conclusions. Most of the finest evidence stalks from research. However, Evidence Based Practice goes outside research use and contains clinical capability in addition to patient inclinations and standards (Stevens, 2013).
Healthcare professionals ought to get some interest when it comes to evidence based practice mainly because of its fundamental relevance in that, it uses the best evidence available especially in the making of patient care decisions even though most of this evidence often drawn from research. Nevertheless, EBP goes past simple research in that it specializes in patients' values and preferences as well as well involved in the attainment of clinical expertise.
Reference:
Keele, R. (2011). Nursing Research and Evidence-Based Practice: Ten Steps to Success. Sudbury, MA; Jones & Bartlett Learning.
Stevens, K., (2013). The Impact of Evidence-Based Practice in Nursing and the Next Big Ideas. The Online Journal of Issues in Nursing Vol. 18, No. 2, Manuscript 4. DOI: 10.3912/OJIN.Vol18No02Man04
Thank you for an informative post on the distinction between research and EBP projects. As stated in the question, there are elaborate examples that facilitate the understanding of the two concepts. It is true that research involves a scientific and systematic investigation processes that aim at answering specific research questions through the precise and disciplined approaches. Furthermore, a research is often conducted to introduce new knowledge on a given area. For instance, in the nursing practice, a research can be done to determine the attitude of nurses towards a given treatment processes. On the other hand, evidenced-based practices are problem solving approaches used to enhance best practices in the clinical processes (Melnyk & Fineout-Overholt, 2016). As such, whereas the two could be used interchangeably, they imply varied things examined keenly.
References
Melnyk, B. M., & Fineout-Overholt, E. (Eds.). (2016). Evidence-based practice in nursing & healthcare: A guide to best practice. Lippincott Williams & Wilkins.