HCA 675 Discussion Perspectives of Change
HCA 675 Discussion Perspectives of Change
HCA 675 Discussion Perspectives of Change
In health care, without a willingness to change or eagerness to change, nothing really will improve. Doing the same thing repeatedly leads to the same results. As Gerzi, (2019) puts it, change is the only avenue for health care service improvement. He specifically asserts that all great health care organizations become renowned because of engaging actively in change. The ability of organizations to reinvent themselves through change is the main reason for their success (Holten, Hancock & Bøllingtoft, 2019). However, in the contemporary world, it is important to manage change because of the existence of different perspectives on change in healthcare. It is a common scenario to find that in a health organization there those who are opposed to change and those who are for change.  The proponents of change believe that is a necessary step in the constantly evolving quality driven healthcare field. As such, they believe that change should be accepted by all and sundry. However, the opponents of change hold a varied perspective. They regard change as disruptive, which then leads to healthcare workers constantly having to acquire new skills, some of which are not really novel.
Themanagement of change as explained by Tsuka et al. (2017) involves painting a picture of the current situational gap and propose what needs to be done by a health organization to close the gap. They affirm that doing so will enable a healthcare organization to ensure that both those who dread change and those who support change are on the same page. Using change management processes, health care professionals can change the perspectives groups hold regarding change. Besides, I will ensure that mindsets, leadership strategies, and environmental factors with the organization are set to act as readiness for change. I will ensure both groups of people who hold different perspectives about change, work in a supportive environment that listens to all perspectives to foster consensus (Holten, Hancock & Bøllingtoft, 2019). If this is achieved, people who dread change and those who like it will be all get motivated in the projects of change.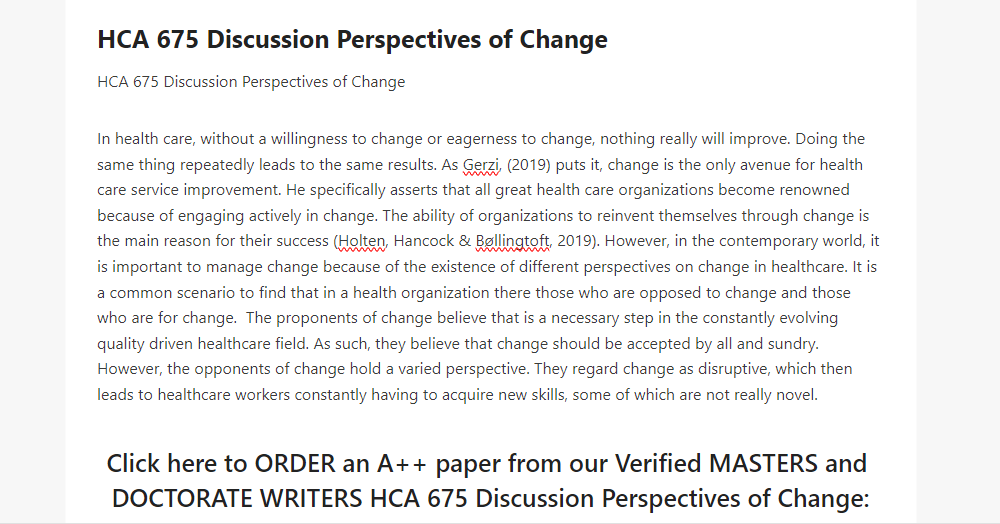 References
Gerzi, S. (2019). THE CLINICAL IMPORTANCE OF CHANGE INTO A PROCESS OF TRANSFORMATION. Romanian Journal of Psychoanalysis/Revue Roumain de Psychanalyse, 12(1).
Holten, A. L., Hancock, G. R., & Bøllingtoft, A. (2019). Studying the importance of change leadership and change management in layoffs, mergers, and closures. Management Decision.
Otsuka, S., Morisawa, T., Yuguchi, S., Hojo, Y., Matsuo, T., Nakajima, M., … & Takahashi, T. (2017). Clinical importance of change in physical activity after endovascular treatment combined with exercise training in patients with peripheral arterial disease. Heart and vessels, 32(2), 143-148.