HCA 675 Discuss your viewpoints on the question of whether patients can adequately understand and judge the quality of the health care services they receive
HCA 675 Discuss your viewpoints on the question of whether patients can adequately understand and judge the quality of the health care services they receive
HCA 675 Discuss your viewpoints on the question of whether patients can adequately understand and judge the quality of the health care services they receive
Personally, from my own bedside experience, I do not feel that patients typically have a good understanding of how to judge the healthcare services they are being provided with. Primarily because of the recent focus on the Press-Ganey scores of hospitals. The focus has shifted not from the quality of the cares but whether the patients call light was answered quickly, and what the food tasted like. It is taking away from the importance of the actual cares that are provided, the monitoring, education, and life-saving treatments. Press-Ganey is the gold standard of evaluating a patient's experience and it is a survey mailed to patients following their discharge (Cambria et al., 2019). Primarily the issue with this survey is that it doesn't have a way to balance out bias or account for it. As is human nature we are likely to report and be more vocal on negative experiences versus that of positive responses. So, there are more people who reply to the survey that have had a negative experience in their hospital stay versus those that have had pleasant ones. A study that was done recently actually listed several limitations of such a survey in an inpatient hospital regarding the perceived care from physicians. It concluded that "patients perceived a doctor as more or less courteous, attentive, informative, or concerned with comfort due to factors beyond the doctor's interactions. These results indicate variables other than the individual doctor that may be influencing the PG survey and perceptions of care" (Cambria et al., 2019, p.1620). Thus, proving there are more factors at play with bias and subjective perceptions of what quality care constitutes.
I think a lot of the misconceptions on what quality care is, comes from the ignorance the general public has when it comes to anything medical. I feel perhaps a bit biased myself because I worked on the side of providing the cares and know how much work goes into promoting healing, health, and safety. More education needs to be done for the patients on the stark reality providers face every day in giving care. Along with how different providers and health systems compare with their provision of healthcare services.
Some ways of improving the situation can come from being more transparent. An interesting article I found was studying ways to improve the quality of healthcare across the spectrum for all in the population. They were discussing that one such way to get this underway would be with releasing public reporting regarding care measures, outcomes, citations, never-events and more from hospitals (Metersky, 2011). This could be a strong motivation to improve care because no hospital or health system wants to see their poor outcomes, and poor-quality care measures in say the newspaper or website for all to see (Metersky, 2011).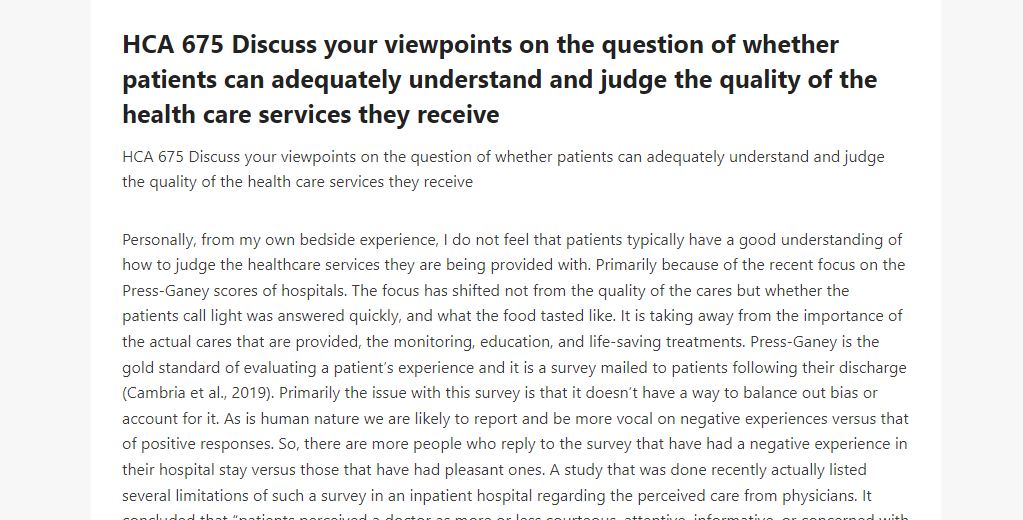 They write that public reporting can improve the quality of care because of making the population more aware of the inner workings of each and every hospital and health-system. This will drive competition because to some degree, people do have a choice in where they go to receive their care. It will drive them to the hospitals with better results to report (Metersky, 2011). Thus, making the hospitals with lower quality rates and scores more inclined to adapt their ways in quality improvement.
Cambria, B., Basile, J., Youssef, E., Greenstein, J., Chacko, J., … & Ardolic, B. (2019). The effect of practice settings on individual Doctor Press Ganey scores: A retrospective cohort review. American Journal of Emergency Medicine, 37(9), 1618–1621. Retrieved from https://lopes.idm.oclc.org/login?url=https://search.ebscohost.com/login.aspx?direct=true&db=edselp&AN=S0735675718309343&site=eds-live&scope=site
Metersky, M. (2011). Point: Will public reporting of health-care quality measures inform and educate patients? Yes. CHEST Journal, 140(5), 1115-1117. Retrieved from https://journal.chestnet.org/article/S0012-3692(11)60572-2/fulltext
The question of whether patients have the ability to understand and judge the quality of health care services that they receive is one that is shrouded in debate. At an individual level, I believe that the inputs provided by patients are fundamental to the improvement of the services that are offered at facilities. However, they do not have the ability to adequately judge and understand the quality of health care. Health care services are presently patient-centered; nevertheless, judging and understanding various quality metrics require evidence-based knowledge, which patients do not possess (Berkowitz, 2016). The patients only have the ability to offer their perceptions of the quality of services that hospitals offer. The management of the hospitals will then adopt the perceptions and target the required metrics so as to improve the quality of services. For instance, quality of services entails various aspects such as patient satisfaction, readmission rates, mortality rates, and nurse response and empathy among others. Therefore, whereas one patient may require constant attention from nurses, another one may not require that. As such, the issue of the quality of services offered by a facility becomes subjective. The first patient may lambast the quality of services that they receive while the second patient may be satisfied with the services. Moreover, hospital readmissions may be caused by extenuating circumstances that may have nothing to do with a facility. As such, some patients may use that to claim that the facility's services are of poor quality yet the reality may be different. Therefore, based on the subjective undertones of patient satisfaction, it becomes clear that patients cannot be wholly relied upon to understand and judge the quality of health care services.
However, the current situation could definitely undergo an improvement. One of the ways of improving the situation is to educate patients on the parameters that are fundamental to measuring quality of services. One of the most important parameter is of course their objective assessment of services. Secondly, an objective assessment of nurse response and the incidences of certain areas such as delays in admissions and adverse events such as wrongful prescriptions also matters (Hanefeld, Powell-Jackson, & Balabanova, 2017). By understanding the interplay between these parameters and the quality of services, patients will be able to objectively judge and comprehend the quality of services offered by health care facilities.
References
Berkowitz, B. (2016). The patient experience and patient satisfaction: measurement of a complex dynamic. The Online Journal of Issues in Nursing, 21(1).
Hanefeld, J., Powell-Jackson, T., & Balabanova, D. (2017). Understanding and measuring quality of care: dealing with complexity. Bulletin of the World Health Organization, 95(5), 368.
You make very substantial points concerning the issue of health care quality vis-à-vis patient satisfaction and the ability of these patients to determine the quality of care. Indeed, hospitals can adopt the usage of certain standardized and valid tools so as to ensure that patient satisfaction is measured. The various metrics of patient satisfaction are thus useful in judging the quality of care that is offered to patients. Therefore, from that perspective, it would be assumed that patients have the ability to accurately judge the quality of services offered to them.
Thank you for making an important point concerning the issue of a patient's ability to make judgment concerning the quality of services offered in hospitals. The adoption of evidence-based practice plays an important role in the determination of the quality of health care. As a consequence, it is the physicians and health care professionals who have the capacity to make the decisions in a manner that is not judgmental. Indeed, educating patients about the kind of metrics to consider and their role in evaluation of quality still relies on evidence-based practice. Therefore, whereas the patients can help in providing important information about quality measures, hospitals cannot wholly rely on them as they are subjective opinions in most cases.