HCA 675 Assignment Process of Care Paper
HCA 675 Assignment Process of Care Paper
HCA 675 Assignment Process of Care Paper
Healthcare facilities have the mandate of meeting the healthcare needs of residents. The regulatory bodies have instituted quality measures for evaluating the performance of such facilities. The standards govern practice parameters and stipulated guidelines. In the United States, hospital performance is evaluated using process-based criteria outlined by the Joint Commission and The Centers for Medicare & Medicaid Services (CMS) (Metcalfe et al., 2018). The evaluation outcomes are in turn used by the healthcare insurance companies to establish reimbursement schemes. Notably, the Hospital Compare Website avails the performance index of different healthcare facilities. The analyses focus on the quality indicators (QI). In this regard, the public gets the privilege of choosing high-quality providers. This paper presents a comparative analysis of Desert Valley Hospital process-based performance and its two competitors. The paper also highlights the pros and cons associated with availing publically hospitals' indicators for the process of care.
Comparison
Fundamentally, Desert Valley is an acute care hospital based in the State of California. The facility provides emergency services and has an operational integrated system for receiving laboratory results electronically. The two rivals for the Desert Valley include Palmdale Regional Medical Center and Barstow Community Hospital. Both Palmdale and Barstow are also situated in California State. However, Palmdale and Barstow have currently rated two stars while Desert valley enjoys a three-star rating (Medicare.gov, 2020). Additionally, all three hospices specialize in providing acute care services to the patients. Despite the similarity of service delivery, there are outstanding dissimilarities in terms of process-based performance.
The differences in the performance of the hospitals are evident in the patients' experience survey findings. The Hospital Consumer Assessment of Healthcare Providers and Systems (HCAHPS) survey report indicates that nurse communication efficiency at Desert Valley stands at 75 percent (Medicare.gov, 2020). On the contrary, the nurses' communication efficiency score for Palmdale is 77 percent while that of Barstow stands at 75 percent (Medicare.gov, 2020). Similarly, 73 percent of the surveyed patients admitted to having communicated effectively with Desert Valley doctors. On the other hand, the patient-doctor communication proficiencies for Palmdale were 73% while Barstow reported the highest, 78 percent (Medicare.gov, 2020). Moreover, a patient support is another facet of quality care. For this parameter, Desert Valley attained 64 percent whereas Palmdale and Barstow had 68 and 63 percent respectively (Medicare.gov, 2020). In terms of prescription advice, 60 percent of the Desert Valley patients receive prescription advice. On the other hand, Barstow had a prescription assistance score of 57 percent while Palmdale reported 60% (Medicare.gov, 2020).
Furthermore, the cleanliness levels of a healthcare facility is another crucial QI parameter. Desert Valley and Palmdale had the same room cleanliness score, 74 percent. However, Barstow reported a room cleanliness level of 68 percent (Medicare.gov, 2020). Nevertheless, Desert Valley has the lowest noise levels, 52 percent, facilitating the faster recovery of patients. Contrariwise both Barstow and Palmdale reported similar noise levels rated at 62 percent (Medicare.gov, 2020). In terms of patient education, Desert Valley management achieved a percentage score of 82. However, Barstow has the best patient education program with a score of 86 percent followed by Palmdale with 83 points (Medicare.gov, 2020). Additionally, in terms of patient recommendations, the three hospitals had different scores. Palmdale had the highest recommendation rate of 75 percent while Desert Valley and Barstow had a recommendation score of 67 and 55 percent respectively (Medicare.gov, 2020).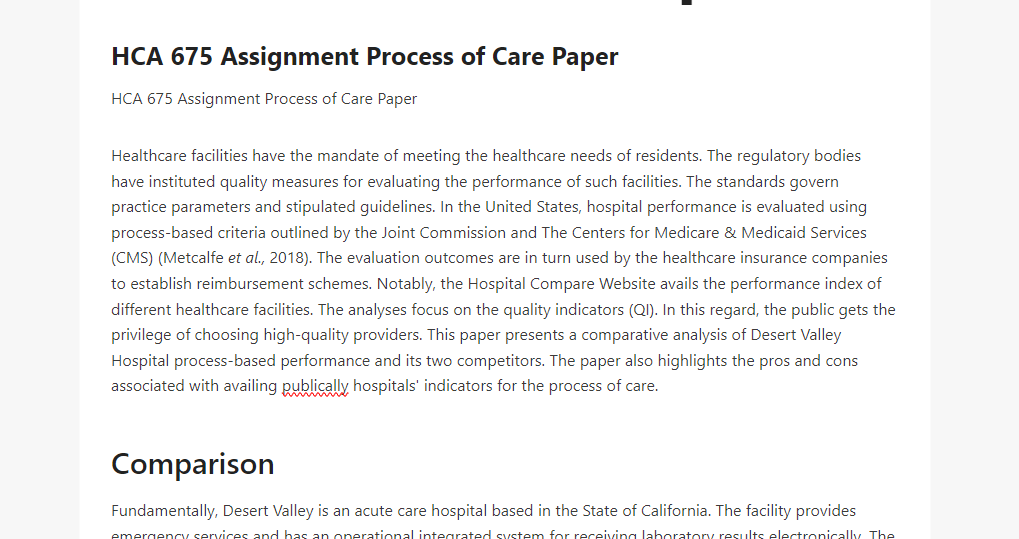 Effective and timely care is another parameter for ranking healthcare facilities. Essentially, patients prefer getting services in healthcare institutions that have prompt response strategies. Desert Valley offers the best sepsis care indicated by 82 percent. The facility is followed by Barstow with 67% while Palmdale has a sepsis care score of 61 percent (Medicare.gov, 2020). Desert Valley also offers effective emergency care for the patients. Fundamentally, the hospital gives patients admitted in this unit more time, 312 minutes compared to 282 and 136 minutes for Palmdale and Barstow hospital respectively (Medicare.gov, 2020). The facet indicates that Desert Valley has a well-equipped emergency unit with adequate medical personnel. Notably, hospices have different rates of preventive care. The preventive care unit ensures that patients get healthy lifestyle advice, screenings, and immunizations for preventable diseases. Barstow has the highest preventive care score, 84 percent, followed by Desert valley, 79 percent, while Palmdale comes last with 67 percent (Medicare.gov, 2020).
Pros and Cons of Publically Reporting These Data Sets
Essentially, patients often seek medical services in high-quality healthcare institutions. The process-based performance findings reveal the quality status of various hospitals. According to Vukovic et al. (2017) publically reporting of hospital data fastens patient decision making. In essence, patients go for the facility with the highest-ranking to get the best. Additionally, Metcalfe et al. (2018) reasoned that public reporting enables hospital management to improve their service delivery mechanisms. The feedbacks associated with the reports enables the management to ascertain the position and reputation of their facilities. Consequently, robust improvement measures are then enforced by top officials (Prang, Canaway, Bismark, Dunt, & Kelaher, 2018). Furthermore, public reporting simplifies the government planning process. The data enables healthcare departments to strategize effectively on the ideal techniques for positive outcomes (Albahri et al., 2018). Therefore, public reporting acts as the foundation for enhancing quality indicators in various healthcare facilities.
Public reporting is also associated with negative consequences. According to Albahri et al. (2018), the reports significantly reduce healthcare quality. The providers usually criticize such findings as they argue that the reports are highly manipulated. As a result, providers fail to admit low-risk as well as patients in critical conditions due to the objective of enhancing their performance metrics (Vukovic et al., 2017). Besides, highly-ranked facilities have the intention of enjoying more benefits from the stakeholders. Additionally, other crucial clinical areas always suffer financial setbacks. The providers channel more funds to improve on the publically ranked departments while ignoring other clinical units (Metcalfe et al., 2018). Prang et al. (2018) argued that public reporting reduces the quality of care through misidentification of the exact performance index of healthcare providers (Metcalfe et al., 2018). The statistical disparities incurred during the evaluation process trigger patient migration from performing facilities to low-performing providers. As a result, the movement further worsens the quality of care in such institutions.
Conclusion
In summary, the periodic evaluation of quality standards of healthcare facilities plays a crucial role in improving standards of care. The CMS facilitates an effective comparison of quality standards of hospitals in the United States. Notably, hospices with high ranking index are associated with a greater score in the quality indicators as in the case of Desert Valley Hospital. However, public reporting has several pros and cons that in turn affect the actual quality of care. Therefore, the survey analysts need to capture exact parameters to avoid the production of misleading reports. Moreover, providers need to streamline care processes to improve patient safety and efficiency.
References
Albahri, O. S., Zaidan, A. A., Zaidan, B. B., Hashim, M., Albahri, A. S., & Alsalem, M. A. (2018). Real-time remote health-monitoring Systems in a Medical Centre: A review of the provision of healthcare services-based body sensor information, open challenges, and methodological aspects. Journal of medical systems, 42(9), 164.
Medicare.gov. (2020). Compare Hospitals. Retrieved from https://www.medicare.gov/hospitalcompare/compare.html#cmprTab=6&cmprID=050204%2C050709%2C050298&cmprDist=48.3%2C73.0%2C71.5&dist=100&loc=CALIFORNIA%20CITY%2C%20CA&lat=35.125801&lng=-117.9859038
Metcalfe, D., Diaz, A. J. R., Olufajo, O. A., Massa, M. S., Ketelaar, N. A., Flottorp, S. A., & Perry, D. C. (2018). Impact of public release of performance data on the behaviour of healthcare consumers and providers. Cochrane Database of Systematic Reviews, (9).
Prang, K. H., Canaway, R., Bismark, M., Dunt, D., & Kelaher, M. (2018). The use of public performance reporting by general practitioners: a study of perceptions and referral behaviours. BMC family practice, 19(1), 29.
Vukovic, V., Parente, P., Campanella, P., Sulejmani, A., Ricciardi, W., & Specchia, M. L. (2017). Does public reporting influence quality, patient and provider's perspective, market share and disparities? A review. The European Journal of Public Health, 27(6), 972-978.