HCA 675 Assignment PPACA Paper
HCA 675 Assignment PPACA Paper
HCA 675 Assignment PPACA Paper
Rising expenditures on medical care is a worldwide problem that limits access to health services especially among populations with meager incomes. The United States of America as one of the affluent countries also grapples with increasing costs on medical care as it reports high expenditure on health services. Due to an increased burden on care, America introduced a healthcare policy called the Patient Protection and Affordable Care Act (PPACA), also known as Obamacare or ACA, to improve access to health facilities (French et al., 2016). The reform aimed to expand access to healthcare through improved coverage and quality of services by lowering the cost to improve consumer protections. Moreover, since its establishment, PPACA has improved consumer protections through eliminating most awful practices of third-party payers such as charging exorbitant prices or denying coverage to individuals with pre-existing health conditions. With the policy, approximately 20 million Americans gained coverage in 2016 (Oberlander, 2020). However, despite this milestone in patient protection, large proportions of Americans lack health insurance coverage and the cost of care continue to soar at an unsustainable rate. The premise cast debate on whether the policy is an improvement or a liability to the American healthcare delivery system.
The PPACA as an Improvement or Liability
           According to Chernew, Conway, and Frakt (2020), PPACA is a breaking point in the American public health policy. As of 2019, the policy increased coverage to 32 million Americans. The most defining measures of the policy are to expand coverage to up to 133% of the populations below the poverty line. Besides, the policy limits insurance exclusions and also prevents the use of lifetime caps or any other mechanism to deny insurance coverage to Americans. The policy has also seen increased coverage to people with preexisting or chronic conditions and has also allowed coverage for children up to age 26 enrolled on parental plans. Based on this context, the PPACA has tremendously reduced the cost of care to all populations enrolled in the program. 
With the enactment of the policy, individuals were expected to purchase health insurance policies at the beginning of 2014. The mandatory law to have the policy had irredeemable consequences to those not able to buy the coverage. In other words, a fine of $95 or alternatively 1% of the taxable income (Chernew, Conway & Frakt, 2020) was imposed to defaulters. The penalties, however, increased to $695 or 2.5% of income in 2016 for individuals and people with families were charged three times more from the personal fines. Through these amendments, the policy emerged to be a liability especially to those with scanty incomes. The government, on the other hand, anticipated to collect a substantial revenue to pay for it, but this came at the expense of consumers. The policy, therefore, emerged to be a burden to consumers rather than a reprieve to the irredeemably rising cost in care.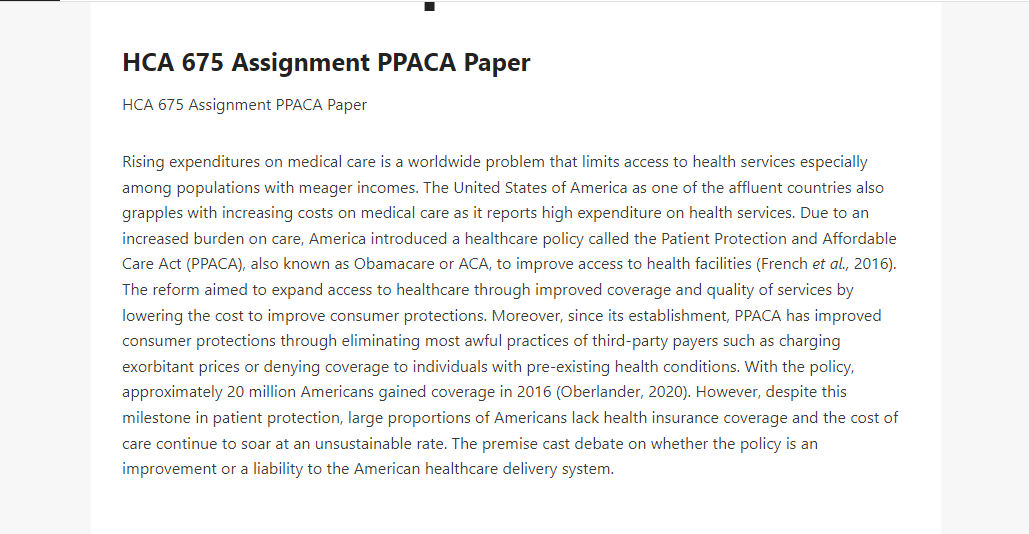 Pros and Cons
Oberlander (2020) indicates that PPACA has had a host of challenges to third-party payers (the insurance industry). According to the author, the profits for these payers have largely decreased since these companies have to take care of healthcare costs for individuals with pre-existing medical conditions and also provide coverage to preventive services associated with these illnesses. With this, the state and federal insurance exchanges have charged high prices to enable people to purchase coverage for these preexisting conditions. On a negative flip-side, the legislation has increased costs burden for healthier people and younger adults. These populations are more likely to assume the tax burden of purchasing health insurance exchanges for a pool of older people as well as sicker populations suffering from pre-existing or degenerating illnesses (French et al., 2016). Guided by this argument, it is clear that alleviating the health disparities among populations in America is still a major challenge and these compounds to ever-rising cost in healthcare. Besides, due to the high costs of health insurance exchanges, some states have not yet expanded Medicaid programs to citizens and this limits the possibility of PPACA in bridging the health disparity gap which overall leaves millions of Americans with limited options on coverage.
French et al. (2016) postulate that the PPACA has made health insurance companies operate through an exchange program where they serve a more expensive client base than earlier predicted by the policy. When compared to previous years, the insurers assume more health costs while receiving high premiums from healthy populations. Seeking broader enrollment of populations to the already overburden populations has been a daunting task to the health insurance companies. The premise has seen health insurers such as Aetna to reduce the health insurance exchanges offered in different counties in America. For instance, the company reduced selling health plans from 778 counties in 2016 to 242 counties in 2017 as a result of a $200 million loss recorded in the second quarter of 2016 (Chernew, Conway & Frakt, 2020). Due to such challenges, payers increased their premiums to address the volatilities in the health insurance environment.
Patients also respond to these inherent challenges by opting for payers who provide the lowest possible premiums. However, despite the availability of reduced costs on monthly premiums, patients still face a challenge of higher out-of-pocket deductible charges when they seek care. Nonetheless, as patients aim to strike a balance on quality of care, they tend to incur additional out-of-pocket expenditures and this has made the overall cost on care expensive. The primary intention of the PPACA was to enhance low deductible and low co-pay health insurance to cushion American citizens from high expenditures on care (Oberlander, 2020). At the moment, the policy has led to high-deductible costs and forced people to incur additional expenditure as they seek quality health services. The trend cast doubt on the sustainability of the PPACA and the survival of the payers in the current health insurance ecosystem.
Even though the PPACA has made Medicaid services more inclusive for many people enrolled in the programs, coverage has been low for a majority of uninsured U.S. citizens (Oberlander, 2020). Since its rollout, shopping for coverage has been complicated due to confusion emanating from limited periods of enrollment. Besides, difficulties with websites on its online platform have made enrollment complicated to a majority of citizens who yearn for the highly publicized benefits of the policy (French et al., 2016). With these difficulties in shopping for coverage, some citizens have perceived PPACA as a liability and contemplated exiting the old methods of health payments with others resorting to out-of-pocket expenditures.
Conclusion
Despite having good health insurance policies, Americans suffer from rising medical costs on care. The PPACA as the highly debated landmark health policy has consistently failed to address the exceedingly high medical cost. Young adults, as well as healthier populations, are compelled to pay high premiums to cater to the demands of the older populations. Besides, the policy does not consolidate the low monthly health premiums paid and the quality of services delivered to patients. Due to the disequilibrium, patients have resorted to out-of-pocket expenditures in seeking quality health services making the policy a liability.
References
Chernew, M. E., Conway, P. H., & Frakt, A. B. (2020). Transforming medicare's payment systems: progress shaped by the ACA: A narrative review of Affordable Care Act payment reforms. Health Affairs, 39(3), 413-420.
French, M. T., Homer, J., Gumus, G., & Hickling, L. (2016). Key provisions of the Patient Protection and Affordable Care Act (ACA): A systematic review and presentation of early research findings. Health services research, 51(5), 1735-1771.
Oberlander, J. (2020). The ten years' war: Politics, Partisanship, and the ACA: An exploration of why the Affordable Care Act has been so divisive despite the law's considerable accomplishments. Health Affairs, 39(3), 471-478.