HCA 675 Assignment Disaster Preparedness Paper
HCA 675 Assignment Disaster Preparedness Paper
HCA 675 Assignment Disaster Preparedness Paper
Disaster preparedness can be considered as one of the essential practices in contemporary society. Often the world today is exposed to frequent disasters which include acts of terrorism, disease outbreaks and other occurrences that threaten the safety of populations (Falcone & Detty, 2015). Disaster preparedness is the sole role of governments through their emergency departments. However, citizens also have a role to take precautions against disaster or respond accordingly in the event of an occurrence (Duran-Stanton & MPAS, 2019). Hospital facilities are the primary recipient to the victims of a disaster and therefore avails medical services to respond to an emergency. Despite availability of health resources and staff to address emergency cases, most hospitals still struggle with provision of urgent care to patients hit by disasters. It is therefore important to explore the concept of disaster preparedness to offer insights to health care providers in readiness for emergency situations. 
The present article provides a summary of an interview held with Kara Cahil, an Emergency Management Director at Mat-Su Regional Medical Center. The discussion focuses on an elaboration of the top three types of disasters common within the region. It will also provide insights into three lessons the interviewer gathered from managing a disaster.
Response on the Top Three Disasters
Debates on the disaster preparedness continue to rise as governments and interested groups provide different opinions on how to manage emergencies. However, before addressing any disaster situations, health institutions and government agencies must have clear information about the possible emergency situations prevalent within a given locale (Sherman & Wedge, 2015). In an interview with Kara Cahil, it was evident that Palmer Found in Alaska faces three major sets of disasters. The first is earthquake and using the Hazard and Vulnerable Assessment Tool, Kara Cahil affirms that Palmer has a risk relative estimated at 78%. The respondent argues that over the past years, Palmer encountered unpredictable structural damage which has so far damaged homes of staff and affected operations within the town. Earthquake is considered a natural disaster that has predictable patterns of occurrences and can cause devastations in a large number of populations (Steiner, 2017). Care facilities in Palmer are required to have emergency departments to handle causalities from earthquakes.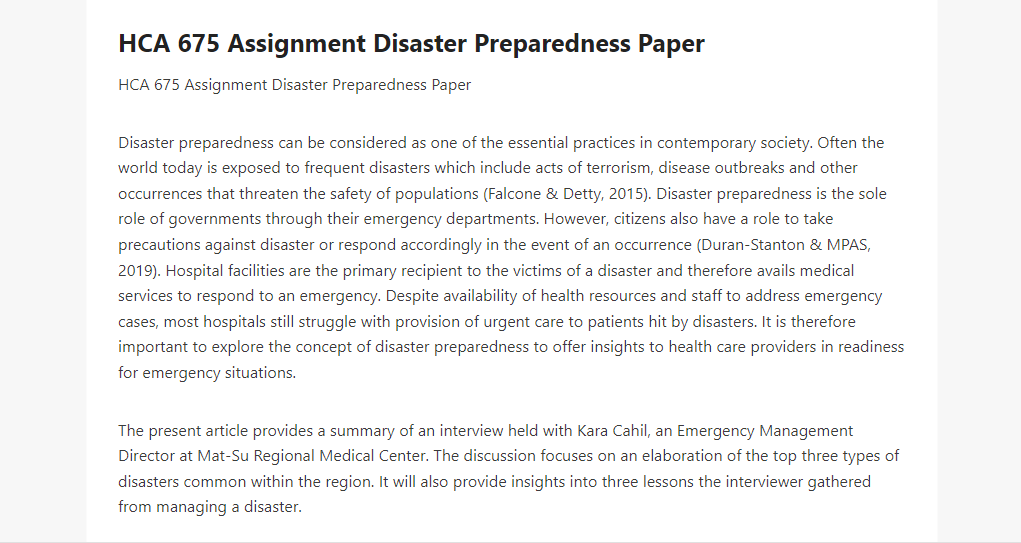 Kara Cahil reported Hurricane Force Windstorms as the second most disaster likely to hit Palmer. In using the Hazard and Vulnerability Assessment Tool, Palmer has a risk relative threat rate of 72% for these winds that swirl at 96 miles per hour. The disaster can compromise efforts of the rescue team since it can cause utility failure and alters the effectiveness of the backup systems designed to manage it. The analysis of the weather patterns serves to provide warning signs that government and interest groups can use to prepare for this disaster. 
According to Kara Cahil, Palmer can also be worst hit by epidemics of all nature. Particularly, disease outbreaks can shake the survival patterns of the populace within the region. The available healthcare system provides a yardstick on the preparedness of a country in managing epidemics and other types of emergency situations (Duran-Stanton & MPAS, 2019). At the moment, the healthcare system in Mat-Su Regional Medical Center is compromised by inadequate resources to handle urgent illness or traumatic injuries. With this, the management at the facility can opt for referrals in case they receive patients from disaster sites.
Top Three Lessons Learned about Managing a Disaster
Managing a disaster is one of the common debates that health professionals grapple with in the event of an emergency situation. More often than not, the response team has conflicting opinions about the priority of care to be given to patients following an occurrence (Balazs et al., 2015). In most cases, a lack of clear protocol of care and poor coordination can delay emergency responses leading to high cases of injuries or fatalities. Kara Cahil highlights top three lessons learned in managing a disaster in Alaska. Through an interview, the respondent indicates communication is one of the most important considerations that must be taken into account during emergency situations (Steiner, 2017).
Communication provides a platform for the dissemination of vital information regarding the disaster. Kara Cahil highlights that the channel of communication flowing from the local, state and federal government must be open to avail information to relevant stakeholders. Kara Cahil also emphasizes the authenticity of information disseminated to rescue officials and the staff at health facilities treating the cases. In other words, rumors about the situation must be controlled to improve efficient use of resources and to manage time during the rescue efforts (Falcone & Detty, 2015). Care facilities need to establish a command center and assemble an incident command team to help with a gleaning of accurate information arising from sites affected by a given disaster. Moreover, spread of information should be controlled by receiving feedbacks from a single Incident Command System. Nonetheless, accurate information messages about casualties from a disaster can be obtained through the Health and Homeland Alert Network (HHAN) present within states.
The second lesson highlighted by Kara Cahil points to the knowledge about the disaster plans. It is important for a health facility to prepare accordingly if it aims to maximize quality outcomes to casualties (Sherman & Wedge, 2015). Often, hospital directors plan for additional resources in an anticipation of patient surge in case there is a disaster within the locality. In most cases, care institutions can undertake mock disaster response activities to prepare for unprecedented emergency cases that they may face (Balazs et al., 2015). During these tests, health facilities plan and update disaster response approaches in readiness for eventualities. Nonetheless, through continued practice, health centers can identify gaps in their disaster preparedness methods.
According to Kara Cahil, a lesson regarding roles and responsibilities of staff serve important roles in containing the disaster. Often, stakeholders in the disaster management teams have innumerable overlapping desires and this can directly compete with the disaster management plans established within the health system (Duran-Stanton & MPAS, 2019). Guided by this argument, the duties of the rescue team must be clearly outlined to ensure coordinated care to casualties from an emergency. In case of a disaster, high emotions and anxiety are common and these can compromise the success of the rescue efforts. As such, professionals must adhere to the limits of their knowledge preserve to ensure effectiveness of care to the victims. Besides, it is recommended that each management level of a disaster should not have more than five people working to solve the situation (Falcone & Detty, 2015). The premise is guided by the argument that it takes a longer time for these individuals to consult one another before reaching a decision on care. Moreover, misunderstanding may arise and this can compromise the quality of rescue efforts.
Conclusion
Disaster preparedness is one of the yardsticks used to measure the effectiveness of a healthcare system. It is essential for stakeholders to understand the types of disasters likely to affect a given region and develop an appropriate response mechanism to improve the quality of life of casualties. Besides, anyone enlisted as part of the disaster management team must consider proper communication and adequate planning as part of the crucial factors required to contain the prevailing situation.
References
Balazs, G. C., Blais, M. B., Bluman, E. M., Andersen, R. C., & Potter, B. K. (2015). Blurred front lines: Triage and initial management of blast injuries. Current reviews in musculoskeletal medicine, 8(3), 304-311.DOI: 10.1007/s12178-015-9288-5.
Duran-Stanton, A. M., & MPAS, P. C. (2019). Responder communications in disaster: Is less really more? Disaster Medicine, An Issue of Physician Assistant Clinics E-Book, 4(4), 687.
Falcone, R. E., & Detty, A. (2015). Natural disasters: Hospital management. Emergency Medicine Reports, 36(23).
Sherman, C., & Wedge, D. (2015). Boston strong: A city's triumph over tragedy. ForeEdge from University Press of New England.
Steiner, N. (2017). Medical management of disasters and mass casualties from terrorist bombings: How can we cope? Management in Health, 21(3).