HCA 620 What management skill do you find most necessary for effective and efficient project management?
HCA 620 What management skill do you find most necessary for effective and efficient project management?
HCA 620 What management skill do you find most necessary for effective and efficient project management?
Project management is a fundamental undertaking that requires leaders that are well cultured and those with appropriate skillset. In order to effectively and efficiently manage a project, a project manager needs to display leadership. Having leadership skills entails a project manager having the capacity to lead and manage teams, establish the vision of the project, motivating the team and coaching, serving and inspiring them (Ramazani & Jergeas, 2015). Combining all those aspects ensures that project team members deliver the best results as desired by the project owner. The second skill entails effective communication. A project manager and a project leader ought to possess effective communication skills that will make them effectively pass messages regarding the project to the team members (Kerzner, 2017). Further, having great communication skills enables project managers to not only articulate issues to the team members but also other stakeholders of the project, which ensures effectiveness and efficiency.
Moreover, a good project manager needs to understand how to undertake scheduling. Having scheduling skills will enable project managers to understand the manner in which they can break down the goals of the project into a timeline to achieve them within the set timeframe (Kerzner, 2017). Possessing scheduling skills is important as it is central to the role of a project manager. Also, a project manager needs to have risk management skills. Any project done by a project manager is a risky and as such, they need to have skills to identify, assess and then control risks. Thus, the more competence in risk management a project develops, the more likely that a project is going to succeed (Ramazani & Jergeas, 2015). Whereas one cannot handle everything that will happen in the life of a project, possessing risk management skills ensures that most of the anticipated events will be handled appropriately leading to the success of the project.
References
Kerzner, H. (2017). Project management: a systems approach to planning, scheduling, and controlling. John Wiley & Sons.
Ramazani, J., & Jergeas, G. (2015). Project managers and the journey from good to great: The benefits of investment in project management training and education. International Journal of Project Management, 33(1), 41-52.
You make outstanding contributions concerning the skills necessary for project managers. Indeed, emotional intelligence plays an important role in managing projects. Indeed, emotional intelligence enables project managers to appropriately their teams hence leading to sustained effectiveness and efficiency of projects (Pollack & Adler, 2016). Moreover, leadership also is critical in managing numerous projects. Leadership enables project managers to organize the manner in which a project will be conducted to the satisfaction of all parties. Further, conflicts always tend to arise when dealing with numerous people. Given that pressure is always high during projects, it behooves a manger to possess conflict resolution skills.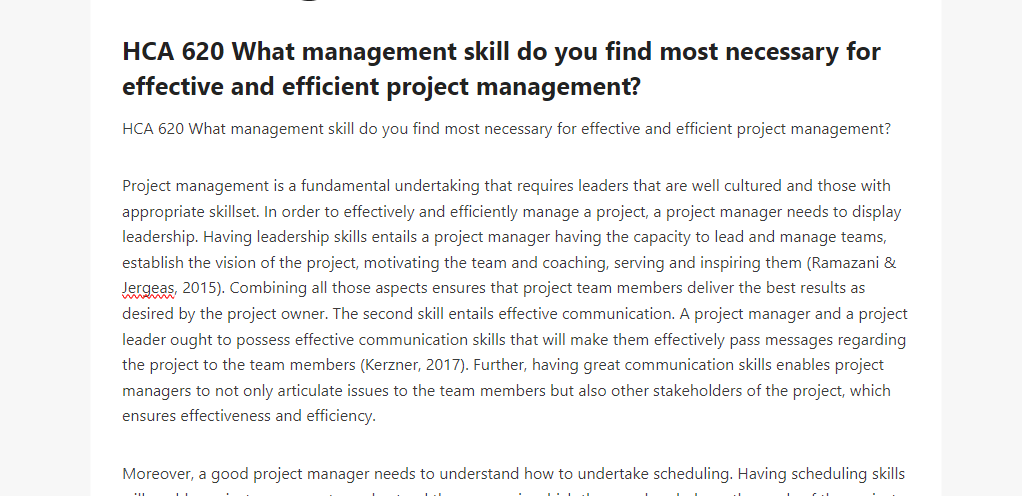 References
Pollack, J., & Adler, D. (2016). Skills that improve profitability: The relationship between project management, IT skills, and small to medium enterprise profitability. International Journal of Project Management, 34(5), 831–838. https://doi-org.lopes.idm.oclc.org/10.1016/j.ijproman.2016.03.004
Naleeca, you have made important points regarding the skills that are necessary for a project manager to effectively and efficiently handle projects. Indeed, effective communication, what you have referred to as an ability to talk properly is paramount. Having these skills enables a project manager to articulate the objectives of the project to their team member (Lucas & Edwards, 2017). In addition, project managers are required to have effective conflict resolution skills. These skills will be important during various conflicts between and among team members as regards their job descriptions. Indeed, even during the resolution of conflicts, effective communication skills are still necessary. Therefore, in addition to other skills, a project manager must possess effective communication skills.
References Lucas, A., & Edwards, M. (2017). Development of Crisis Resource Management Skills: A Literature Review. Clinical Simulation in Nursing, 13(8), 347–358. https://doi-org.lopes.idm.oclc.org/10.1016/j.ecns.2017.04.006