HCA 620 Search the GCU Library on the following topic: Evidence-Based Research (EBR)
HCA 620 Search the GCU Library on the following topic: Evidence-Based Research (EBR)
HCA 620 Search the GCU Library on the following topic: Evidence-Based Research (EBR)
The field of nursing has undergone an immense evolution in the sense that decisions regarding patient care are made based on evidence-based research and not personal opinions. The usage of evidence-based research requires that a practitioner searches numerous reputable published articles in journal databases for data, results and conclusions. The acquired data from these searches are analyzed together, then combined with the preferences or values of the patient, as well as the professional skills of a nurse also known as their accumulated education, skills, and experience (Lund et al., 2016). In my professional life, I have always preferred the adoption of evidence-based practice to solve issues related to patient conditions. Indeed, my current employment setting has suffered from increased patient falls for post-surgical patients. As a consequence, I have been forced to research for evidence-based interventions that can reduce these instances for patients under my jurisdiction.
As for my evidence-based project, there are two challenges that I have predominantly faced. One of them is a lack of a clarity concerning the most appropriate intervention and if it is possible to combine evidence-based interventions for the project. The existence of these challenges is precipitated by the fact that while the patient falls have increased at my current health care setting, efforts have not been made to provide an organizational policy to address the issues. Secondly, the existence of various open source materials regarding the issue has made it difficult to determine valid sources. Academically, such sources are not considered valid yet their proponents argue that they carry as valid information as peer-reviewed databases.
References
Lund, H., Brunnhuber, K., Juhl, C., Robinson, K., Leenaars, M., Dorch, B. F., … & Chalmers, I. (2016). Towards evidence based research. Bmj, 355, i5440.
Wafa, I agree with you that not everyone has interacted with evidence based research. As a matter of fact, most nurses will only interact with evidence-based project during their period in nursing schools. However, evidence-based research is a bit more advanced as it requires one to implement the results of various evidence-based projects (Lund et al., 2016). In order to accomplish these, there are certain skills that they need to acquire as relates to researching and examining pertinent literature. Without acquiring these skills and knowledge of what consists an appropriate evidence-based research article, it becomes very difficult to implement EBR in practice. However, the situation changes as one advances into the nursing profession by acquiring more knowledge as is happening in the present course.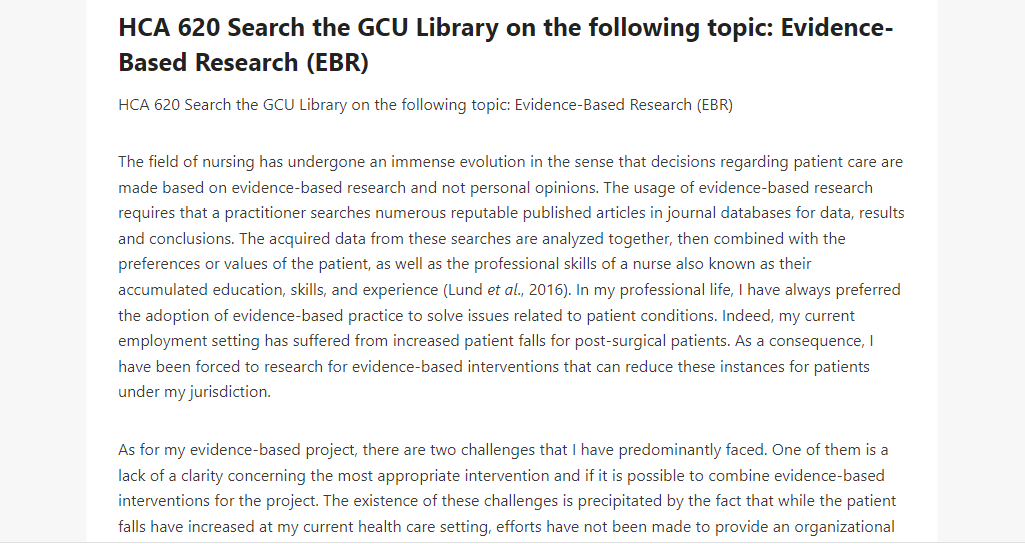 References
Lund, H., Brunnhuber, K., Juhl, C., Robinson, K., Leenaars, M., Dorch, B. F., … & Chalmers, I. (2016). Towards evidence based research. Bmj, 355, i5440.
Timothy, you raise a very serious issues concerning the impact of cost on the implementation of evidence-based research. Indeed, the bottom line of evidence-based research entails improvement of the quality of care and quality of life of patients. The above objectives are achieved via translating evidence-based projects into practice. However, the entire process is cost-intensive in nature. The adoption of evidence-based research into practice requires intensive training of personnel and subscription to expensive journals (Sanders et al., 2016). As a consequence, most organizations falter when the costs become high. This then prevents health care personnel from interacting with evidence-based research in their practice, which is why most of them do not have this experience.
References
Sanders, G. D., Neumann, P. J., Basu, A., Brock, D. W., Feeny, D., Krahn, M., … & Salomon, J. A. (2016). Recommendations for conduct, methodological practices, and reporting of cost-effectiveness analyses: second panel on cost-effectiveness in health and medicine. Jama, 316(10), 1093-1103.