HCA 620 Describe your approach to tracking a project
HCA 620 Describe your approach to tracking a project
HCA 620 Describe your approach to tracking a project
The process of tracking a project is one of the most important aspects that a project manager should consider as it reveals whether things are okay or otherwise. However, there are different ways to monitor the progress of a project depending on the available perspective. Some project managers may use a project outline, establish clear deadlines, and do regular checks to achieve it; however, as a project manager, my approach would entail establishing goals and milestones (Turner, 2016). During the initial stages of the project, I will first of all consider the specific skillset of each team member. Having information regarding the skillset of each team member will enable me to hold each person accountable as regards their skillsets and limitations. Establishing tailored goals and milestones with each team member will also lead to the satisfaction of the team members. Stressing the role of each team member and the manner in which it will contribute to the success of the project.
As a project manager the important issues to consider during a project include the deadlines, objectives of a project, and skillsets of team members. Using scheduling skills, it is important that each item of the project is delivered as scheduled to ensure efficiency (Meredith, Mantel Jr, & Shafer, 2017). Moreover, ensuring that the project objectives are met ensures efficiency and effectiveness of the same. These objectives will be considered individually as they will collectively determine the success of a project. The skillsets of team members are also an important consideration as they will enable a project manager to assign them areas within which their competence lies. Aligning team members with their competences makes it easier for a project manager to successfully meet deadlines and the objectives of a project.
References
Meredith, J. R., Mantel Jr, S. J., & Shafer, S. M. (2017). Project management: a managerial approach. John Wiley & Sons.
Turner, R. (2016). Gower handbook of project management. Routledge.
Naleeca, you are indeed correct when you assert that several methodologies exist to track the progress of a project. Even then, tracking the progress of a project is fundamental from the perspective of milestones and goals. Ensuring that team members deliver their bits of a project within the stipulated timeframe is important when it comes to ensuring that the project is completed on time (Zeisset & Bowman, 2012). Moreover, a project manager needs to examine the progress of specific goals. Doing the above individually makes the tracking procedure not only easier but also effective.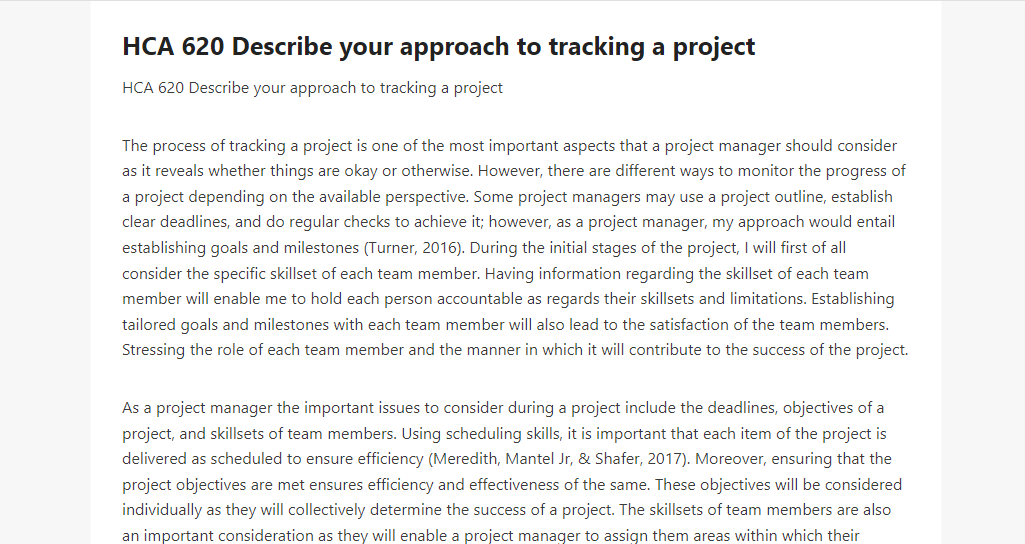 References
Zeisset, A., & Bowman, S. (2012). strategies for ICD-10 implementation. Hfm (Healthcare Financial Management), 66(9), 96–102. Retrieved from https://search-ebscohost-com.lopes.idm.oclc.org/login.aspx?direct=true&db=bth&AN=79749622&site=eds-live&scope=site
Ludie, I agree with you that using the Microsoft Project software is a very modern way of assessing the progress of a project. Having competence in an MS Project software allows the manger to assign different tasks to various team members with specific deadlines (Microsoft Project, 2000). Doing this permits them to easily use the software to determine if the deadlines are being met. Indeed, deadlines are the standard measure of the progress of a project and so assessing them is fundamental.
References
Microsoft Project. (2000). Women in Business, 52(5), 36. Retrieved from https://lopes.idm.oclc.org/login?url=https://search.ebscohost.com/login.aspx?direct=true&db=a9h&AN=3540732&site=ehost-live&scope=site