HCA 545 Assignment Cultural Leadership Strategies
HCA 545 Assignment Cultural Leadership Strategies
HCA 545 Assignment Cultural Leadership Strategies
Organization leadership must put into place strategies that aim to sustain any challenges that may arise and help the organization in addressing them before they become a crisis. Therefore, adapting leadership models that are appropriate in providing strategies that are successful and provide guidance is crucial in an organizational setting. In order to improve the community within which they operate, health care management should formulate leadership models that help in reducing illness and improving the community health. The dynamic cultural model and the omnibus leadership model are applied differently in addressing issues in a healthcare organization. However, both models seek to maintain the cultural element in an organization that is crucial in improving community operations as well as in achieving common goals.
Clarity of Mission
There is need for a clarity of mission in any organization. The reason for this is found in the fact that it defines the organization's reason for existence and brings focus to its operations. One of the fundamental roles of leadership is to provide direction within an organization. The above can be achieved by providing clarity on how to achieve targets, values, and strategies within an organization that is characterized by dynamism (Allen et al., 2016). A dynamic model is very consistent with the above organizational mission. This is due to the fact that the dynamic culture leadership model uses a leadership process that is established through communication improvement, strategic planning, and team assessment. The model strives to clearly state and define an organization's mission to its employees for better understanding thus achieving positive patient outcomes through better services (Chatterjee et al., 2018). On the other hand, the omnibus leadership model evaluates its leaders and their style of leadership. This means that under the omnibus model, the organization's mission is only clarified if the organization has the requisite resources.
Education of all Organizational Levels Including Governance
            Conformity in a healthcare setting is very crucial, and this is only achieved if there is appropriate education in all organizational levels, including governance, to maintain consistency when taking care of patients and their families. According to Allen et al. (2016), employees have to be creative and autonomous problem solvers, which can only be achieved through education including one on governance. The dynamic model ensures that all employees in an organization, regardless of their levels, including governance, are educated.  Moreover, education at all levels ensures that the employees are motivated, there is employee enhancement as well as learning improvement, which ensure positive patient outcomes at heath care settings. For instance, patient safety is prioritized, and thus, the provision of services to patients should be per laid down procedures. However, under the omnibus leadership model, employees are allowed to obtain an education that helps them achieve vital skills. This ensures that employees in the organization are updated on what new skills and knowledge they need to possess to serve patients better.
Workplace Should Reflect the Community It Serves
A healthcare organization's strategies and applications should reflect the community it serves. For this reason, it is essential that such organizations support services that benefit the community they serve since it offers the organization with an opportunity to grow. Under the dynamic model, organizational leadership offers services that can be utilized by the community they serve and this provides the organization with a chance to thrive and grow in the given society (Oduwusi, 2018). Moreover, the dynamic culture model argues that an organization should offer services that are specifically needed by the community they serve. For instance, such services include providing sanitation services for the poor in the community. Nevertheless, the omnibus model establishes organizations within the community that offers the services that are needed by the community in general. Such services can be offered to other communities even if the organization moves its base of operations.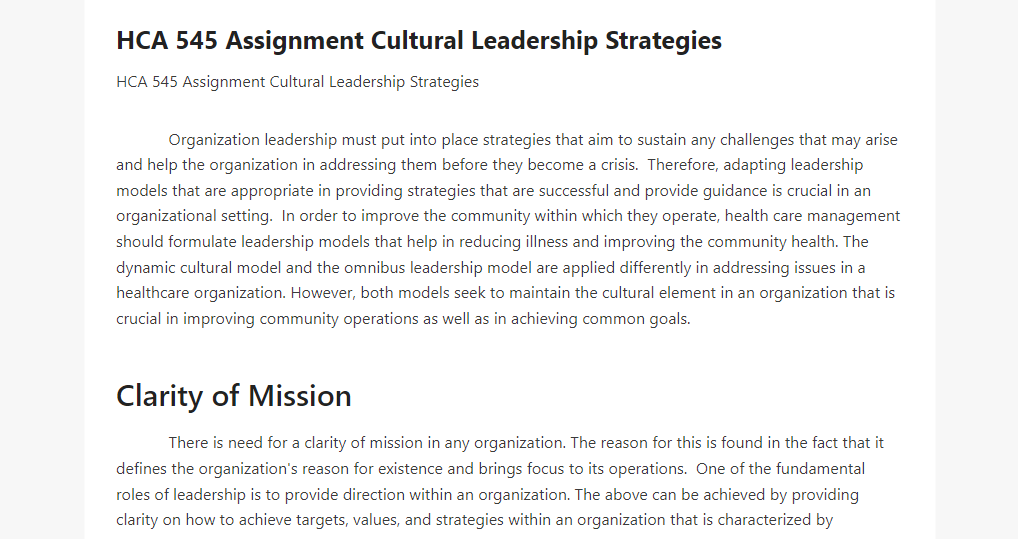 Organizational Redesign to Meet Recently Enacted Healthcare Reform
Healthcare organizations should redesign to meet reforms implemented recently. Under the omnibus model, its functions are redesigned in a way that it adapts well to reforms implemented which reforms produce the desired positive effects. On the other hand, the dynamic model has redesigned its services in a manner that they are utilized appropriately per enacted healthcare reforms.
Cultivation of High-Potential Employees
High potential employees are crucial for the growth of an organization. This is because an organization will need future leaders who understand the organizational dynamics. When hiring new employees, the omnibus model screens them and ensures only qualified and experienced employees are hired. This ensures high potential employees are integrated into the system early enough. The model then offers the employees with training that develops and nurtures their leadership skills early enough. However, under the dynamic model, employee development is the key to cultivating high potential employees. Therefore, the organization ensures that it has a strong foundation that helps in developing their employees to their full potential. Such development does not only motivate them but also ensures they reach their optimum potential (Ledlow & Stephens, 2017). For instance, in a healthcare setting, an employee who diligently shows potential is guided to achieve the necessary expertise needed for next-level growth.
Development of Succession Plans
Every organization should develop succession plans that ensure an organization has the right employees with capabilities, experiences, and proper skills, thus ensuring certainty for the future. According to Oduwusi (2018), it is paramount to identify potential successors for the success of organization. Under the dynamic model, a succession plan is formulated with focus on the patients' wellbeing as well as the organization's survival, thus ensuring its continuity. However, the omnibus model's succession plan is adopted to ensure organizational sustainability is achieved.
Reduction of Turnover
Organizations should find ways to reduce employee turnover. An organization's leadership should ensure there is a retention increase by adopting various mechanisms. The dynamic model uses benefits and compensation packages to reduce turnover. Offering employees more competitive salaries and benefit packages make certain that employees are not only productive but also motivated (Waldman et al., 2015). Under the omnibus model, when hiring new employees, the undergo screening which process ensures that only the right employees are recruited from the start. This ensures that only employees who have the needed skills and relevant experience are hired and thus reduce turnover since only the right employee is retained from the beginning.
Processes to Effectively Implement New Strategies
There are different processes that organizational leadership can adopt to facilitate growth needed when implementing new strategies. According to Ledlow and Stephens (2017), strategies help an organization to achieve its objectives. Thus, the omnibus model ensures that any strategy implemented is defined within its operations. The dynamic model, on the other hand, implements strategies that align with the needs of the organization and the community.
Gender, Religious, Ethnic, and Racial Differences
Diversity helps an organization to grow. Therefore, all the differences should be accommodated. In the omnibus model, addressing diversity is done through acceptance of various cultures. For instance, an organization will undertake team-building initiatives for employees to come together and relate well. In the dynamic model, employees are trained based on human resource's provision regarding the necessity of diversity to ensure patient satisfaction as well as quality service provision. This is achieved by ensuring employees are integrated as one unit in the organization.
Conclusion
Any organization must understand which leadership model works best for its structural and operation needs. Both models are useful in achieving positive patient outcomes and, therefore, can be implemented effectively. Therefore, it is essential for an organization to implement a leadership model that helps it achieve its objectives.
References
Allen, G. P., Moore, W. M., Moser, L. R., Neill, K. K., Sambamoorthi, U., & Bell, H. S. (2016). The role of servant leadership and transformational leadership in academic pharmacy. American journal of pharmaceutical education, 80(7).
Chatterjee, R., Suy, R., Yen, Y., & Chhay, L. (2018). Literature Review on Leadership in Healthcare Management. Journal of Social Science Studies, 5(1), 38-47.
Ledlow, G. J. R., & Stephens, J. H. (2017). Leadership for health professionals. Burlington, MA: Jones & Bartlett Learning.
Oduwusi, O. O. (2018). Succession planning as a key to effective managerial transition process in corporate organizations. American Journal of Management Science and Engineering, 3(1), 1-6.
Waldman, D. A., Carter, M. Z., & Hom, P. W. (2015). A multilevel investigation of leadership and turnover behavior. Journal of Management, 41(6), 1724-1744.