HCA 205 Discussion Reimbursement Debate
HCA 205 Discussion Reimbursement Debate
HCA 205 Discussion Reimbursement Debate
The capitation payment system is a healthcare reimbursement technique that reimburses a physician, clinic, or hospital for services that they will render to a patient under the program in the future for a defined period (Chapter 3, N.d.). In so doing, it enables these services providers to attain immense financial benefits if they render minimal health services to the patient before the expiration of the defined period. This system exerts a significant positive influence on the overall healthcare system by obligating physicians, clinics, and hospital to provide patients with quality healthcare services to minimize their hospital revisits or readmission hence amass substantial financial gains.
The capitation payment system gained popularity in the 1980s and 1990s due to pressure from both the U.S. government and private insurers to adopt a mechanism that would reduce the bloated cost of health care in the country (James & Poulsen, 2016). The tool proved integral as it enabled these institutions to curb healthcare expenditure by reimbursing health providers with specified fees for every patient for a defined period. Moreover, its avocation for patients to receive limitless healthcare services further enhanced its relevance by not only improving their access to care but also obligating care providers to provide them with quality healthcare to minimize hospital revisits and patient readmissions.
The capitation model has profoundly exerted a positive influence on the cost, quality, and access to healthcare service. By reimbursing physicians, clinics, and hospitals before the delivery of health care services, the model enables them to obtain the requisite resources necessary for the provision of quality care to patients under the program hence improving healthcare costs (Chapter 3, N.d.). Also, the program advances quality by obligating practitioners to provide patients with sound care to minimize hospital revisits or patient readmissions. Moreover, it permits access to care by ensuring that beneficiaries obtain the necessary health care services for as long as they may desire during the insurance period.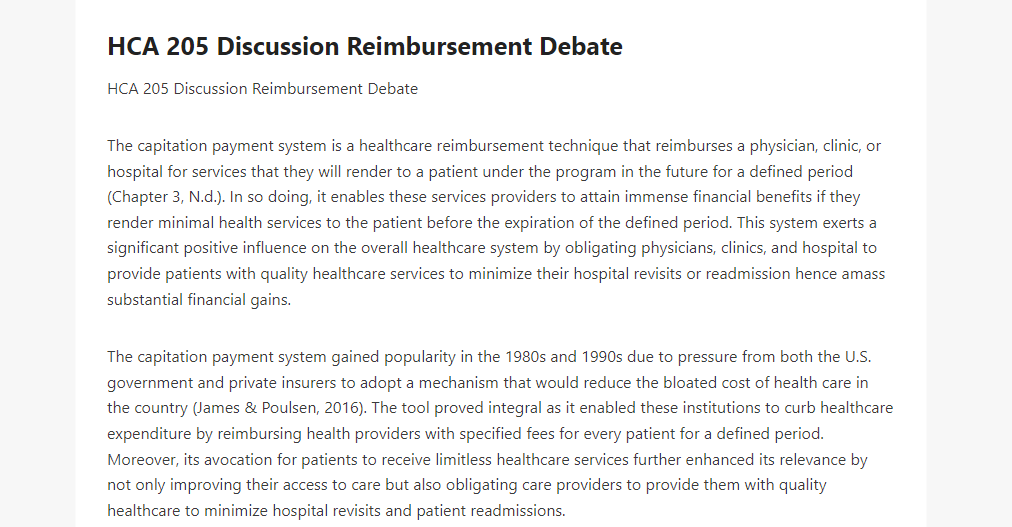 Thank you for sharing your views on Capitation reimbursement method. However, your method is not the best method of reimbursement. The Capitation reimbursement method does not work for all hospitals, PCP, or patients. Capitation is only good for two major groups which are employers and those who utilize HMO insurance policies. However, providers are negatively impacted if one is chosen more so than the other because the one who uses the least amount of services generally gets compensated more. Employers utilize the capitation method because it provides them with a fixed rate for employee insurance coverage. Capitation provides incentives to hospitals and PCP to give fewer services to patients in order to gain more profits. That isn't in the best interest of the patient and it only works for the provider. It isn't a method that works for both parties. That's precisely why fee-for-service is still the best method of reimbursement. The cost of fee-for-service is cost effective and direct. The quality of services provided are geared towards helping patients obtain services and know what those services cost. They are being treated with more care and are not in a race for compensation over the quality of care. They have access to every service they need. Fee-for-service was the first method of reimbursement created and is still used to this day because of it's efficiency. It works for everyone.
Chapter 3. (N.d.). Healthcare Financing and Reimbursement.
Pearce J.W., (2012) Healthcare Financial Management: Journal Of The Healthcare Financial Management Association
The Capitation model seems like a strong reimbursement method.  Any method that gives incentives to doctors for providing efficient, quality care is good.  According to Batnitzky, (2018) "The provider profits if fewer services are used. However, if more services are used, the provider absorbs the cost." (p. 61) This  This is where capitation falls short in my opinion.   When a hospital is forced, sometimes out of their own control to provide care that exceeds the annual payment contract they are the sole bearer of that cost.  depending on patient load, and the type of illnesses can greatly affect a hospitals profitability and cause a potentially huge change in year to year business plans.  The newer reimbursement types like pay-for-performance take away the fixed payment.  they add bonuses to providers for quality care and meeting certain standards, while still being penalized for sub par performance and not meeting standards.  The difference being that hospitals performance can dictate profits or penalties, and not being penalized for participating in a capitation type program.
Reference: 
Batnitzky, A., Hayes, D., & Vinall, P.E. (2018).The U.S. healthcare system: An introduction [Electronic version]. Retrieved from https://content.ashford.edu/Links to an external site.
You have wrote an awesome post. Here are my thoughts on this system, "Capitation", after profound research. You stated that, "This system exerts a significant positive influence on the overall healthcare system by obligating physicians, clinics, and hospital to provide patients with quality healthcare services to minimize their hospital revisits or readmission hence amass substantial financial gains". That is a good reason to like this system. You know, capitation can also seem easier and more cost effective, because the only thing to keep an eye on are the number of enrolled members, leaving no need to use complicated billing codes or the filing out of much paperwork (Kinsey, 2018). Furthermore, based on your views, it seems more cost effective. However, the freedom of choice is restricted with this system. For example, if you have a doctor, but that doctor leaves this capitation system, you have to choose another doctor. You cannot go where your doctor has gone. If you do decide to go where your doctor has gone, then you will be paying out of your own money (Kinsey, 2018). Also, the health system is more so about care takers getting money, than it is the well being of people, but that is just my opinion. However, this system definitely encourages some doctors to take on more patients than they can bare, because their salaries are increased by the more patients that they have. Furthermore, that puts a strain on the doctors, because they may be trying to hurry up and get through with you, just to get to another patient, which means the doctor is not taking the proper amount of time that he or she should be taking with you, because there are so many patients ( Kinsey, 2018). That means that you may not getting the proper treatment, diagnoses, evaluations, etc. It is like a public defender at the local court, who are indeed real lawyers, but people rather higher lawyers outside of that platform, so the lawyer that they hired can focus more on their cases, as opposed to a court house public defender who may have hundreds of cases to fight, and just may be trying to rush to get your case out the way, meaning that he or she may try to get you to accept some sort of plea deal with the court, when a hired lawyer would take the case to trial. It is the same with a doctor who has hundreds of patients. He or she may be trying to get you to take some meds that you do not need to take, or telling you things about your situation, but not as much as he or she should be telling, etc, trying to get you out the door, etc. I know it sounds harsh, but it is a harsh reality. Providers also may become stingy with care, choosing not to order potentially helpful tests and procedures in order to keep costs down and profits up. This leads to a stressful work environment for providers and can cause patients to suffer or feel helpless in seeking the care they need ( Kinsey, 2018).  Kinsey, A. (2018, July 11). "Advantages & Disadvantages of Capitation Payments". Retrived from https:bizfluent.com/info-12185015-advantages-disadvantages of Capitatation-payments.html
Capitation payment system is a payment agreement between a physician or group of physicians and a healthcare company. This type of reimbursement has positively influenced the overall health care system by allowing a fixed payment for each patient enrolled. That is, medical providers, prearrange a flat monthly payment that they will receive from each patient covered by this plan for a period of time; no matter how often patients receive medical care. It has also influenced the health care system in the sense that providers can have some downtime when a fewer number patient needs medical care. Another positive aspect of this plan is that the health maintenance organization (HMO) helps reduce the medical cost for patients that are enrolled.
This reimbursement model evolved as a solid and crucial part of the health care system by offering many options to patients; such as HMO, PPO, and POS. HMO is a health insurance plan that offers a variety of medical services to patients through a network of providers. Preferred Provider Organization (PPO) is a plan that allows patients to be seen by specialists that work in the network. Point of Service (POS) is a plan that offers the combination of HMO and PPO to patients. All these plans are gained through the capitation payment system and we can conclude that this reimbursement model has changed the health care system by helping patients get the best medical care at a cheaper price.
This reimbursement model has positively influenced cost, quality, and access of care by allowing patients to get the care that they need at an affordable price through the network (Group of doctors that signed the capitation contract).
Reference:
Batnitzky, A., Hayes, D., & Vinall, P.E. (2018).The U.S. healthcare system: An introduction [Electronic version]. Retrieved from https://content.ashford.edu/Links to an external site.
   I feel like this type of healthcare is very popular within the healthcare system. On paper it seems to have a lot of perks and incentives for the primary care physician but once you really read into the cons or this type of health care you realize that there are a lot of things wrong with this reimbursement model. For starters this plan offers physicians a set amount or payment per patient. With this being said physicians are persuaded to take on more patients than they can handle just to receive a certain salary. With all of these patients, it is hard for physicians to see these patients making it hard for patients to see their PCP and when they do, the visits are short due to physicians bouncing back and forth between patients and doctors can not give the patient the time and quality they deserve. Another issue with this model is that physicians are encouraged and offered incentives to not use expensive/ extensive care. Meaning expensive diagnoses are not used, many physicians turn away patients with too many health issues to avoid high costs. Patients are also restricted to health care providers, you must have a referral to see a specialist or go to a hospital, if not you run the risk of paying out of pocket. So this model has potential to be great but it has many flaws as well.
The Fee-for-service reimbursement method is the best method for the United States Healthcare System because it is designed to keep hospitals and clinics afloat by ensuring payments are made by patients who received care. Physicians deserve to get paid for their services and if patients are not made to pay then how would the physicians get compensated. Especially, if the patient does not have health coverage. The Fee-for-service method eliminates non-payments and hold the patient and/or insurance companies accountable for payment of services.
The costs of the fee-of-service reimbursement method positively influence the healthcare system by creating a payment method that clinics and hospitals benefit from by gaining revenue instead of losing revenue from non-payment of their visits. Physicians are ensured payment for patient care. Patients can be reimbursed for out-of-pocket costs depending on their insurance company. The costs for patients is cheaper if their insurance company has negotiated a discounted fee-of- service with their PCP versus costs by their PCP with no discounted fee-of-service.
The quality of care with this method is that patients are knowledgeable of the costs of the services they are seeking and can better prepare for it.
The access of care with this method is that patients have access to care regardless of whether the patient has insurance or not. The patient will not get turned away from care. This method has been often used by programs such as medicaid.
My reimbursement model coincidentally and piggy back off or revamp of your reimbursement plan. There were many negative sides to the fee- for – fee service and I as I read I was really astounded by the information I was reading. Basically from what I read in a thread the fee-for- fee started off as a way to ensure doctors were receiving payment after the service and holding the patient and insurance liable for those funds. However, along the way Doctors realized that they were getting paid regardless and became more concerned with how much money they could receive and less with the quality of work being done. Doctors would schedule more complex tests and operations for simple fixes and ensure that patients had to be scheduled for more appointments. Some of these appointments for the patients showed little to no change. The foundation of the health care system became tarnished because patients were not trusting doctors to do their part and take care of them.
The fee- for- fee service allowed doctors to get over on the system and because their was no standard for doctors when reporting the quality of their work doctors did not have to explain why they took the measures they did. Hundreds of dollars were being drained from the health care system and the clinics/ hospitals. The fee-for-fee service was a great idea when it was first launched but like everything else it will soon fade out by another.