HCA 205 Discussion Healthcare Delivery
HCA 205 Discussion Healthcare Delivery
HCA 205 Discussion Healthcare Delivery
The target client:
Mental illnesses affect individuals of any age, race, and religion, but it is more prevalent amount adults aged 18-25.
What Professionals work that work within that mode?
Psychiatrist ( Diagnoses and treats mentally ill patients)
Psychologist ( Diagnoses and provide group therapy to an individual)
Licensed counselor ( Diagnoses and proves group counseling to an individual)
What does this mode offer in terms of care?
Pharmacologic care.

Individual, group, family and cognitive behavioral.

Marriage and family therapists and mental Health Counselors care These two types of care play a significant role in mental health and help patients, couples, and families to control emotional disorders and issues.
Expected outcomes
Increased risk of severe mental illness.

A significant rate of high school dropout among student with a mental health illness (14 and older ).

Increase the suicide rate ( 15 to 24 years of age).

The number of young adults with mental illness is expected to increase to about 12 million by 2020.

The number of persons aged 65 or older with mental illness is likely to grow to 11 million by 2020.
Specific issues or concerns that affect the delivery of care
Legal and regulatory:
Making health care mandatory for someone can change the delivery of care for that individual. I heard a story about a lady that showed signs of mental health issues, and her family( Husband, parents, friends) tried without success to convince her to go to the hospital. When the situation reached a certain level, her husband got a court notice that gave him the right to take his wife to the hospital against her will. The delivery of care in this situation was affected because the lady was not cooperating with the care team. I heard she did not want to take her medicines or talk to anybody because she believed that people are trying to hurt her.
Sharing patients information is one more concern that affects the delivery of care. When I got hired at a clinic as a medical assistant, one of the stories that they told us at the orientation about patients record was about a football player that went to the hospital and one nurse took a selfie with him in his hospital bed and posted that picture on social media. This action affected the delivery of care because the patient did not want anybody to know that he had a health issue, and everybody knew about his condition because of that nurse. He was shocked, agitated, angry, and he requested to be transferred to another hospital.
Ethical
Overprescribed medication is unethical, and some doctors do that because they want to help pharmacies sell their products. This affects the delivery of care because money is the primary concern, not the patient. Using patients to test new medications without them knowing is another issue that affects the delivery of care. This situation affects the delivery of care in the way that patients are not the priority, but a tool of tests.
Social
Lack of money is one of the specific issues that affect the delivery of care. If you do not have money, it means you cannot afford to get health insurance; therefore, it will be difficult to continue receiving medical care.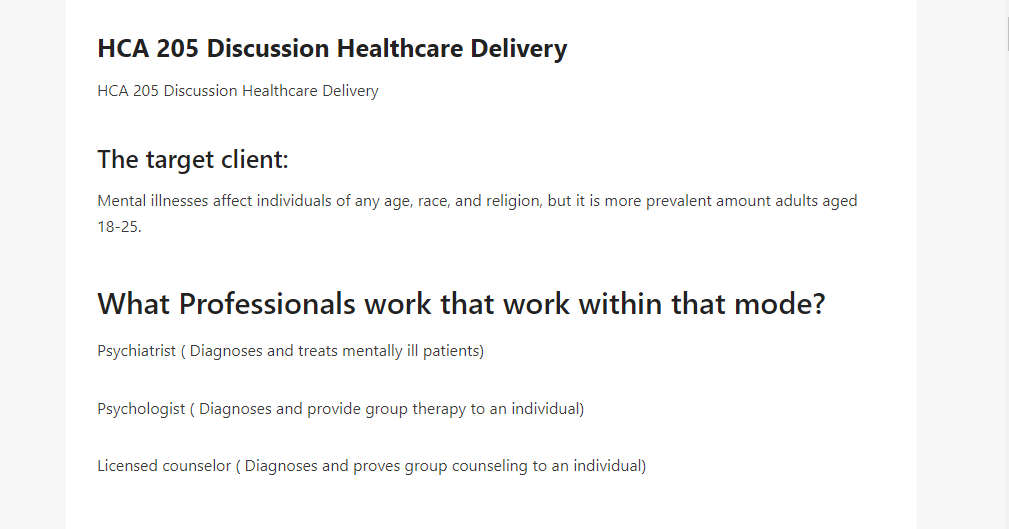 Stigmatization is another concern that affects the delivery of care. In some communities, getting some types of health issues can be seen as a curse and can be the reason why some people lose their friendships. This situation affects the delivery of care in the sense that patients do not have a lot of moral support from their friends and family because they do not want other people to find out about their situations.
Reference: Batnitzky, A., Hayes, D., & Vinall, P.E. (2018). The U.S. healthcare system: An introduction [Electronic version]. Retrieved from https://content.ashford.edu/Links to an external site.
You have created a good post. I would like to speak on the sharing of people's information. You know, some people believe that doctors, as well as other healthcare providers, cannot share their information under any circumstances, meaning that the healthcare provider must get the permission of the patient to share his or her information at any time, but that is not true. Are you familiar with "HIPPA"?. This is the, "The Health Insurance Portability and Accountability Act" of 1996, which was signed into law by President Bill Clinton. This law protects the privacy of patients, but it also indicates that doctors, as well as other healthcare providers can share your personal information without your permission under certain circumstances. The privacy rule within this act states that a healthcare provider can share your information without your approval to, "Communicate with a patients family members, friends, or others involved in the patient's care, communicate with family members when the patient is an adult, communicate with the parent of a patient who is a minor, involve a patient's family members, friends, or others in the dealing with a patients failures to adhere to medication or other therapy ( Department of Health & Human Services, 2018). However, this same website also indicates the penalties that stakeholders may impose on someone that violates the, "HIPPA ACT", such as doctors or caregivers who release a patient's personal information out of the scope of proper conduct. It reads as follows, "HIPPA violations are expensive. The penalties for noncompliance are based on the level of the negligence and can range from $100 to $50,000 per violation ( or per record), with a maximum penalty of $1.5 million per year for violations of an identical provision. Violations can also be criminal and result to jail time. So, as we see, stakeholders take a patient's personal information very serious, and may put someone in jail for violating that patient's privacy.
You also stated that, Lack of money is one of the specific issues that affect the delivery of care. If you do not have money, it means you cannot afford to get health insurance; therefore, it will be difficult to continue receiving medical care". That is true. Do to the fact that you are speaking on healthcare, there are stakeholders involved. To help someone afford healthcare, one option is to join a group. "You may be able to buy a less expensive group plan through a professional group, or other membership organization such as an alumni group. You will be pooled in with other members of the group, so your premiums may be lower based on a group rate" (Rosato D, 2017 ). Another way to afford healthcare is to adjust your income. A stakeholder may suggest such a thing. "If your income is close to the cutoff for getting a subsidy to help pay your premium, look for a way to lower your income so you can qualify. Information is from the source.
( HHS.GOV: U.S. Department of Health & Human Services. (2018, August 19). Retrieved fromhttps://www.hhs.govLinks to an external site.).
(Rosato, D. (2017, December 8th). "What to Do If You Can't Afford ACA Health Insurance Premiums". Retrieved from https://www.consumerreports.org/health-insurance/what-to-do-if-you-cannot-afford-aca-health-insurance-premiumsLinks to an external site..
Another well thought out post. I agree with some of your critical issues that you list. I strongly agree with and appreciate Trent Davis' response. I think that there is a great concern over sharing patient information. This concern can be healthy. However, as Trent explained, providers can share information with other providers regarding patient information when the continuum of care makes it necessary. I believe that a lot of healthcare workers need a better understanding of the HIPAA. This understanding could eliminate unnecessary wait time or delay in treatment.
     Making healthcare mandatory is another hot subject.  This is a huge legal issue.  Some say that making healthcare mandatory takes away the rights and choices of people.  However there have been many people that have benefited from this mandate.  Due to this requirement insurance companies have had to restructure many of their plans.  This has allowed a huge group of individuals the opportunity to obtain insurance for the first time in their lives.  It is definitely a critical issue with today's healthcare system. 
Who is the target client? I believe the target client in integrated care is adults and children. Although the largest integrated care delivery system is the United States Department of Veterans Affairs.
What do professionals work within this mode? Since this is a collaborative approach to improve health it would likely have the following:
Physicians

Clinical case coordinators
What does this mode offer in terms of care? In terms of care, the integrative care believes in treating the whole person, not just the symptoms they come in with.
What are the expected outcomes? The expected outcome is to improve a patient's overall mental and physical health.
Legal:
"Because integrative health care is inherently collaborative, it presents dangers of kickbacks and fee-splitting, as well as prohibited self-referral. If Medicare- or Medicaid- reimbursed services are provided, then the integrative healthcare practitioner must consider federal law (i.e., Stark and federal anti-kickback law) as well as state law prohibitions against self-referral, kickbacks, and fee-splitting. If federal law does not apply, then state law still does."
They need to understand privacy and security issues in a medical setting. They need to have the following to be compliant with the law: HIPAA obligations include:
Appoint a Privacy Officer

Appoint a Security Officer

Have a Privacy & Security Manual that is specific to your healthcare facility or institution.

The Manual should include Privacy and Security policies, procedures, and forms.

Ensure that all staff have HIPAA training

Perform a security risk assessment and address security vulnerabilities
"Current reimbursement policies for providers providing physical and behavioral health care services on the same day are complicated and the policies create a barrier to the seamless integration of these services for the well-being of the patient" They is a study done and a lot of integrated care sites reported not billing for behavioral health services and providers had concerns regarding regulatory coding and auditing practices for specific services. What would this mean in the long for patients if the billing not done correctly or provider concerns about service of the model.
Ethical: Can run into an ethical issues when a social workers with a patient in an integrated health care setting here a few examaples:
Social: integrated care model is a big part of social health care since it center on the care and addresses the full range of physical, emotional, mental, social, spiritual and environmental influences that affect a person's health.
References: https://en.wikipedia.org/wiki/Integrated_careLinks to an external site.
https://www.integratedcareevaluation.org/author/valentijn/Links to an external site.
https://www.nimh.nih.gov/health/topics/integrated-care/index.shtmlLinks to an external site.
https://content.ashford.edu/books/Batnitzky.5231.18.1/sections/sec7.2Links to an external site.https://michaelhcohen.com/2014/11/5-legal-issues-for-integrative-health-practitioners-in-the-new-year/Links to an external site.
https://www.integrativepractitioner.com/topics/news/five-legal-tips-setting-functional-medicine-practiceLinks to an external site.
https://www.integration.samhsa.gov/TCHF_IntegratedCareReport.pdfLinks to an external site.
https://academic.oup.com/hsw/article-abstract/43/2/118/4898019?redirectedFrom=fulltextLinks to an external site.
https://www.dukeintegrativemedicine.org/leadership-program/what-is-integrative-healthcare/Links to an external site.
You have created a great post here. You spoke of, "Kickbacks", which made me think about a case that I was reading about last year. The case involved 5 lawyers in Florida. They were accused of participating in an insurance scheme that targeted accident victims. "The personal injury attorneys were exploiting the motor vehicle accident victims in this case", said BSO Detective Kristy Frederick. "They were using them to basically pad their pockets with money". All of the five lawyers were accused of patient brokering, which is receiving a kickback or bribe in exchange for referring patients to a healthcare provider. Living in Chicago, and having family involved deeply in politics out here, I have seen a few politicians go to prison for kickback schemes. In the case you mentioned in your post, there are many ways that stakeholders can keep an eye out for these kickback schemes, and they are as follows below.
RED FLAGS OF KICKBACK SCHEMES
1: Lack of competitive bidding procedures…or bids from lower cost vendors are ignored.
2: Poor supervision of the purchasing function.
3: Prices of goods or services appear to be higher than market value.
4: Employees promote or lobby for a vendor that who others in the industry seem to shun and more.(How to Detect and Investigate Kickback Schemes", 2003).
So, those are a few things that stakeholders can do to keep an eye out for these schemes.
Furthermore, you indicated that there could be privacy issues with the healthcare providers and the staff, and therefore, "HIPPA", needs to be in play, and I agree. I believe, "HIPPA", should be followed by all healthcare providers, but we also need to remember that, "HIPPA", does allow caregivers to pass your private info over to other caregivers, if it is work related for your medical conditions. Staff does not need your permission to share your health record with other health providers. However, there are some protections in the, "ACT", that impose stiff penalties on staff members who share the private information of patients for purposes other than work relation. So, stakeholders in this case, need to enforce the, "HIPPA" law.
Law and Enforcement: "How to Detect and Investigate Kickback Schemes".  (2003, May 15th). Retrieved from https://www.accountingweb.com/aa/law-and-enforcement/how-to-detect-and-investigate-a-kickback-schemsLinks to an external site.
                       I like your post especially on legal issues concerning the delivery of care. As for the HIPAA rules, I believe the authorities which is the government should create and impose severe sanctions on those violating the privacy of clients or patients. Also, a system be put in place where the patients themselves be drilled extensively on how to protect their own health information from being shared or fall in the the hands of unprofessional workers. Most often, patients are careless in the way they handle the own health information. So, focus should be on both sides, the practitioners and the patients or clients themselves. Then on ethical issues, I believe the social worker is an assigned and well trained health worker who is there to help the patient or client in areas of concern. If you cannot trust your social worker, then this is a means of how the patient starts to release information to others who are not suppose to come close to it. The social worker is like a legal counsel to a patient. Unless he or she breaches that trust that is given to him or her, then that is where the services becomes questionable. But if not, no matter the privacy, confidentiality, the social worker is suppose to know much about the ongoing health issues of a patient or client and there on determines what measures and advice to give to a patient.