ENGL147N Discussion Source Evaluation
ENGL147N Discussion Source Evaluation
ENGL147N Discussion Source Evaluation
The article I chose was Risk assessment and prevention of complications in aesthetic surgery, which was published in September of 2014. The date of publication is important in determining how current the information is. When it comes to healthcare, information that is over 5-years-old is considered out of date (Chamberlain University, n.d). The publication year of 2014, puts it just outside of the 5-year window, rendering the article no longer current.
The topic of the article was managing compilations in cosmetic surgery through conducting a risk assessment prior to surgery. The source is a secondary source, as it is reviewing and analyzing information from other sources (American University, n.d.). It would be an appropriate source for an academic paper due to being a peer reviewed article in an academic journal, and the sources used to write it were also from academic journals. The article was written by a doctor and published in an academic journal, The Journal of Cutaneous and Aesthetic Surgery. This adds credibility to the article. When selecting search criteria for article results, and choosing "peer reviewed", this article is listed as being peer reviewed. There are three additional sources cited throughout the article, which are all reliable sources from academic journals.
I think the main focus of this article was to shed light on the prevalence of some of the more serious complications that can occur in procedures that are considered low risk, and to implore practitioners to be more proactive in reducing occurrences. The article also went into detail regarding complications that often do not get reported, and get swept under the rug, for various reasons. The author believes there should be a system in place to allow practitioners to anonymously self-report adverse reactions and outcomes without the fear of bad publicity (Khunger, 2014).
American University. (n.d.). Primary vs. Secondary Sources. Retrieved from: https://subjectguides.library.american.edu/primaryLinks to an external site.
Chamberlain University. (n.d.). Module 4: Information Literacy.In ENGL 147N-10357: Advanced English Composition: Spring 2020. Retrieved from: https://chamberlain.instructure.com/courses/63322/pages/week-4-lesson-information-literacy?module_item_id=8547190
Khunger, N. (2014, September). Risk assessment and prevention of complications in aesthetic surgery. Journal of Cutaneous & Aesthetic Surgery, 7(3),141-142.  
This article made me curious about how frequently complications occur, and in doing a little bit of research, I found another very interesting topic relating to plastic surgery: Medical Tourism. As nurses, you all probably are familiar with this term. It refers to those who go outside of the country to seek medical procedures. I have known a handful of people who did this. I always considered it really risky.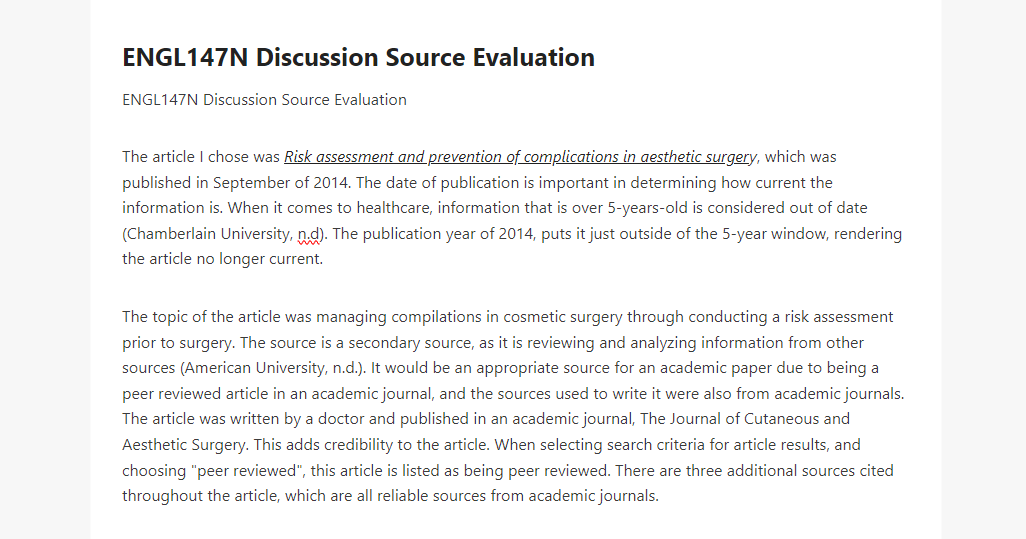 In a 2018 article, the authors conducted a study on 78 people who lived in the US but traveled to other countries to have cosmetic procedures done, and who were seen in a US academic medical center for complications following those procedures.
Ross, Moscoso, Bayer, Rosselli-Risal, and Orgill found that of those 78, the largest group suffered complications after abdominoplasty (35), while the second-largest group was those who had had breast augmentation (25); another large group, the third-highest, was those who had gotten injections (15) (2018). They also found that the most common destination country that people visited for surgery was the Dominican Republic.
The authors concluded that "Cosmetic surgery performed in developing countries can carry substantial risks of complications that can be challenging to patients, primary care providers, insurers, and plastic surgical teams not associated with the original surgery" (Ross et al., 2018).
I just have to wonder how desperate people are for plastic surgery that they, as US citizens, are willing to travel to a developing country to get the procedure done. There are risks of complications with any surgery, anywhere, but this seems to be so much added risk. It is becoming more and more popular, though, and these complications are being treated here once the patients return.
Ross, K., Moscoso, L., Bayer, L., Rosselli-Risal, L. & Orgill, D.P.(2018). Plastic surgery complications from medical tourism treated in a u.s. academic medical center. Plastic and Reconstructive Surgery. Retrieved from https://www.ncbi.nlm.nih.gov/pubmed/29595725 (Links to an external site.)
I read some articles on Medical tourism in the past and quite frankly there are many risks involved. I think I mentioned before that I had plastic surgery done in Brazil. I, however, knew my surgeon personally. He's the only plastic surgeon I would ever trust to do my surgery. He just happens to live and practice in Brazil. I also have family in Brazil and went to Brazil for three months. The reason I did that was specifically to prevent any risk of complications. I wanted to make sure I was healed before I traveled back home. I had done all my homework prior to making this decision. It's very risky to go to another country after a surgical procedure. First, you are at an extreme risk to develop a clot during your flight back home. Secondly, your sutures may rupture due to the pressures of the flight. Lastly, if any complications arise you have to see a doctor who has no idea what procedure was done and how it was done. This puts the patient more at risk of complications.
Just to add, I think most people's motives to go to another country for surgery would be the cost of surgery. The cost of plastic surgery in other countries is about a third of the cost of surgery in the US. In some countries, it's about a fifth of the cost. I believe this is the biggest reason medical tourism exists.
I found this article from Forbes magazine interesting. It's from 2016 but it gives some insight on why people consider places like Brazil to have plastic surgery done. https://www.forbes.com/sites/brucelee/2016/08/08/in-plastic-surgery-brazil-gets-the-silver-medal-behind/#33b368853642Links to an external site.
First paragraph gives the information about the currency of the article with use of a reliable source which indicates when an article about healthcare is considered out of date.
The second paragraph evaluates the relevance, authority, and the accuracy of the article, which again are discussed in a manner. All the reasons given in the paragraph are well grounded and it shows why this article can be considered as a reliable source with respect to these criteria.
In the last paragraph the author gives some information about the intention and the content of the article, but doesn't relate these with each other, so we can't know whether the article reaches the target or it misses the mark. Overall, the article is neatly evaluated and this evaluation really gives the reader some insight about the reliability of the article.
I have chosen the article Fight or Flight…or Fix for this week's discussion board. This article was published on December 1, 2017 and has not been updated since. The date of publication is important because it tells you how current or contemporaneous the information is in the article. The article presents significant points about workplace stress and discusses a few strategies to address the problem. The article has used an anonymous online survey conducted by Journal of Medical Laboratory Science (CSMLS) which showed that 59% of respondents experienced extreme workplace stress and 79% felt burnout due to workplace stress. The exposure to workplace stress over long period of time affects an individual's physical and psychological well-being. The article presents an example of Anatomical Pathology Lab at LifeLabs Inc. in Toronto, Canada where efforts have been made to reduce workplace stress by increased communication and process improvement which has resulted in the company's high productivity. After reading the entire article, there seems to be a direct coalition to the subject matter. The source is the article is secondary source because the information was not obtained first hand by the author. The source is appropriate for an academic paper because it was published in Canadian Journal of Medical Laboratory Science (CJMLS) which is a peer reviewed before publication besides the author has used information from credible sources like the Mayo clinic and World Health Organization. Both the sources are well known and trusted around the world.
This article was published on December 1, 2017 by the Canadian Journal of Medical Laboratory Science (CJMLS). It is the official publication of Canadian Society for Medical Laboratory Science (CSMLS). The author of this article is Jane Langille who is a health and medical writer. A Google search about Jane Langille reveals that she has an Honors Bachelor of Business Administration degree. She claims to have interviewed hundreds of medical professionals and patients and has written on a wide range of health topics. On the CJMLS website, it states that the CJMLS is a quarterly publication where articles submitted by the medical community are peer reviewed before publication. This makes the source highly reliable. The author has cited one podcast, one book and articles from World Health Organization, Mayoclinic and New York Times. The source was created to inform the public how workplace stress affects people physically and mentally and strategies (persuade) should be used by employees and executives to reduce workplace stress. The article is well written and I did not notice any particular agenda or bias.
Reference
About Jane. (2019, April 08). Retrieved May 24, 2020, from https://janelangille.com/bio/
CSMLS News & Updates. (n.d.). Retrieved May 24, 2020, from https://www.csmls.org/ csmls/media/documents/publications/journals/2015-Information-for-Contributors-_FINAL.pdf
Heather. (n.d.). UM RhetLab. Retrieved May 24, 2020, from https://courses.lumenlearning.com/olemiss-writing100/chapter/online-sources-currency-relevance-and-authority/
Langille, J. (2017). FIGHT OR FLIGHT… OR FIX? Employers must work with employees to address workplace stress. Canadian Journal of Medical Laboratory Science, 79(4), 26-29.
Seyler, D. U., & Brizee, A. (2018). Read, reason, write: An argument text and reader.(pp. 273-293) New York, NY: McGraw-Hill
I wonder about using anonymous surveys. Do you think you can gain more honest answers this way, as you do not have to identify yourself? I do believe that it can make for more accurate results, because you don't have to worry about an employer feeling negatively toward you.
I have had to do surveys about classes that I have taught or universities where I've taught. I'm usually very honest, whether my name is attached or not; however, I've never really been in a situation at a university where there were any real issues. On the other hand, when I worked as a reporter years ago, I did have an editor that created a really uncomfortable situation in our newsroom. I don't know that I would have been truthful about workplace stress if asked directly, or if I had to fill out something with my name on it.
I do think that if it were anonymous, I would have explained everything (not fearing any retaliation from the editor, who was in charge of my writing assignments). In a perfect world, that would not be something to worry about.
In my opinion, anonymous surveys is the best way to obtain an honest feedback from the participants. I am sure a lot of participants are not comfortable to give an honest feedback fearing retaliation or they are worried that they may be questioned later. I have filled out a few surveys and i have never been comfortable giving an honest feedback if i had to mention my name or any kind of information that will identify me.
For example: If i was filling out a non-anonymous survey for my employer and i have to give feedback about why there were so many complaints from patients. I would not be comfortable telling them that some of my co-workers tend to be rude to the patients or my manager does not care that we are short staffed.
I would be worried about what if my co-workers or manager finds out about the feedback i have given about them. It will affect my relationship with them and i have face them each day at work. It will affect my work relationship with them specially in healthcare where you always need help from your co-workers for one thing or another.
If it was an anonymous survey, i would not hesitate to mention how my co-workers have been rude to the patients and we have been short staffed for months and manager does not care about it etc and that is the reason patients have been complaining.
Besides you get a better response rate conducting an anonymous survey. So i think anonymous surveys are a better way of collecting honest information than non anonymous survey.
David Shaw's article The Consequences of vagueness in consent to organ donation was published in 2016, in the journal Bioethics, volume 31, issue 6. The publication date for the article can be considered as appropriate. Since organ donation is not completely a medical but also an ethical topic, the article will still be valid until the "vagueness" is resolved.
The article as a whole—including the name, sections, and data provided in it—is as consistent and sound as it might be. Since it discusses not a wide subject, but a particular one, it neatly sums up its arguments. The author of the article has an MSc., PhD in Philosophy, and also a Master's degree of Medical Law which makes him a well-educated and capable in topics on medical ethics. Bioethics is an peer-reviewed academic journal in which the article is published. (Wiley Online Lib., n. d.) This means that the article is a peer-reviewed one, which makes it a more credible source than the others that are not peer-reviewed. There are more than 15 other sources used in the article which are also reliable articles of other capable authors. The author also refers some of his previous work. It also is a primary source which does not evaluate any other source, but that puts its own argument forward.
The author seem to be written in a very formal and academic way with no intention to imply any theories, approaches or assumptions. Having such a neutral discourse and usage of reliable data makes the article a very informative one. Its intention also seems to be so—being an informative article about the vagueness in organ donation process which suggests appliable solutions. The author gives three possible strategies for getting rid of the vagueness in the process of organ donation that he explains very well. His best side is how he reconstructs the different aspects of vagueness for the process of registration as a donor, for families of both donor and recipients of organs, and for the donor himself/herself. (Shaw, 2016)
Wiley Online Lib., n. d. Retrieved from: http://dx.doi.org.chamberlainuniversity.idm.oclc.org/10.1111/bioe.12335
Shaw, D.M. (2017, July). The consequences of vagueness in consent to organ donation. Bioethics, 31 (6), 424-43.
The article I chose to vet utilizing the "CRAAP" method is the article on organ donation.
Currency: The article was published in 2017. The date of publication is important because in the dynamic world of technology and healthcare, we want to use sources that are no more than 5 years old. (Seyler & Brizee, 2018) The subject is always timely considering we have yet to find the technology to render organ donation obsolete. To be blunt, people still expire, and people still need new parts.
Relevancy: I think this information is relevant to the topic of organ donation. I would categorize this as both primary and a secondary source since the author is citing audit information and statistics while also acknowledging drawing from his own experiences. I think this source is appropriate for an academic paper because it is a peer-reviewed article.
Authority: I looked into the author and the publisher. The author is David Shaw and his credentials are impressive, including an MA in Philosophy and English Literature, an MSc in Philosophy, a PhD in Philosophy, as well as a Master of Medical Law. (Shaw, 2017) He has worked at the Institute for Biomedical Ethics and has also had an affiliation with the Department of Health, Ethics and Society. (Shaw, 2017) A simple google search of "David Shaw ethics" led me to his CV. He is considered an expert in his field and is focused on the issues surrounding organ donation. (CV of David Shaw, n.d.) The Journal is called Bioethics and it is published by Wiley-Blackwell Publishing in the U.K. Bioethics is listed as a peer-reviewed journal on the Physician's index for ethics in medicine. ("Physician's Index for Ethics in Medicine, 2018) Wiley-Blackwell is a "global provider of content-enabled solutions to improve outcomes in research, education and professional practice." ("Wiley," 2020)
Accuracy: I know that the source is peer-reviewed because I searched it in the Chamberlain library, and it is listed as such. Also, the journal it is in publishes peer-reviewed articles. Shaw cites many sources including government institutions from the NHS (National Health System) to the US Department of Health and Human Services. He also cites medical laws such as The Human Tissue Act. These are all highly reliable and easily verifiable sources.
Purpose: I believe this article to be persuasive. I agree that organ donation consent is very vague and, after reading this article, I can see that it is even more vague than I realized. Shaw concludes suggestions for assisting to clear up this vagueness in an attempt to assist family's to honor their loved one's wishes. I don't feel that Shaw is pushing an agenda of organ donation. I get the sense that his agenda is in ethics and doing what is least traumatic for health care consumers.
References
About Wiley-Blackwell. (2020). John Wiley & Sons, Inc. Retrieved from https://www.wiley.com//WileyCDA/Brand/id-35.html?&category=For+Learning?&category=For+LearningLinks to an external site.
CV of David Shaw. (n.d.). University of Basel. Retrieved on May, 26, 2020, from https://ibmb.unibas.ch/en/persons/david-shaw/cv-of-david-martin-shaw/Links to an external site.
Seyler, D. U., & Brizee, A. (2018). Read, reason, write: an argument text and reader (12th ed.). McGraw Hill.
Shaw, D. M. (2016). The consequences of vagueness in consent to organ donation. Bioethics, 31(6), 424–431. https://doi.org/10.1111/bioe.12335Links to an external site.
The physician's index for ethics in medicine. (2018). Philosopher's Information Center Web site. Retrieved May, 26, 2020, from https://physiciansindex.org/scope/journal-coverage/Links to an external site.